Chocolate lovers everywhere will fall in love with these incredible fudgy brownies!  Thick, rich and loaded with dark and white chocolate and topped with even more!  The perfect sweet, delicious chocolate treat!
It's not a secret that I have a pretty big weakness for chocolate.  I blame my dad.  He passed his vicious sweet tooth on down to me.  I always have chocolate in the house, and making a really fantastic batch of brownies happens at least once a month at my house.  I love changing it up with brownies – making brownie bites, adding espresso (see my amazing Espresso Brownies with Cocoa Cream Cheese Frosting), and even going the peanut butter route, like my Ultimate Reese's Brownie Pizza.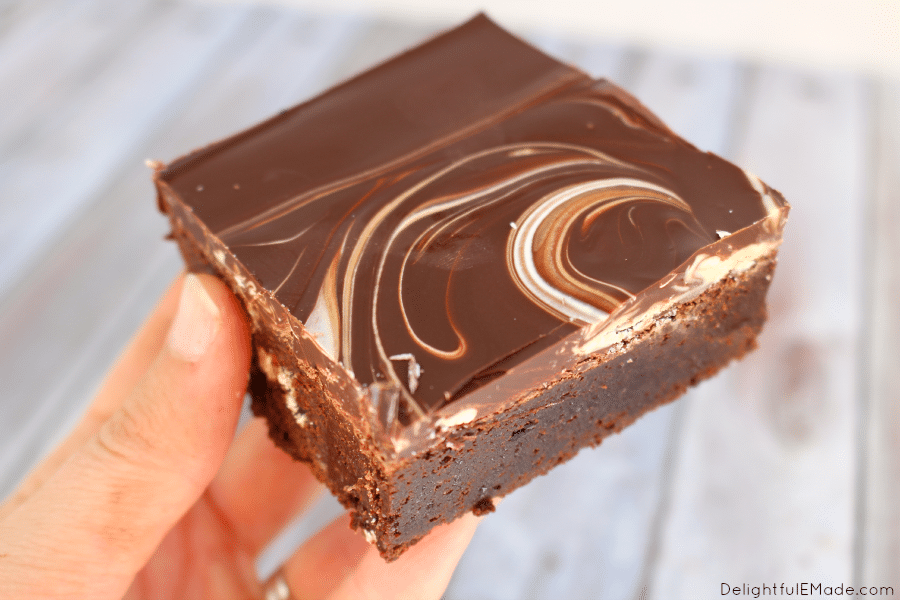 This brownie recipe is one of my absolute favorites, as the brownies always turn out super rich and fudgy.  To add to the extreme level of chocolatiness, I add a nice layer of semi-sweet and white chocolate swirled on top.  This makes for the ultimate chocolate treat!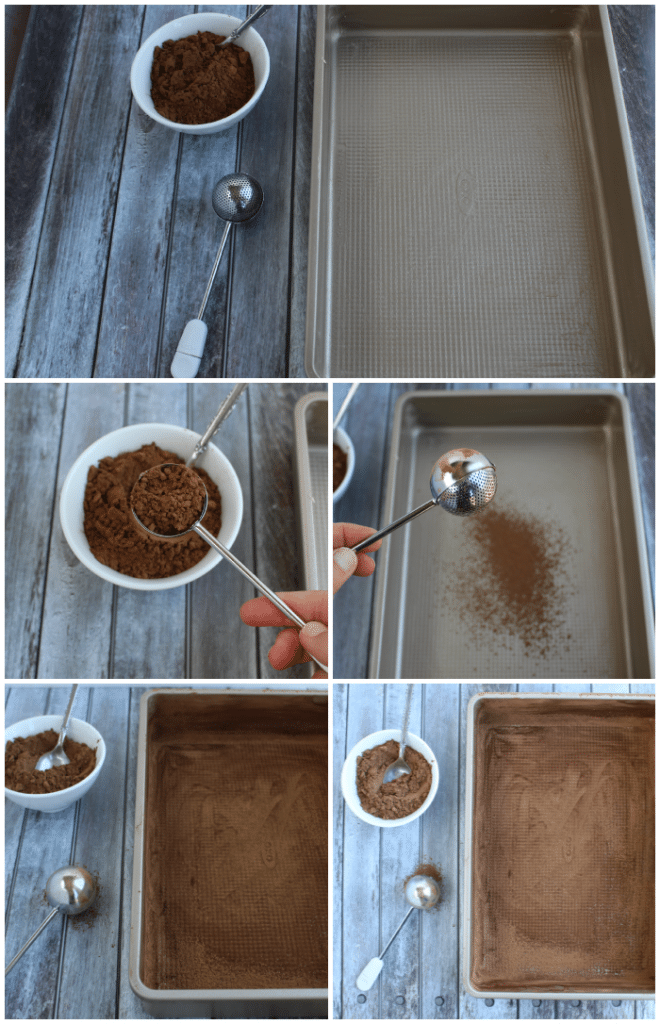 For these brownies, I reached for some great tools from OXO.  I used the Non-Stick Pro 9×13 Cake Pan,  the Brownie Spatula, and the Baker's Dusting Wand all made by OXO.  OXO is a proud supporter of Cookies for Kids Cancer, and in the month of October when you buy specially marked OXO baking tools, OXO will donate to the Cookies for Kids Cancer foundation.  Be sure to look for this seal when buying your cookie, brownie and cupcake tools.
Cookies for Kids' Cancer is a recognized 501c(3) public charity duly incorporated under the laws of the state of New Jersey. Your donations are tax deductible to the fullest extent allowable by law. 100% of proceeds raised by Cookies for Kids' Cancer fund pediatric cancer research.  OXO will be donating $100 to Cookies for Kids' Cancer for each blog post dedicated to this campaign in October (up to our $100,000 commitment*.)  *In 2015, OXO will donate up to $100,000 to Cookies for Kids' Cancer through product proceeds, bake sale matches and other fundraising efforts.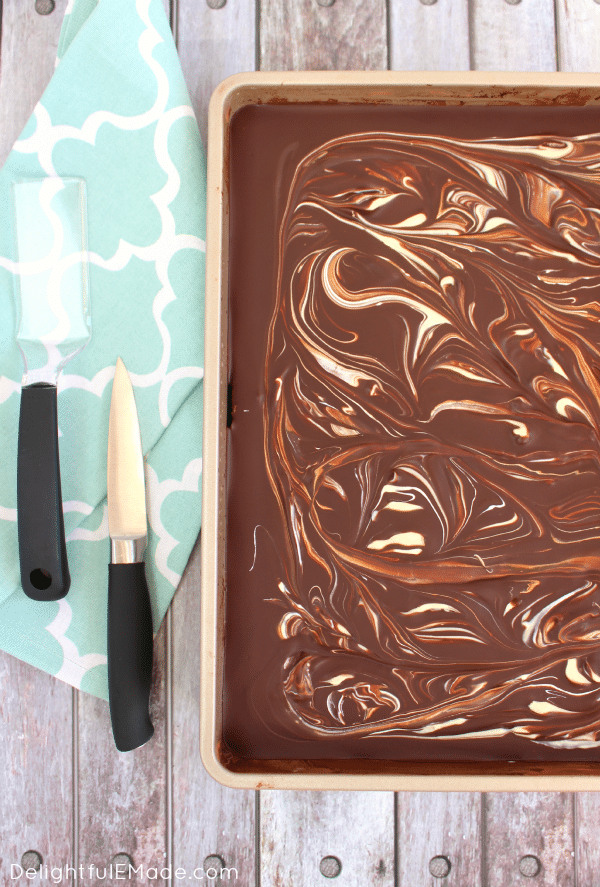 Once my brownies were set and cooled, I couldn't wait to cut into these babies!  The OXO brownie spatula made it pretty easy to lift the brownies out of the pan.  I also like the size of the spatula as it will work great for cakes and bars, too!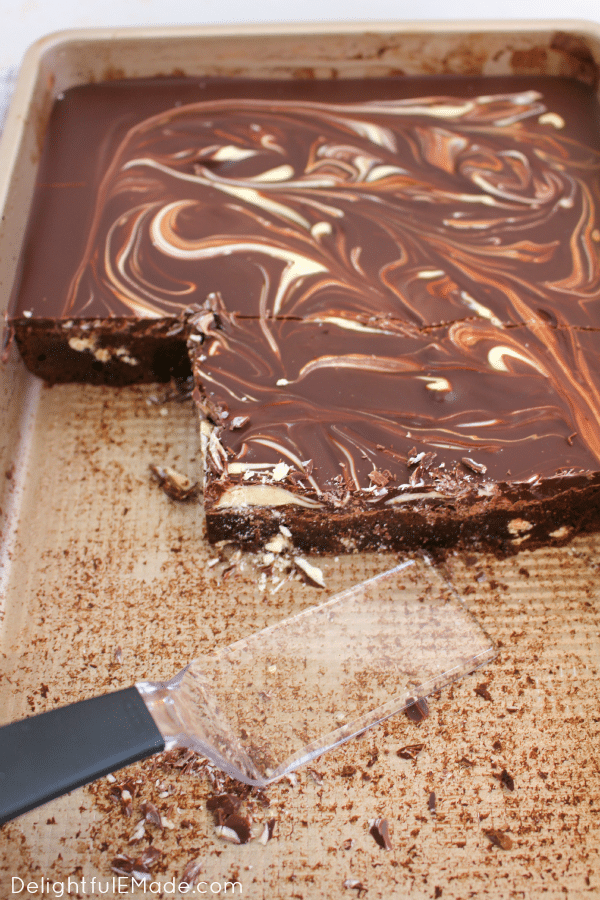 I really love how fudgy these brownies turn out!  The white chocolate chips and for a really nice flavor compliment to the rich, chocolaty flavor.  The top layer of chocolate is amazing, and is the perfect compliment to the rich brownie below.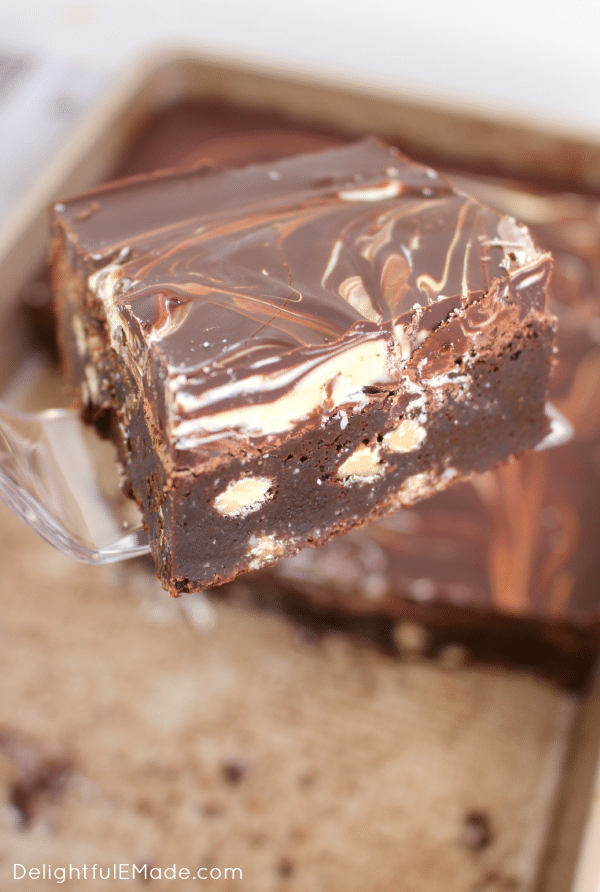 These brownies are perfect with a cup of coffee or a big glass of milk.  Great for a fun treat to take to a bake sale, or bring into work to treat your coworkers.  I actually took a batch of these brownies to my son's school for their fun fair bake sale – as you might expect, these were one of the first items to sell out!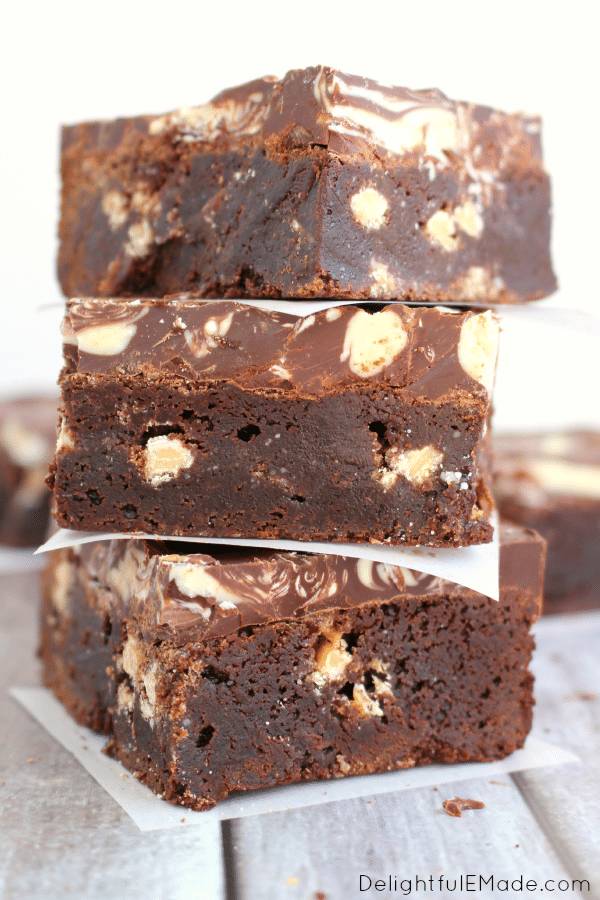 Here's how these amazing brownies come together:

Erin Indahl-Fink
Yields 15 large brownies
Triple Chocolate Fudge Brownies
Triple Chocolate Fudge Brownies | Chocolate lovers everywhere will fall in love with these ultimate brownies! Thick, rich and super-fudgy, these brownies are loaded with dark and white chocolate and topped with even more! The perfect sweet, delicious chocolate treat!
30 minPrep Time
45 minCook Time
1 hr, 15 Total Time
Ingredients
1 1/2 c. (3 sticks) butter
3 c. sugar
2 1/4 c. cocoa powder
1/2 tsp. salt
1 1/2 tsp. vanilla
4 eggs
1 1/4 c. flour
1/2 tsp. baking powder
1 1/4 c. white chocolate chips
Topping:
2 1/2 c. dark or semi-sweet chocolate chips, melted
1 c. white chocolate chips, melted
Instructions
Preheat oven to 325 degrees. Butter and dust with cocoa powder a 9x13" pan. (You can also line the pan with parchment paper, leaving excess paper over the sides.) Set aside.
Place a heat-resistant (glass or stainless steel bowl) over a pan of simmering water. Place the butter in the bowl to begin melting. In a separate bowl, combine the sugar, cocoa powder and salt. When the butter is completely melted, gradually add the sugar mixture to the butter until fully combined. Remove from heat, and add the vanilla. Let mixture cool for about 10 minutes.
To the cooled mixture whisk in the eggs one at a time, making sure to beat the mixture well. Mix together the flour and baking powder, and gradually add this to the batter until completely combined. Fold in the white chocolate chips. Spread the batter evenly into the prepared pan. Bake at 325 for about 45 minutes or until toothpick inserted comes out with crumbs. Let brownie cool completely.
To the cooled brownie, pour the melted chocolate chips over the top and even spread. Add dolops of the melted white chocolate chips, and swirl together with a spatula. Let cool completely before cutting (place in the refrigerator to speed up the cooling/setting process.) Enjoy!
7.8.1.2
197
https://delightfulemade.com/2015/10/18/triple-chocolate-fudge-brownies/
Copyright by DelightfulEMade.com
I think you'll find that a batch of these brownies satiate your most fierce chocolate cravings!  Enjoy! ~Erin