Making cold brew coffee at home just got a whole lot easier! With Dunkin' Donuts Cold Brew you can now make your favorite cold brew coffee right at home with just a few super simple steps. The perfect way to enjoy your favorite iced coffee without leaving home!
Disclosure: This post was created in partnership with © The J.M. Smucker Company © 2017. DD IP Holder LLC. All photos, recipes and opinions are 100% my own. #DunkinYouBrewYou
Cold Brew Coffee the Easy Way!
If you know me even just a little, you are likely aware that I can't start my day without coffee. The winter months, I'm all about a hot, delicious cup of joe, but in the spring and summer months, as soon as the morning sun comes out, I'm ready for iced coffee. I love being able to start my day with something cold and refreshing, especially when I work from home and I need that little extra boost to get me going on all the work I need to tackle.
Here on the East Coast, Dunkin' Donuts is wildly popular, and for good reason – their coffee is incredibly delicious! That's why as soon as I saw the new Dunkin' Donuts Cold Brew Coffee Packs at Walmart, I immediately tossed it into my grocery cart. Not only is this cold brew coffee super easy to make, it tastes smooth, rich and delicious. Absolutely perfect for making my iced coffee first thing in the morning, and kicking off my day!
Here are the super-simple steps to making this delicious Dunkin' Donuts Cold Brew Coffee:
Step 1: Open a Packet to find two coffee pouches
For each box of Dunkin' Donuts Cold Brew Coffee you'll find two packages. Each package has two coffee packs that are ready to go – no need to fuss over filters or strainers. The coffee stays self-contained in these easy pouches.
Place the two coffee packs into a 2 quart pitcher.
Add 4 cups of water to the pitcher.
Place the pitcher in the refrigerator for 8-12 hours. During this time the coffee will steep.
After steeping, remove the coffee packs from the pitcher and discard. Add an additional 3 cups of cold water to the brew. Once this is done, you are ready to enjoy a glass of delicious Dunkin' Donuts Cold Brew Coffee.
The flavor of the coffee is wonderful! Rich, and full-bodied with absolutely no hints of bitterness. Forget the expensive bottled stuff, this cold brew coffee is incredibly simple to make, and the taste is fantastic!
I love the fact that just one box of Dunkin' Donuts Cold Brew Coffee makes two pitchers of cold brew. I will often make both packets, and simply keep in the refrigerator. As soon as I wake up in the morning, I can pour myself a delicious, refreshing glass of iced coffee. Because I work from home, having cold brew that is in the refrigerator and ready to go is ideal. I don't have to run out to my coffee shop – I can pour myself a glass and sit down to work.
I also love the fact that I can make an entire weeks worth of coffee with just one box! This is a huge time-saver for me. No running out to the coffee shop to get an iced coffee. This tastes amazing, and best of all I can stay at home and make an iced coffee that I know I will love.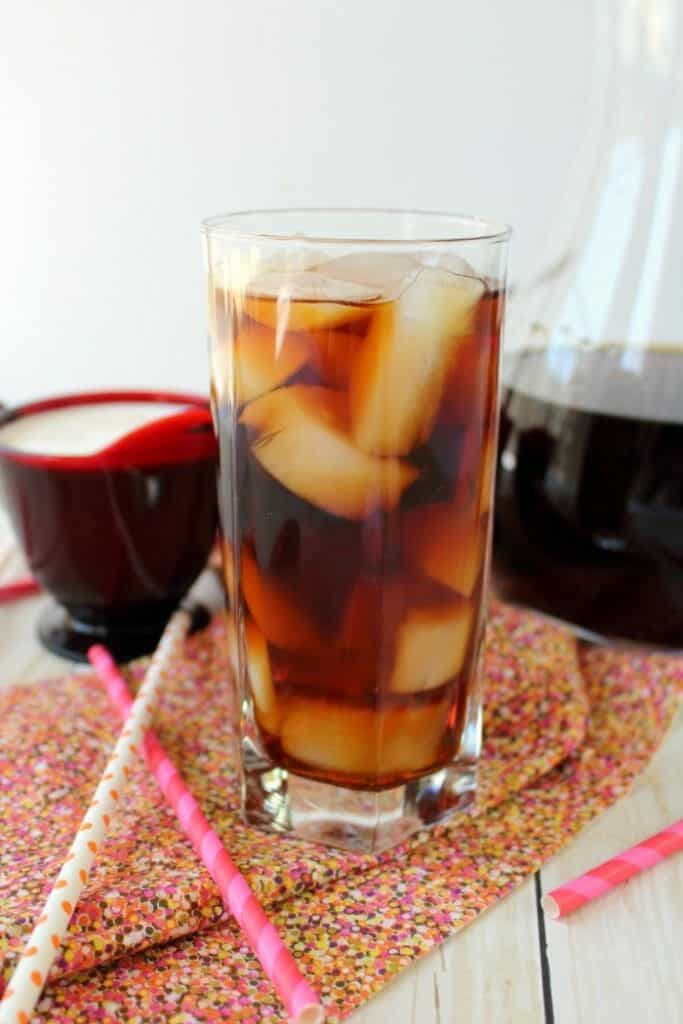 My favorite way to enjoy this delicious Dunkin' Donuts Cold Brew Coffee is simply over ice. I do enjoy a bit of cream, and vanilla sweetener. Especially in the summer, when I crave something cold and refreshing first thing in the morning, this cold brew is perfect for a delicious vanilla iced coffee!
If you love coffee, be sure to check out some of my recipes that include cold brew coffee: