Could you use an easy weeknight dinner idea? This delicious baked sausage and peppers recipe is super easy and completely delicious! The perfect sheet pan sausage and peppers recipe for a busy night, this dinner idea is done in under 30 minutes.
This post may contain affiliate links. Delightful E Made is a participant in the Amazon Services LLC Associates Program, an affiliate advertising program designed to provide a means for us to earn fees by linking to Amazon.com and affiliated sites.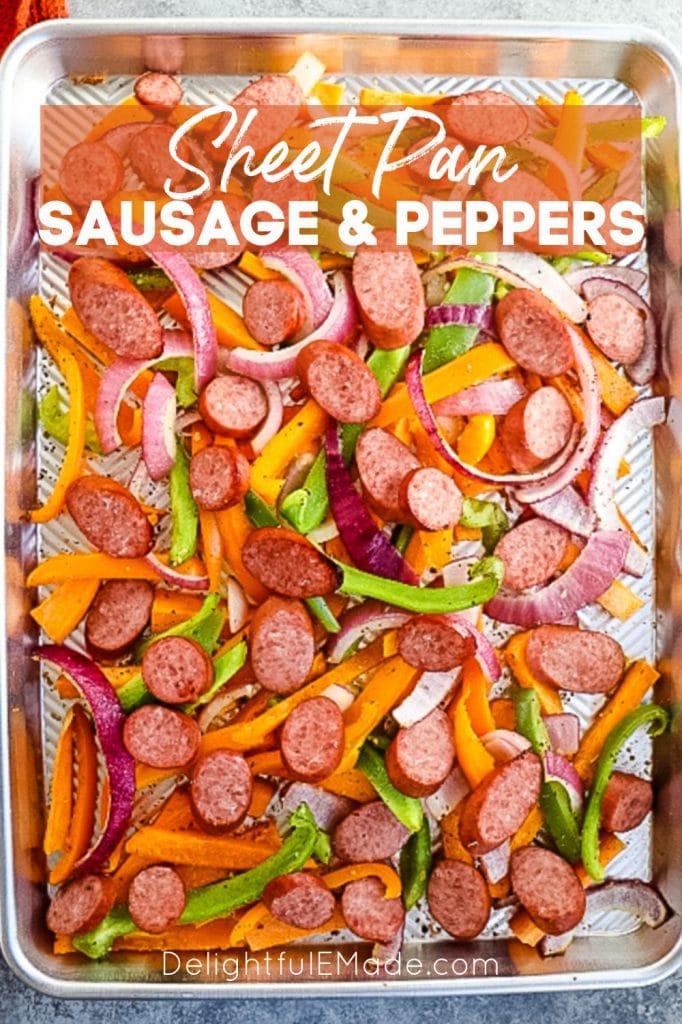 The BEST Baked Sausage and Peppers Recipe!
Busy weeknights are no match for this simple sheet pan recipe! This Baked Sausage and Peppers recipe is simple to throw together after a long day, but when you also want to have a decent meal with your family. This Sheet Pan Sausage and Peppers recipe is also great for meal prep, and taking to work for a healthy lunch!
Like this recipe? Be sure to pin it to your DINNER IDEAS board on Pinterest!
Follow DelightfulEMade on Pinterest for some of the very best SHEET PAN RECIPE ideas!
We're days away from the start of another school year. With that comes after-school activities and a schedule that leaves little time for dinner prep. It's important to me to have a dinner at night where we can sit down and reconnect as a family. But like many families, after-school activities, sports, practices and rehearsals, don't leave much time to get dinner on the table. Can you relate?
This Sheet Pan Sausage and Peppers recipe is absolutely perfect for getting dinner on the table during busy weeknights. It comes together in a snap, and what little prep there is, can be done in steps.
Here are the easy steps to this healthy, easy and delicious Baked Sausage & Peppers recipe:
Step 1: Prep Your Ingredients
The first ingredient I start with is the sweet potatoes. I peel with a vegetable peeler (you can also leave the skin on if you like), and slice into thin wedges the size of French fries.
Toss on your sheet pan with olive oil, salt and pepper. Get the sweet potatoes in the oven as soon as it comes to temperature.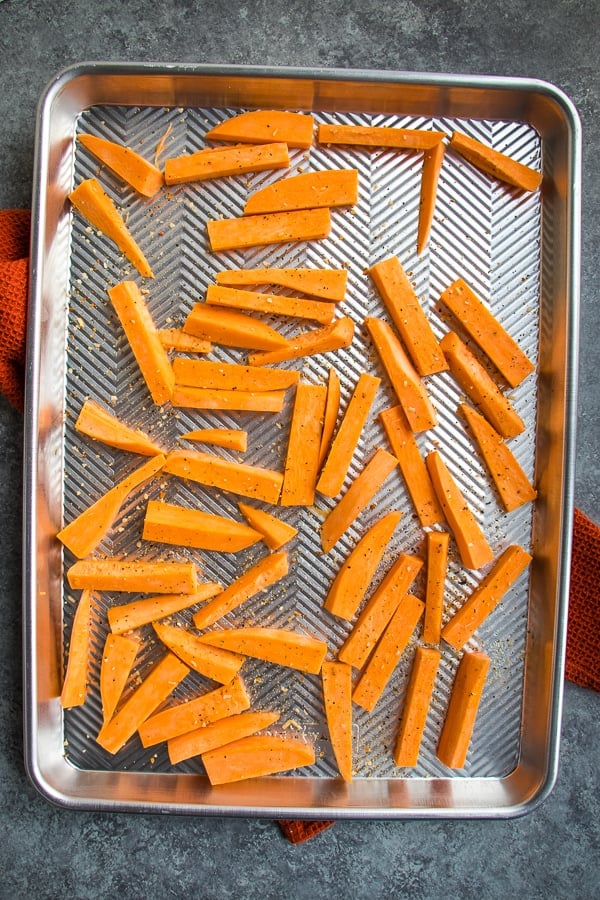 The sweet potatoes take the longest to cook, so the thinner you cut them, the quicker they will cook through.
Bake the sweet potatoes at 400 degrees for 15 minutes.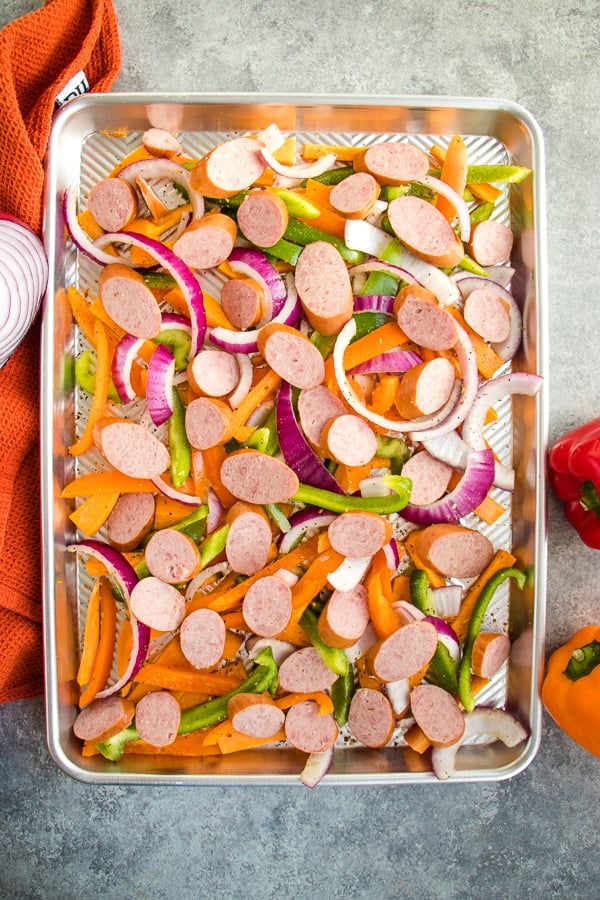 Step 2: Add the Veggies and Sausage, Bake
While the sweet potatoes pre-bake in the oven, now is the time to slice up the onion, peppers and sausage.
Feel free to use any color of pepper you like – green, red, yellow or orange. I used a red onion, but feel free to use a yellow or sweet onion.
For this sheet pan recipe, I chose turkey sausage. You can use any type of sausage that you and your family prefer – turkey, chicken, beef, pork or venison. I recommend looking for sausage that is nitrate and nitrite free. Slice the sausages (as seen in the photos), or leave in whole links.
Once the sweet potatoes bake for the initial 15 minutes, take out of the oven. Right on top of the sweet potatoes, layer on the peppers, onions and sausage.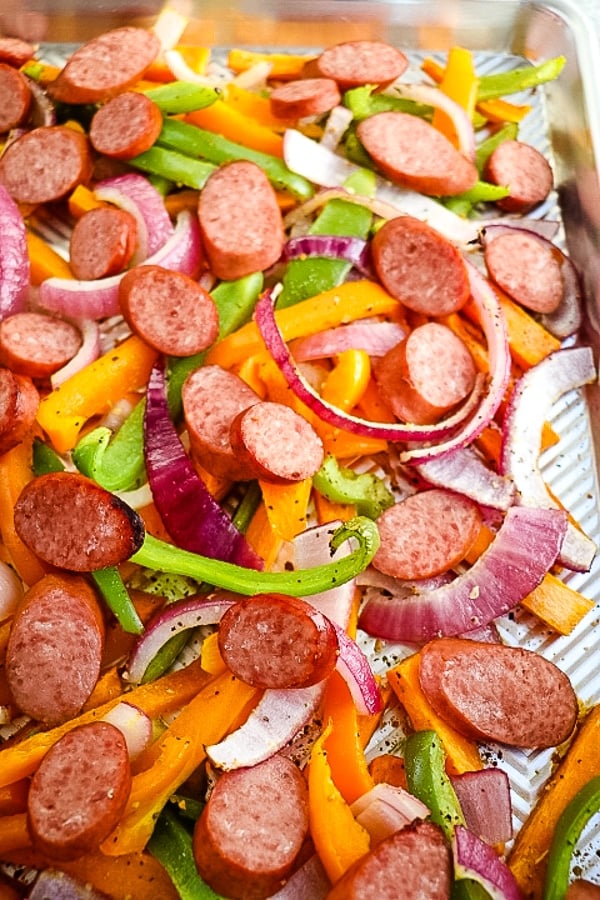 Step 3: Bake all ingredients on the sheet pan for another 15 minutes
Bake all of the ingredients for another 15 minutes. Your peppers and onions will become tender and caramelize slightly. The sausage will bring a fantastic savory flavor to all of the sweet flavors of the potatoes and vegetables. It's a match made in flavor heaven!
Love cooking with sausage? Check out my One Skillet Sausage Gnocchi in Creamy Red Sauce, which makes a fantastic weeknight dinner option.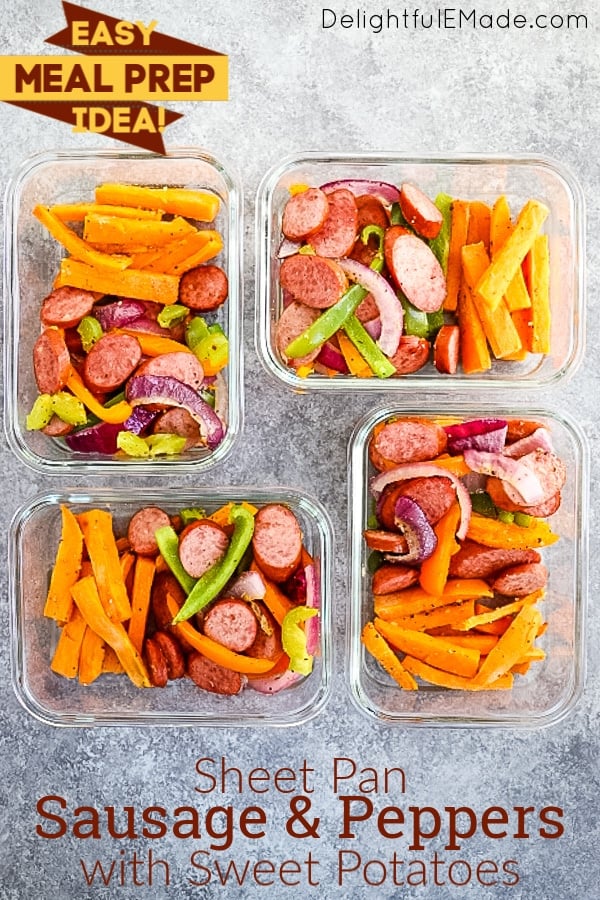 If you're a meal-prepper, this sheet pan recipe is fantastic! Great for making on a Sunday afternoon or doubling up on a weeknight. Serve half for dinner, add the rest of the servings to your meal prep containers. You'll have a fantastic dinner, and have some lunches ready to go for the rest of your week, or to add to your freezer for later.
Love these meal prep containers? Check out my post for the Best Meal Prep Containers that I use and love! (I've provided the Amazon links in this post for you to purchase those exact containers!) I use these meal prep containers all the time. They're oven, dishwasher, microwave and freezer safe and super durable. Can't recommend these enough!
Sheet Pan Sausage and Peppers Q&A:
My family doesn't like turkey sausage. Can I use something else? Answer: Yes, definitely! Feel free to use any meat of your choosing. I've made this recipe with chicken sausage as well as smoked German sausage (beef), which was delicious. You can leave the links whole or slice.
How big of a pan do I need for this recipe? Answer: A good sized sheet pan is 12×16″ (half-sheet). I have these Nordic Ware Natural Aluminum Commercial Baker's Half Sheet (2 Pack), (Amazon affiliate link) which are fantastic. I use them ALL THE TIME and love them!
I need something lower-carb option instead of sweet potatoes. What can I substitute? Answer: I would recommend cauliflower rice. This will actually eliminate a step in the recipe (no pre-baking the potatoes). Simply heat your cauliflower rice (if frozen, prepackaged) according to package directions, and serve over the rice. Season as needed. Delicious!!
If you loved this delicious Sheet Pan recipe, then check out some of my other similar recipes:
Are you looking for some additional healthy & low-carb dinner ideas? Be sure to check out these delicious, healthy recipes: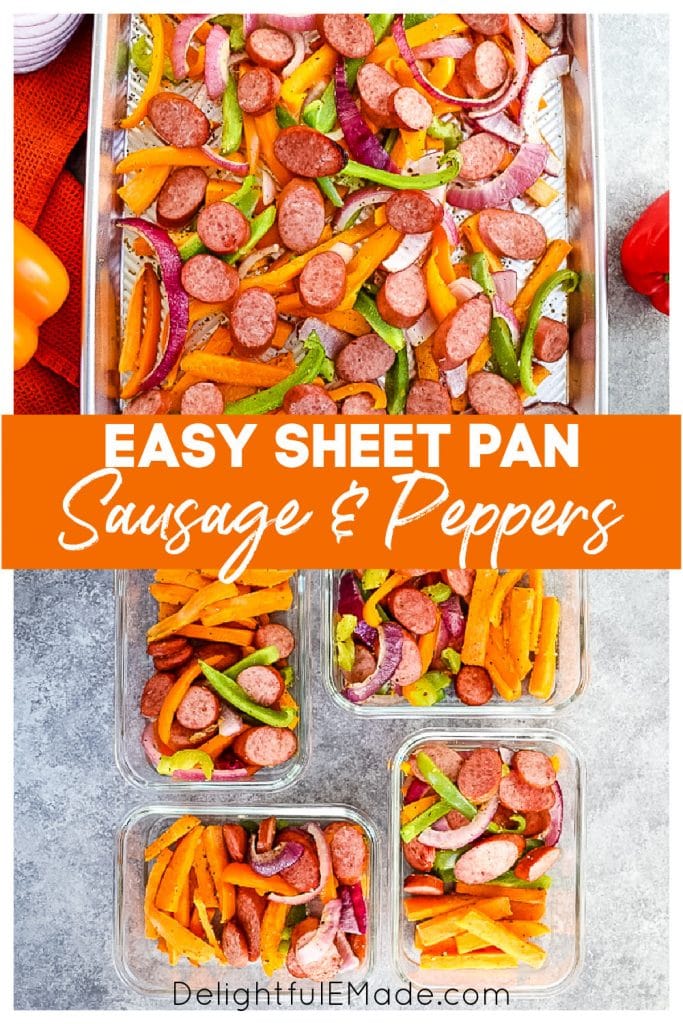 Here's the recipe for my delicious Sheet Pan Sausage and Peppers: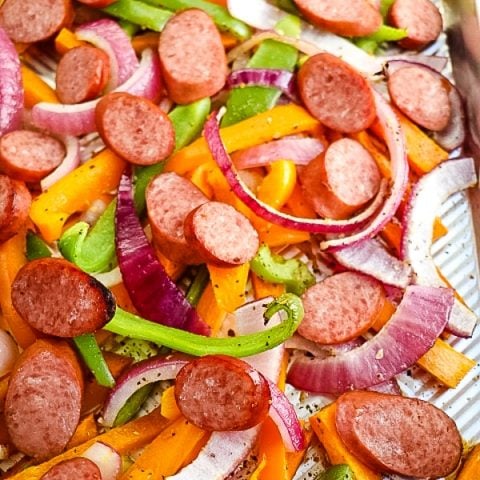 Baked Sausage and Peppers
Could you use an easy weeknight dinner idea? This delicious baked sausage and peppers recipe is super easy and completely delicious! The perfect sheet pan recipe for a busy night, this dinner idea is done in under 30 minutes.
Ingredients
2 large sweet potatoes (about 1 lb.) peeled and sliced
2 medium bell peppers, any color, sliced
1 medium red onion, sliced
3 Tbsp. extra virgin olive oil, divided
1 ½ tsp. Italian Seasoning
½ tsp. salt
½ tsp. pepper
1 (13 oz. pkg) turkey sausage, sliced
Instructions
Preheat oven to 400 degrees.
Peel and slice sweet potatoes into thin wedges. Place on sheet pan. Toss with 1 Tbsp. of olive oil. Sprinkle with salt and pepper. Bake for 15 minutes.
While sweet potatoes are baking, slice peppers and onions and place into a bowl. Drizzle with the remaining 2 Tbsp. olive oil and toss together to coat.
Once sweet potatoes are done pre-baking, add the peppers and onions on top of the sweet potatoes directly on to the sheet pan. Sprinkle with the Italian seasoning. Add the turkey sausage on top of the vegetables, keeping everything in an even layer. Bake for another 15 minutes at 400 degrees.
Serve right away while warm.
If placing into meal prep containers, let cool to room temperature before refrigerating or freezing.
Notes
Feel free to use any sausage of your choice (turkey, chicken, beef or pork). Look for nitrate and nitrite free products.
Also, feel free to place sausages uncut on the pan for baking.
Nutrition Information:
Serving Size:

1 1/2 cups
Amount Per Serving:
Calories:

652
Total Fat:

45g
Saturated Fat:

7g
Cholesterol:

28mg
Sodium:

2594mg
Carbohydrates:

43g
Sugar:

3g
Protein:

11g