If you love enjoying fresh pomegranate arils, then this Berry Pomegranate Smoothie recipe is for you! Made with just 5 simple ingredients, this healthy smoothie recipe is perfect as a post-workout recovery drink or a quick, on-the-go breakfast option.
This post may contain affiliate links. Delightful E Made is a participant in the Amazon Services LLC Associates Program, an affiliate advertising program designed to provide a means for us to earn fees by linking to Amazon.com and affiliated sites.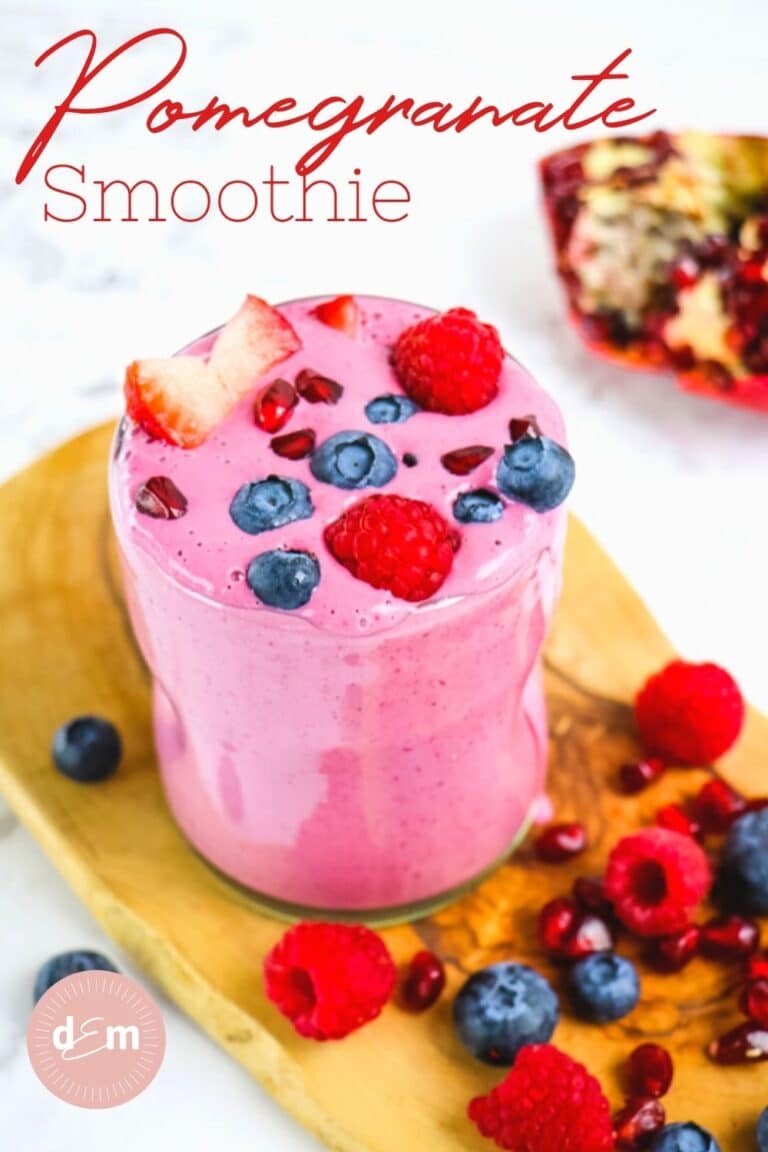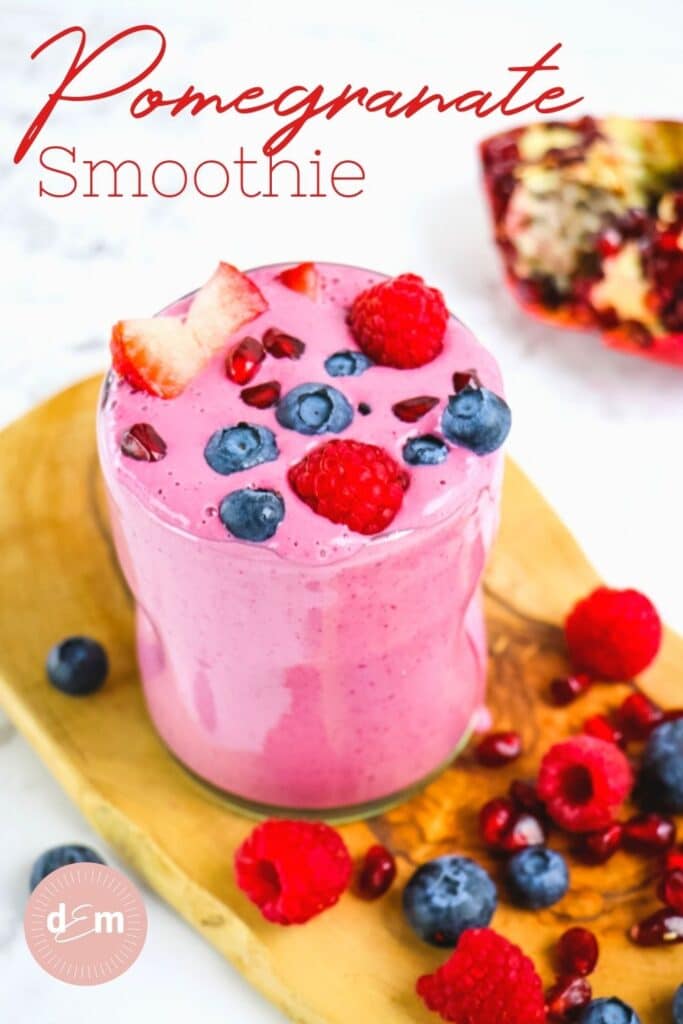 Looking for a simple, refreshing way to enjoy pomegranate? Those pretty, magenta pomegranate arils are fantastic blended into this berry pomegranate smoothie recipe.
Made in just a couple minutes, this easy 5-minute smoothie recipe is made with ingredients you likely already have in your freezer and pantry. This healthy smoothie recipe is loaded with vitamins, minerals and anti-inflammatory ingredients, which makes it a great post-workout drink or a healthy breakfast option to start your day.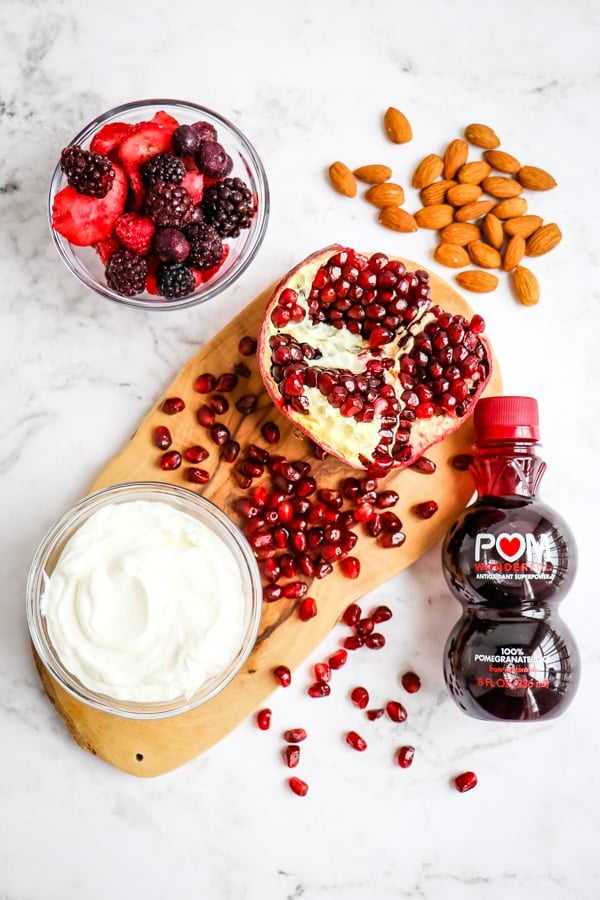 What do I need to make a pomegranate smoothie?
Here's a quick reference shopping list of the ingredients you'll need to make this berry pomegranate smoothie:
Pomegranate arils (seeds): Fresh or frozen
Frozen mixed berries – these can be found with the frozen fruits, in the freezer section of your grocery store.
Plain Greek Yogurt – I like Fage 2% or 5% Greek.
Pomegranate juice – this is most often found refrigerated in the product section of your grocery store.
Raw almonds
For exact ingredient amounts and full recipe instructions, be sure to scroll down to the recipe card. Thanks!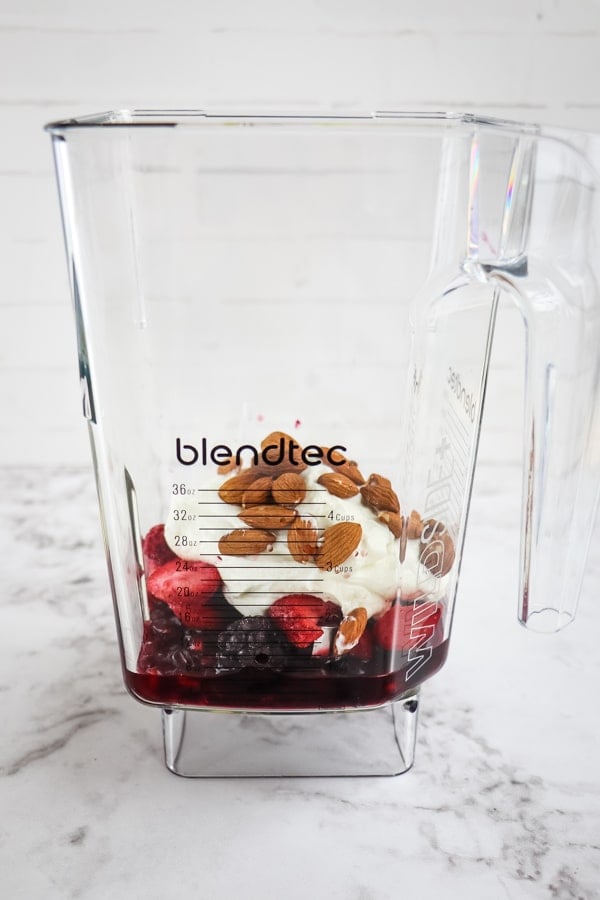 How do I make a smoothie?
The only equipment you need to make a smoothie is a blender. My Designer Series Blendtec Blender is fantastic for quickly and easily making smoothies. Are you in the market for a new blender? Use discount code DELIGHTFULEMADE to get 20% off your Blendtec Blender here.
To the jar of your blender, add in the following:
Start by pouring the liquid (pomegranate juice) into the bottom of the jar first. This will help give the blades of the blender adequate viscosity to blend the ingredients smoothly and easily.
Next, add in the pomegranate arils, frozen berries and yogurt.
Last, add in your almonds. Anytime you're blending a smoothie with nuts or seeds, add these in last to help blend properly.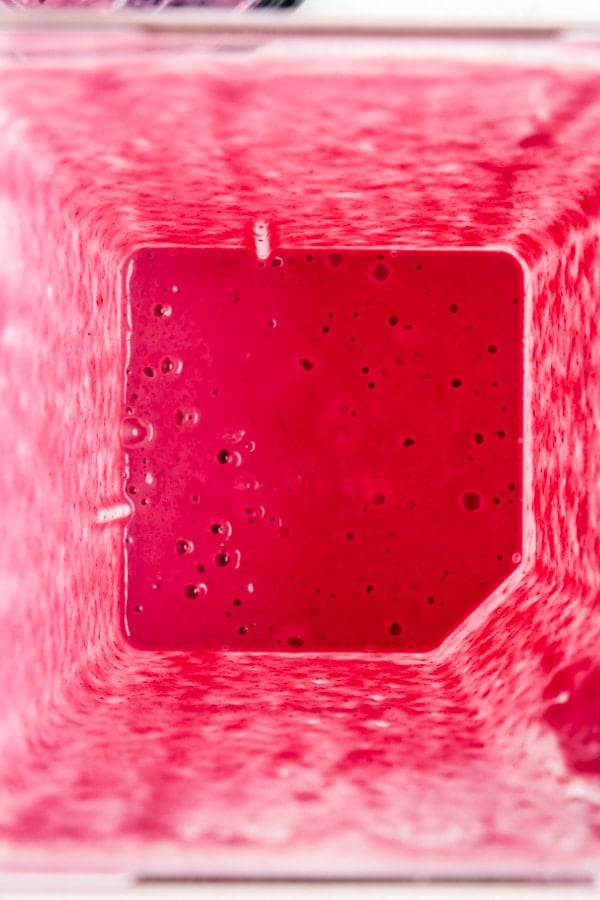 What makes this smoothie healthy?
This smoothie packs a punch, with two full servings of fruit, a full serving of dairy, and since its made with Greek yogurt and almonds, it also provides about 18-20 grams of protein (depending on what type you use) which will help you stay fuller longer.
The frozen berries are an excellent source of Vitamin C, fiber and have beneficial anti-inflammatory qualities. Additionally, pomegranates are considered a super-fruit, as they are a great source of Vitamin C, B-12, folate and are a know to fight free radicals within the body.
Ingredient Substitutions and Recommendations for this pomegranate smoothie recipe:
Here are some options for ingredients, should you need to make any adjustments or changes to the recipe:
Pomegranate Arils: If fresh pomegranates are out of season or unavailable, check the freezer section of your grocery store. Frozen pomegranate seeds are becoming more and more common. Pom also packages fresh pomegranate sold in cups in the produce section.
Pomegranate juice: This is typically sold in the refrigerated produce section, however, if it is unavailable, try substituting a cranberry-cherry juice. This will provide a similar flavor.
Sweeteners: With the juice, berries and pomegranate arils, you'll discover that this smoothie is naturally sweet and doesn't need added sweetener. However, if you would prefer it sweeter, I recommend adding 1 tsp. of a granular monk fruit sweetener, like Lakanto or Whole Earth.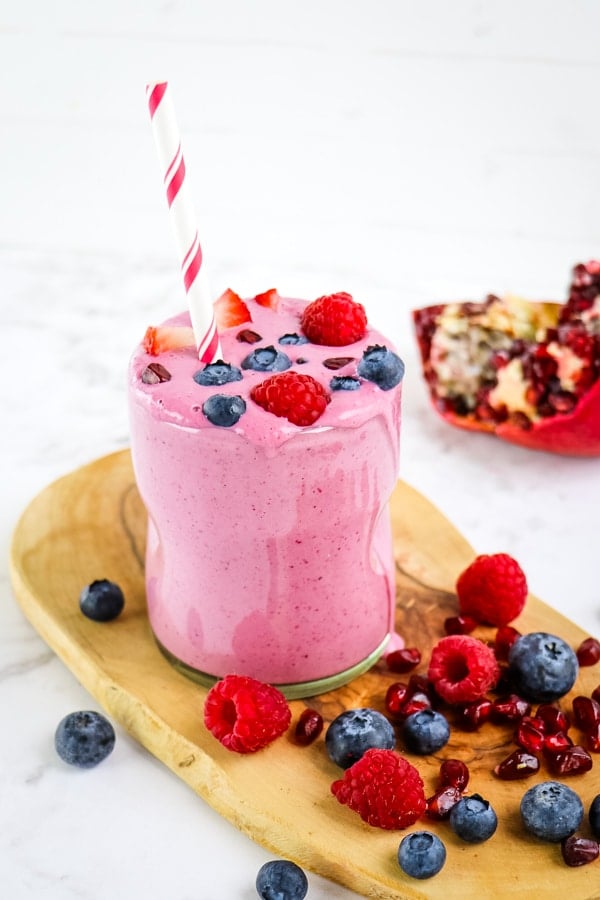 What is the best way to eat pomegranates?
Other than a smoothie, here are a few other options to enjoying fresh or frozen pomegranate arils:
Enjoy in a salad: Try my Harvest Salad with Pears, where fresh pomegranate arils add some amazing color and flavor.
Add some color and flavor to a cocktail: Try my Pomegranate Citrus Champaign Cocktail that is bejeweled with pomegranate arils.
Store in your freezer: Whether you buy pomegranates already frozen in your freezer section or want to freeze fresh pomegranates to enjoy later, keeping them frozen for smoothies is a great option. Check out this post from Randa Nutrition on Healthy Frozen Foods Worth the Freezer Space.
I wrote the book on smoothies…literally!
Yes, that's right! I'm the author, photographer and creator of The Protein Smoothie Bible cookbook.
It offers simple, 5-minute smoothie recipes that are perfect for quick, healthy breakfasts, snacks, or post-workout recovery.
I've even got a chapter all for kids! That's right! Simple, easy, kid-friendly smoothie recipes that will get your kids and grandkids excited about making healthy food.
You can get The Protein Smoothie Bible here!
Frequently asked questions about making pomegranate smoothies:
What does pomegranate mix well with?
Fresh or frozen berries, apple, citrus (lime, lemon, orange or grapefruit), ginger, mint, pineapple, mango and spices like cinnamon, clove, nutmeg and vanilla.
Can you blend pomegranate seeds in a smoothie?
Yes. Pomegranate seeds (arils) blend well in a smoothie. They act as a natural sweetener, and will give your smoothie a pink, magenta color.
What part of a pomegranate is edible?
The internal seeds (arils) are edible. They are sweet and juicy. The outer peel and internal white rind is not edible and should be discarded.
If you love healthy smoothie recipes, check out my other delicious smoothies: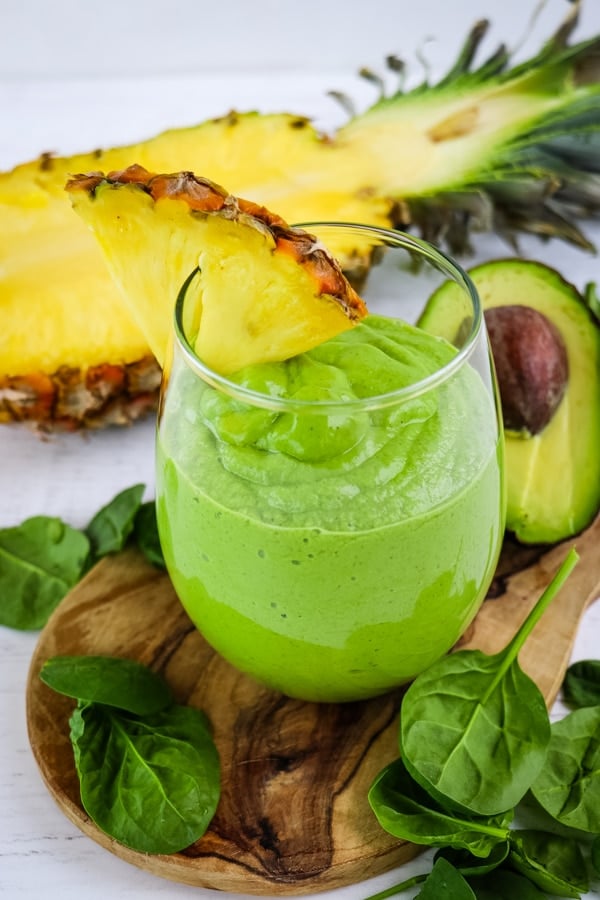 Here are some of my other smoothie and healthy breakfast resources: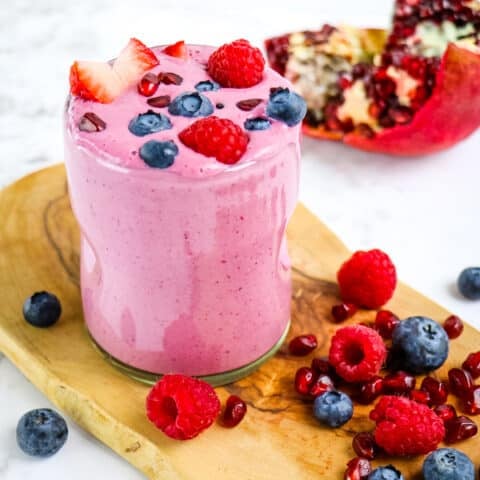 Berry Pomegranate Smoothie
If you love sweet, juicy pomegranate arils, then this Berry Pomegranate Smoothie is for you! Made with just 5 simple ingredients, this healthy smoothie recipe blends up quickly and easily as a healthy breakfast or a post workout recovery drink.
Ingredients
1/3 c. pomegranate juice
1/3 c. pomegranate arils (seeds)
1/2 c. plain Greek yogurt
1 c. frozen, mixed berries
1 oz. raw almonds (about 1/8 cup)
Instructions
To the jar of a blender, add in the juice, pomegranate arils, berries, yogurt and almonds.
Blend on medium-high speed for 45-60 seconds, or until the smoothie ingredients are completely combined and smooth.
Pour into a glass and enjoy right away while cold.
Notes
Have trouble blending? Layering the ingredients with the liquid on the bottom is very helpful in the blades blending the frozen and solid ingredients. Try adding a bit more juice (2 tablespoons) to help the blender cut through the ingredients.
Want to add more protein? Try adding a scoop/serving of your favorite vanilla or unflavored protein powder.
Sweeteners? With the pomegranate juice and arils, this smoothie should be adequately sweet, however, if you want to add some sweetness, try adding 1 tsp. of a granular monk fruit sweetener or honey.
Nutrition Information:
Yield:

1
Serving Size:

12 oz.
Amount Per Serving:
Calories:

388
Total Fat:

16g
Saturated Fat:

1g
Trans Fat:

0g
Unsaturated Fat:

13g
Cholesterol:

6mg
Sodium:

52mg
Carbohydrates:

47g
Fiber:

11g
Sugar:

32g
Protein:

20g