The BEST BBQ Chicken Recipe, EVER!
Do you love a seriously good BBQ Chicken Breast recipe? You've come to the right place! My BEST BBQ Chicken recipe is amazing! With a simple bbq spice rub and my homemade honey bbq sauce, this easy grilled barbecue chicken will knock your socks off!
This post may contain affiliate links. Delightful E Made is a participant in the Amazon Services LLC Associates Program, an affiliate advertising program designed to provide a means for us to earn fees by linking to Amazon.com and affiliated sites.
Quite possibly one of my very favorite things to grill is my best bbq chicken recipe. Not only do I love this recipe, but my boys absolutely LOVE it too. It's very simple, and easy enough for a weeknight dinner.
This grilled barbecue chicken starts with a simple spice rub, that gives the chicken a great flavor base. While its on the grill, I then brush the chicken with my BEST barbecue sauce recipe – my Homemade Honey BBQ sauce. This chicken is most definitely lip smackin', finger lickin' good!
Like this recipe? Be sure to pin it to your Chicken board on Pinterest!
Follow DelightfulEMade on Pinterest for some of the very best Grilling ideas!
This recipe is also fantastic for a summer cookout, block party or pot-luck dish. Barbecue chicken is one of those things just about everyone loves, and with the simple honey bbq sauce, it's not overly spicy. The chicken is mild, yet slightly tangy and smokey with amazing flavor. This simple grilled barbeuce chicken is easy enough to enjoy any night of the week.
Here's how to make my BEST BBQ Chicken recipe:
Step 1: Start with the simple spice rub
Don't be intimidated. This simple chicken spice rub is really easy to throw together. Here's what you'll need:
Chili powder
Onion powder
Garlic salt
Pepper
Cumin
Simply mix the spices together in a small bowl, and sprinkle over your chicken pieces before grilling.
Step 2: Preheat your Grill and Add the Chicken
I have a gas grill, which takes about 10 minutes to preheat. (Individual grills vary.)
Once I'm ready to add the chicken, I'll reduce the heat to medium low. Then, add the chicken pieces that you've sprinkled with the spice rub.
Now is the time to brush with the first coat of Homemade Honey Barbecue Sauce (see below for easy recipe). I recommend placing about 1/2 cup of sauce into an individual dish. This sauce will come into contact with raw meat, so reserve it for brushing only.
Step 3: Turn the chicken, and brush again with the sauce
Once the chicken has cooked on the first side (see recipe below for cook times), turn the chicken to it's opposite side, and brush again with the sauce. Close the grill lid, and let the chicken cook for the remainder of time.
The Perfect BBQ Chicken Breast recipe!
If you're getting tired of the same-old grilled chicken breasts, this recipe is for you! The flavor of the spice rub & sauce together brings an amazing flavor to the chicken. This might just become your new favorite grilled chicken breast recipe!
I personally love this recipe with bone-in leg-thigh quarters. The meat remains wonderfully juicy and flavorful. The spice and homemade honey bbq sauce recipe are amazing in this chicken. I highly recommend you make this for your next cookout, block party or neighborhood get-together. Be prepared to be asked for the recipe. Enjoy! ~Erin
Barbecue Chicken FAQ's:
How do you grill chicken without burning it? Keep your grill temperature set to medium to medium-low heat. Any temperature higher than this may result in burnt chicken or worse yet, dry chicken! Additionally, fat has a tendency to flame up and burn. This is okay and should not affect the meat portion of the chicken.
How do I grill the perfect chicken breast? In my opinion it has everything to do with the temperature to which the breast is cooked. Start with a medium-low heat on your grill. Cook approximately 5-6 minutes a side (internal temp should be 165 degrees). Do you best to not over cook. Because breasts are very lean and have a low fat content, they are very susceptible to drying out if cooked just a minute or two longer than needed.

If you loved this delicious grilled barbecue chicken, then be sure to check out some of my other chicken recipes:
Brown Sugar Balsamic Grilled Chicken
Looking for a delicious side dish to go with this BBQ Chicken Breast recipe? Here are some great options:
Creamy Broccoli Salad with Apples & Cherries
Crock Pot Bacon Mac & Cheese at Lil' Luna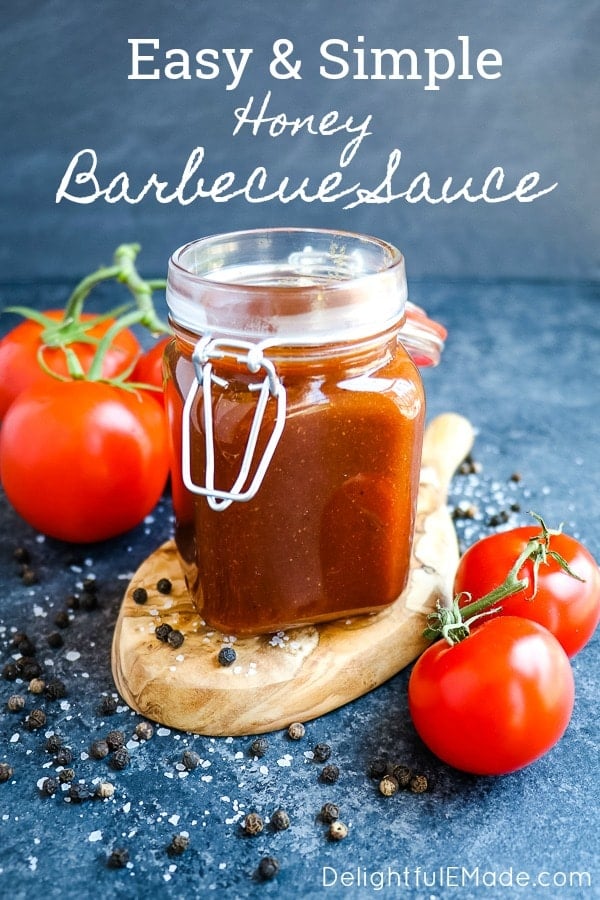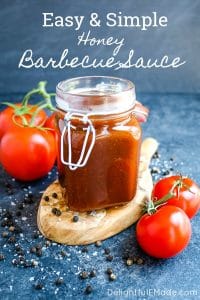 Here are a couple other of my best bbq sauce recipes:
Smokey Chipotle Barbecue Sauce
Here's the recipe for my delicious BEST BBQ Chicken Recipe:
BEST BBQ Chicken Recipe
Do you love a seriously good BBQ Chicken Breast recipe? You've come to the right place! My BEST BBQ Chicken recipe is amazing! With a simple bbq spice rub and my homemade honey bbq sauce, this easy grilled barbecue chicken will knock your socks off!
Ingredients
2-3 lbs. Chicken (breasts, legs, thighs or quarters)
Dry Rub:
2 tsp. chili powder
1 tsp. onion powder
1 tsp. garlic salt
1/2 tsp. pepper
1/2 tsp. cumin
1/2 c. Homemade Honey BBQ Sauce for brushing
Instructions
Preheat your gas or charcoal grill.
While grill is heating, in a small bowl, mix together the dry rub spices.
Place the chicken on a large plate or baking sheet. Sprinkle each side of the chicken pieces with the dry rub.
Place chicken pieces on heated grill, and brush top side with sauce. Let cook, and then flip. Brush the cooked side with sauce.
Remove from grill and let chicken pieces rest for 5-10 minutes before serving to help preserve the juices in the meat.
Notes
Recipe for Homemade Honey Barbecue Sauce is above in the blog post.
Here are cook times for individual chicken pieces:
Boneless, Skinless Breasts: approx. 6 minutes per side, at medium heat
Boneless, Skinless Thighs: approx. 4 minutes per side, at medium heat
Bone-in Legs: approx. 9-12 minutes per side, at medium heat
Bone-in Thighs/Quarters: 12-15 minutes per side, at medium heat
Bone-in Breasts: 10-15 minutes per side, at medium heat
Bone-in Wings: 9-12 minutes per side, at medium heat
**To ensure the chicken is properly cooked, it is recommended that internal temperature should read 165 degrees.**