Perfect with your favorite tortilla chips, this delicious Black Bean and Corn Salsa is amazing! Loaded with fresh, delicious veggies, this easy Mexican corn salsa is just as flavorful as it is pretty. Fantastic as an easy appetizer for game day, and perfect for Cinco de Mayo this black bean corn salsa will be a must for any Tex-Mex meal!
This post may contain affiliate links. Delightful E Made is a participant in the Amazon Services LLC Associates Program, an affiliate advertising program designed to provide a means for us to earn fees by linking to Amazon.com and affiliated sites.
Looking for a delicious, go-to salsa recipe for your tacos, fajitas and nachos? This fresh, delicious black bean corn salsa is always a winner. My Aunt Denise gave me this recipe many years ago, and we still make it on a regular basis.
Great as a side-salad, or a dip to serve with your favorite tortilla chips, this black bean corn salsa recipe is great with any Tex-Mex meal.
What do I need to make black bean and corn salsa?
Here's a quick-reference ingredient list of the items you'll need to make this salsa recipe:
Frozen Corn
Canned Black Beans
Green & Red Bell Peppers
Green Onions
Garlic
Fresh Cilantro
Olive Oil
Fresh Limes (for lime juice)
Chili Powder
Cumin
Salt & Pepper
For exact ingredient amounts and full recipe instructions, be sure to scroll down to the recipe card at the bottom of this post. Thanks!
How do I make black bean and corn salsa?
To a large mixing bowl, add the thawed frozen corn, rinsed black beans, diced bell peppers, green onions, garlic and cilantro. Toss the ingredient together with a rubber scraper or wooden spoon.
Mix together the cilantro lime dressing. In a small mixing bowl, whisk together the olive oil, lime juice, chili powder, cumin, garlic salt and pepper. Pour over the salsa and stir together to coat all the ingredients.
The perfect salsa recipe for just about any occasion
This salsa is perfect to have on hand for watching football, and fantastic with your favorite margaritas for Cinco de Mayo. Check out my recipes for Strawberry Lime Margaritas, Pineapple Margaritas and a delicious Skinny Margarita.
The salsa is great with your favorite tortilla chips – I really love Xochitl chips, which you can find in the international section of the grocery store. (They are also non-GMO, gluten free and trans-fat free.)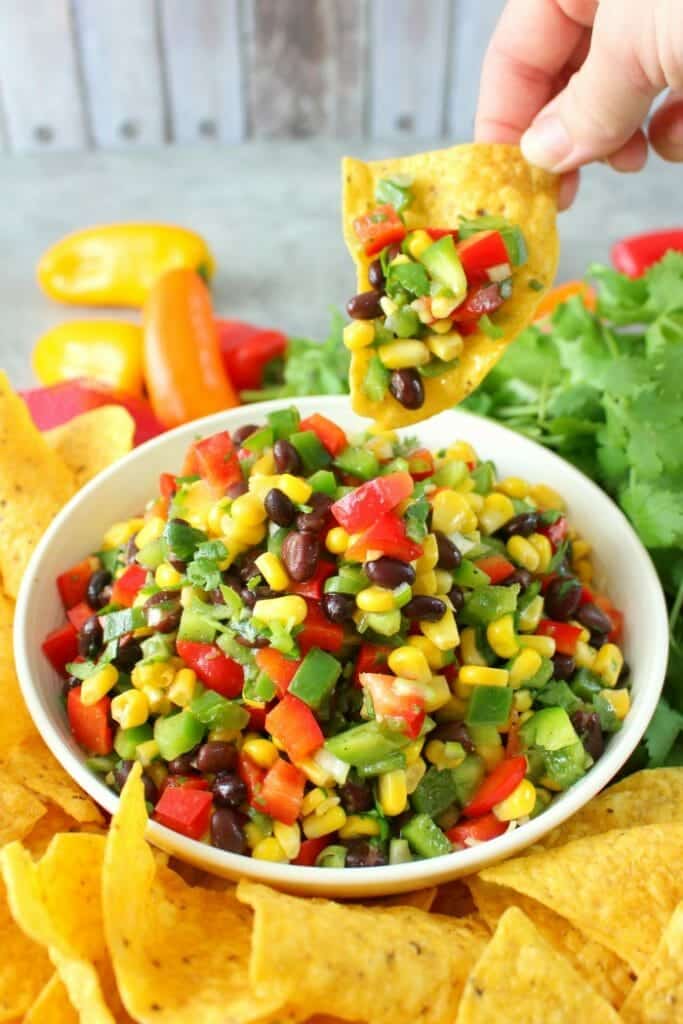 Topped with cilantro, this is a beautiful and delicious dip. It is a very complimentary flavor that adds a nice peppery, fresh taste. This black bean corn salsa recipe makes a good amount, and definitely serves a crowd. It is great served as a salad or side dish.
Wondering how to make other types of salsa? Check out my tutorial at Food.com on How to Make Salsa.
FAQ's on making Mexican corn salsa:
How many calories are in corn and black bean salsa?
There are about 98 calories for a 1/2 cup serving of black bean and corn salsa.
What is corn salsa made of?
This corn salsa is made of frozen corn, black beans, bell peppers, green onions, garlic, cilantro, lime juice and spices.
How long will corn salsa keep?
When kept refrigerated in an airtight container Mexican corn salsa will last for 4-5 days.
Does corn salsa have carbs?
Yes, corn salsa contains carbohydrates – approximately 10g for a 1/2 cup serving. The source of the carbs primarily comes from the corn.
What can I serve with Mexican corn salsa?
Corn salsa is best served with corn or tortilla chips. It makes a great appetizer and also a fantastic topping to any Tex-Mex dish. This corn salsa is a great topping for my Rotisserie Chicken Tacos or my Grilled Steak Fajitas.
Here are some other Tex-Mex recipes that would be perfect with this salsa:
Looking for some other delicious Tex-Mex toppings and seasonings? Here are some of my other recipes: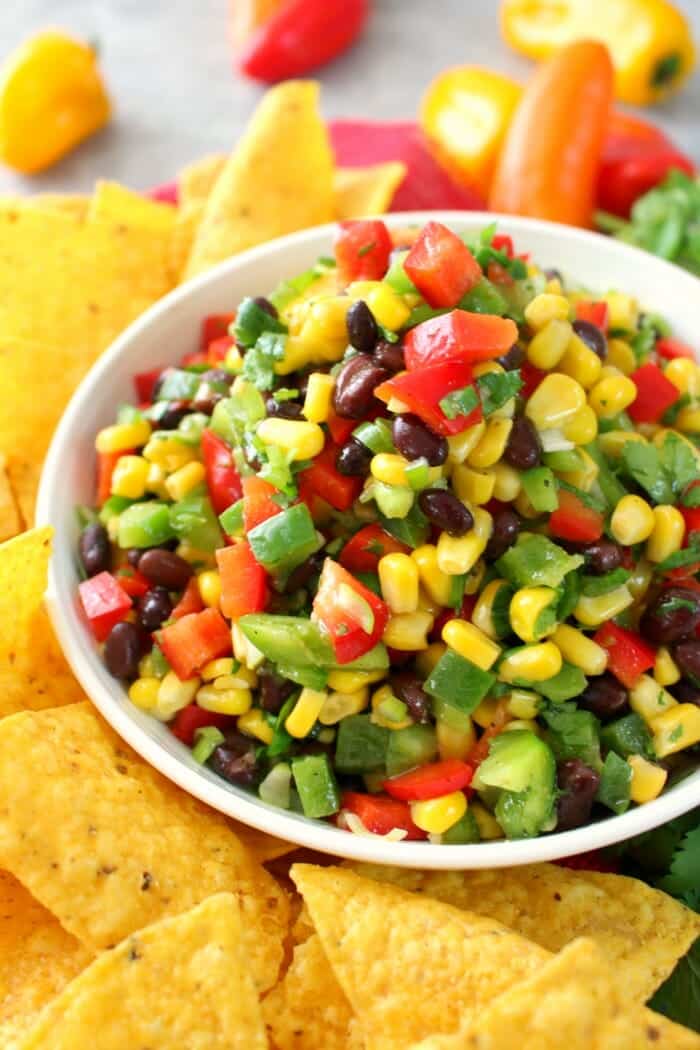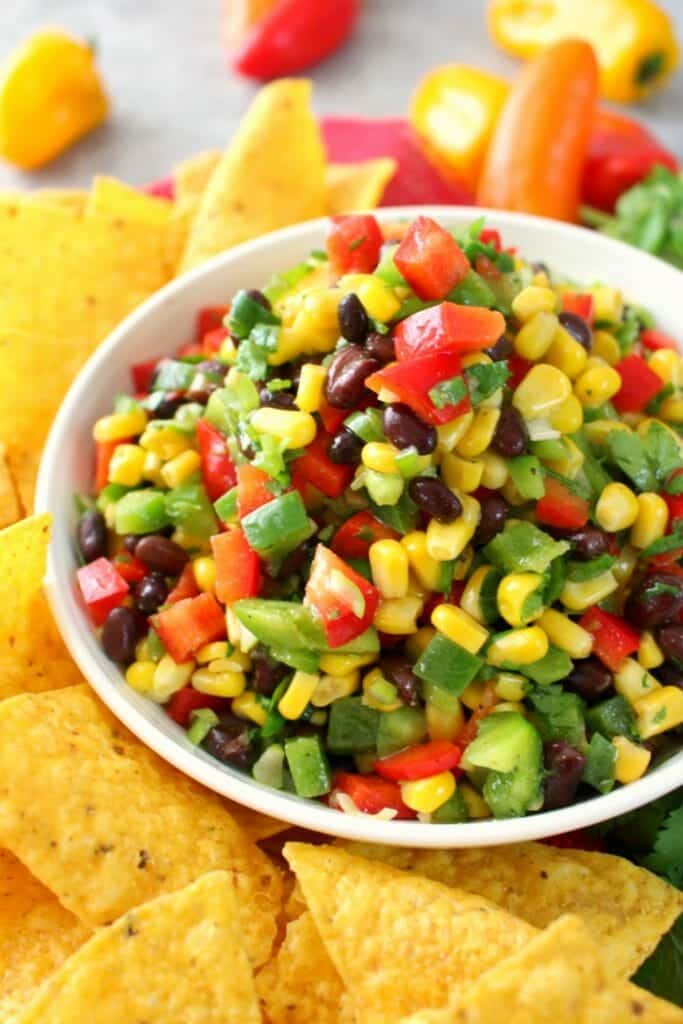 Black Bean Corn Salsa
This colorful black bean corn salsa is great to share with a crowd while watching the big game. Great with your favorite tortilla chips!
Ingredients
1 (16 oz.) bag, frozen corn, slightly thawed
1 (15.5 oz.) can, black beans, drained and thoroughly rinsed
1 large green bell pepper, diced (about 1 cup)
1 medium red bell pepper, diced (about 1 cup)
3 green onions, sliced (about 1/4 cup)
2-3 cloves of garlic, minced (about 1 Tbsp.)
1/2 cup fresh cilantro, finely chopped
Lime Dressing:
1/3 c. olive oil
1/3 c. lime juice (about 2 limes)
3 cloves of garlic
1/2 tsp. chili powder
1/2 tsp. cumin
1/4 tsp. salt
1/4 tsp. pepper
Instructions
In a large mixing bowl, combine thawed corn, beans, peppers (chopped into small pieces), minced garlic, cilantro and onions. Stir to combine.
For the dressing, add olive oil, lime juice, cloves of garlic and spices to a small bowl. Whisk the dressing well. Pour over salsa mixture. Using a rubber scraper, stir well to coat all ingredients. Top with additional cilantro if preferred.
Notes
Making in advance: Salsa can be made up to 24 in advance. Store in an airtight container in the refrigerator.
Store any leftovers in an airtight container and keep refrigerated. Salsa will keep for 4-5 days refrigerated.
Nutrition Information:
Yield:

12
Serving Size:

1
Amount Per Serving:
Calories:

98
Total Fat:

6g
Saturated Fat:

1g
Trans Fat:

0g
Unsaturated Fat:

5g
Cholesterol:

0mg
Sodium:

57mg
Carbohydrates:

10g
Fiber:

2g
Sugar:

2g
Protein:

2g
You Might Also Like These Recipes