The Easiest Blueberry Breakfast Braid recipe!
Meet your new favorite breakfast treat! This super-simple Blueberry Breakfast Braid is made from simple, store-bought crescent sheets, along with fresh blueberries, almonds and cream cheese. No one will ever know this Blueberry Crescent Braid didn't come from a fancy bakery!
This post may contain affiliate links. Delightful E Made is a participant in the Amazon Services LLC Associates Program, an affiliate advertising program designed to provide a means for us to earn fees by linking to Amazon.com and affiliated sites.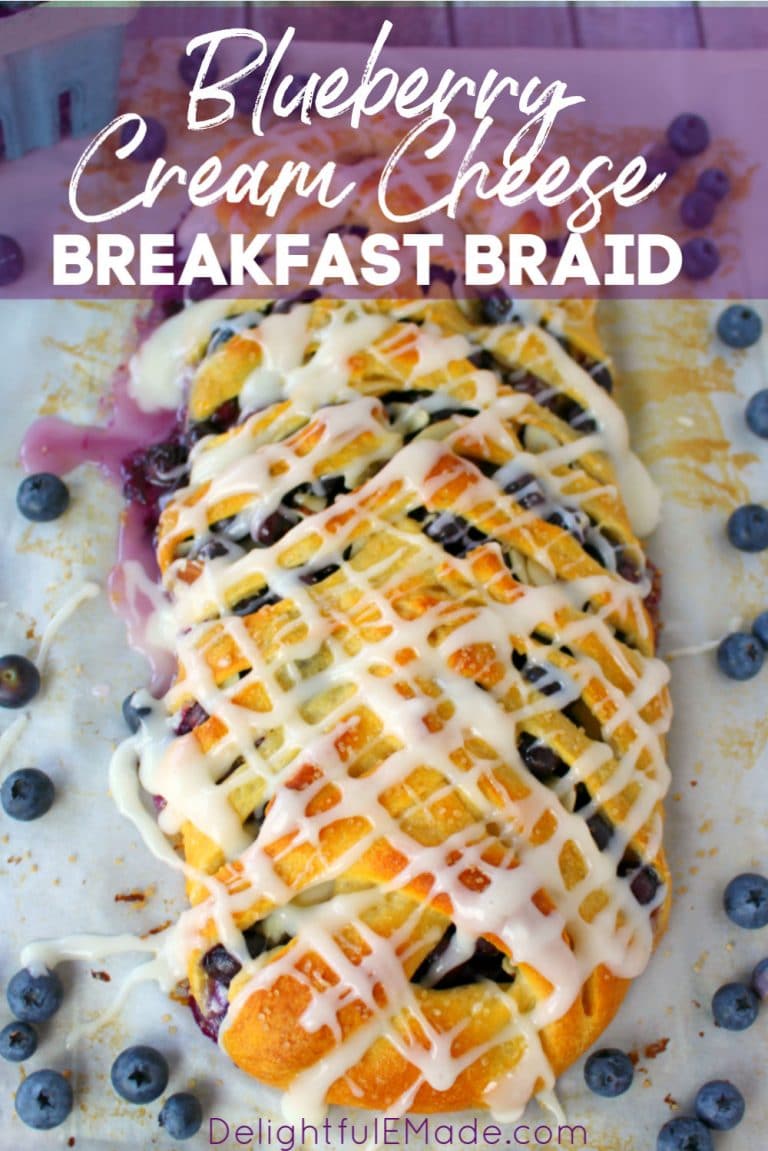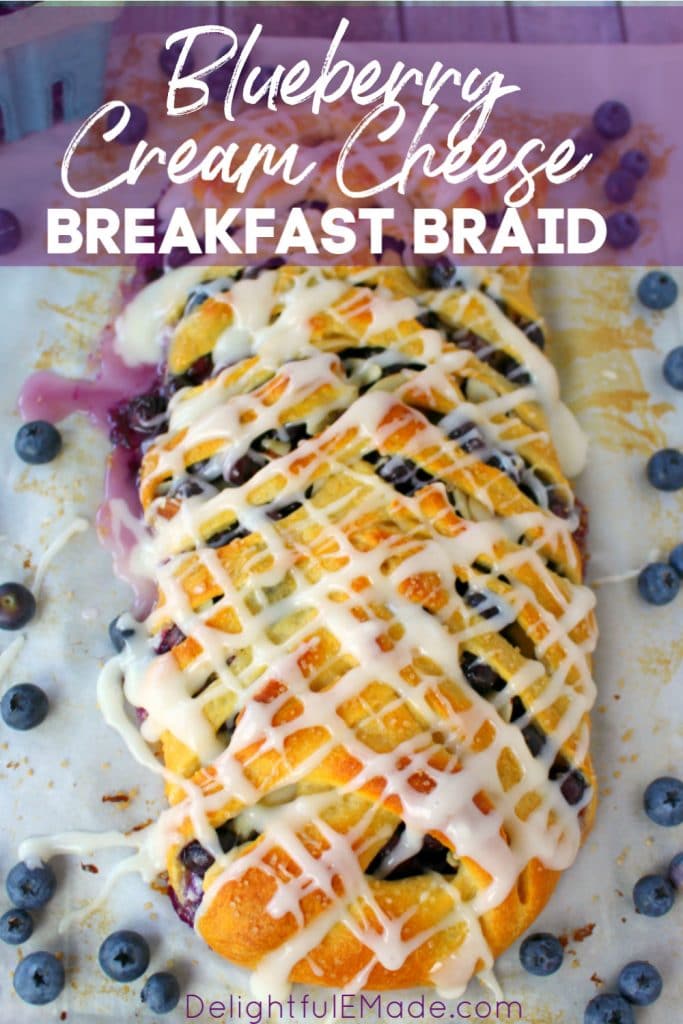 Blueberry Cream Cheese Breakfast Braid
The ultimate easy breakfast pastry, this delicious Blueberry Cream Cheese Breakfast Braid is amazing! With some great shortcuts, like store-bought refrigerated crescent dough, this breakfast braid recipe comes together in moments.
If you've even gone through my content here at DelightfulEMade, you'll quickly discover that I'm pretty much in love with blueberries! We didn't have them much as a kid, as blueberries were not very plentiful in the rural parts of South Dakota. However, on the rare occasion, where this gorgeous berry would make an appearance, I was gobbling them down like candy.
This past weekend, I picked up a BIG container of blueberries, and wanted to make something breakfast-y. I grabbed a tube of crescent roll dough, and folded together this super-simple, and uber yummy Blueberry Cream Cheese Breakfast Braid!
Here's how to make a breakfast braid: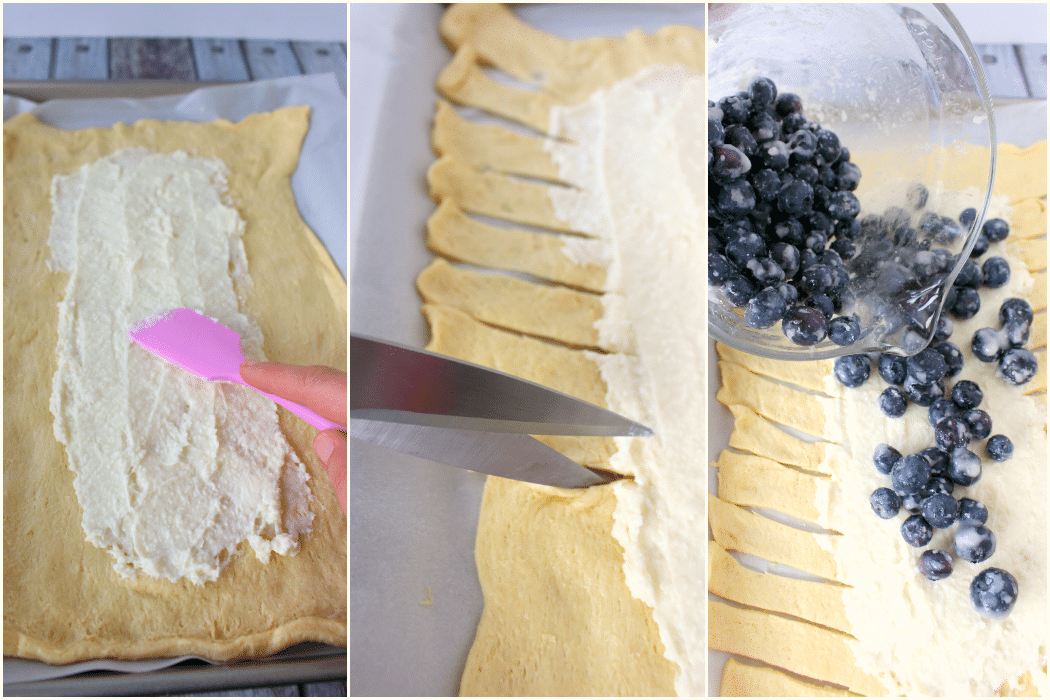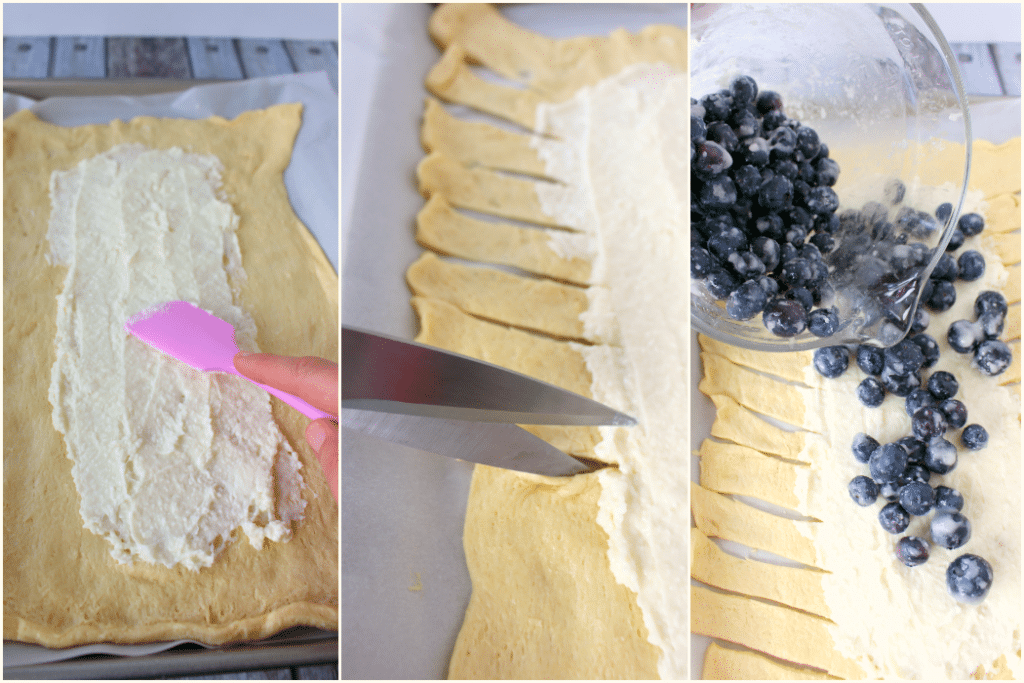 Step 1: Create the Crescent Braid with Crescent Dough, then Slice and Fill
You'll start by rolling out your crescent roll dough (I purchased the sheet, which doesn't have perforations. However, if you can only find the crescent rolls, those work just as well.) I then mixed together 4 oz. of cream cheese with a couple tablespoons of sugar, and spread in the center of the dough.
Much like my Blueberry Cream Cheese French Toast Bake, I find that blueberries and cream cheese go really well together. When the blueberries and cream cheese bake, they bubble together making the most delicious filling for this breakfast braid.
With kitchen shears I cut strips along the edge of the center (about 4″) – I had around 12 strips. Feel free to also use a sharp pairing knife if shears are not handy. I then rinsed my blueberries, added a bit of sugar and cornstarch, and poured them on to the top of the cream cheese layer.

Step 2: Add Almonds and Fold Over the Dough Strips to create the breakfast braid
Aren't those berries gorgeous? Can you spot the star that filled with sugar on the left image? Cool, right?!
On top of the blueberries I added a sprinkling of sliced almonds. These were a fantastic addition, as it added a nice crunch to the center of the pastry. Then, begin folding the strips to the center of the berries. I simply overlapped each strip on to the next, and folded in the ends – this doesn't have to be perfect.
Just before baking, I added a sprinkling of turbinado or raw sugar to create a pretty, golden crust. This is totally optional, but it actually adds a wonderful texture to the baked dough. If you cannot find turbinado sugar, simple granulated sugar works just as well.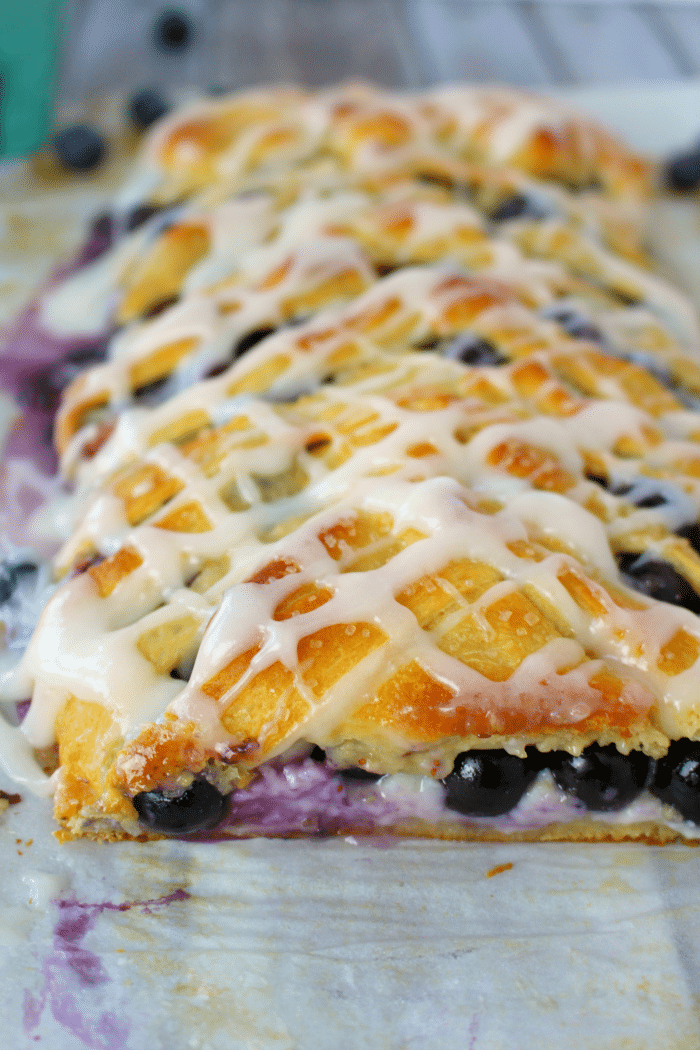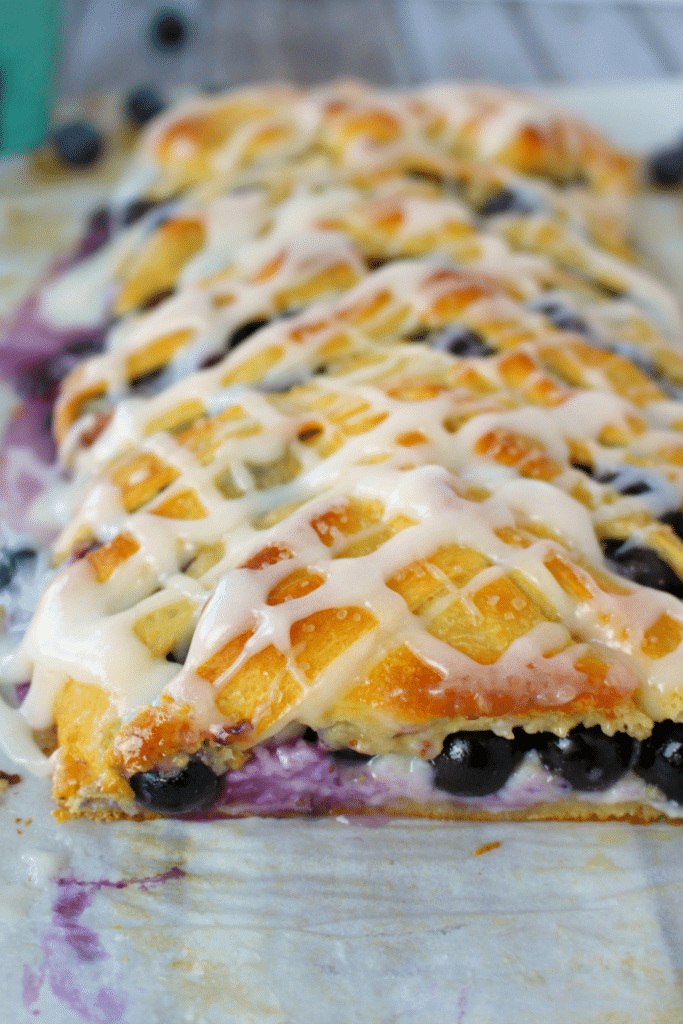 Step 3: Bake and Glaze the Blueberry Crescent Braid
It won't take long for this beautiful breakfast braid to bake. I baked the pastry at 375 degrees for 15-18 minutes. This will give the berries time to bubble and pop, and the crust will become a beautiful golden brown.
After this gorgeous breakfast braid comes out of the oven, I then drizzled it with a basic powdered sugar/cream cheese glaze. It's a nice addition to the top of the pastry, and the cream cheese compliments the filling perfectly.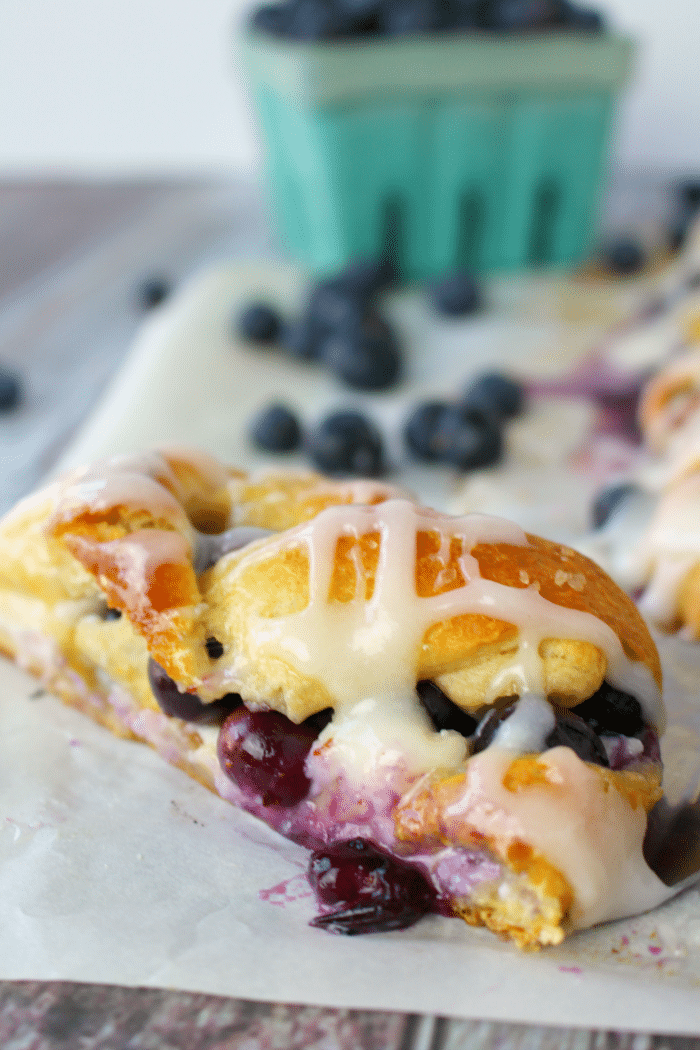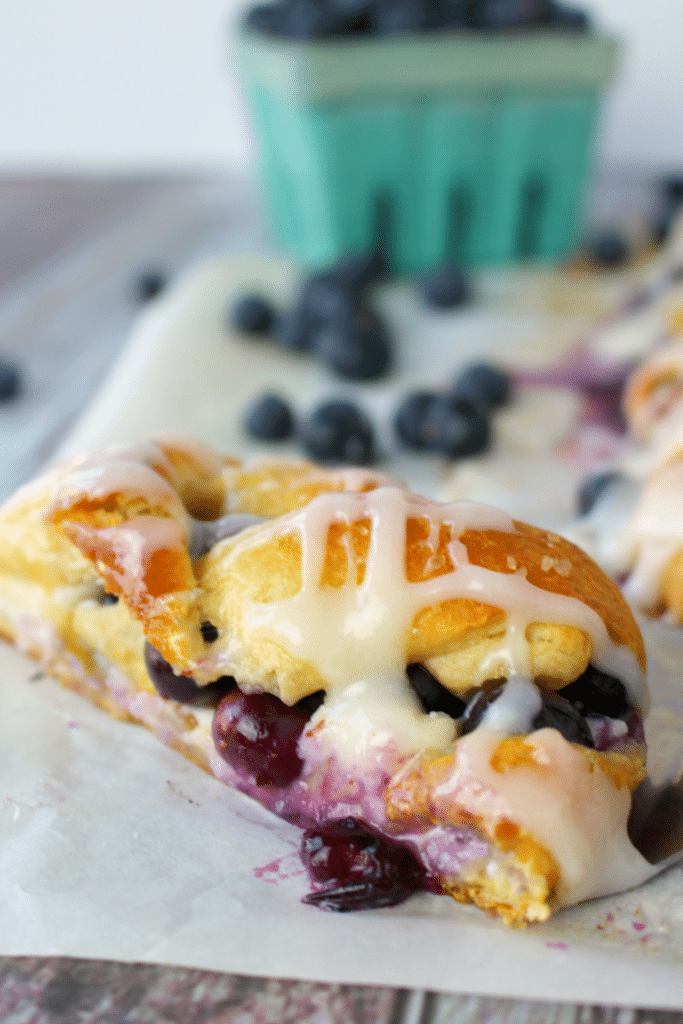 Step 4: Slice and Serve the Breakfast Braid
Slice while warm, and you'll have the most glorious morning treat to go with your coffee or tea. Feel free to slice in strips or triangles – whatever suits your fancy.
Serve with your favorite coffee, tea or espresso drink
Here's a quick-reference grocery list of the ingredients you'll need for this fantastic breakfast braid recipe:
Crescent Dough (refrigerated 8 oz. tube)
Cream Cheese
Granulated Sugar
Blueberries
Corn Starch
Sliced Almonds
Turbinado or Raw Sugar
Powdered Sugar
Milk
Are you looking for some healthy weekday breakfast options? I've put together all of my healthy breakfast recipes into a post all about Breakfast Meal Prep. It's a great way to prepare healthy breakfast options in advance, so you have healthy breakfast options ready to go for you on busy mornings.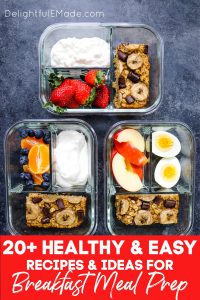 If you love enjoy blueberries for breakfast, check out all of my blueberry breakfast recipes:
Here's the EASY recipe for this delicious blueberry crescent braid: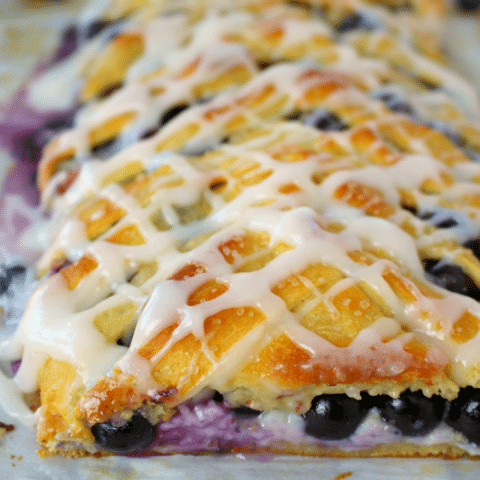 Blueberry Cream Cheese Breakfast Braid
Meet your new favorite breakfast pastry! This super-simple Blueberry Cream Cheese Breakfast Braid is made from store-bought crescent sheets, along with fresh blueberries, and almonds and a baked to perfection. The perfect pairing with your morning coffee!
Ingredients
1 (8 oz.) tube, crescent dough sheet
4 oz. cream cheese
1/4 c. granulated sugar, divided
2 c. (1 pint) fresh or frozen blueberries
1 Tbsp. corn starch
1/4 c. sliced almonds
2 Tbsp. turbinado or raw sugar
Glaze:
1 c. powdered sugar
3 Tbsp. cream cheese
1-2 Tbsp. milk
Instructions
Preheat oven to 375 degrees. Line a baking sheet with parchment paper.
On parchment paper, roll out the crescent dough, and pinch together any holes or perforations.
On a bowl, cream together the 4 oz. of cream cheese and 2 Tbsp. of sugar. Spread into the center of the dough, leaving about 4" on each side. Using kitchen shears or a knife, cut diagonal 1"strips along the sides of the dough.
Rinse and drain the blueberries. In a bowl, add the remaining 2 Tbsp of sugar, and the cornstarch, and mix together to coat the berries. Pour the berry mixture over the center cream cheese area of the dough. Sprinkle the berries with the sliced almonds.
Gently fold over each end of the dough on to the berries, and fold in each strip of the dough, until all the berries and almonds are encased. Sprinkle the top of the dough with the turbinado or raw sugar granules. Bake at 375 for 15-18 minutes.
While pastry is baking, mix together the glaze by creaming together the powdered sugar, cream cheese, and milk. Mix until smooth.
When breakfast braid comes out of the oven, drizzle with glaze. Slice and serve.
Notes
If you cannot find crescent roll sheets, feel free to buy the crescent rolls. These are the exact same thing, just with perforations. Simply roll out the dough, and pinch together the perforations to form one large sheet.
Recommended Products
As an Amazon Associate and member of other affiliate programs, I earn from qualifying purchases.
Nutrition Information:
Yield:

8
Serving Size:

1
Amount Per Serving:
Calories:

220
Total Fat:

9g
Saturated Fat:

4g
Trans Fat:

0g
Unsaturated Fat:

4g
Cholesterol:

22mg
Sodium:

77mg
Carbohydrates:

34g
Fiber:

2g
Sugar:

29g
Protein:

2g