Blueberry Overnight Oats – the perfect healthy make-ahead breakfast!
These Blueberry Overnight Oats will be your new go-to healthy breakfast! Perfect for meal prep, learning how to make overnight oats is a great way to have a healthy start to your day.
This post may contain affiliate links. Delightful E Made is a participant in the Amazon Services LLC Associates Program, an affiliate advertising program designed to provide a means for us to earn fees by linking to Amazon.com and affiliated sites.
Once I learned how to make overnight oats I feel like eating a healthy breakfast got infinitely easier! This recipe for Blueberry Overnight Oats is one of my favorite breakfasts to meal prep on a Sunday and have ready to eat during busy mornings.
Not only is this overnight oatmeal simple to make, I feel good knowing I have a healthy, nutritious breakfast ready to go.
Like this recipe? Be sure to pin it to your BREAKFAST board on Pinterest!
Follow DelightfulEMade on Pinterest for some of the very best HEALTHY BREAKFAST ideas!
As many of you know, I've struggled with my weight almost my entire life. At one point in time, I was about 100 lbs heavier than I am now.
Once I made the conscious decision to change my habits and mindset around food, along with teaching myself how to cook in a healthy way, the weight began to come off.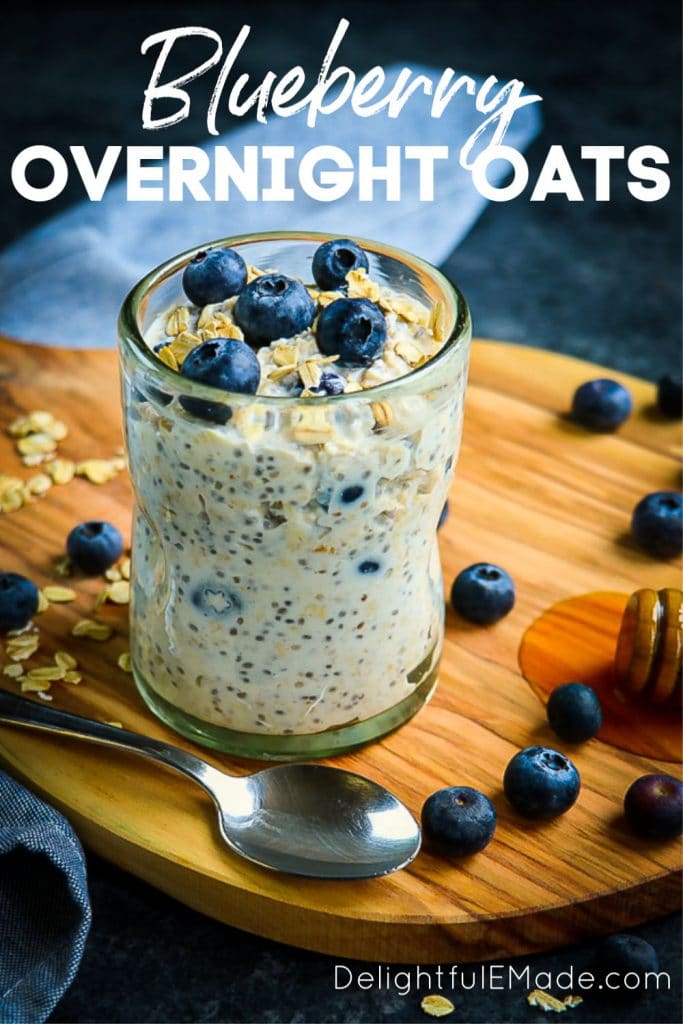 Why should I meal prep breakfast?
Meal prep along with diligently tracking/writing down what I ate were the two biggest actions I took to lose weight. I've said it many times – when you make healthy choices in advance (meal prep) it makes it much easier for your future self to make that healthy choice. Check out my Breakfast Meal Prep post for getting started with meal prepping breakfast.
Because you've already created something that is read to go, you are invested in making that decision when it is time. It is already done and waiting for you.
This recipe for Blueberry Overnight Oats checks all those boxes when it comes to healthy eating and meal prep. Once you learn how to make overnight oats, and discover how simple it is, you'll be setting yourself up for success.
This overnight oatmeal is not only super simple to make, healthy and nutritious, it's a good source of protein, and even something you can take with you to work. No drive-thru necessary. If you would like more information on meal prep and the tools I use, check out My Favorite Tools for Healthy Living.
Here's how to make overnight oats in just a few simple steps: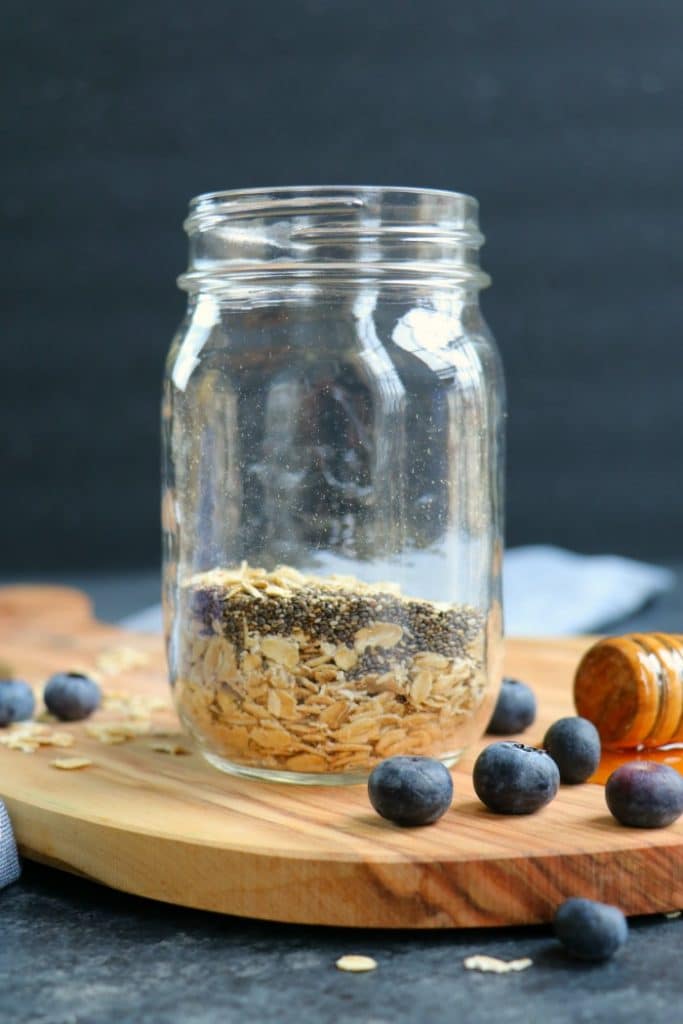 Step 1: Add your oatmeal and chia seeds
To a mason jar or any resealable container, add the oats and chia seeds. I prefer old-fashioned oats, but you can also use steel-cut oats or even plain instant oats. If using steel-cut oats, you'll need to reduce the oats to 1/4 c., which is a serving.
BTW – mason jars are some of my favorite meal prep containers. They're easy to clean, store and are dishwasher safe. The tight fitting lids also prevent spills in the refrigerator. Check out all of my Best Meal Prep Containers here.
Chia seeds are not only a super-food, they're a great way to add a bit of texture to your overnight oatmeal. Loaded with anti-oxidants and protein, these seeds can be found in most grocery stores in the health food section.
If your grocery store does not sell chia seeds, you can get them from Amazon here: Viva Naturals Organic Raw Chia Seeds (2 LB)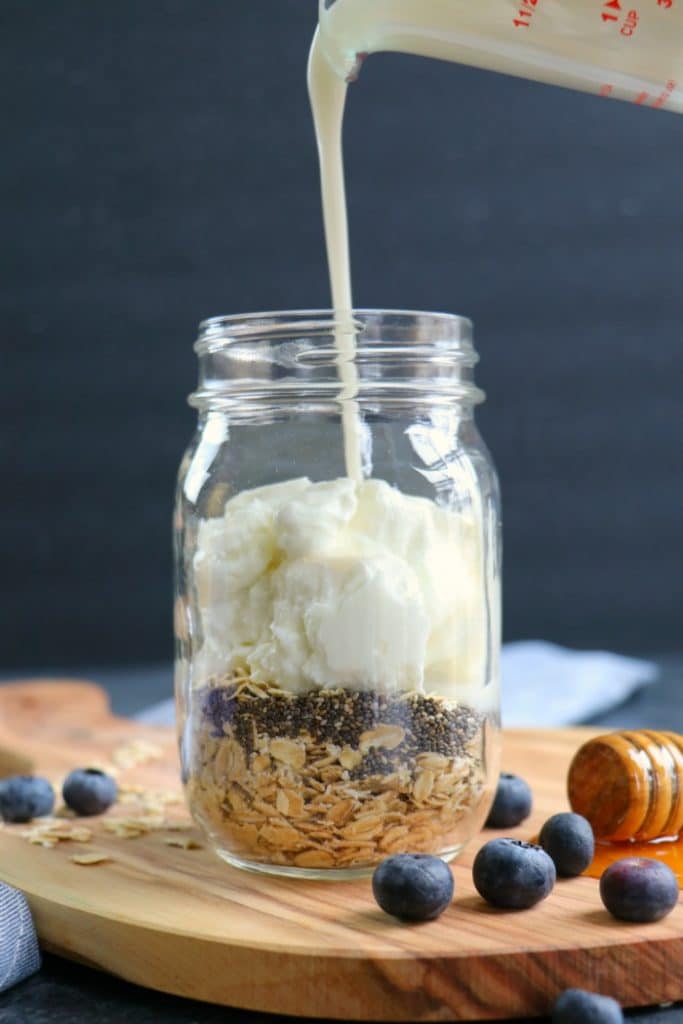 Step 2: Next, add the yogurt and milk
To the jar or container, you'll then add Greek yogurt and your choice of milk. I prefer to use Fage Greek yogurt, as it's an excellent source of protein, with minimal sugar. It is sold in 0%, 2% and 4% milk fat – choose whichever you prefer.
I use plain 2% Greek yogurt in my Greek Yogurt Fruit Dip and Chocolate Protein Pudding – both of which make great healthy snack ideas!
Remember – fats are not always a bad thing. In this instance, a full-fat yogurt is a pretty solid option.
Milk choices: like I mention in my book The Protein Smoothie Bible, there are endless choices of milks on the market now. In addition to regular dairy milk, there is also soy, coconut, cashew, almond, hemp and oat to name a few.
Chose a milk that will give you the most protein for your dietary needs (or restrictions). I actually prefer regular dairy milk, as it is often the best source of protein per serving.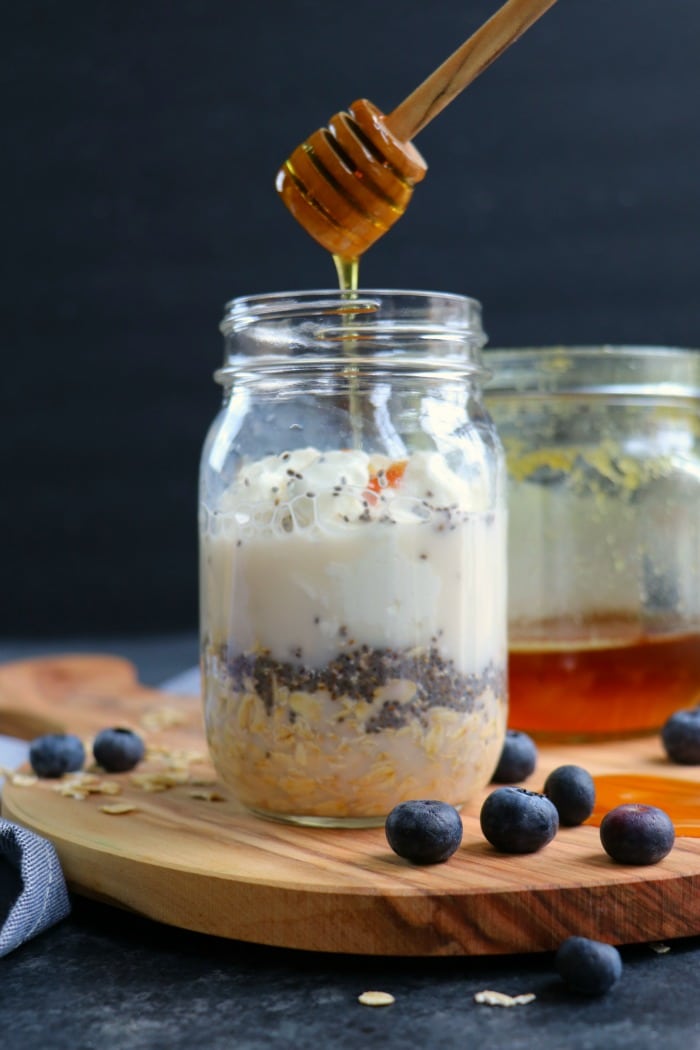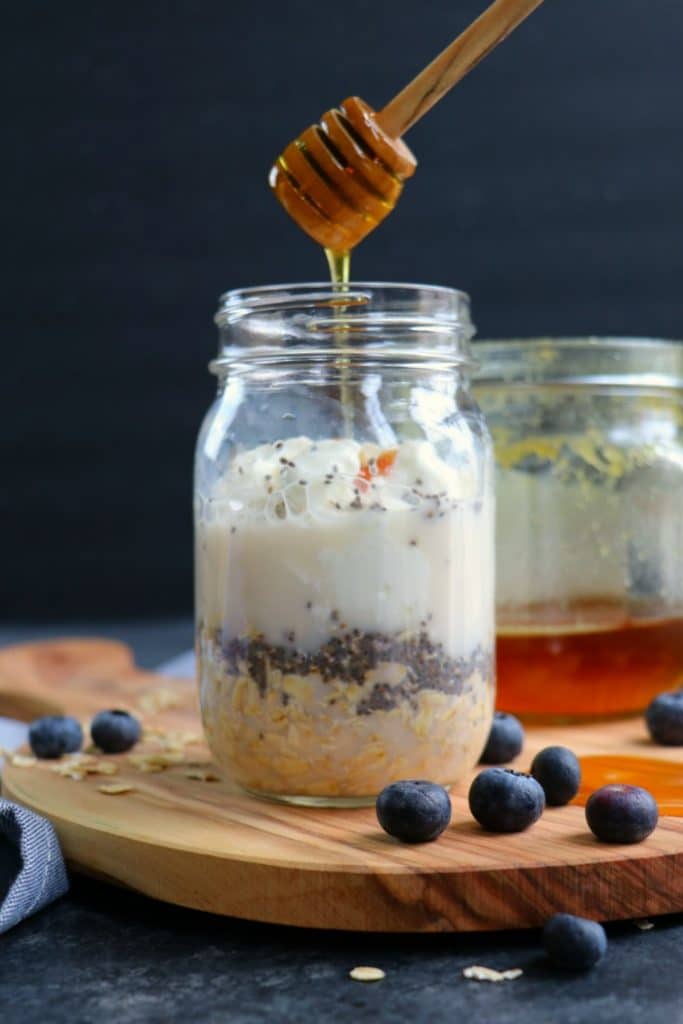 Step 3: Add the honey and vanilla
Because I've chosen an unsweetened yogurt for my blueberry overnight oats, adding a small amount of sweetener and a bit of vanilla is good for the flavor palate.
If you would prefer another sweetener, I would recommend agave nectar, maple syrup or stevia or a simple sprinkling of regular sugar as well.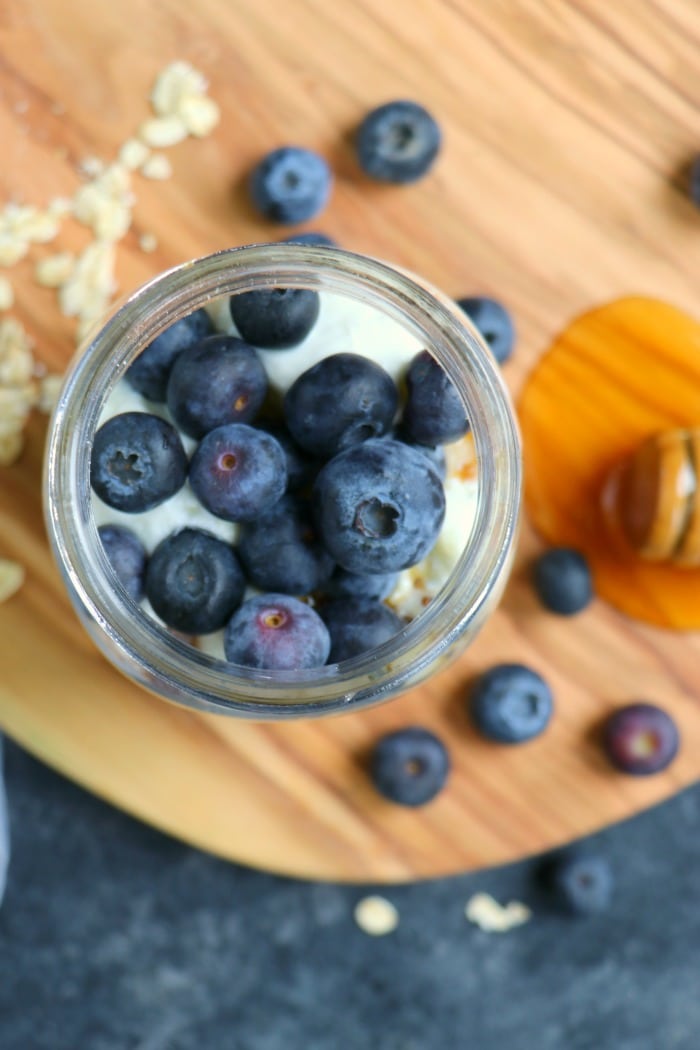 Step 4: Stir ingredients together, then add blueberries
The last step in how to make overnight oats is to simply stir the ingredients together, and then fold in the berries. Where I live, you can buy fresh blueberries almost year-round.
If you cannot find fresh blueberries, head over to the frozen food section and grab a bag of frozen blueberries. These work just as well, and once your overnight oatmeal is ready to eat, they will be perfectly thawed.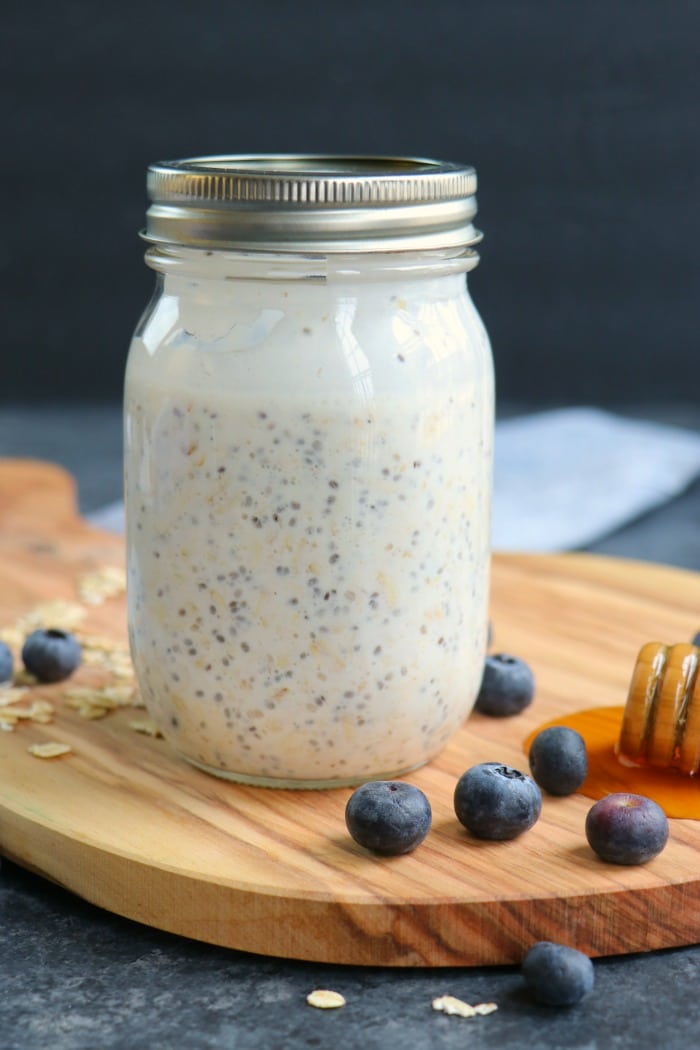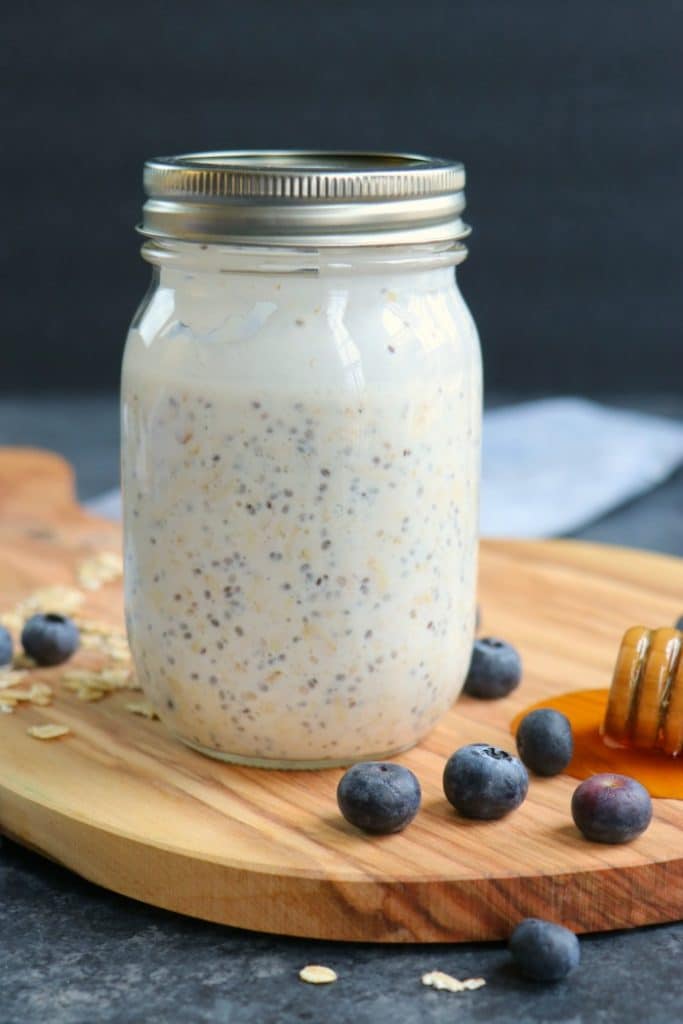 Step 5: Refrigerate overnight
Your last step is to add a lid to your container of blueberry overnight oats, and refrigerate overnight. The oats will soften, the chia seeds will plump up, and everything will thicken and come together.
Once you wake up in the morning, or your rushing off to work, your overnight oats will be ready to go. This container will provide you with two servings, so portion out as necessary. You can also place is two smaller containers if that is more convenient for you.
Once you're ready to eat, top with additional blueberries. I also like to top mine with some sliced or chopped almonds for some additional crunch. I know some people don't prefer the texture of overnight oatmeal, but with the burst of blueberries and chia seeds, along with the crunch of the almonds, it's quite delicious and filling!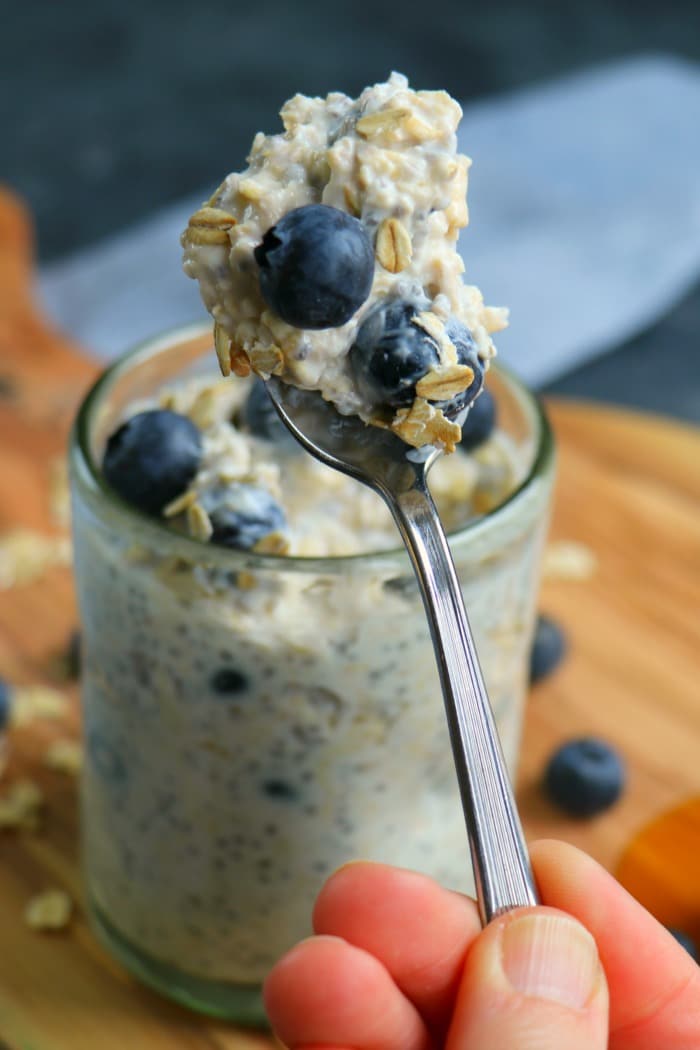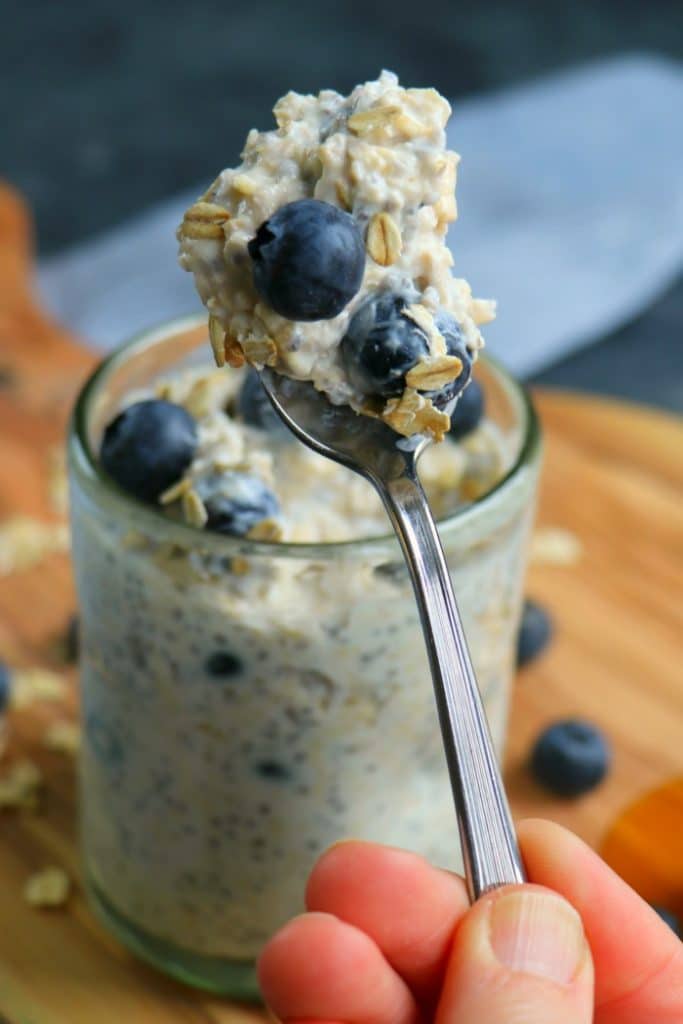 Ready to start doing some Breakfast Meal Prep?
It's actually a great place to start with meal prep. Be sure to check out my post for Healthy Breakfast Meal Prep – I've included all of my healthy breakfast recipes and meal prep tips, tools and ideas to get you eating healthy on the regular!
My Healthy Breakfast Sandwiches and Baked Egg Cups, and my Chocolate Chia Seed Pudding are also great options for busy mornings.
If you loved these delicious Blueberry Overnight Oats, then check out some of my other healthy oatmeal recipes:
Love blueberries for breakfast? Check out some of our favorite blueberry recipes: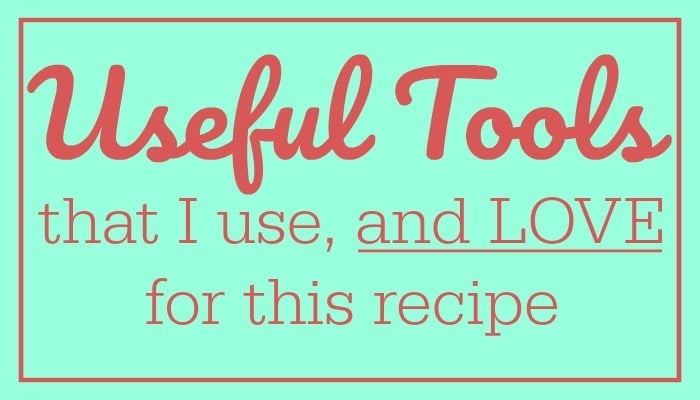 Ball Mason Jars (Amazon Affiliate Link): Simple mason jars are actually one of my favorite meal prep tools. They're perfect for this overnight oats recipe, and can be placed in the dishwasher for easy clean up.
GIR All Silicone Mini, Skinny & Ultimate Spatulas: (Amazon Affiliate Link)You know how you have those favorite tools in your kitchen – the one that you always grab first? These silicone spatulas are just that. They're durable, the perfect size and easy to clean!
Here's the recipe for my delicious Blueberry Overnight Oats:
Blueberry Overnight Oats
This recipe for Blueberry Overnight Oats will be your new go-to healthy breakfast! Perfect for meal prep, learning how to make overnight oats is a great way to have a healthy start to your day!
Ingredients
1/2 c. old fashioned oats
1/2 c. Greek yogurt
1/2 c. milk
1 Tbsp. chia seeds
2 tsp. granular monk fruit sweetener
1/4 tsp. vanilla extract
1/2 c. fresh or frozen blueberries
Instructions
In a pint-sized mason jar, add the oatmeal and chia seeds. Next add the yogurt, milk, honey and vanilla. Stir together to combine. Lastly, add the blueberries and stir together.
Secure lid tightly and refrigerate for at least 4 hours or overnight.
Spoon out and top with additional blueberries and almonds, if preferred.
Will keep refrigerated for up to 5 days.
Notes
Feel free to use any milk you prefer - almond, cashew, oat, coconut, soy or dairy.
Optional: Adding almonts, 2 tablespoons is a serving. If adding almonds, I would recommend adding them just before serving to keep crisp.
Recommended Products
As an Amazon Associate and member of other affiliate programs, I earn from qualifying purchases.
Nutrition Information:
Yield:

1
Serving Size:

1
Amount Per Serving:
Calories:

390
Total Fat:

10g
Saturated Fat:

3g
Trans Fat:

0g
Unsaturated Fat:

6g
Cholesterol:

15mg
Sodium:

103mg
Carbohydrates:

54g
Fiber:

10g
Sugar:

18g
Protein:

23g