Looking for a delicious chicken and pasta recipe? This chicken and broccoli alfredo is perfect for dinner any night of the week. Made with homemade alfredo sauce and rigatoni pasta, this chicken broccoli alfredo recipe comes together in under 30 minutes.
This post may contain affiliate links. Delightful E Made is a participant in the Amazon Services LLC Associates Program, an affiliate advertising program designed to provide a means for us to earn fees by linking to Amazon.com and affiliated sites.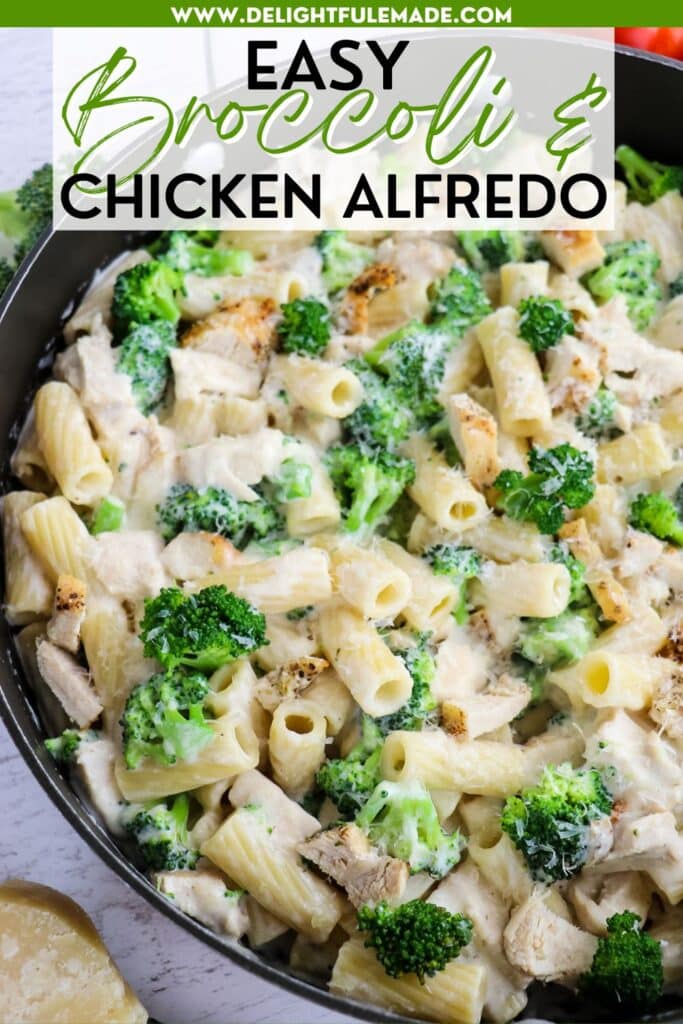 Do you love a simple, delicious chicken and pasta recipe? This chicken broccoli alfredo pasta is a fantastic weeknight dinner recipe that comes together quickly and easily.
Forget the jarred alfredo sauce that is loaded with preservatives, this chicken and broccoli alfredo is made with a simple homemade alfredo sauce that tastes amazing. The creamy sauce brings the chicken, pasta and broccoli together, making an amazing pasta dinner.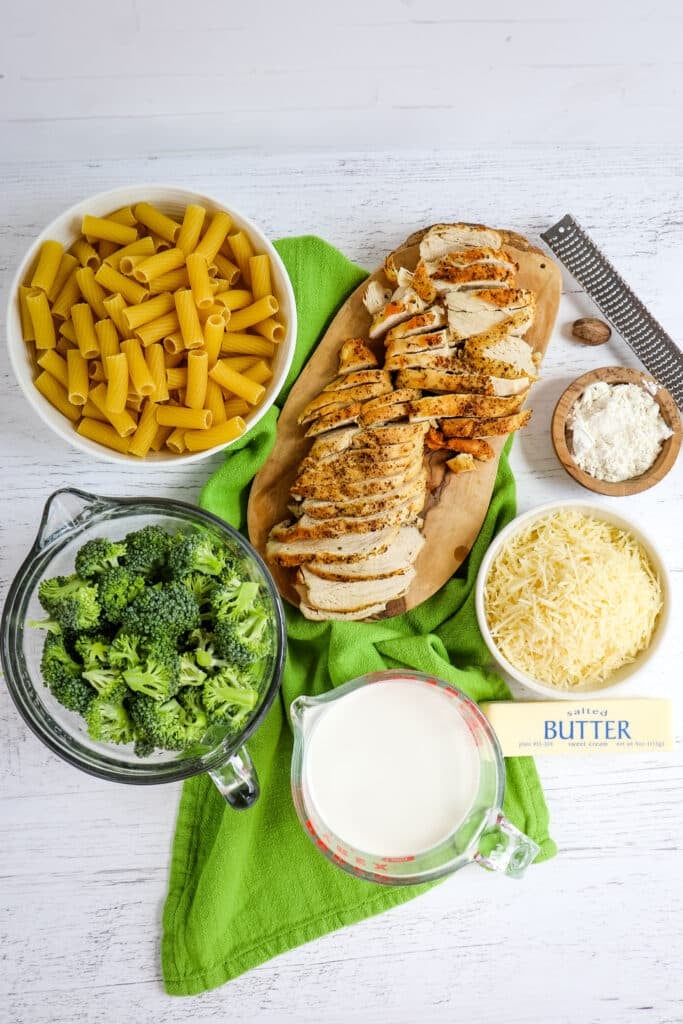 What do I need to make chicken and broccoli alfredo?
Here's a quick-reference check list of the ingredients you'll need to make this pasta dinner:
Medium-sized pasta – I used rigatoni, but penne, rotini, farafelle, gemmelli, or medium shells would also work well.
Pre-cooked chicken
Broccoli
Butter
Flour
Half and half (or whole milk)
Shredded Parmesan cheese
Nutmet
Salt and Pepper
For exact ingredient amounts and full recipe instructions be sure to reference the recipe card at the bottom of this post.
I highly recommend making your own alfredo sauce. It comes together in minutes with simple ingredients and tastes much better than anything that comes in a jar.
Here's the simple steps to making your own alfredo sauce.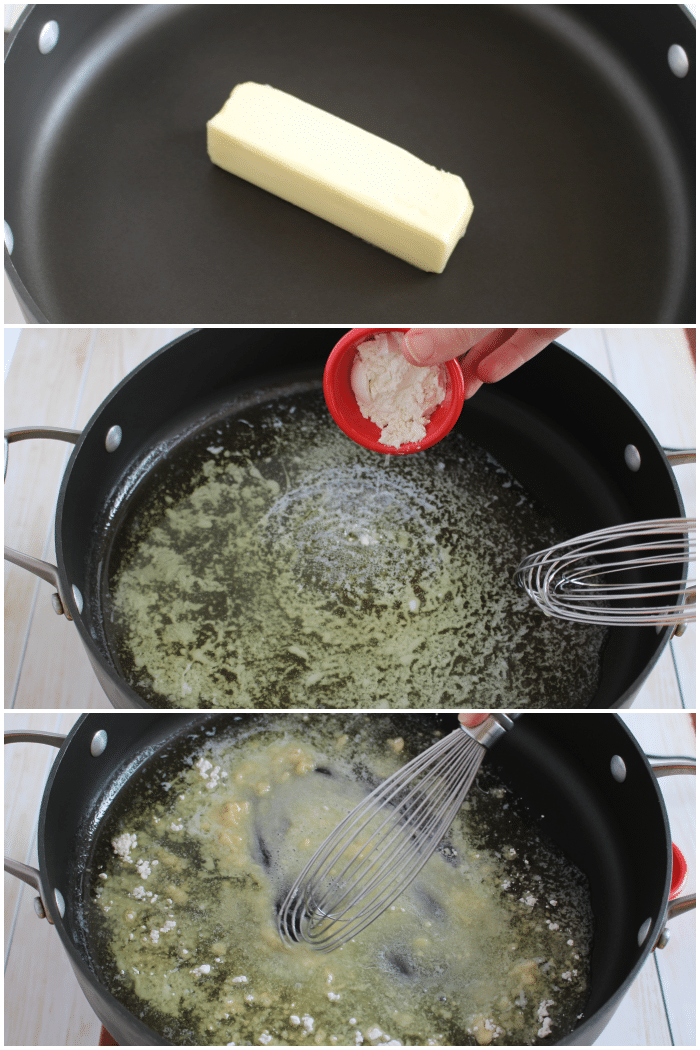 How do I make alfredo sauce?
Start by melting butter in a large skillet. Once melted, add flour and whisk together over medium-low heat, creating a roux. Simmer and cook for 2-3 minutes until thickened.
Next, add half and half (or whole milk) one cup at a time. Keeping the heat on medium, whisk until thickened. Once all half and half has been incorporated, add shredded Parmesan cheese and stir together until melted.
Season the sauce with salt, pepper and freshly grated nutmeg. The sauce is now ready to add to pasta or any other recipe.
For exact ingredient amounts and full recipe instructions, check out my post for making alfredo sauce.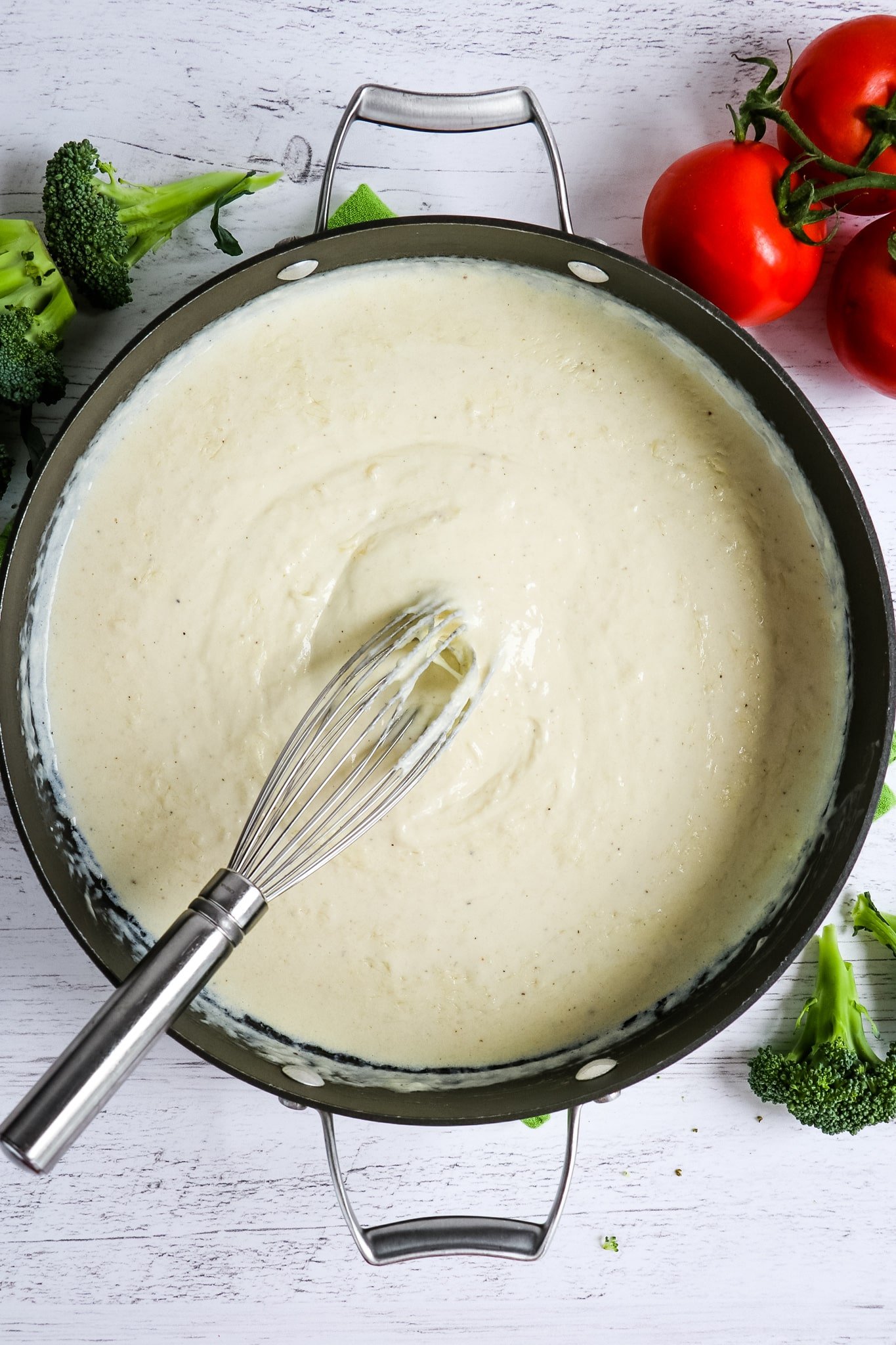 Tips and suggestions for making chicken alfredo with broccoli:
Make your own alfredo sauce – Store-bought alfredo sauce is not great. It includes loads of chemical preservatives and ingredients and homemade sauce tastes far superior.
Cook the pasta only to al dente – Depending on the pasta you choose, be sure to check the package instructions for the al dente cook time. This is usually 1-2 minutes less than the regular cook time. Al dente cook will ensure the pasta doesn't get overly soft or tear when incorporated with the sauce, broccoli and chicken.
Cook the broccoli with the pasta – The last two minutes of the pasta cooking, add in the broccoli florets to the pasta water. This not only eliminates another dish or pan to clean up, it's also quicker and can be drained directly with the pasta.
Love adding broccoli to your meal? Check out my recipes for Sauteed Broccoli with Garlic, Beef and Broccoli Stir Fry, Ham and Broccoli Mac and Cheese and my Healthy Chicken Broccoli Cheese Soup.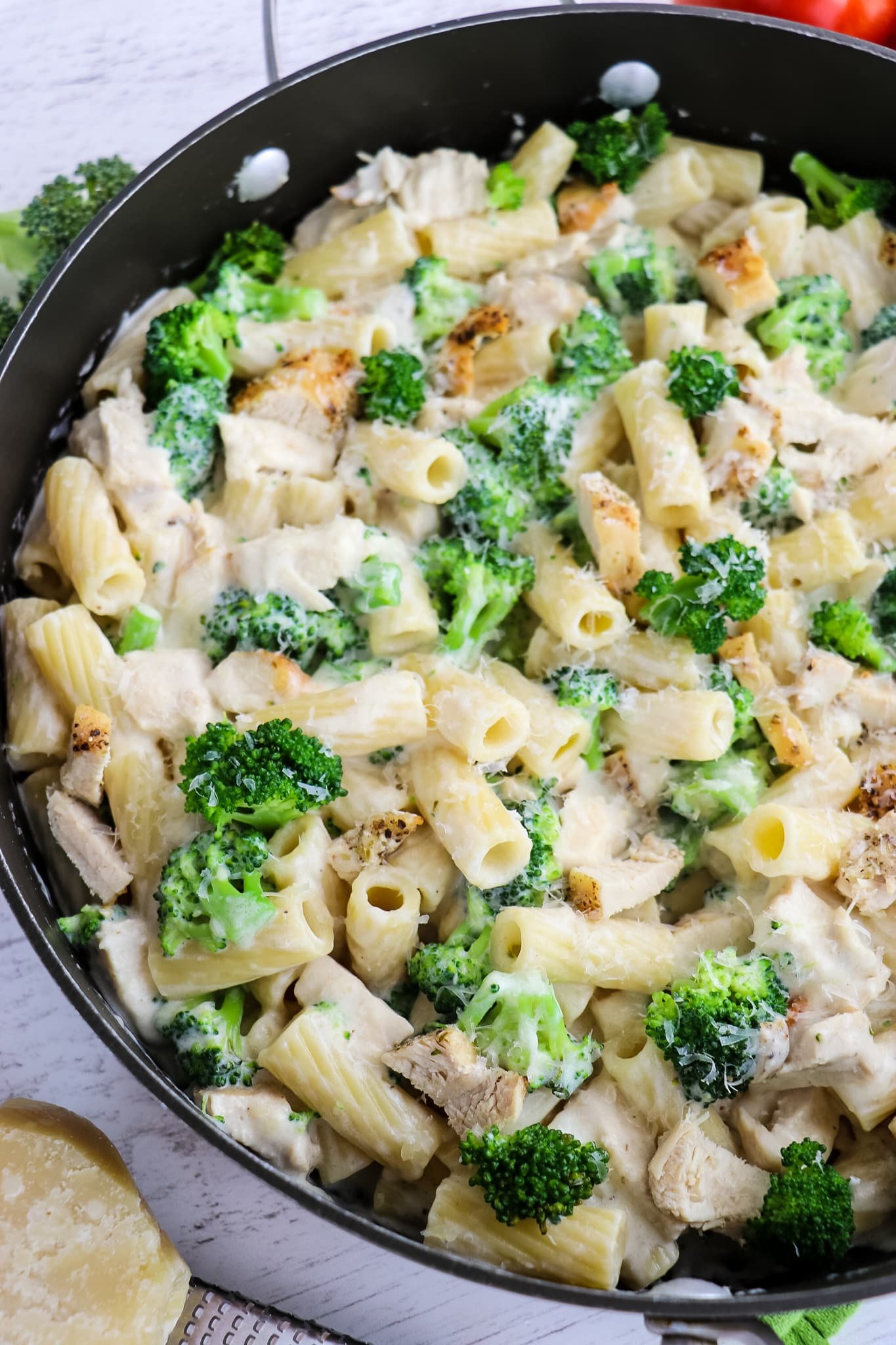 What kind of chicken should I use to make chicken alfredo?
You have a number of options for what type of chicken to include in your chicken and broccoli alfredo. Here are some suggestions:
Cook your own Italian Chicken – my recipe for Italian Grilled Chicken is wonderfully flavorful. You can grill it on an indoor grill pan or on your outdoor gas grill. This is what I used for this pasta recipe.
Use Frozen, Pre-Grilled Chicken strips – the freezer section at the grocery store likely has several options of pre-cooked chicken. There are some great, healthier options now available.
Pre-Cooked Shredded Chicken – I love using pre-cooked rotisserie chicken, as it's a great time-saver on busy weeknights. Costco also has packages of pre-cooked, pre-shredded rotisserie chicken available in their prepared food section. Check out my post for 15 Things I Buy at Costco for Healthy Meals and Snacks.
FAQ's about making chicken alfredo:
What is the sauce of chicken alfredo made of?
Most alfredo sauces are made of butter, cream and Parmesan cheese, and seasoning. Additional ingredients to thicken the sauce include flour and/or cream cheese.
What spice is good in Alfredo?
Keeping seasoning in alfredo sauce is the way to go. Include salt, or garlic salt, pepper and fresh ground nutmeg is traditional seasoning for an alfredo sauce.
What to add to Alfredo to make it taste better?
Use a good quality Parmesan-Reggiano cheese is a good place to start. Also, lightly seasoning the sauce with salt (or garlic salt), pepper and freshly ground nutmeg will help your Alfredo sauce be much more flavorful.
How do you thicken Alfredo sauce.
Start by making a roux. Adding flour to the melted butter, and cooking, will help thicken the sauce once you add the cream. Also, adding shredded Parmesan cheese and/or cream cheese is helpful in thickening Alfredo sauce.
Can I use milk instead of heavy cream in Alfredo sauce?
Yes. Using whole or a 2% milk is a good way to cut down on calories in Alfredo sauce. Another good option to heavy cream is to use half and half.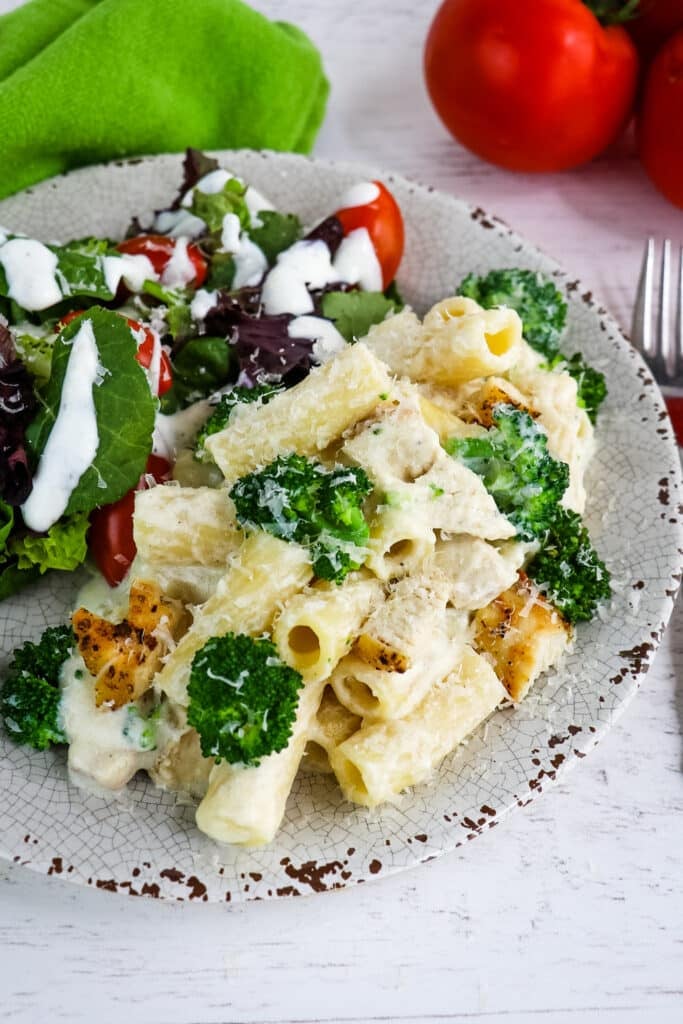 What goes with chicken alfredo?
I tossed a simple green salad and topped it with my Greek Yogurt Ranch Dressing. It would also be delicious with my Healthy Homemade Italian Dressing. Here are some other side dish ideas that would go great with this recipe:
Need some other chicken dinner ideas? Check out these other delicious and healthy chicken recipes:
Love a great pasta recipe? Check out some of our other pasta ideas: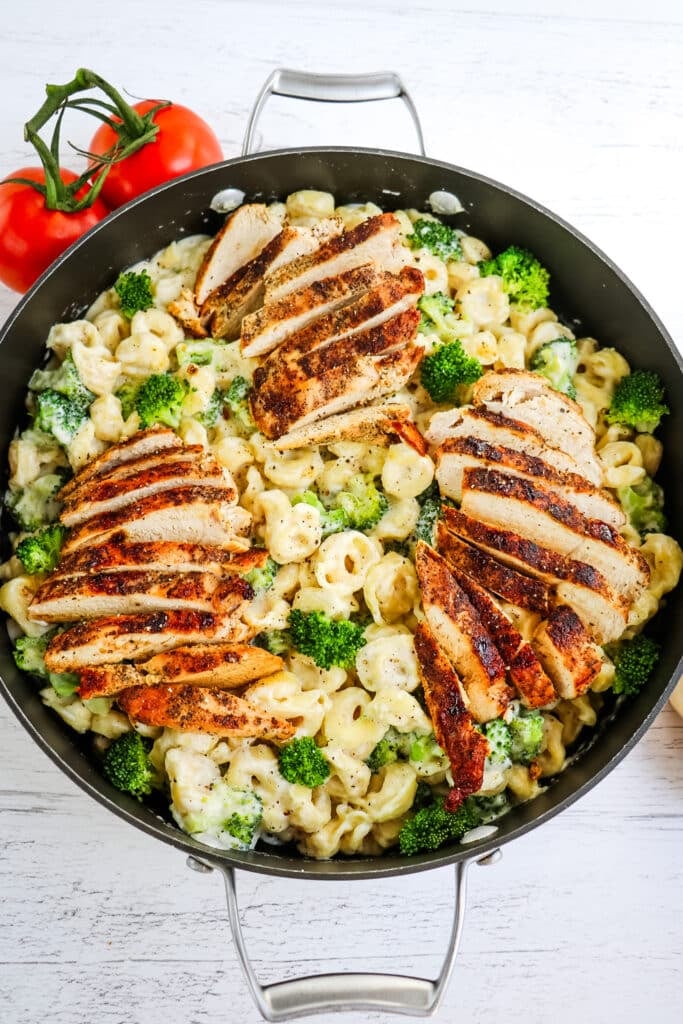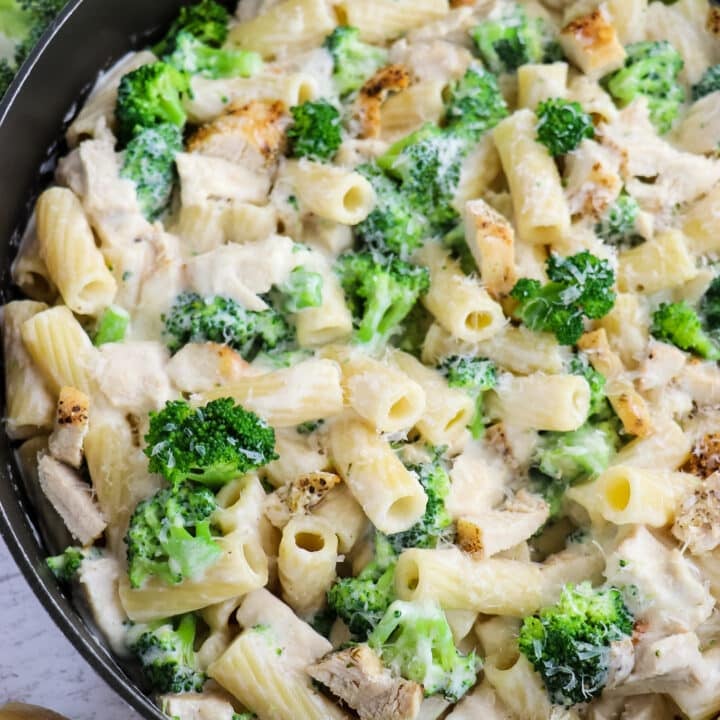 Chicken and Broccoli Alfredo
Looking for a delicious chicken broccoli alfredo recipe? This easy chicken and broccoli alfredo includes homemade alfredo sauce, along with rigatoni to make a great weeknight dinner option.
Ingredients
12 oz. Rigatoni pasta, or another medium-sized pasta
16 oz. precooked chicken, cut into bite-sized pieces
4 c. broccoli florets, trimmed
Alfredo Sauce:
1/2 c. butter
3 Tbsp. flour
2 c. half and half, or whole milk
1 c. shredded Parmesan cheese, plus more for topping
1/4 tsp. ground nutmeg
Salt and Pepper to taste
Instructions
To a large stockpot or Dutch oven, fill 2/3 full with water and bring to a boil. Cook the pasta to al-dente, checking the package directions for al-dente cook time. This is typically 1-2 minutes less than regular cook time. For this rigatoni, al dente cook time was 11 minutes.
In the final two minutes of the pasta cooking, add the broccoli florets to the boiling pasta water. Drain the pasta and broccoli together.
While the pasta is cooking, make the Alfredo sauce. In a large skillet, melt the butter. Once butter is melted, add the flour creating a roux. Cook over medium heat for 2 minutes cooking the flour and butter roux. Add the half and half one cup at a time. Whisking until each cup thickens. Add the shredded cheese and stir into the sauce until it melts. Season with nutmeg, salt and pepper.
Once sauce is done cooking, add in the precooked chicken, pasta and broccoli. Stir all ingredients together to coat in the sauce. Top with freshly grated Parmesan cheese, if desired.
Serve and enjoy!
Notes
If the precooked chicken you are using is cold, heat it to steaming prior to adding it to the pasta.
Refrigerate any leftovers in an airtight container. Refrigerated, leftovers will keep for up to 5 days.
Nutrition Information:
Yield:

6
Serving Size:

1 1/2 cups
Amount Per Serving:
Calories:

493
Total Fat:

31g
Saturated Fat:

18g
Trans Fat:

1g
Unsaturated Fat:

8g
Cholesterol:

141mg
Sodium:

548mg
Carbohydrates:

23g
Net Carbohydrates:

21g
Fiber:

2g
Sugar:

5g
Protein:

33g