The BEST Peach Milkshake Recipe!
Love Chick-fil-A Peach Milkshake? Since CFA only offers them a few months out of the year, I created my own Copycat Chick-fil-A Peach Milkshake recipe! Made with simple ingredients, this milkshake comes together in just minutes right at home. No drive-thru necessary!
This post may contain affiliate links. Delightful E Made is a participant in the Amazon Services LLC Associates Program, an affiliate advertising program designed to provide a means for us to earn fees by linking to Amazon.com and affiliated sites.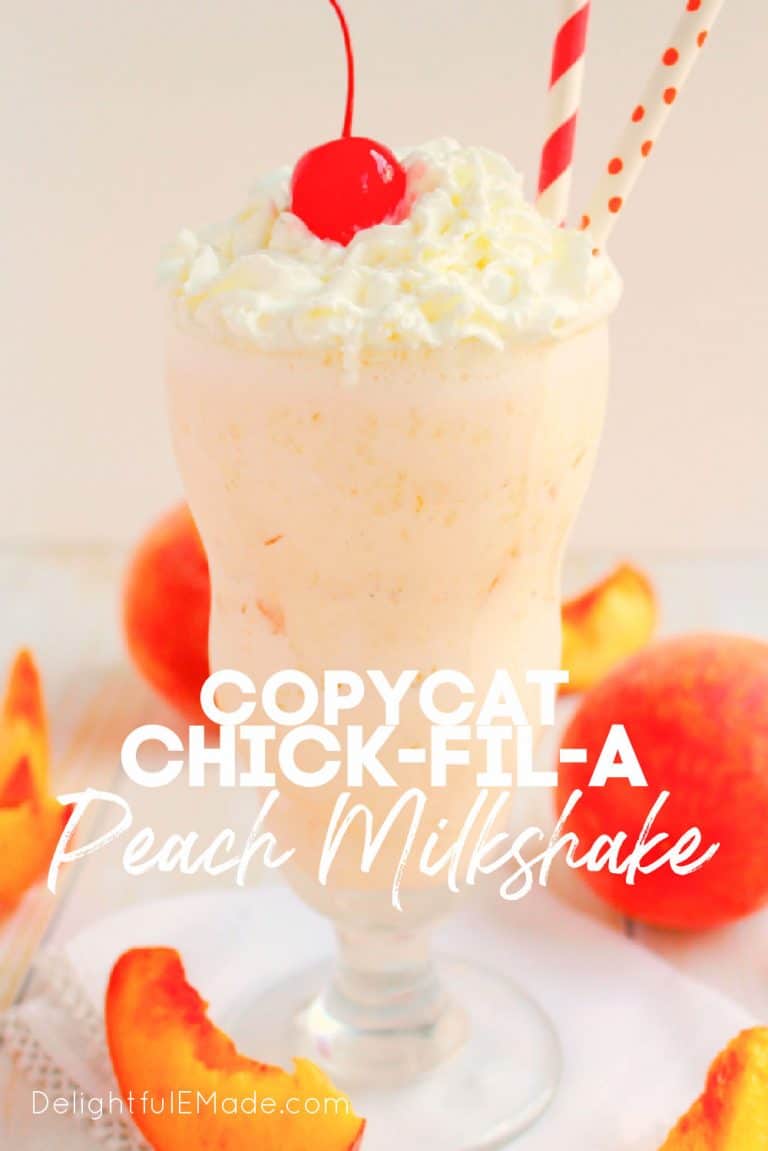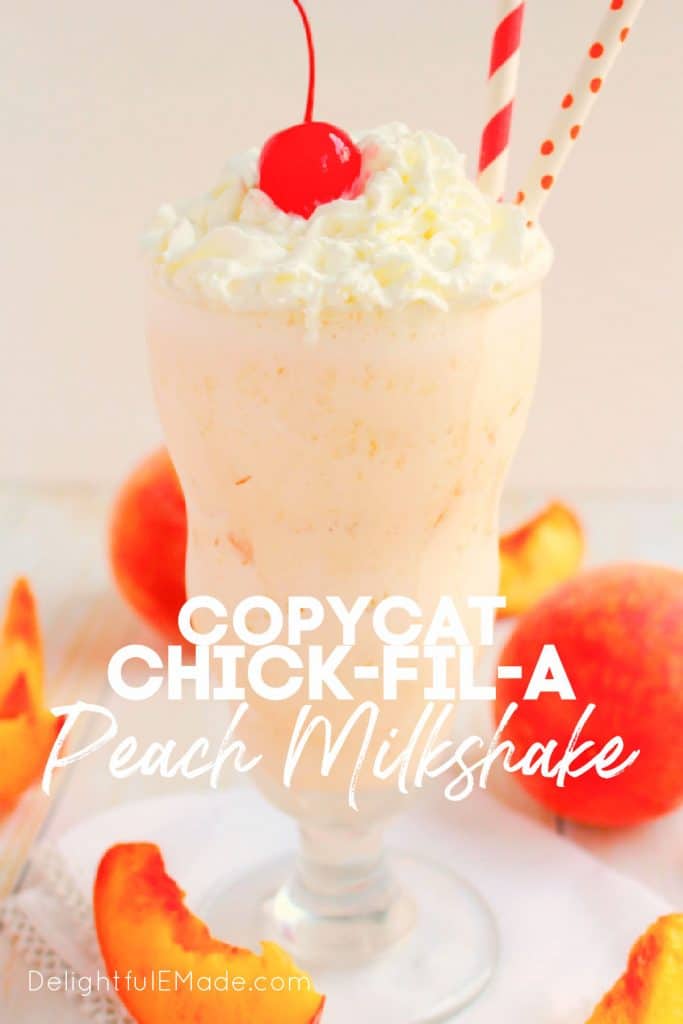 If you live anywhere near a Chick-fil-A restaurant, you've probably enjoyed one of their delicious Peach milkshakes. CFA only offers this delicious milkshake seasonally; typically just during the summer months. However, you can now enjoy this peach milkshake recipe all year long!
Made with just a few simple ingredients, this thick and delicious peach milkshake is topped with loads of whipped cream and a maraschino cherry – just like Chick-Fil-A!
Here's the copycat for the Chick-Fil-A Peach Milkshake recipe:
Is the peach milkshake at Chick-Fil-A seasonal?
Yes. Chick-fil-A only offers their peach milkshake during the summer months, typically June through August.
If you like copycat recipes to make at home, check out these other great recipes: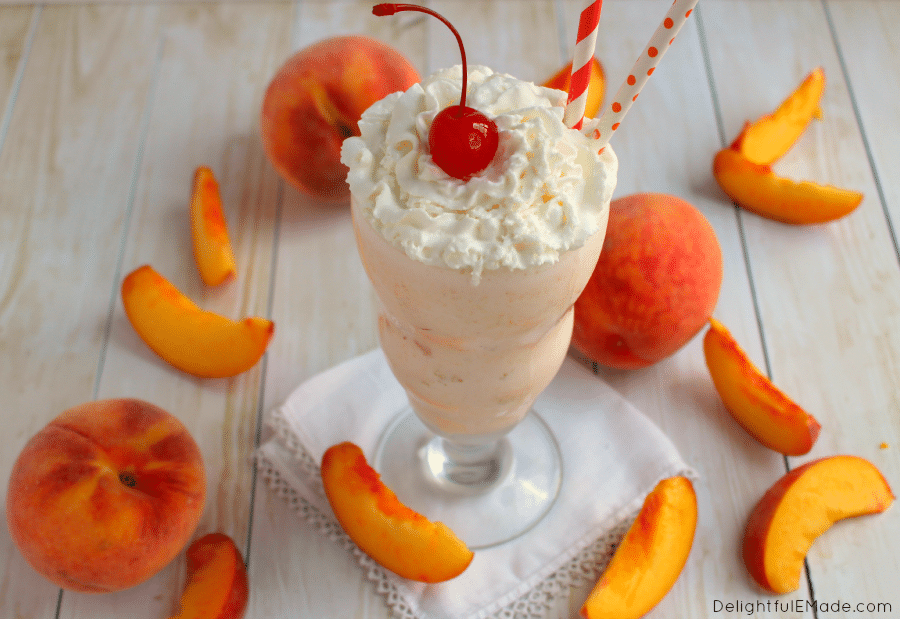 How do you thicken a homemade milkshake?
First use a really good (and very frozen!) ice cream. Softer, slightly melted ice cream will render a thinner milkshake. Using a good quality vanilla ice cream, straight from the freezer will help ensure a nice, thick texture.
You can also add less milk and more ice cream, just ensure the ice cream is hard.
How do you make a peach milkshake?
Start by adding very frozen vanilla ice cream to a blender. Add in cold milk, fresh or canned peaches, and sugar. Blend until smooth.
In addition to the peaches that you blend with the ice cream, I added some finely diced peaches at the end that I stirred into the milkshake. This helps ensure you get plenty of peach in each drink, and also really replicates the chunky, peachy texture of the original Chick-fil-A shake.
Pro-Tip: The blender I use and love is my Blendtec Designer Series Blender. Not only does is make milkshakes and smoothies with ease, it can easily handle pancake and muffin batters, soups and even nut butters! Use the discount code DELIGHTFULEMADE to get 20% off your blender purchase.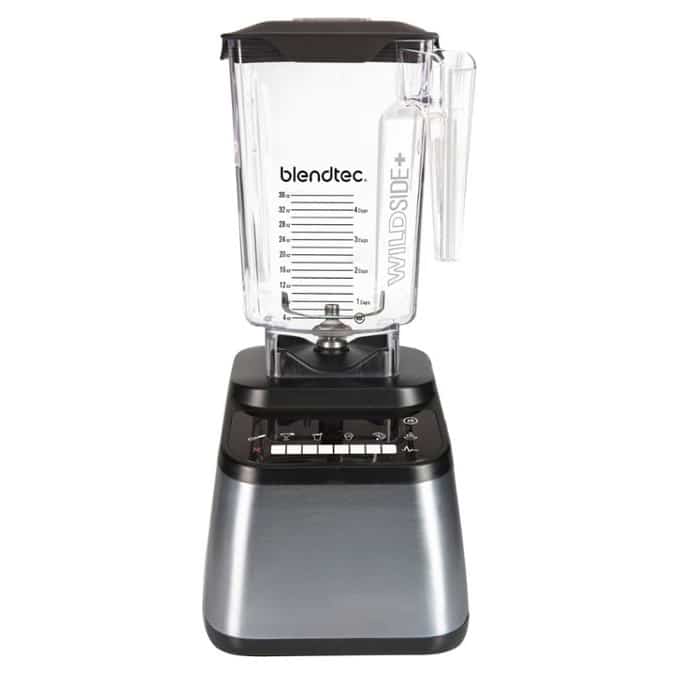 Blendtec 650 Designer Series Blender with Wildside Jar
This is the Blender I use almost DAILY! Everything from smoothies, to cocktails, to waffle and muffin batter and even nut butter, this ultrapowerful blender creates an amazing puree every time. It's very durable and made to last!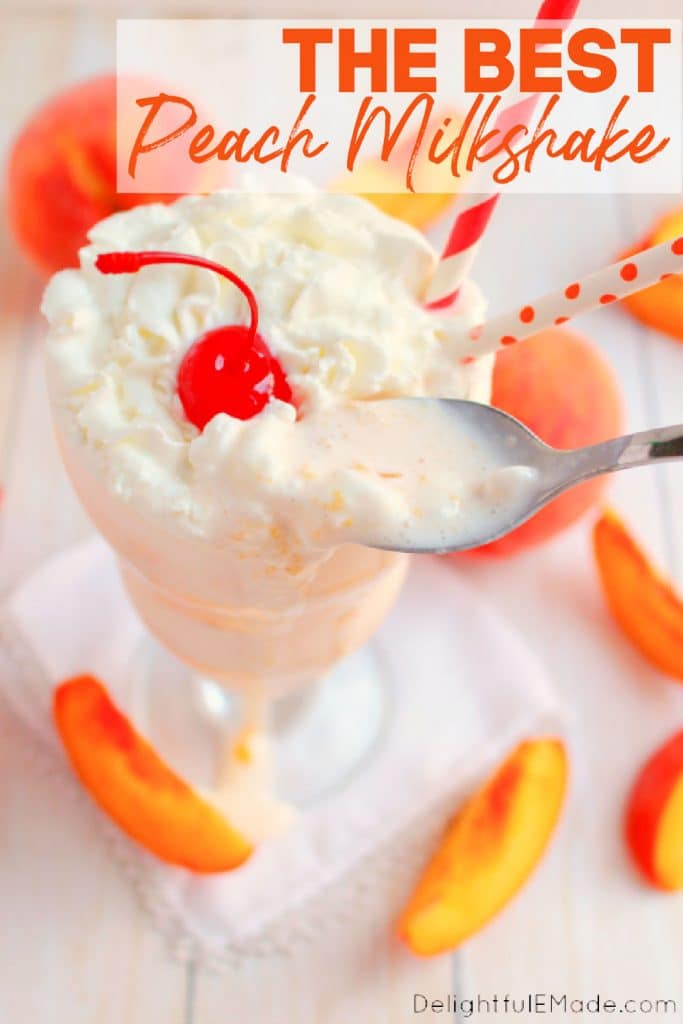 Do you love a delicious ice cream treat in the summer? Check out my other ice cream recipes:
If you love peach recipes, check out some of my favorite peach treats:
Topped with a generous amount of whipped cream, and a maraschino cherry and you'll think you're at the restaurant! With a spoon, or a straw this shake is amazing!
Here's how this delicious Chick-Fil-A Peach Milkshake recipe comes together: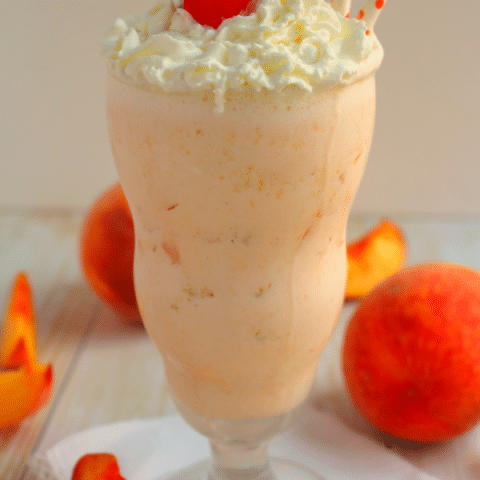 Copycat Chick-fil-A Peach Milkshake
Love Chick-fil-A Peach Milkshakes? My Copycat Chick-fil-A Peach Milkshake recipe has delicious chunks of fresh peaches, and creamy vanilla ice cream blended together for the most amazing shake right at home!
Ingredients
2 c. good quality vanilla ice cream, very frozen
1/2 c. cold, whole milk
1 (about 1 c.) large peach, peeled and sliced (reserving about 1/3 c., diced), or frozen or canned peaches
1 Tbsp. sugar
Toppings:
whipped cream
maraschino cherries
Instructions
In a blender, add the ice cream, milk, 2/3 c. of peaches, and sugar. Blend together until smooth.
Stir (not blend) in the remaining 1/3 c. of diced peaches. Pour into two glasses and top with whipped cream and cherries. Enjoy right away.
Notes
This makes 2 medium shakes, or one (VERY LARGE) shake.
Also, if fresh peaches are not in season, frozen or canned peaches are a great alternative.
Nutrition Information:
Yield:

2
Serving Size:

1
Amount Per Serving:
Calories:

436
Total Fat:

17g
Saturated Fat:

11g
Trans Fat:

0g
Unsaturated Fat:

6g
Cholesterol:

66mg
Sodium:

137mg
Carbohydrates:

65g
Fiber:

4g
Sugar:

59g
Protein:

8g
This shake is such a fantastic way to enjoy the season's freshest peaches. Blend up these milkshakes at the end of a hot day or for a fun, afternoon snack. Enjoy! ~Erin