I don't know about you, but I really can't get through the day without a good snack.  Especially mid-morning and mid-afternoon when its still a couple hours from the next meal.  I just want a little something to tide me over until lunch or dinner.  I also like a little something to give me a bit of energy when my butt is dragging! (Pardon my phrasing, but its the best way to describe it.)  🙂  These Cranberry Almond Energy Bites are the perfect solution for the mid-day snack!
These snack bites are made with little morsels of goodness that create a rather healthy snack.  Pureed almonds, oatmeal, maple syrup and almond butter along with dried cranberries and white chocolate chips come together for an excellent bite-sized treat.  They have the taste and texture of oatmeal cookie dough, but without the loades of extra sugar and calories.  (Don't ask me how I know what oatmeal cookie dough tastes like.  I would argue its better than chocolate chip cookie dough.  I digress.)  😉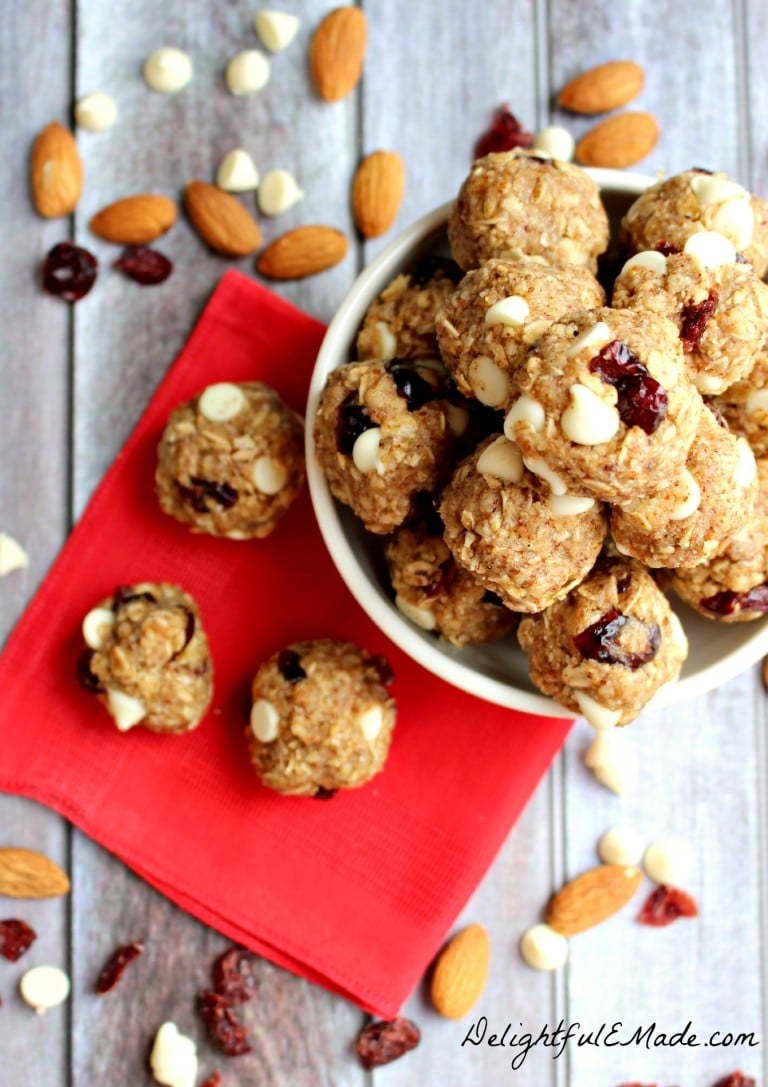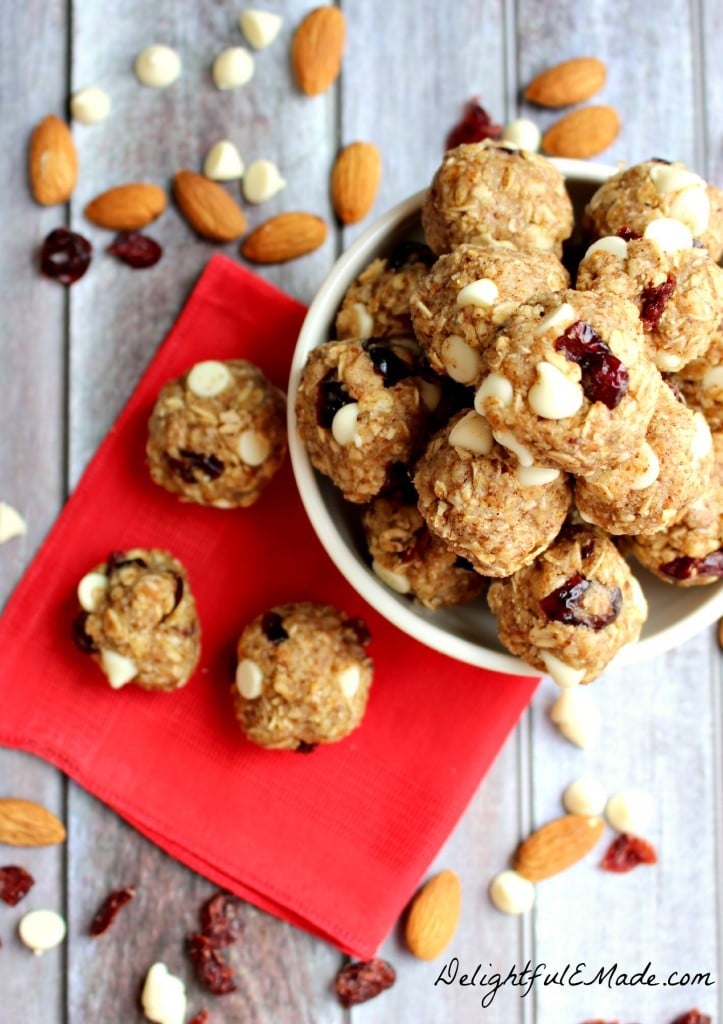 I've also come to discover these are an excellent on-the-go snack.  I'll grab a little container of these and throw 'em in my purse, or in my son's lunch box.  Great for a little something to take in the car when running errands, or on a road-trip.  Because lets be honest, convenience store snacks are not only terrible for ya, but they don't taste that great either!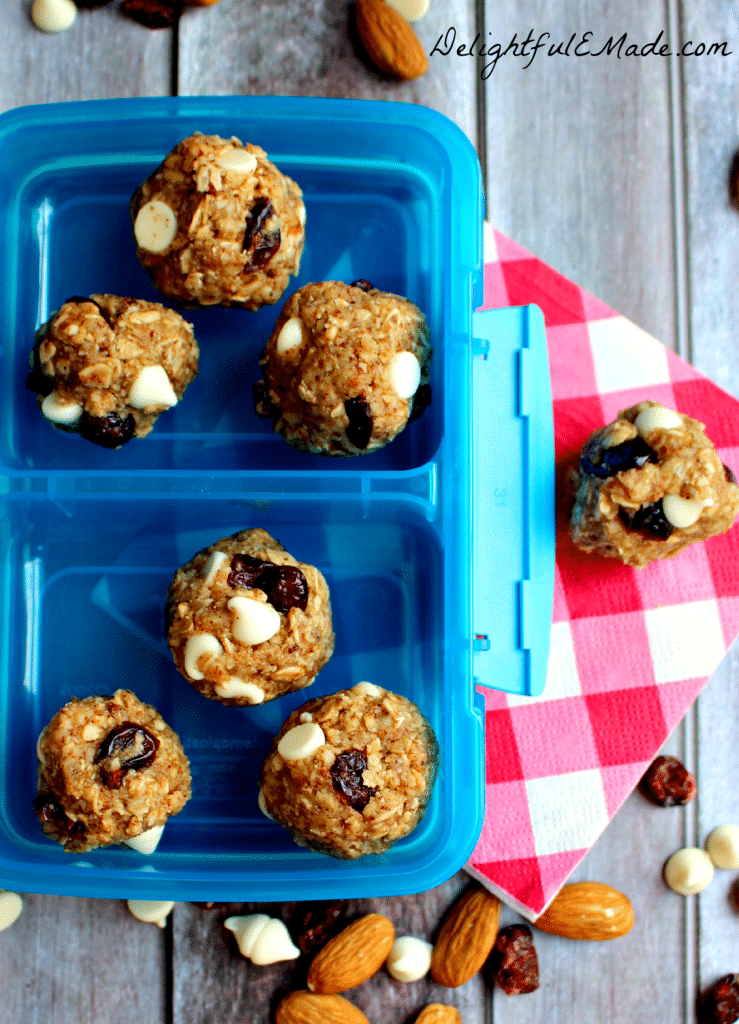 These are also a great pre or post workout snack, perfect for re-fueling after a run or your favorite gym class.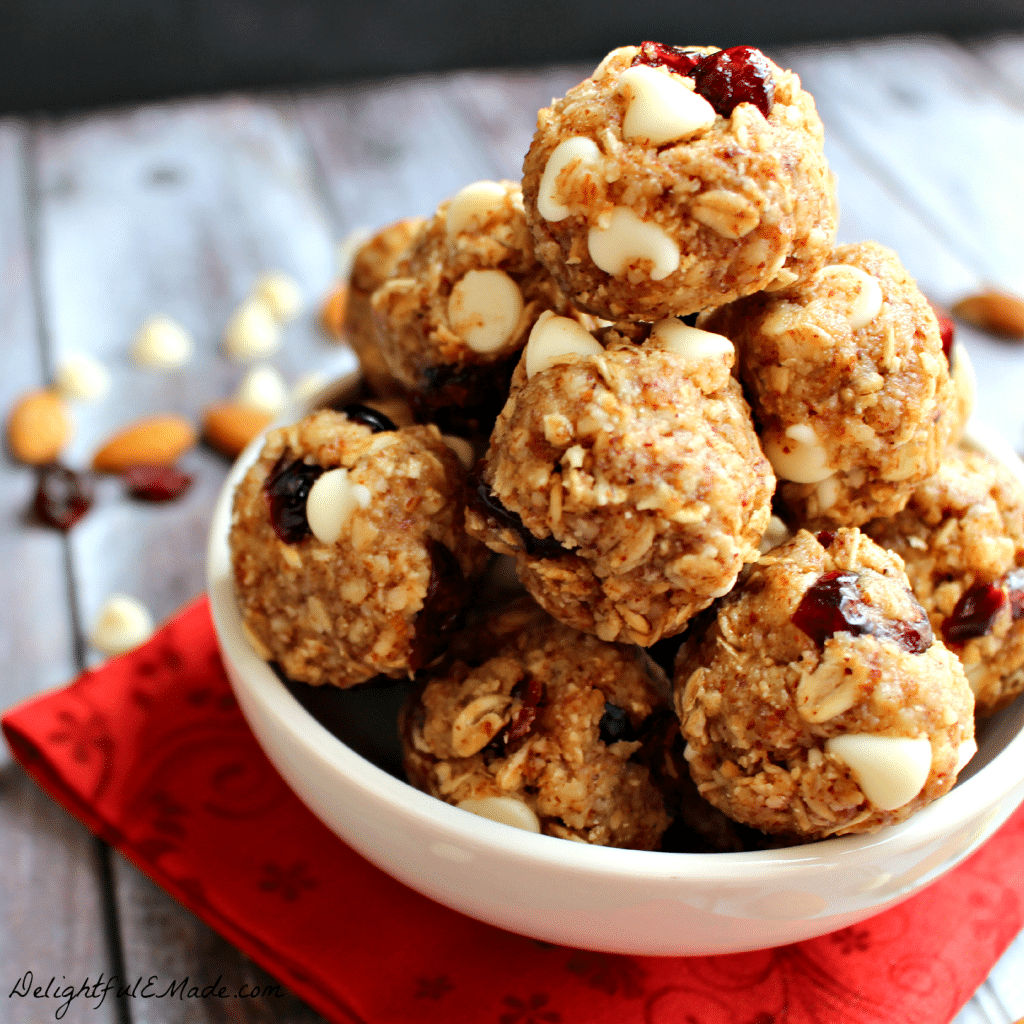 Here is how easy these snack bites come together:

Cranberry Almond Energy Bites
Snack smart! These Cranberry Almond Energy Bites are packed with protein, fiber and serious deliciousness!
Ingredients
1 1/2 c. almonds, finely ground
1 1/2 c. rolled oats (old fashioned)
2/3 c. almond butter (like Justin's All Natural)
2/3 c. maple syrup
1/2 c. dried cranberries
1/2 c. white chocolate chips
1 tsp. vanilla
Instructions
In a food processor or blender, blend/puree the almonds until the become finely ground - they will look like sand. In a mixing bowl, add the ground almonds, and remaining ingredients. Stir until all are thoroughly combined. Mixture will be sticky. Using a tablespoon or medium ice cream scoop, spoon out individual bites and roll with hands.
Ready to eat right away. Refrigerate and freeze well. Refrigerate for up to one week. Makes about three dozen bites.
As you can see by the recipe, these are super-easy to make and come together well.  This is an excellent snack to make with your kids – its okay if they sneak some of the batter.  Since its no-bake, its all good!  😉  These would also be perfect after-school snacks, or something you can have ready to go for a play-date.
Enjoy!
Erin
Related articles across the web