An amazing Lemon Poppy Seed Muffin recipe!
If you love a great muffin recipe, you've gotta try these scrumptious Glazed Lemon Poppy Seed Muffins! Inspired by bakery-style muffins, these breakfast treats are moist & delicious, loaded with lemon flavor and glazed to perfection!
Just after I had graduated college, I did something rather daring.  I moved halfway across the country for a job…and a boyfriend!  Right away I found a great apartment, right on the river in gorgeous, Boise, Idaho.  I loved living in my tiny one-bedroom apartment.  In college I always had roommates, and before college I had stinky brothers to deal with.  It was the very first time in my life where I was living all by myself.
The inspiration behind these Glazed Lemon Poppy Seed Muffins:
Just down the street from my apartment was this amazing bakery, called Pastry Perfection.  On Saturday mornings, I would walk over and treat myself to a cup of coffee and one of their amazing rolls, pastries or muffins.  One of my all time favorites was their glazed lemon poppy seed muffins.  They were completely drenched in an icy-lemon glaze, which locked in this wonderful moist, lemony cake studded with poppy seeds.  These were AMAZING…and somewhere around 400 calories a pop.   Ummm, yeah, I gained about 15 lbs. that first year I lived there.  Eeek!
I really missed that amazing lemon flavor, locked in with that glorious glaze. So, I decided to stroll down memory lane, and recreate these amazing muffins, but not with the gigantic calories to go with.  With this in mind, I decided to skinny up one of the recipes that I already had, but still keep the great lemon flavor, and the ultra-moist cake-like quality that made those muffins from Pastry Perfection….well, perfect!
I ended up reducing the sugar, adding some lemon Greek yogurt to bump up the moisture, and added the zest of a lemon to keep that great lemon flavor.  Instead of completely submerging the muffins in the glaze (yeah, I totally wanted to do that!), I lightly drizzled with the glaze.  The drizzle of glaze was just enough sweetness, and complimented the lemon flavor inside the muffin.  You would have never known this was a lighter version of that old favorite of mine!
Here's a grocery list of the ingredients you'll need to make these wonderful Glazed Lemon Poppy Seed Muffins:
Flour
Sugar
Baking Powder
Baking Soda
Salt
Eggs
Lemon Flavored Greek Yogurt (like Chobani)
Milk
Vegetable Oil
Lemon – for zest and juice
Poppy Seeds
For the Glaze:
Lemon Juice
Powdered Sugar
(Be sure to reference the full recipe below for the exact amount of ingredients, as well as complete directions.)
If you loved this delicious lemon poppy seed muffin recipe, be sure to check out some of my other lemon treats!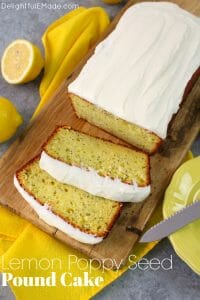 Here's the easy recipe for my Glazed Lemon Poppy Seed Muffins:
Glazed Lemon Poppy Seed Muffins
These Glazed Lemon Poppy Seed muffins are perfect for breakfast or brunch. The muffins are moist, delicious and loaded with sweet lemon flavor!
Ingredients
2 c. flour
1/4 c. sugar
1 1/2 tsp. baking powder
1/2 tsp. baking soda
1/4 tsp. salt
2 eggs lightly beaten
3/4 c. lemon flavored Greek yogurt (like Chobani)
3/4 c. milk
2 Tbsp. vegetable oil
juice of 1 lemon (about 1/4 c.)
zest of 1 lemon (about 1 1/2 tsp.)
1 Tbsp. poppy seeds
Glaze:
Juice of 1/2 lemon (about 2 Tbsp.)
1/2 c. powdered sugar
Instructions
Preheat oven to 400 degrees. Grease or line a muffin tin/cupcake pan. Set aside.
In a mixing bowl, whisk together the flour, sugar, baking powder, baking soda and salt. Set aside. In a second bowl, combine the eggs, yogurt, milk, vegetable oil. Combine the wet and dry ingredients. Lastly, add the lemon juice, lemon zest and poppy seeds. Stir until all are combine.
Add the batter to the prepared muffin tin. Fill the cups about 2/3 to 3/4 full. Bake at 400 degrees for 14-18 minutes or until golden brown. Let cool for a few minutes and then remove from pan. Drizzle the muffins with the glaze and let set and completely cool.
Looking back, I really loved that little apartment of mine.  I loved my little walks to the bakery.  I eventually lost those 15 lbs, but kept some really fond memories of Boise, where I lived for nearly a decade.  That first job that I moved to Boise for turned out to be a dud, but that boyfriend of mine turned into my husband.  We miss Boise, but we can always make a batch of muffins to relive the Saturday morning walks from my tiny little apartment by the river.
Enjoy!~Erin