Looking for a carrot cake muffin recipe that actually tastes good? These Healthy Carrot Cake Muffins are amazing! Made with no refined sugar or grain, these delicious muffins will help you start the day off right.
This post may contain affiliate links. Delightful E Made is a participant in the Amazon Services LLC Associates Program, an affiliate advertising program designed to provide a means for us to earn fees by linking to Amazon.com and affiliated sites.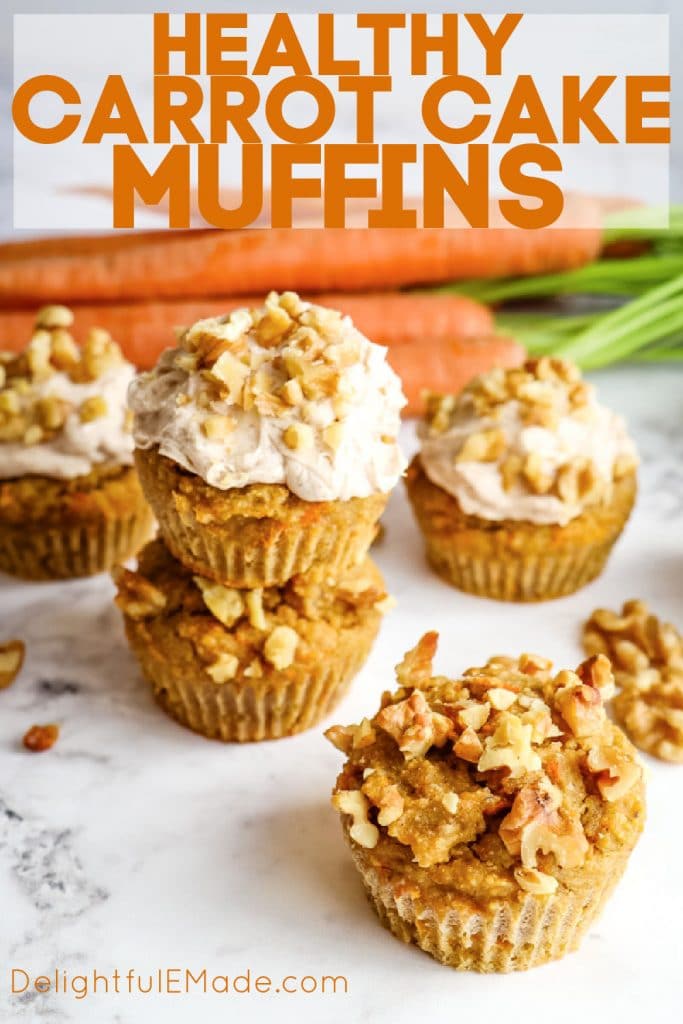 How to Make Healthy Carrot Cake Muffins
If you loved my Blueberry protein muffins, then you'll adore this scrumptious Carrot Cake Muffin recipe. With the same flavor as the classic carrot cake, these muffins include shredded carrots, walnuts and cinnamon, but without the refined sugar and flour or oil.
I've amped up the protein in these healthy carrot cake muffins by including eggs, Greek yogurt and collagen protein. I also substitute oat flour for the traditional bleached all-purpose flour to provide additional protein and fiber.
Like this recipe? Be sure to pin it to your HEALTHY BREAKFAST or SNACKS board!
Follow DelightfulEMade on Pinterest!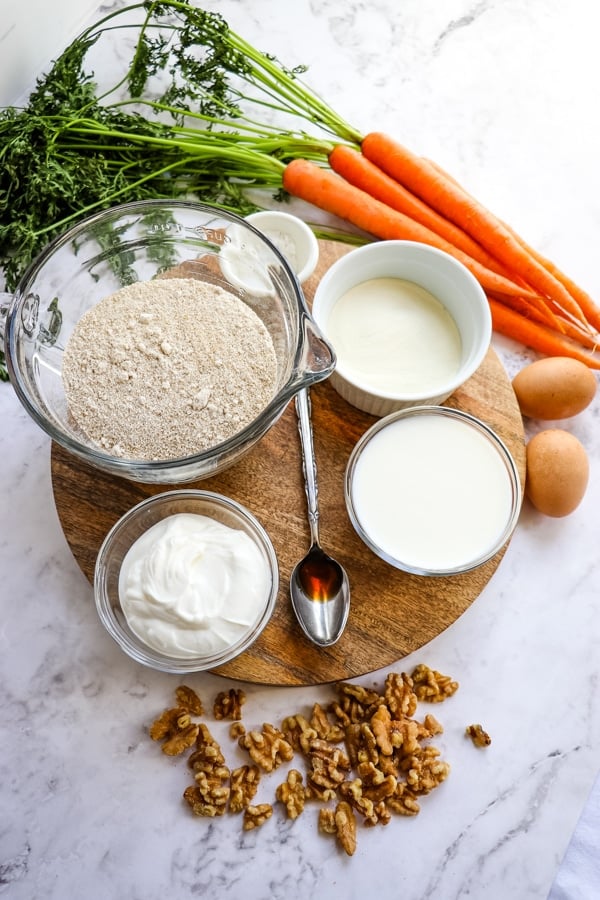 What do I need to make healthy carrot cake muffins?
Here's a list of the ingredients you'll need to make this carrot cake muffin recipe:
Oat flour (you can make this by simply blending or processing old fashioned oats.)
Unflavored collagen protein
Granular sweetener – I like Lakanto Monk Fruit Sweetener
Baking Powder
Cinnamon
Nutmeg
Milk (feel free to use dairy or plant-based milk)
Plain Greek yogurt
Eggs
Vanilla extract
Shredded carrots
Chopped walnuts
Are you shopping for ingredients at Target? While you're there, pick up some of my 30 Best Healthy Target Snacks for some quick and easy healthy snack options.
Ingredient Substitutions and Recommendations:
Flour: Instead of oat flour, you can also use the same amount of all-purpose or whole wheat flour. If you're looking for a gluten-free option, King Arthur Gluten Free Flour is a great option.
Sweetener: I like using Whole Earth or Lakanto Monk Fruit Sweeteners to keep the refined sugar low in my muffins and breads. Honey or maple syrup are also good substitutes, however calories will be higher. If you would prefer to use regular granular sugar, you can use that as a substitute. Note that the calories per muffin will be much higher. (For honey, maple syrup or granular sugar, using 1/2 cup is the ideal amount.)
Protein Sources: I call for unflavored collagen protein in this recipe. You can also use vanilla flavored protein.
Add-In's: Some people prefer crushed pineapple, shredded (unsweetened) coconut and even raisins in their carrot cake muffins. These are all great add-in's. I would recommend adding 1/2 cup of any of these.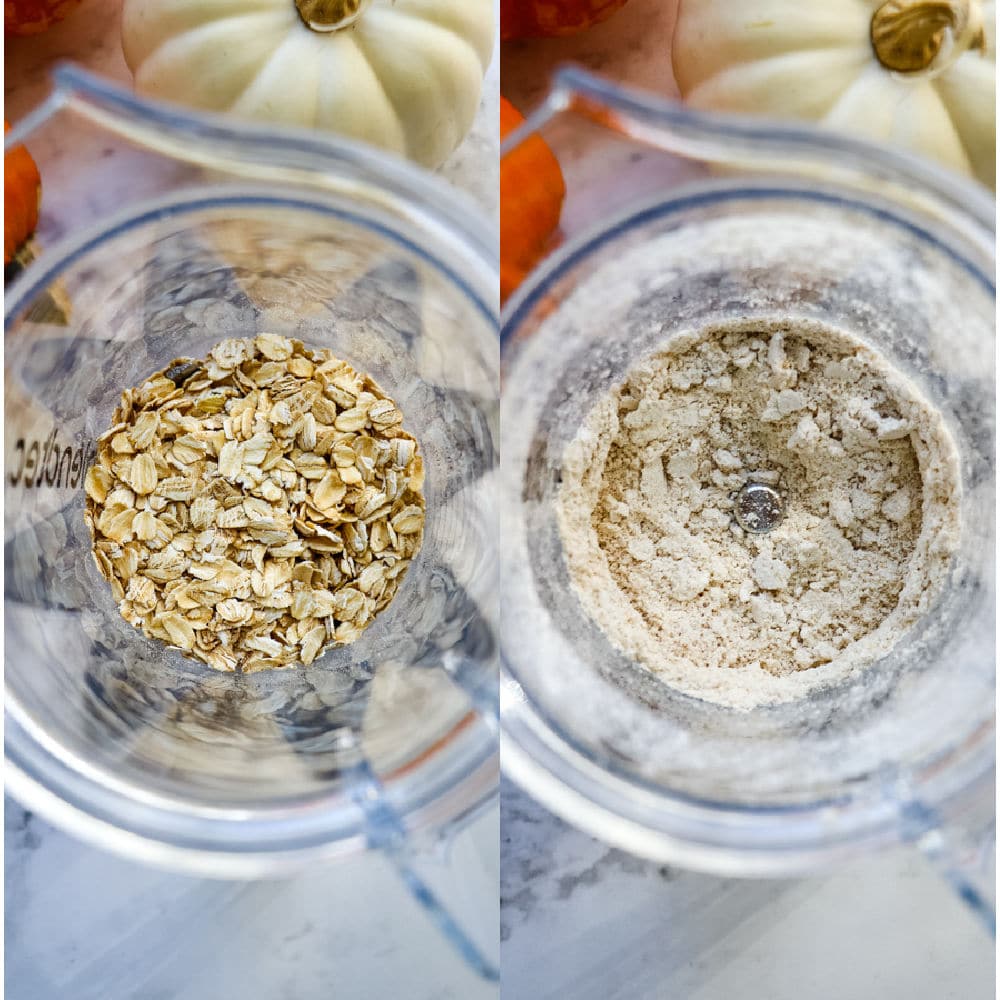 How do you make oat flour?
There is no need to buy oat flour. You can make oat flour in your blender or food processor. Simply add old fashioned (not instant) oats, and blend or process until flour form.
I have a Blendtec Designer Series Blender. It takes approximately 30-45 seconds to achieve flour consistency.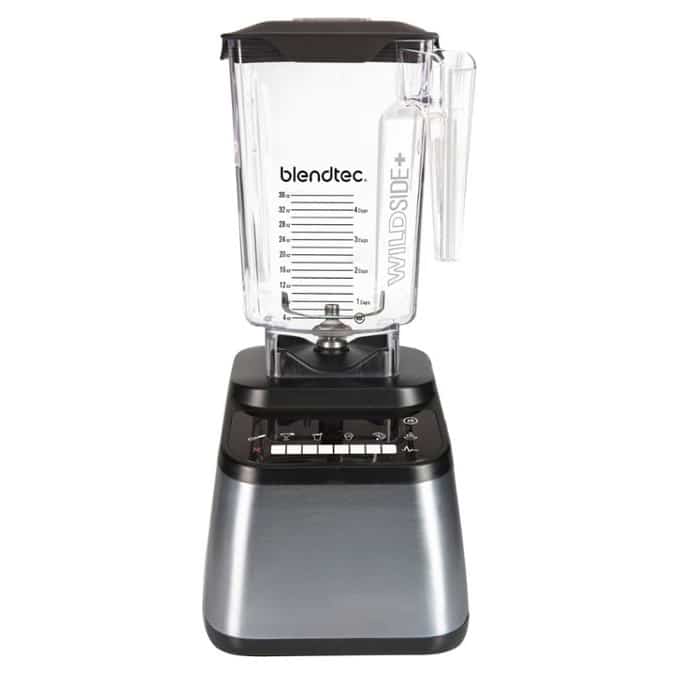 Blendtec 650 Designer Series Blender with Wildside Jar
This is the Blender I use almost DAILY! Everything from smoothies, to cocktails, to waffle and muffin batter and even nut butter, this ultrapowerful blender creates an amazing puree every time. It's very durable and made to last!
How do I make carrot muffins?
Mix the wet and dry ingredients to create the muffin batter. In separate bowls, mix the wet and dry ingredients. Gradually add the dry ingredients to the wet. Once your batter is mixed, fold in the shredded carrots and walnuts.
Once your batter is mixed, it is ready to go into a muffin tin. I like these silicone baking cups. They fit right into a traditional muffin/cupcake pan, and you don't need to use any non-stick spray to your recipe. Those baking sprays are often made with unhealthy, toxic oils.
Baking these Healthy Carrot Cake Muffins
Fill the baking cups with batter and bake at 350 degrees. It's okay to fill the cups nearly full with the batter. The muffin batter is very thick. They will rise slightly but will not over-run the cups.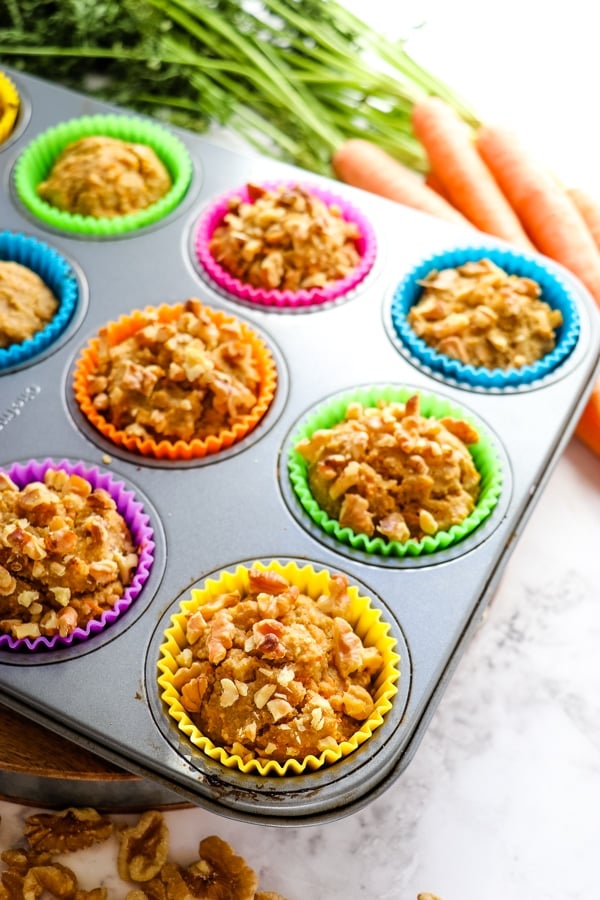 What can I top carrot cake muffins with?
I tried a couple of different toppings for these healthy carrot cake muffins:
Chopped walnuts: not only do the walnuts add a great crunch to the muffins, they are a traditional ingredient in carrot cake. The flavors pair well!
Cinnamon Cream Cheese Frosting: to ensure that I keep these muffins healthy, I mixed together the following:

Cream cheese
Cinnamon
Vanilla extract

Unsweetened flake coconut – toasted adds some nice color!
(For the exact ingredient amounts, be sure to reference the recipe below.)
The cream cheese topping was fantastic, and not overly sweet. It was very similar to a flavored cinnamon walnut cream cheese that you would add to a bagel. It was a fantastic way to enjoy this protein muffin! I also use this cream cheese topping on my Healthy Carrot Cake Loaf.
If you're looking for a more traditional cream cheese frosting, check out my tutorial for making the Best Cream Cheese Frosting which is what I use on my Carrot Bundt Cake.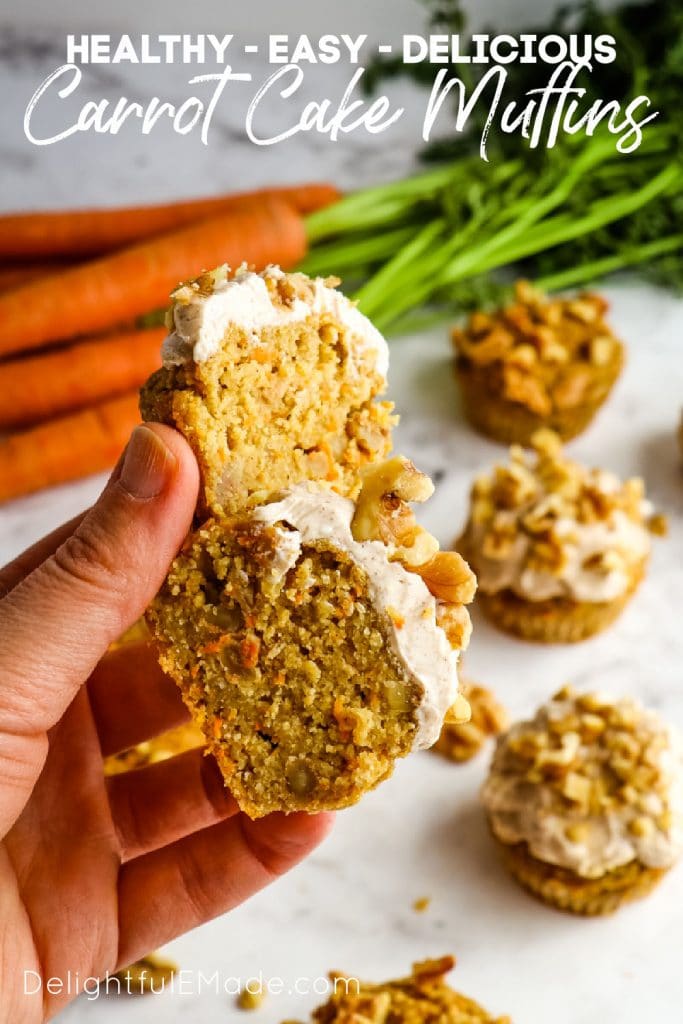 If you loved this delicious carrot muffins recipe, check out some of my other muffin recipes:
Inspired to make some healthier breakfast options? These recipes are sure to get you on a healthy eating streak!
Here's the recipe for these delicious Healthy Carrot Cake Muffins: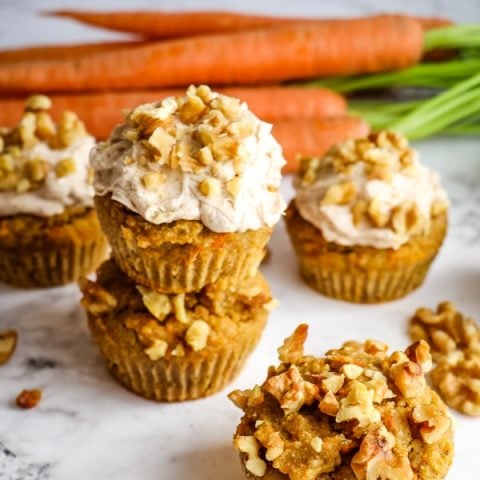 Healthy Carrot Cake Muffins
Looking for a protein muffins recipe that actually tastes good? This Healthy Carrot Cake Muffins recipe is amazing! Made with no refined sugar or grain, these delicious protein muffins will help you start the day off right!
Ingredients
2 c. oat flour
1/3 c. unflavored collagen protein
1/4 c. granular monk fruit sweetener, like Lakanto
1 1/2 tsp. cinnamon
1 tsp. baking powder
1/2 tsp. nutmeg
1/4 tsp. salt
1 c. milk (dairy or plant-based)
3/4 c. plain Greek yogurt (like Fage 5%)
2 eggs
1 tsp. vanilla extract
1 c. shredded carrots
1/2 c. chopped walnuts, plus more for optional muffin topping
Cream Cheese Topping:
8 oz. (1 pkg.) cream cheese, room temperature
2 Tbsp. monk fruit granular sweetener
1 tsp. cinnamon
1 tsp. vanilla extract
Instructions
Preheat oven to 350 degrees. Fit a muffin tin with non-stick silicone baking cups or spray with a non-stick coconut oil spray. Set prepared pan aside.
In a smaller mixing bowl, combine the dry ingredients: oat flour, collagen protein, sweetener, baking powder, cinnamon, nutmeg and salt. Whisk together to combine.
In a second larger bowl, combine the wet ingredients: Milk, Greek yogurt, eggs and vanilla extract. Whisk together to combine. Gradually add the dry ingredients to the wet ingredients and stir together until well incorporated. Batter will be slightly thick. Fold in the shredded carrots and chopped walnuts.
Spoon the batter into the prepared pan, filling each cup to nearly full. The muffins will rise while baking, but will not spill over the cups. Optional: top each muffin with additional chopped walnuts.
Bake at 350 degrees for 28-30 minutes. Muffins will be golden brown. Remove from oven and let cool for 10 minutes before removing from pan.
Optional Cream Cheese Topping: While the muffins cool, mix together the room temperature cream cheese, cinnamon, granular sweetener, and vanilla. Mix until well combined and smooth - there should be no lumps. Spread on top of the cooled muffins. Add additional chopped walnuts or flake coconut, if desired.
Notes
Serving size: 1 muffin
Optional add ins: 1/2 c. red or golden raisins, 1/2 c. unsweetened flake coconut
Freezing directions: To freeze place muffins in airtight container, or wrap individually and freeze. Defrost at room temperature overnight, or on defrost setting in microwave. If freezing muffins, wait to top with cream cheese topping until just before serving.
Recommended Products
As an Amazon Associate and member of other affiliate programs, I earn from qualifying purchases.
Nutrition Information:
Yield:

12
Serving Size:

1
Amount Per Serving:
Calories:

175
Total Fat:

8g
Saturated Fat:

5g
Trans Fat:

0g
Unsaturated Fat:

8g
Cholesterol:

55mg
Sodium:

289mg
Carbohydrates:

22g
Fiber:

2g
Sugar:

1g
Protein:

16g