How to Make Healthy Chicken Cobb Salad
This healthy chicken cobb salad recipe is nothing short of incredible! With traditional cobb salad ingredients, this healthy version leaves out unhealthy oils and over-sugared dressings, but keeps all of the delicious flavors. I'll show you how to make cobb salad for meal prep, too!
This post may contain affiliate links. Delightful E Made is a participant in the Amazon Services LLC Associates Program, an affiliate advertising program designed to provide a means for us to earn fees by linking to Amazon.com and affiliated sites.
This delicious Healthy Chicken Cobb Salad is the ultimate healthy lunch option!
Is your lunch getting a little boring? I'm looking at you, turkey sandwich! Maybe you're hitting the fast-food drive thru a little too often, and might want to start bringing your lunch to work.
This chicken cobb salad recipe is a fantastic option. Made with simple ingredients and none of those over-sugared salad dressings, this Healthy chicken cobb salad is filling and perfect for packing for work!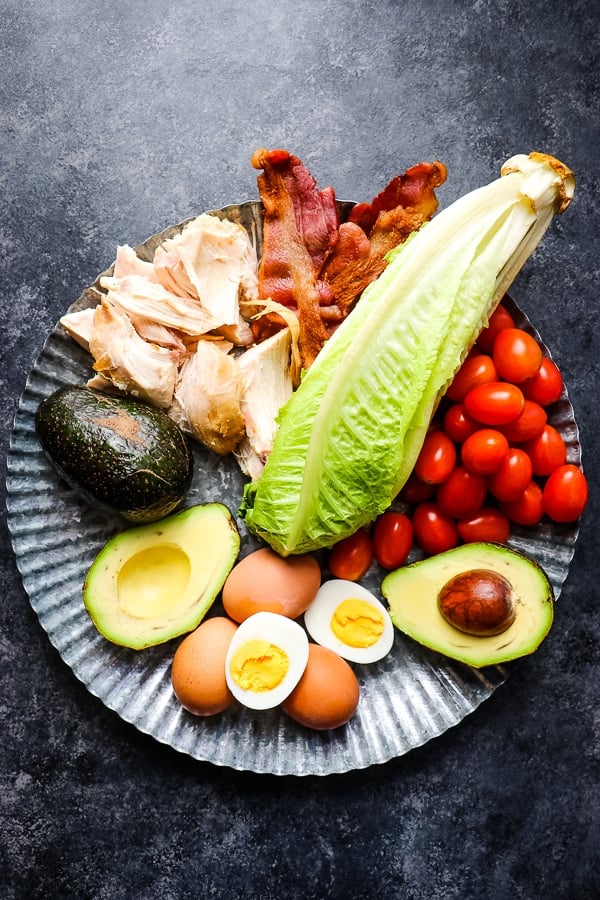 What are the cobb salad ingredients?
Traditionally, cobb salad includes lettuce, hard-boiled eggs, chicken, bacon, avocado, tomatoes and Roquefort cheese.
I'm not a fan of Roquefort cheese, so I left out the cheese all together to cut down on the calories. If you would like to add cheese, many people prefer Blue cheese crumbles in their cobb salad.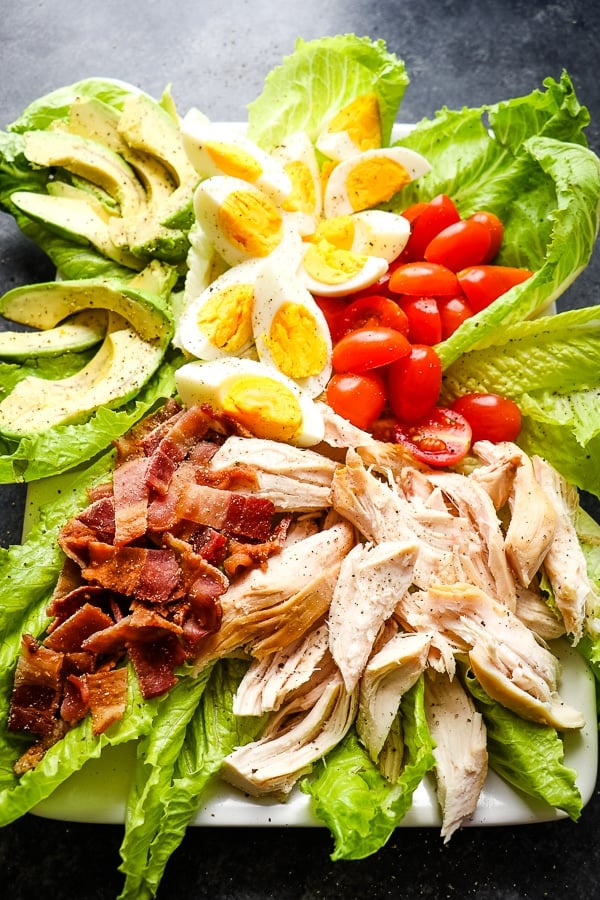 Assembling your cobb salad as one large entree salad
For a large entree salad (this recipe makes four servings), start with a large platter or bowl. Tear up medium-sized head of romaine lettuce, then, simply add the rest of your ingredients.
To make things really easy, I tend to use a store-bought rotisserie chicken for this salad. It saves me the work and time of cooking chicken in advance.
I like to purchase pre-cooked, shredded rotisserie chicken at Costco. These are packed in vacuum-sealed packages. It is one of my top 15 Things I Buy at Costco for Healthy Meals. I use this chicken in my Olive Garden Chicken Gnocchi Soup, my Chicken Enchilada Soup and my Greek Yogurt Chicken Salad recipes.
Other add-in's to this chicken cobb salad recipe:
diced red onion
pickled red onions (one of my very favorites and super easy to make!)
diced green onions or scallions
minced parsley
cheese: Roquefort, blue cheese crumbles or goat cheese
Fresh ground pepper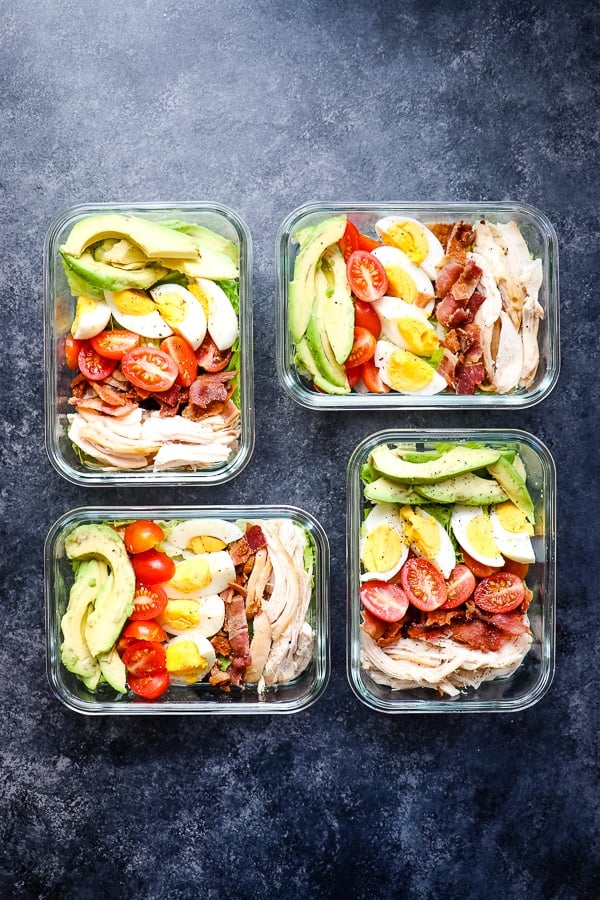 How do I meal prep cobb salad?
Meal prepping this healthy chicken cobb salad is very simple, and makes for a fantastic lunch option for your work week. Here's how I assembled these individual salads:
Start with the lettuce on the bottom of a meal prep container,
Add 4 oz. of the pre-cooked chicken,
next, 1 slice of thick-cut bacon, cooked crisply,
then add, 1 hard-boiled egg, sliced or quartered
next, cherry tomatoes, I halved mine,
lastly, 1/2 avocado, sliced or cut into chunks.
Refrigerate your salads for up to 5 days. Yes, your avocado will likely brown a bit, but it will still be edible and delicious!
Meal Prep Containers I use and love: these Prep Natural Meal Prep Containers are my go to for salads. They are made of durable glass and have tight-fitting lids that are leak and spill-proof. Be sure to check out my post for all of my favorite BEST Meal Prep Containers.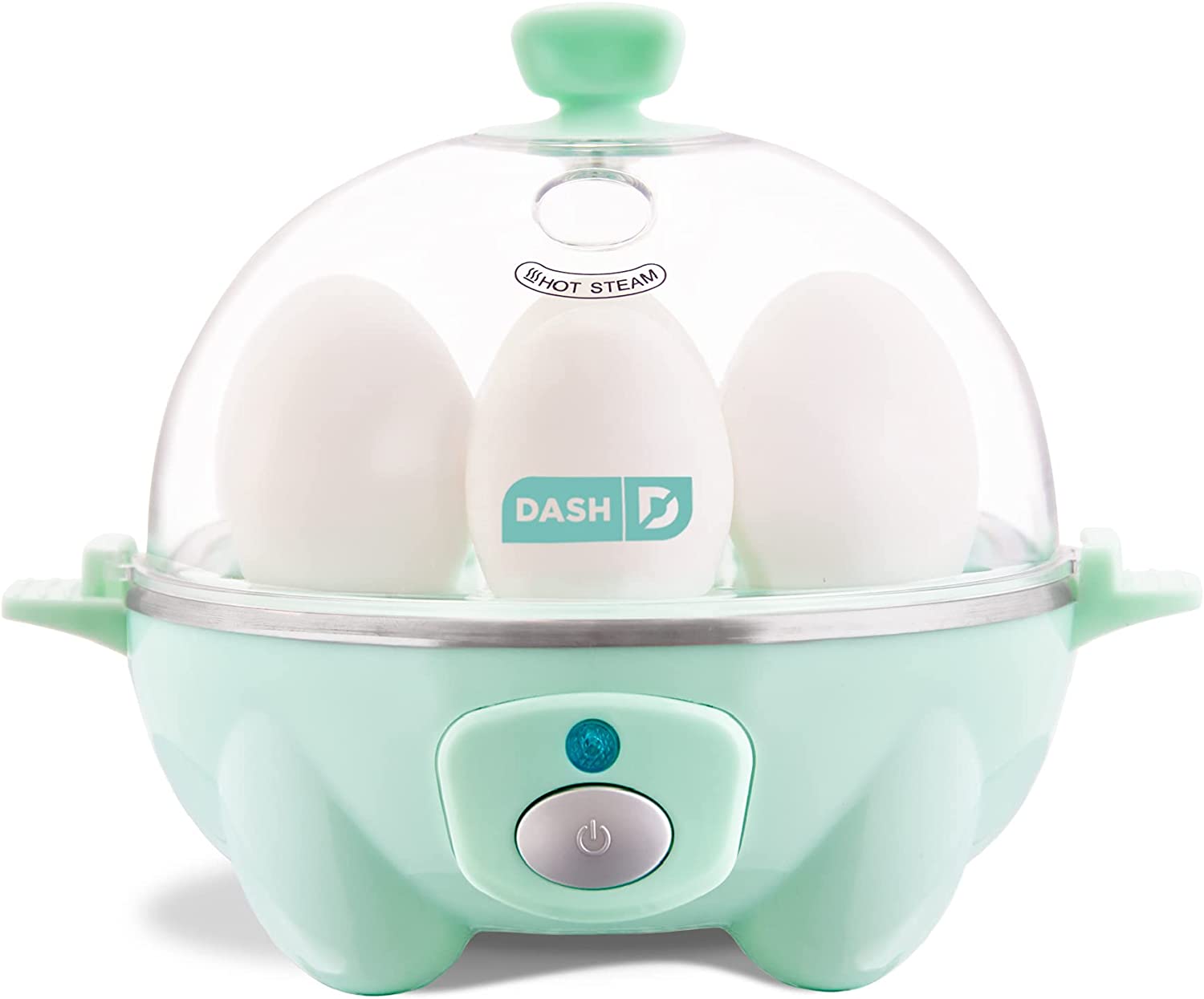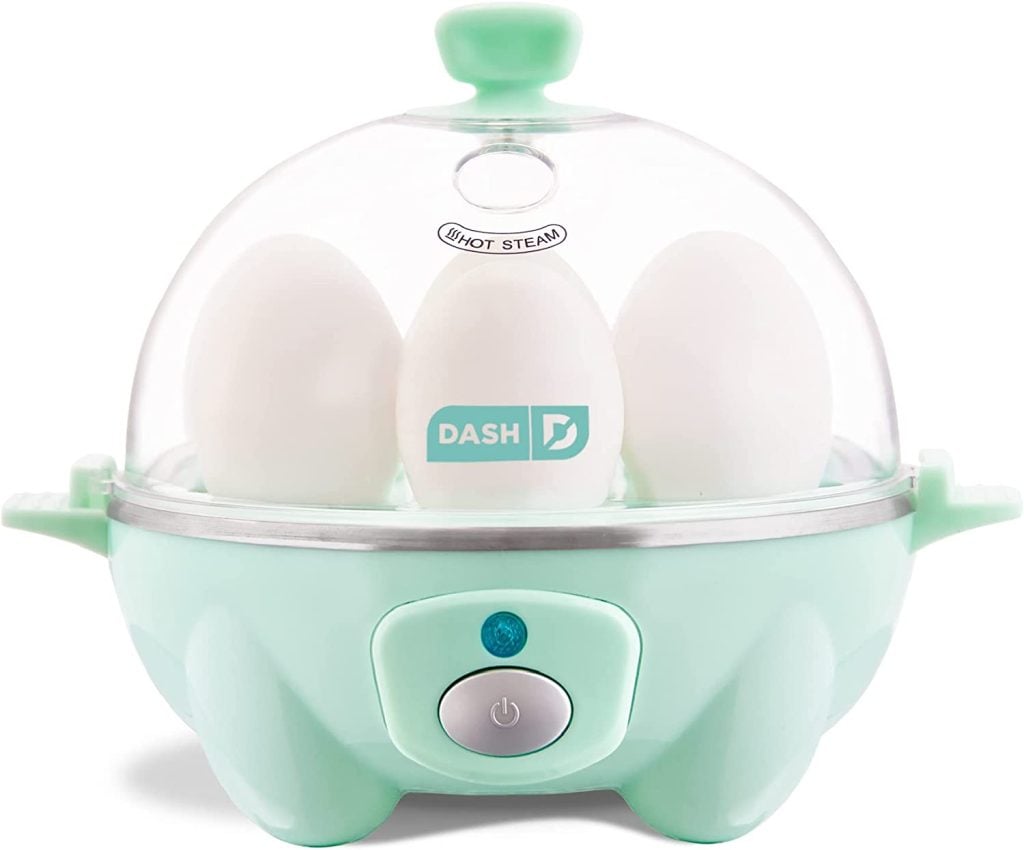 Want perfectly cooked hard boiled eggs that are EASY to peel? This rapid egg cooker by Dash perfectly cooked eggs every time without the guesswork. Will also do soft-boiled, poached and comes with a mini omelet pan, which is great for breakfast sandwiches. I LOVE mine and use it almost daily!
Love adding eggs to your salad? Check out my Healthy Egg Salad, my Deviled Egg Potato Salad and my Grilled Salmon Salad for great salad ideas that include eggs.
How do I make creamy cobb salad dressing?
My Healthy Greek Yogurt Ranch Dressing is absolutely PERFECT on this salad. Not only is this dressing a clean option, (no oils, sugar or garbage ingredients), it's just 44 calories per serving. Forget the store-bought bottled dressings, this dressing is WAY better!
This healthy ranch dressing is made with just 6 simple ingredients: plain Greek yogurt, vinegar, garlic salt, dried parsley, onion powder and pepper. It is also the base for my Healthy Greek Yogurt Veggie Dip.
This dressing is amazing and tastes exactly like Ranch dressing WITHOUT all of the added sugar, high-fructose corn syrup and toxic oils. FYI – almost all store-bought salad dressing have this unhealthy ingredients. Making your own salad dressing is not only much healthier, it's more economical as well!
I've also got a fantastic homemade Healthy Caesar Dressing a Homemade Poppy Seed Dressing, Honey Balsamic Dressing, Avocado Lime Ranch Dressing and a delicious Healthy Homemade Italian Dressing that are equally amazing!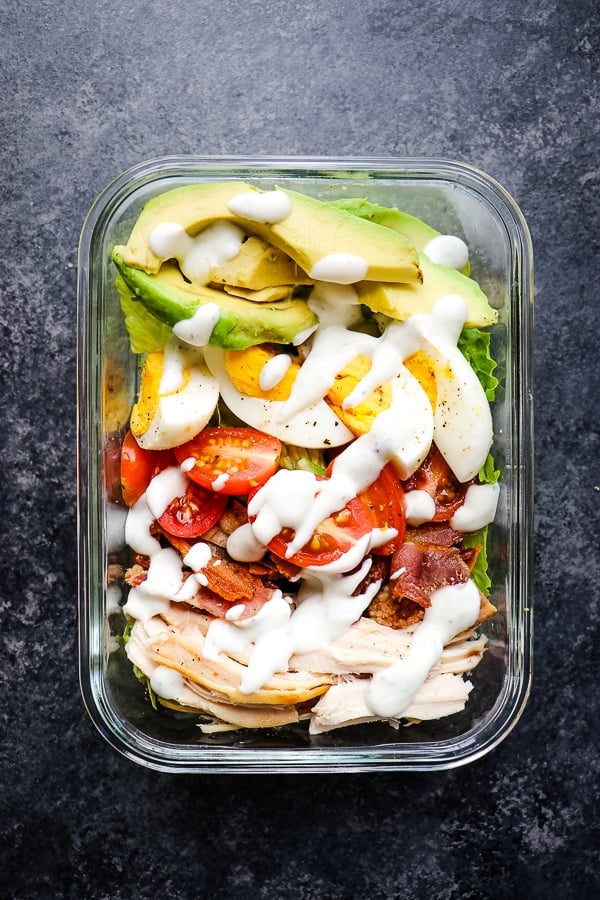 FAQ's about chicken cobb salad:
Do cobb salads have corn?
Not necessarily. Corn is not a traditional cobb salad ingredient, however, if you're looking to add some great flavor and texture to your chicken cobb salad recipe, grilled corn is an amazing add-in!
Can I add cheese to a cobb salad?
Yes. Traditionally, Roquefort is what is added to cobb salad, however many people opt for Blue cheese instead.
What is the difference between a cobb salad and a chef salad?
The difference between cobb salad and chef salad is just a variation of ingredients. Both salads include lettuce, tomatoes, cheese, bacon and hard-boiled egg. Cobb salad includes chicken and avocado. Chef salad includes ham.
If you loved this delicious chicken cobb salad recipe, then check out some of my other similar salad recipes:
Here's the recipe for my delicious Healthy Chicken Cobb Salad:
Healthy Chicken Cobb Salad
This healthy chicken cobb salad recipe is nothing short of incredible! With traditional cobb salad ingredients, this healthy version leaves out unhealthy oils and over-sugared dressings, but keeps all of the delicious flavors. I'll show you how to make cobb salad for meal prep, too!
Ingredients
1 medium-large head of romaine lettuce, torn into pieces (about 6-8 cups)
1 lb. cooked chicken (rotisserie chicken works well), chopped
4 slices, thick-cut bacon, cooked crisply, crumbled
4 hard-boiled eggs, sliced
2 avocados, sliced
1 pint cherry tomatoes, halved
Instructions
On a large platter or bowl, add the torn lettuce pieces. Be sure to rinse the lettuce before adding to your salad. To the lettuce, add the chopped chicken, bacon crumbles, sliced eggs, avocado slices, and tomatoes. Top with fresh ground pepper.
Notes
Feel free to use your salad greens of choice. Other options would include baby spinach, red or green leaf lettuce or spring mix.
Recommended Products
As an Amazon Associate and member of other affiliate programs, I earn from qualifying purchases.
Nutrition Information:
Yield:

4
Serving Size:

1
Amount Per Serving:
Calories:

251
Total Fat:

20g
Saturated Fat:

9g
Trans Fat:

0g
Unsaturated Fat:

19g
Cholesterol:

305mg
Sodium:

368mg
Carbohydrates:

17g
Fiber:

11g
Sugar:

5g
Protein:

42g