The BEST Italian Chicken Marinade for Italian Grilled Chicken
Looking for a really amazing Italian Chicken Marinade? Look no further! This simple recipe for Italian Grilled Chicken will be your new favorite dinner idea. The BEST grilled chicken recipe for breasts, legs and thighs!
This post may contain affiliate links. Delightful E Made is a participant in the Amazon Services LLC Associates Program, an affiliate advertising program designed to provide a means for us to earn fees by linking to Amazon.com and affiliated sites.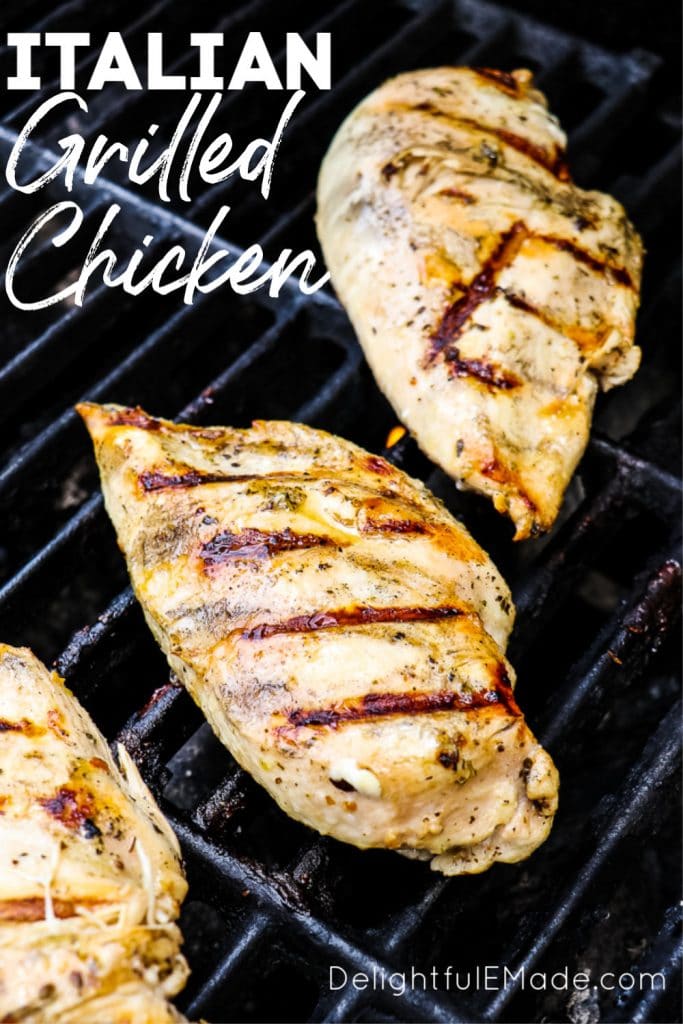 Does your family love grilled chicken during the summer? Mine definitely does! It's one of those things that can be marinated in advance and thrown on the grill for a simple, quick dinner. Best of all it's lean and healthy, making it perfect for healthy lunches the next day, as well.
Like this recipe? Be sure to pin it to your Dinner Board on Pinterest!
Follow DelightfulEMade on Pinterest for some of the very best Chicken recipe ideas!
Italian Grilled Chicken is something I've been meaning to post on my blog for like 3 years! It's something I love to make all through the spring and summer, as it's flavors are excellent with pasta salads or pairing with veggies and fruits.
Here's how to create this incredibly simple Italian Chicken Marinade perfect for grilling season!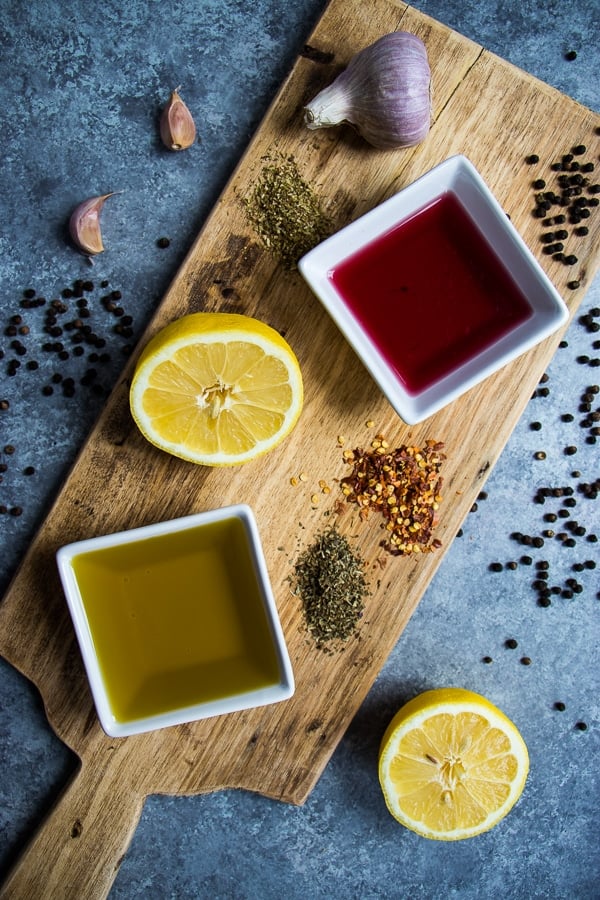 Step 1: Make the Italian Chicken Marinade
This is basically an Italian dressing. In fact, when I first started making Italian chicken, I used bottled dressings, however, it never tasted right. There were always extra ingredients that I didn't want. I finally just mixed up my own with these ingredients:
olive oil
red wine vinegar
lemon juice
garlic
red pepper flakes
garlic powder
dried oregano
dried basil
garlic salt
ground pepper
This may seem like a lot of ingredients, however, it comes together in a matter of minutes.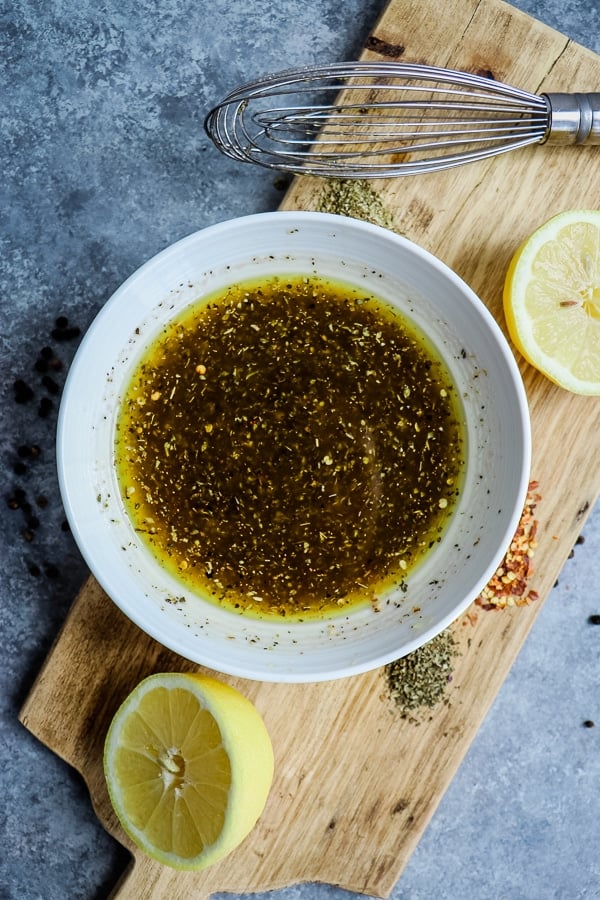 Step 2: Mix the Marinade
In a bowl, whisk together the marinade/dressing. You can also place all of the ingredients into a mason jar, with a tight fitting lid, and shake together.
Marinades are a fantastic way to add flavor to meat you are grilling and keep it juicy while cooking. Some other recipes that use a fantastic marinade are my Grilled Steak Kabobs, Pollo Asado Recipe and my Air Fryer Boneless Chicken Thighs.
Pro Tip: Make a double batch. Use half for the marinade and the other half as dressing for a salad to go with the chicken for dinner!
Get my easy, delicious better-than-store-bought Homemade Italian Dressing here!
Product recommendation: I love this Stainless Steel Hand-Held Citrus Juicer. (Amazon Affiliate Link) It's perfect for juicing lemons, limes and even oranges. Fantastic for margaritas, too!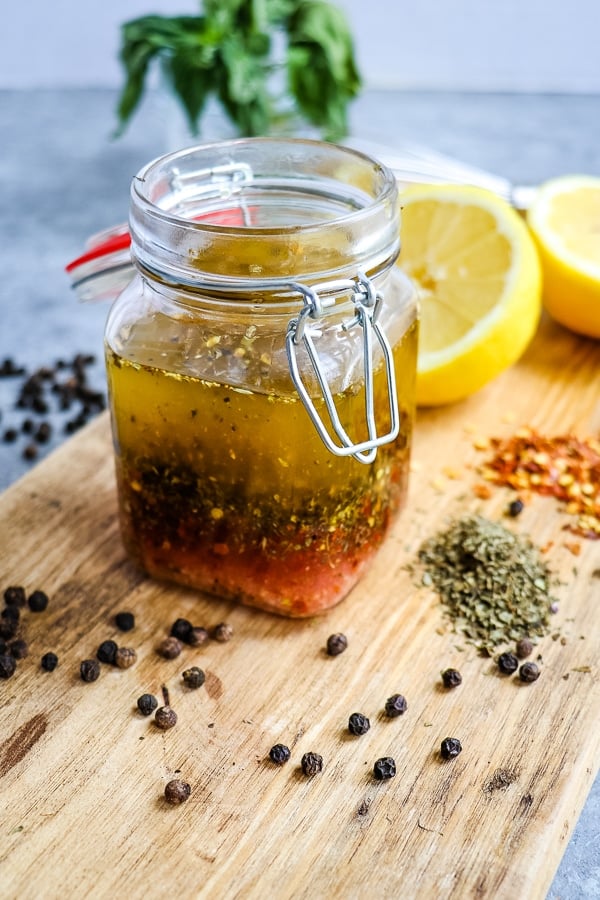 Step 3: Pour over chicken
Place your chicken pieces (you can use a whole, cut chicken, breasts, legs or thighs) into a resealable plastic bag. You can also place the chicken in a shallow baking dish. Pour the marinade over the chicken pieces, and make sure everything is well covered by the marinade.
Be sure to check out my Google Web Story for making this delicious Italian Grilled Chicken!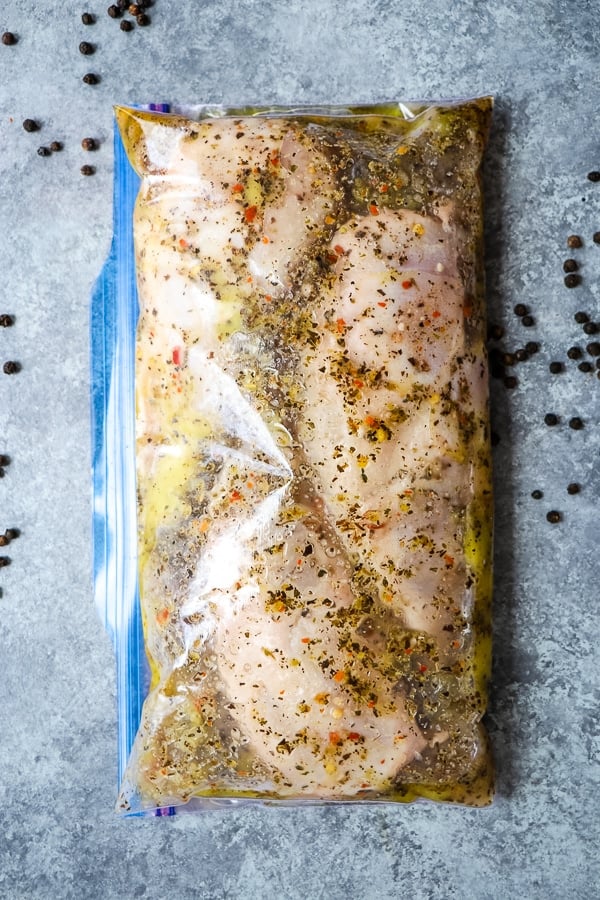 Step 4: Refrigerate and let the marinade do the work
Place the marinated chicken into your refrigerator. You can marinate for as little as a couple hours or up to 48 hours. I wouldn't recommend any longer than that.
I will typically mix the marinade together earlier in the day, add the chicken and then refrigerate for the majority of the day. Once I come home from a long day, the chicken in ready to go on to the grill!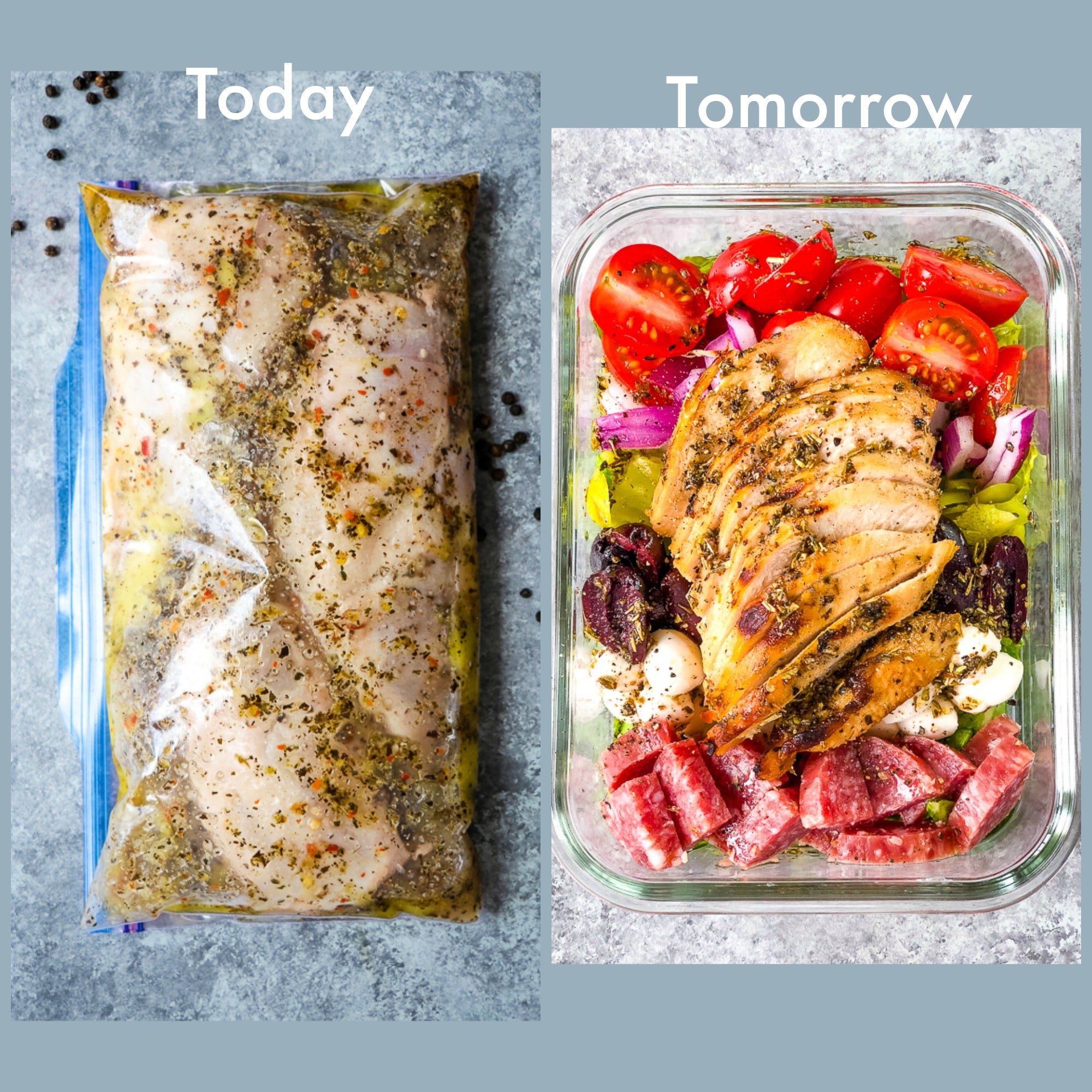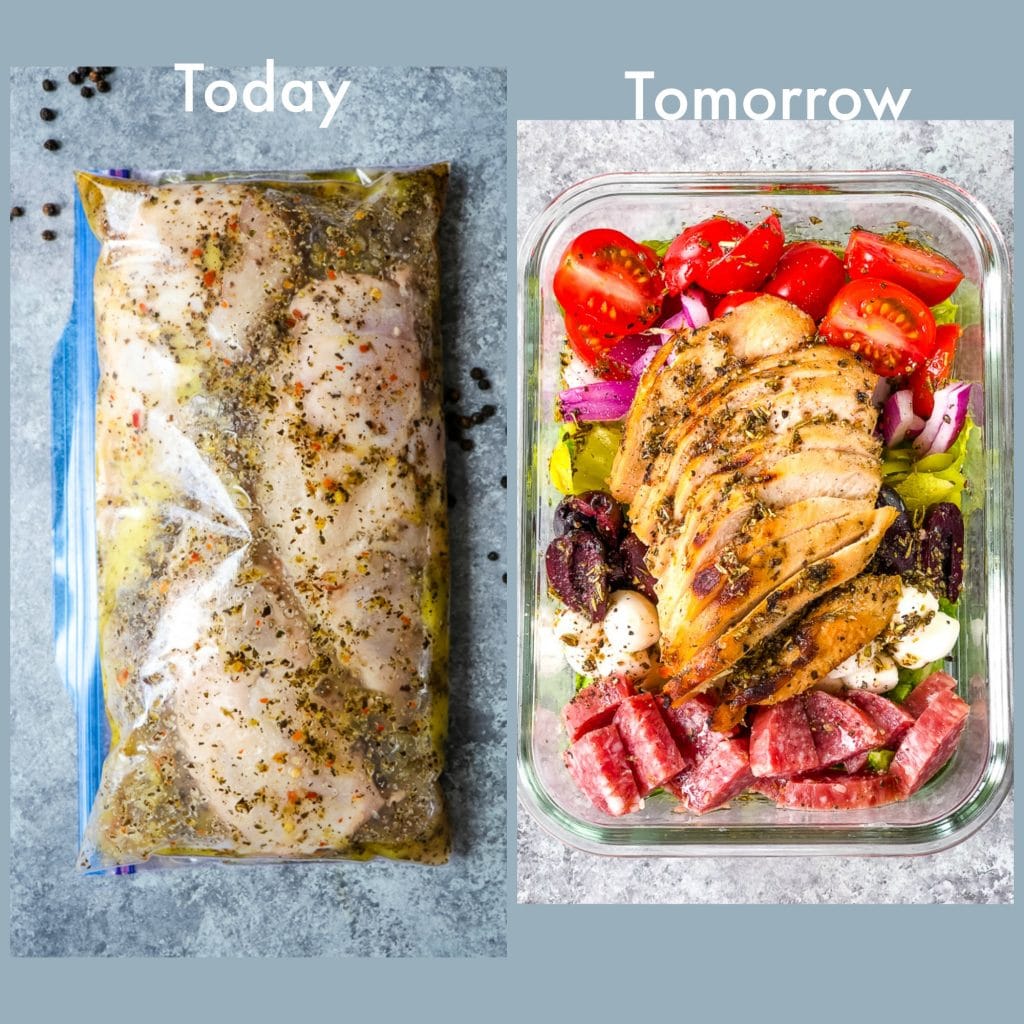 This delicious salad, a creation using this Italian Chicken and my Italian Chopped Salad is one of my favorite meal prep salads. Tomatoes, red onion, yellow banana peppers, olives, fresh mozzarella, salami come together perfectly with this grilled chicken.
Another meal prep recipe that has some great Italian flavors are my Baked Italian Chicken and Italian Mini Turkey Meatloaf recipes! Fantastic for making for dinner and taking to work the next day!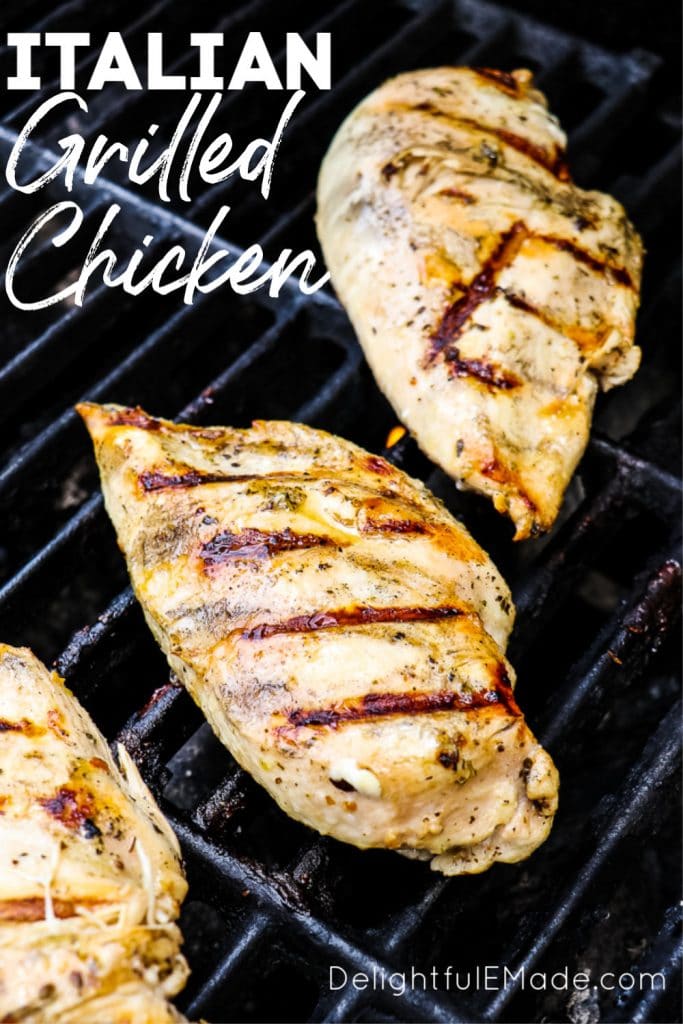 How long do I grill chicken?
Here's the standard grill times for chicken:
Boneless Chicken Breasts: approximately 6 minutes per side
Boneless Chicken Thighs: approximately 4 minutes per side
Chicken Legs: approximately 10 minute per side, turning 3 times (30 minutes total)
Bone-In Chicken Thighs: approximately 35 minutes total
Bone-In Chicken Breasts: approximately 25-30 minutes total
Want to know if your chicken is actually done? Use an instant read digital meat thermometer, like the Thermapen ONE to test the chicken. Internal temperature should reach 165 degrees. When cutting into the chicken, the juices should run clear.
---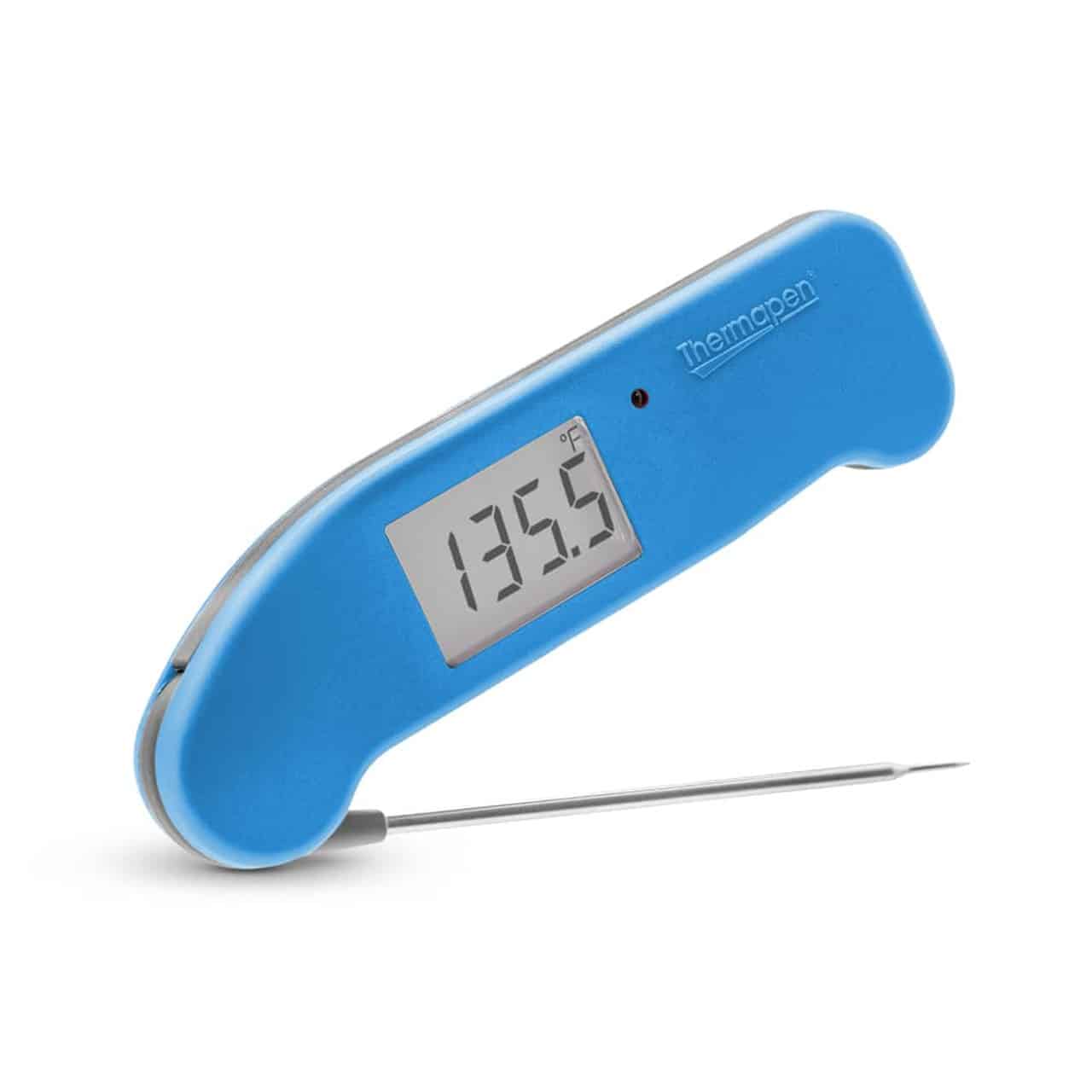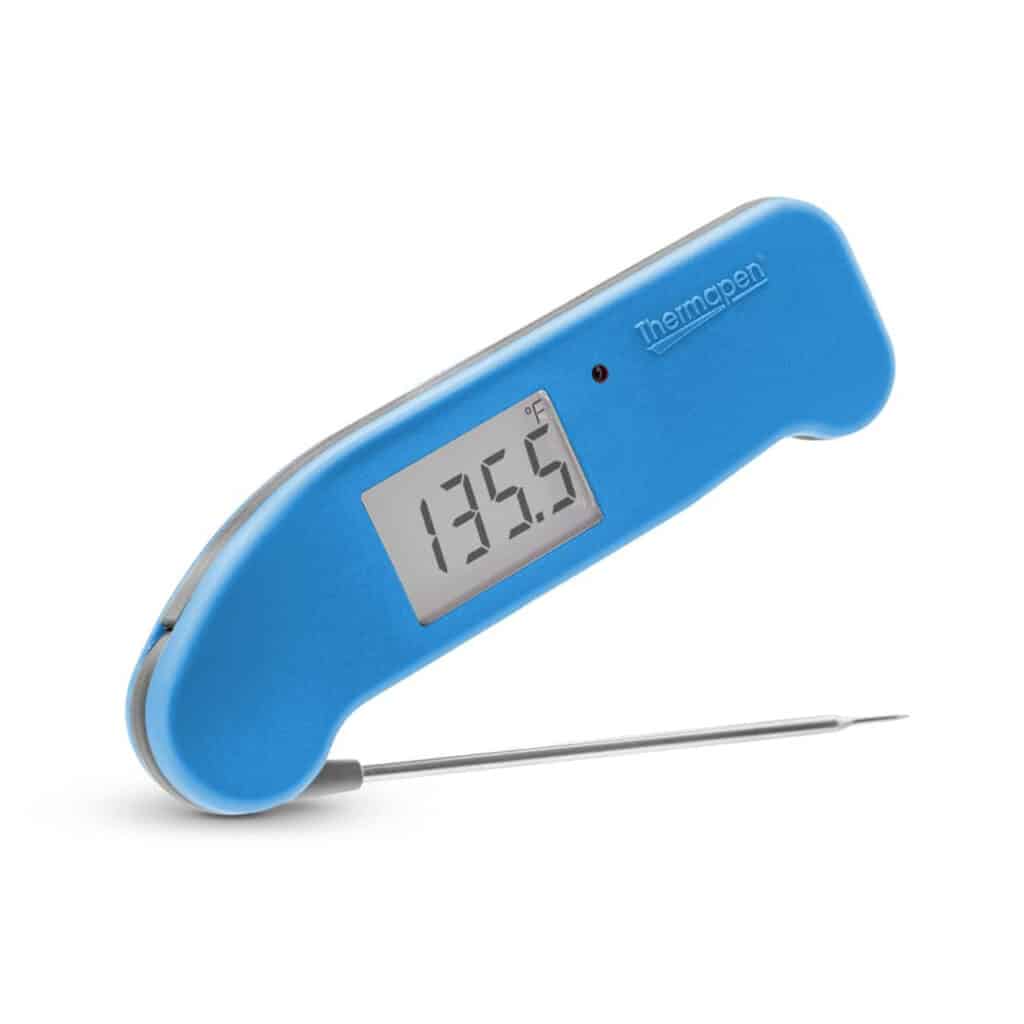 Thermapen ONE Instant Read Digital Thermometer
This is my go-to tool for grilling and roasting! With a Thermapen there's no guessing if or when the meat is done. The precise temperature will provide you with meat that is perfectly cooked, juicy and delicious EVERY time!
---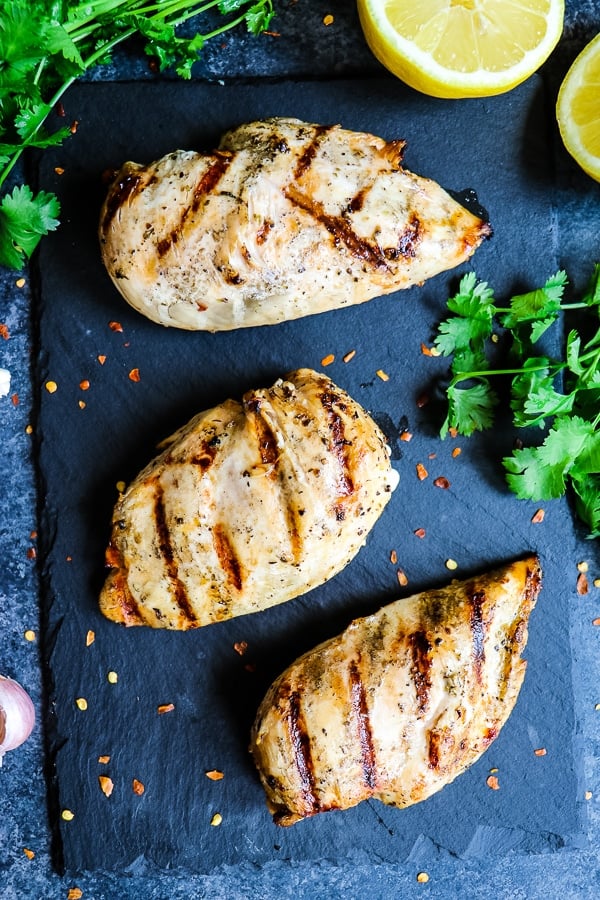 Serve and Enjoy! I love making this for a simple weeknight dinner. Simple, healthy and delicious!
If you loved this delicious Italian Grilled Chicken, then check out my
other recipes from the grill:
Need some ideas for what to serve with this Italian Grilled Chicken? These sides would be perfect!
Here's the recipe for my Italian Chicken Marinade & Italian Grilled Chicken: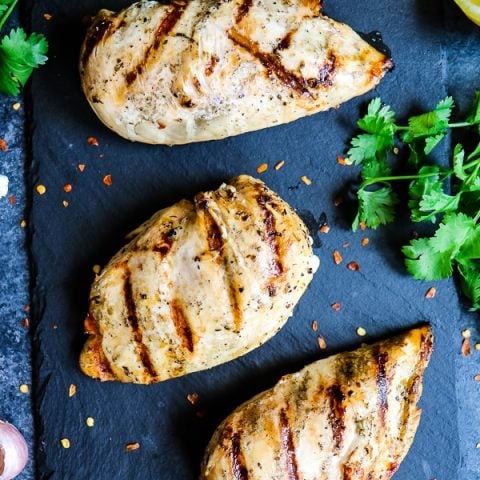 Italian Grilled Chicken
Looking for a really amazing Italian Chicken Marinade? Look no further! This simple recipe for Italian Grilled Chicken will be your new favorite dinner idea. The BEST grilled chicken recipe for breasts, legs and thighs!
Ingredients
1 1/2 lbs. chicken (breasts, legs or thighs)
Italian Chicken Marinade:
1/2 c. olive oil
1/4 c. red wine vinegar
juice of 1 lemon
1 tsp. minced garlic
1 tsp. garlic powder
1 tsp. dried oregano
1 tsp. dried basil
1/2 tsp. crushed red pepper flakes
1/2 tsp. garlic salt
1/2 tsp. pepper
Instructions
In a medium bowl, add the olive oil, vinegar, lemon juice, garlic, garlic powder, oregano, basil, red pepper flakes, salt and pepper. Whisk together to combine.
In a resealable plastic bag or shallow dish, add the chicken, and pour the marinade over the top of the chicken. Turn to coat the chicken in the marinade.
Refrigerate for 2 - 24 hours.
When ready to grill, preheat grill. Lightly oil grill grates to prevent chicken from sticking.
Place the chicken over indirect heat. Discard all remaining marinade.
Grill the chicken for approximately 6 minutes per side, for breasts, 4 minutes per side for thighs and 10 minutes per side for bone-in legs. Chicken is done cooking when juices run clear when cutting.
Rest chicken for 5 minutes before slicing and serving.
Nutrition Information:
Yield:

4
Serving Size:

1
Amount Per Serving:
Calories:

246
Total Fat:

14g
Saturated Fat:

10g
Trans Fat:

0g
Unsaturated Fat:

9g
Cholesterol:

160mg
Sodium:

322mg
Carbohydrates:

3g
Fiber:

1g
Sugar:

0g
Protein:

41g