Chocolate Cheesecake Bars for every Chocolate Lover!
If you're looking for an easy, no bake cheesecake recipe, then these chocolate cheesecake bars need to be in your life! Made with layers of OREO's, hot fudge, these no bake cheesecake bars are every chocolate lovers dream!
This post may contain affiliate links. Delightful E Made is a participant in the Amazon Services LLC Associates Program, an affiliate advertising program designed to provide a means for us to earn fees by linking to Amazon.com and affiliated sites.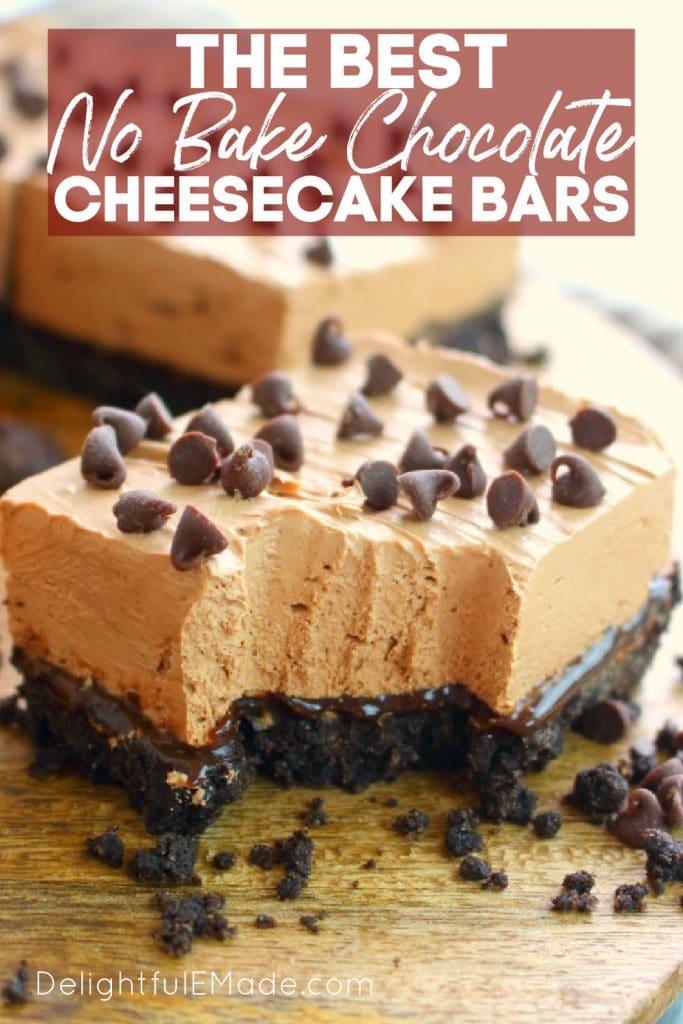 The dog days of summer are the perfect time for these incredible No Bake Chocolate Cheesecake Bars. Made with an awesome OREO cookie crust, a layer of hot fudge, and thick chocolate cheesecake, these bars are the ultimate cool, creamy treat for a warm summer day.
Here's how these incredibly delicious, and super simple chocolate cheesecake bars come together:
How do you make and OREO crust?
For this super-simple crust, you'll just need two ingredients: OREO's and butter. To crush the OREO's, I put them in my food processor, and crush for about 20 seconds.
I then add the melted butter and pulse a few more times to combine. Then, turn out the cookie crumb mixture into a foil lined pan. Press the crumbs firmly into the bottom of a foil-lined pan.
If you don't have a food processor, placing the cookies in a resealable plastic bag, and crushing them with a rolling pin also works well. Make sure to crush all big chunks of cookies into crumbs.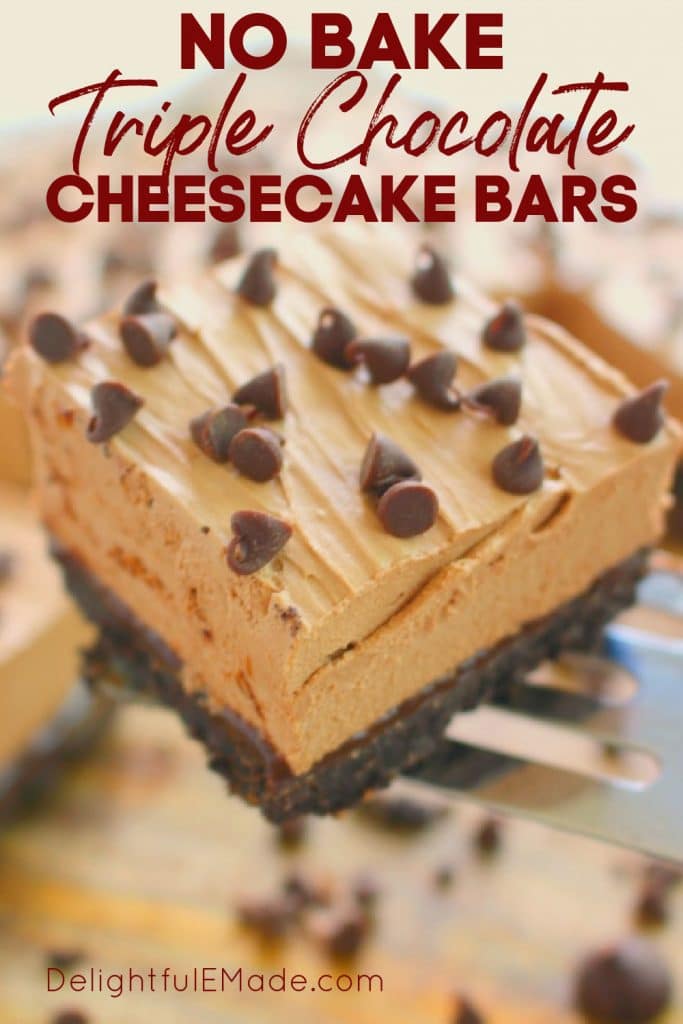 Step 2: Add a layer of hot fudge
Over the top of the pressed crust, add a layer of hot fudge ice cream topping. To make the topping easily spreadable, I heat it in the microwave for about 30 seconds and pour over the crust.
Spread evenly onto the entire surface of the crust to ensure every bite has a bit of hot fudge goodness!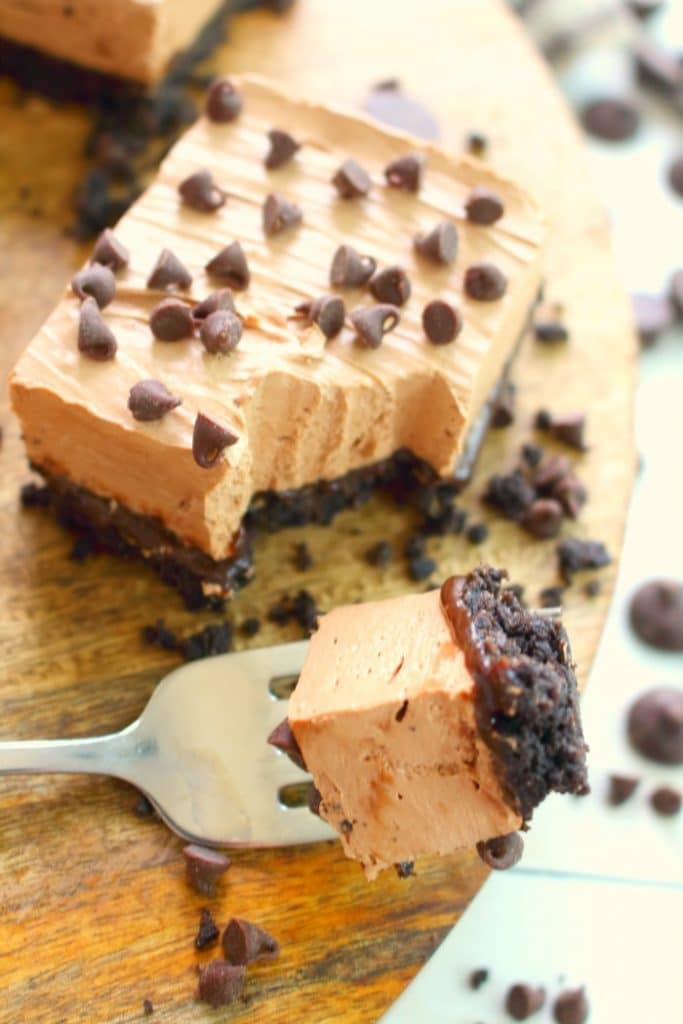 Step 3: Make the Chocolate Cheesecake Filling
Very similar to my Chocolate Peanut Butter Mousse Bars, this cheesecake filling is thick, creamy and has a wonderful, silky texture and consistency. Best of all, you just need a few ingredients to make this filling.
How do you make no bake cheesecake?
You'll start with room temperature cream cheese – the temp of the cream cheese is important, as cold cream cheese right out of the fridge will typically render chunks or pieces of cream cheese in the filling.
To the cream cheese, you'll add powdered sugar, and the melted chocolate. When mixing these together, work slowly. Stop the mixer often to scrape down the sides of the bowl.
Then, you'll mix in the whipped topping. In just a few minutes, you'll have a thick, silky chocolate cheesecake filling that makes this recipe incredible!
Add the filling to the OREO crust, and top with mini chocolate chips, if desired. Chill the cheesecake to let the filling become firm.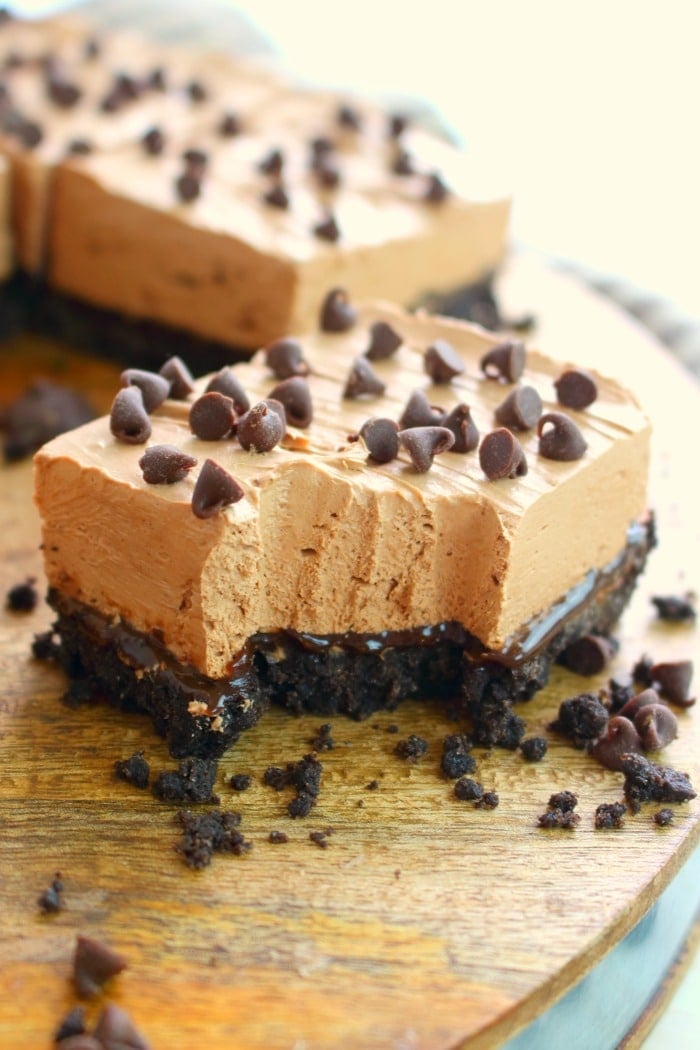 Step 4: Refrigerate, Slice and Serve
Before diving in to these amazing chocolate cheesecake bars, the filling will need a chance to set up. Refrigerate for at least 2 hours before cutting into the squares. Once the squares are cut, top with the mini chocolate chips for a fantastic chocolate garnish!
These bars are awesome for just about any occasion. This cool, creamy treat is especially delicious to enjoy on a hot, summer day!
Here is a quick-reference shopping list for all of the ingredients you'll need for this fantastic no-bake cheesecake recipe:
OREO Cookies, or any other type of chocolate sandwich cookie
Butter
Hot Fudge Ice Cream Topping
Cream Cheese
Powdered Sugar
Semi-Sweet Chocolate Baking Bar, I used Bakers Semi-Sweet Chocolate Baking Bar
Frozen Whipped Topping, like Cool Whip
Mini Chocolate Chips
This dessert is fantastic as a pie as well! Get the simple, delicious recipe for transforming these no bake cheesecake bars: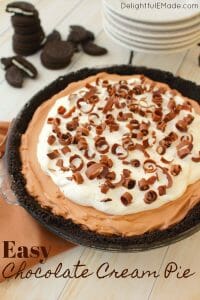 If you love no bake cheesecake bars, be sure to check out some of my other amazing recipes:
Here's the recipe for these fantastic chocolate cheesecake bars:
No Bake Triple Chocolate Cheesecake Bars
Ingredients
25 chocolate sandwich cookies (like OREO's)
5 Tbsp. butter, melted
1/2 c. hot fudge ice cream topping
1 (8 oz.) pkg., cream cheese, room temperature
1/2 c. powdered sugar
4 oz. bittersweet chocolate baking bar, melted
1 (8 oz.) container, frozen whipped topping, thawed
1/2 c. mini chocolate chips
Instructions
Line a 9x9" square pan with aluminum foil.
Crush the 25 OREO cookies in a food processor. Add the melted butter, and pulse in the processor a few more times to combine. Pour the crumb mixture into the lined pan, and press firmly to the bottom of the pan. Set aside.
With a hand or stand mixer, cream together the cream cheese and powdered sugar and mix until creamy and slightly fluffy. With the mixer running on the lowest speed, gradually add the melted chocolate to the cream cheese mixture. Stop often to scrape down the sides of the bowl. Once all the chocolate has been mixed in, mixture will be rather thick.
With the mixer running on lowest speed, gradually add in the thawed whipped topping. Mix until smooth and completely combined with the cream cheese mixture. Spread evenly over the top of the crust, making sure to spread firmly and evenly into corners of the pan. Refrigerate for at least 1-2 hours, or until firmly set.
Just before serving, lift the cheesecake from the pan using the sides of the aluminum foil. Cut into 16 even squares and then top with the mini chocolate chips. Refrigerate any leftovers in an airtight container.
Notes
To create a more firm crust, and evenly cut squares, bake the OREO crust for about 5 minutes at 350 degrees. This is completely optional, and no longer makes this recipe "no-bake". However, baking the crust (again, completely optional) for this short time, helps firm up the crust yielding uniform squares.
Nutrition Information:
Serving Size:

16 squares/servings
Amount Per Serving:
Calories:

96
Total Fat:

7g
Saturated Fat:

4g
Cholesterol:

11mg
Sodium:

32mg
Carbohydrates:

9g
Sugar:

8g
Protein:

1g