Healthy and Easy Overnight Oats Recipe
Need a quick make-ahead breakfast? This easy overnight oats recipe is simple, healthy and takes just 5-minutes to stir together before you go to bed. These peach overnight oats are a fantastic way to get your day off to a healthy start!
This post may contain affiliate links. Delightful E Made is a participant in the Amazon Services LLC Associates Program, an affiliate advertising program designed to provide a means for us to earn fees by linking to Amazon.com and affiliated sites.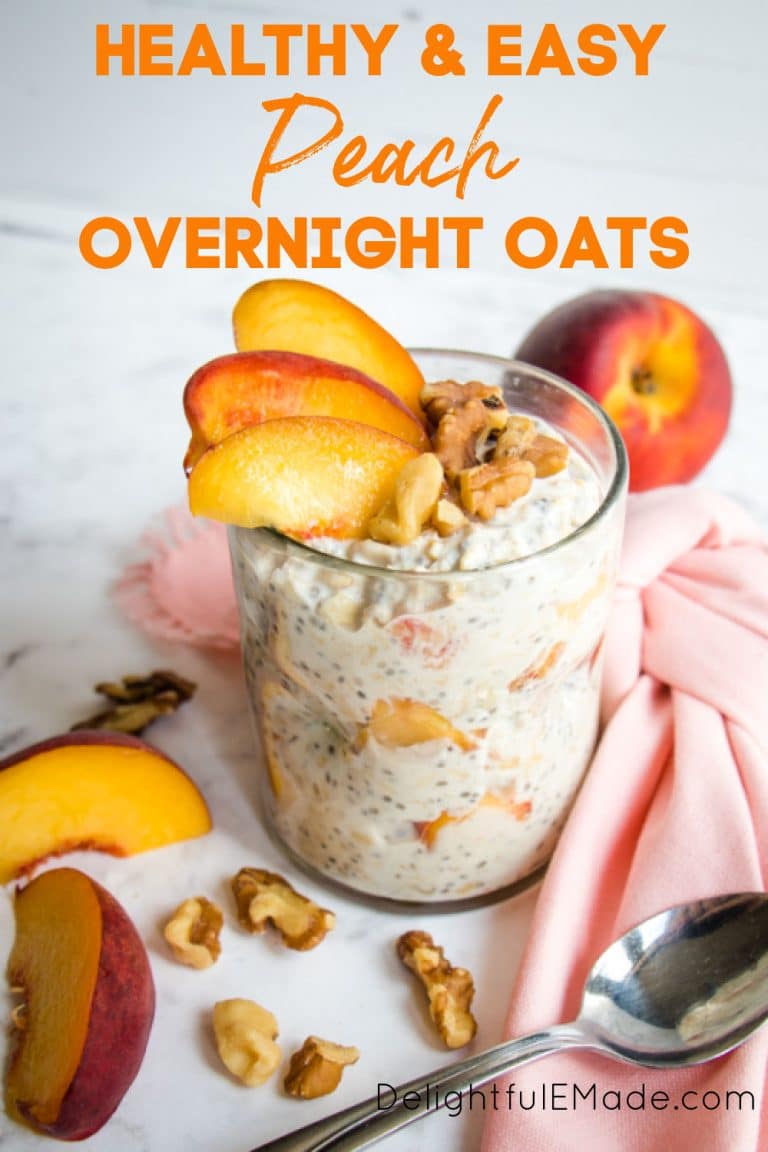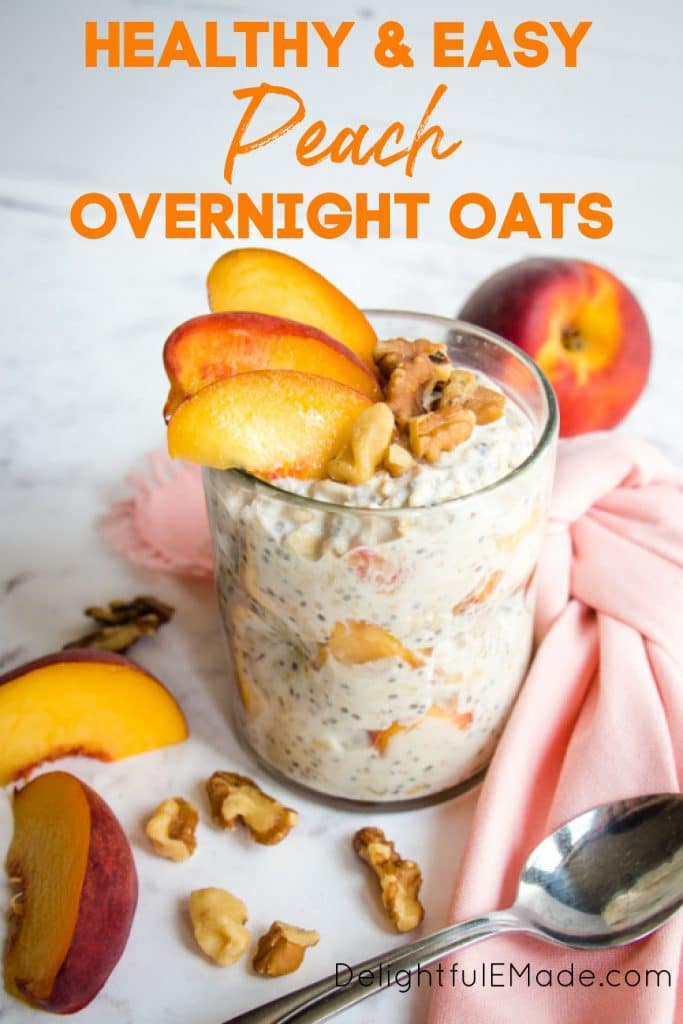 Making easy overnight oats
Are mornings rushed and busy at your house? Does the thought of making a healthy breakfast just feel like one more thing on your to-do list? These make-ahead peach overnight oats are a great way to have a healthy breakfast ready to go when you are.
These easy overnight oats are very simple to make. They take just 5 minutes to mix together before you go to bed. Ready to eat whenever you are, these peach overnight oats are great to take to work or to sit down to a healthy breakfast.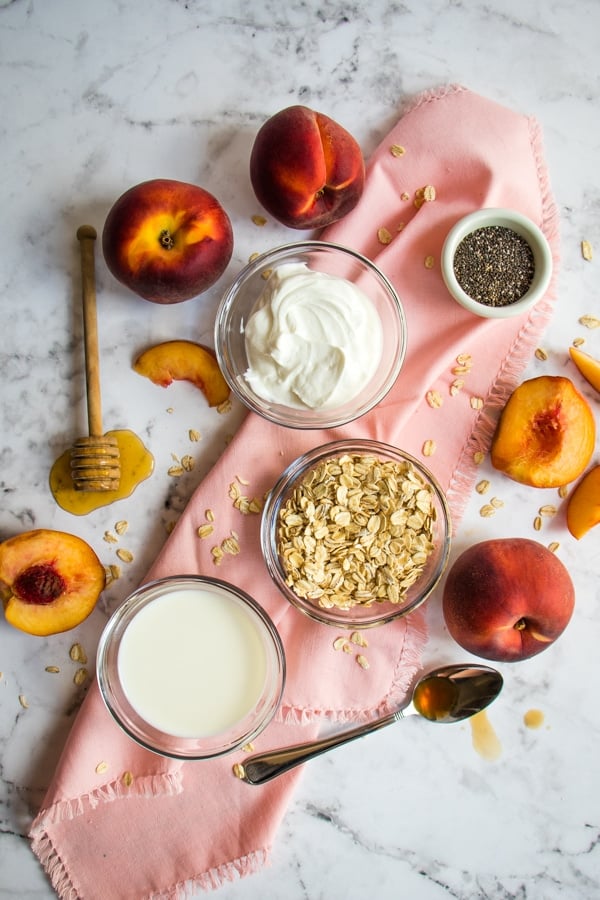 What do I need to make peach overnight oats?
Here's a quick check list of the things you'll need to make overnight oats:
Oats – Old fashioned rolled oats, NOT instant
Greek Yogurt – I prefer plain, full-fat Greek yogurt. Fage is my preferred brand.
Milk – I prefer unsweetened vanilla almond milk, but any dairy or plant-based milk can be used.
Honey or Granular Sweetener – I use and enjoy Lankanto Monkfruit sweetener.
Vanilla extract or Almond extract
Salt – just a pinch or grind of your salt grinder
Fresh or frozen peaches, diced (feel free to leave the skin on to make it easier, the skin is nutritious!)
Chopped Walnuts – these are optional, but add a great crunch.
For exact ingredient amounts and full recipe instructions be sure to scroll down to the full recipe at the bottom of the post.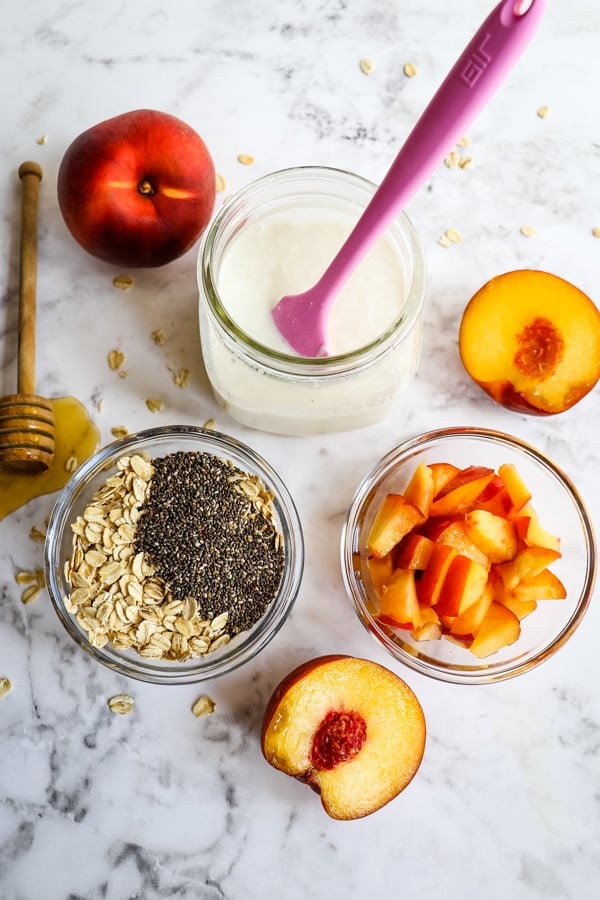 How do you make overnight oats?
In a mason jar or other resealable container, stir together the wet ingredients first; milk, yogurt, honey, and vanilla.
Next, add the oats, chia seeds and salt. Stir together well.
Lastly, stir in the chopped peaches or other preferred fruits.
Wait until just before eating in the morning to add walnuts or any other nuts. This will ensure the nuts stay crunchy.
How do you make overnight oats taste better?
Adding fresh fruits is a great way to add in flavor; peaches, cherries, blueberries and bananas are all great options.
Make sure you are also including a sweetener. Honey, maple syrup or a granular sweetener are recommended.
Lastly, before serving add some nuts, like walnuts, almonds or pecans for some crunch.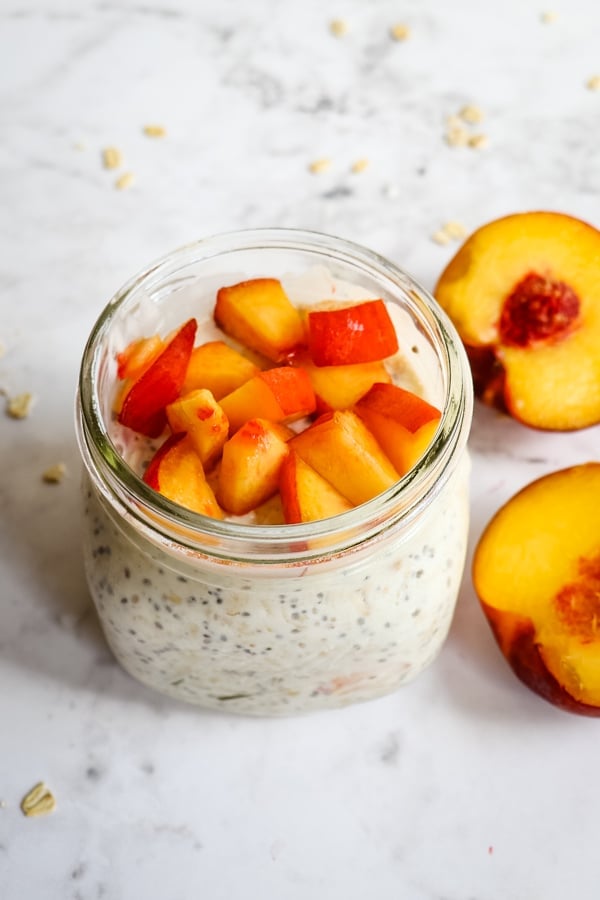 What peaches should I use for these peach overnight oats?
If peaches are in season (June – September) I would highly recommend using fresh, ripe peaches. If fresh peaches are unavailable, frozen peaches are a good option. You can chop up the frozen peaches and add them right into the oats – no need to thaw.
You can use canned peaches if you are in a bind, but be sure to read the labels – if they are packed in syrup, they are typically loaded with refined sugar, which isn't good for you.
How long do you refrigerate overnight oats?
A minimum of 4 hours. Mix them up before you go to bed and refrigerate overnight. When you wake up in the morning they will be ready to eat.
How long will overnight oats keep in the refrigerator?
On average, overnight oats will keep well up to 5 days. This makes them a great meal-prep option for when you are looking to make your breakfasts ahead on the weekend for the upcoming week.
If you're looking to have breakfasts made in advance for yourself (highly recommend!) check out my Breakfast Meal Prep post! Some other great make-ahead breakfast recipes are my Healthy Breakfast Sandwiches, Chocolate Chia Seed Pudding and my Baked Egg Cups.
Once you wake up in the morning, your healthy breakfast will be waiting.
Add some extra peach slices and chopped walnuts for some crunch to the top of your oats.
Do you eat overnight oats warm or cold?
Traditionally, overnight oats are ate cold, however, if you would prefer to warm them up, you can certainly do that.
To warm, place in a microwave-safe bowl, add a little extra milk, stir and then heat on 30-45 second increments until warm.
What toppings are good on overnight oats?
These overnight oats are great with additional peach slices and nuts like walnuts, pecans or almonds. Some other options are pecan, cashew or almond butter, granola clusters or an additional dollop of yogurt.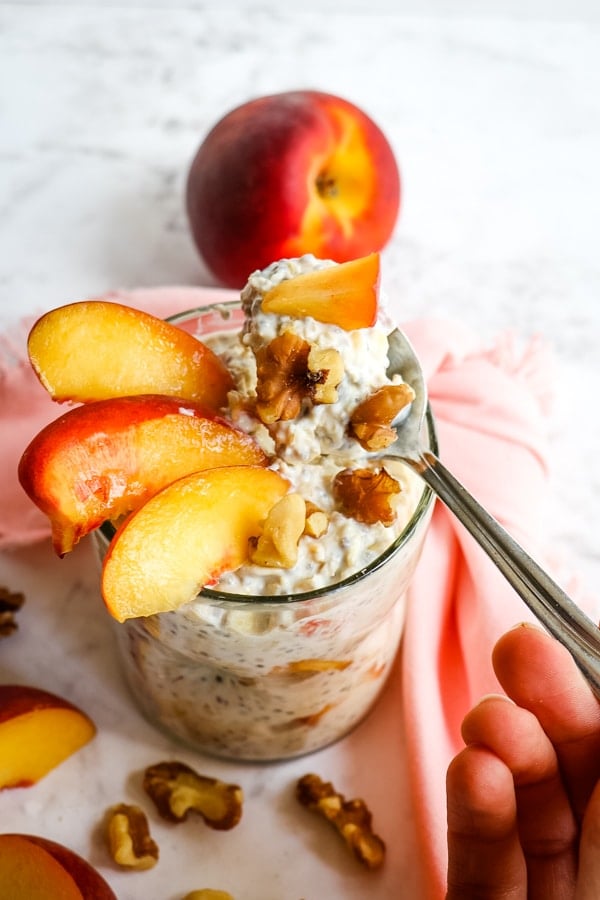 Love peaches? Check out some of my other delicious peach recipes:
FAQ's about making overnight oats:
Can you put fruit in overnight oats the night before?
Yes. Adding fruit like berries, peaches, apples and cherries are fine to add the night before. It will lend to the flavor of the oats. As for nuts, wait to add those until just before eating to keep them crunchy.
Are overnight oats good for weight loss?
Yes. Overnight oats are a great healthy breakfast option when you're looking to lose weight. They contain a significant amount of fiber and protein, helping you stay fuller for longer. As with all foods, be watchful of your portions by measuring your ingredients.
Can you eat overnight oats 2 days later?
Yes. Once prepared, overnight oats are good to eat 1-3 days later. Overnight oats can last for up to 5 days refrigerated, however, the texture will be less optimal.
Are overnight oats fattening?
No. When made with healthy ingredients, overnight oats can be a very healthy breakfast option and even promote weight loss. Be sure to include ingredients without refined sugar and use proper portions.
Overdoing portion sizes and including ingredients like high-sugar yogurts, nut butters and granola is when this breakfast becomes high in calories.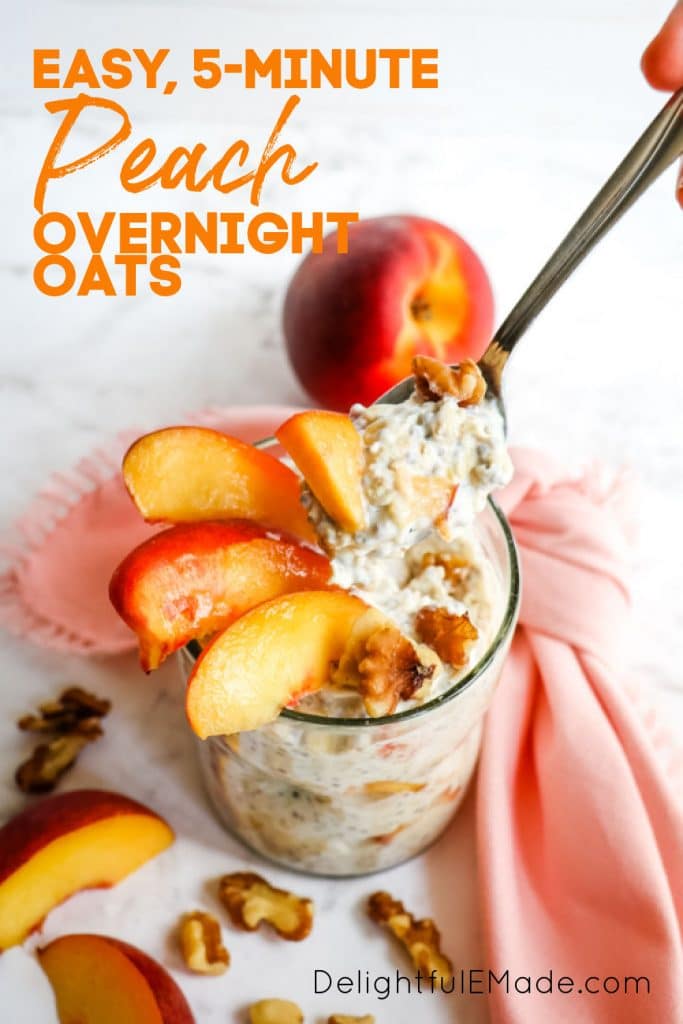 If you loved these overnight oats, check out some of my other healthy oatmeal recipes:
Do you love muffins for breakfast as well? These healthy muffin recipes are a great way to start your day: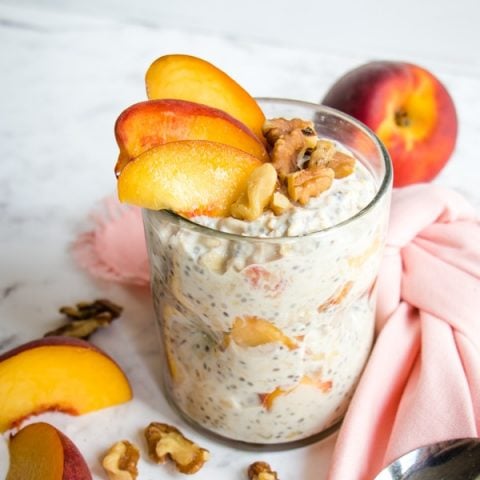 Easy Peach Overnight Oats
Total Time:
4 hours
5 minutes
Wondering how to make overnight oats? This Easy Overnight Oats recipe is simple, healthy and takes just 5-minutes to stir together before you go to bed. These peach overnight oats are a fantastic way to get your day off to a healthy start!
Ingredients
1/2 c. Old fashioned rolled oats (not instant oatmeal)
1/2 c. Greek yogurt (I prefer plain, full-fat)
1/2 c. milk (dairy or plant-based)
1 Tbsp. Chia seeds
2 tsp. honey or granular sweetener
1/4 tsp. vanilla extract
pinch salt
1/2 c. diced peaches, fresh or frozen
Optional: 2 Tbsp. chopped walnuts
Instructions
In a pint-sized mason jar or resealable container, add the yogurt, milk, honey and vanilla. Stir together until smooth. Add the oatmeal, chia seeds and salt. Stir together until well combined. Stir in the peaches.
Place lid on container and refrigerate overnight or at least 4 hours.
When ready to enjoy, spoon out into a bowl and top with additional peaches and walnuts, if desired.
Will keep refrigerated for up to 5 days.
Notes
Milk options: feel free to use diary or plant-based milk. Dairy will provide more protein per serving.
Oats: The best oats to use are Old-fashioned rolls oats. You can also use steel-cut oats, however they will need longer to soak - at least 8 hours.
Sweeteners: Honey or maple syrup are good options. If you are watching your sugar intake, feel free to utilize your preferred granular sweetener like, monk-fruit, stevia, allulose or Swerve. 2 tsp. of honey or maple syrup, 1/2-1 tsp of granular sweeteners.
Nutrition Information:
Yield:

1
Serving Size:

1
Amount Per Serving:
Calories:

390
Total Fat:

19g
Saturated Fat:

3g
Trans Fat:

0g
Unsaturated Fat:

14g
Cholesterol:

15mg
Sodium:

236mg
Carbohydrates:

65g
Fiber:

10g
Sugar:

8g
Protein:

26g