Do you love a hearty cheesy cheesesteak sandwich loaded with beef, peppers, onions and melted Provolone? This Philly cheesesteak sliders recipe is fantastic to enjoy all those flavors and textures. Great for a party appetizer and for a simple dinner idea!
This post may contain affiliate links. Delightful E Made is a participant in the Amazon Services LLC Associates Program, an affiliate advertising program designed to provide a means for us to earn fees by linking to Amazon.com and affiliated sites.
Is a meaty, cheesy steak sandwich your thing? If so, then these delicious sliders are most definitely for you. Made with sauteed peppers, onions and steak layered on top of slider rolls and topped with Provolone cheese, these sliders are simple to assemble.
In this post I'll show you how easy it is to make these mini cheesesteaks, and will give you all my tips on the best ingredients to use.
What do I need to make Philly cheesesteak sliders?
Here's a quick-reference ingredient list of the items you'll need to make these sliders:
Slider rolls/buns or party-sized dinner rolls. These Hawaiian sweet rolls are always a favorite with my family.
Green bell pepper – a must for any cheesesteak
Yellow onion – this will be sauteed with the pepper.
Sirloin beef – you could also use ribeye or strip steak. Many grocery stores will pre-package sliced sirloin. This is a great time-saver. You can also ask the butcher to slice steak for you. If doing the slicing on your own, I recommend freezing the steak for a couple of hours, to create extra thin slices of steak.
Provolone cheese – I recommend purchasing sliced Provolone from the deli section.
Mayonnaise – placing a thin layer of mayo on the bread before layering on the beef, peppers and onions adds some nice flavor to every slider.
Seasoning for the steak: Worcestershire sauce, garlic seasoning salt and ground pepper.
Topping for bread: melted butter and garlic.
For exact ingredient amounts and full recipe instructions be sure to scroll down to the bottom of the post for the recipe. Thanks!
How do I make sliders?
To make this Philly cheesesteak sliders recipe, start by sautéing the peppers and onions. Slice the peppers and onions into 1″ strips, which is an ideal length for these mini sandwiches. Transfer the peppers and onions to a bowl.
In the same skillet, sauté the steak strips. While the steak is browning, season the beef with the Worcestershire sauce, seasoning salt and pepper. This will add some savory flavor to the beef.
Next, slice the slider rolls horizontally, leaving the bottom half on a baking sheet or baking dish. Remove the top portion of the rolls and set aside. Add a thin layer of mayonnaise to the bottom half of the bread.
Layer on the sauteed beef and peppers and onions to the bottom half of the bread.
What sides go with Philly Cheesesteak sliders?
Slider sandwiches are great by themselves as an appetizer, but can also be served alongside a side dish like traditional sandwiches. Here are some of our favorite side dishes that would be perfect with sliders:
What cheese is best for making Philly cheesesteaks?
For the most part, people agree that Provolone is the best cheese to top a cheesesteak. Some would argue that American or melted Cheez-Whiz goes on a Philly cheesesteak.
For this recipe, sliced Provolone melts great in the oven and gives each slider a great, cheesy layer to every bite.
Once you add the cheese, add the top half of the slider rolls. Then, brush the tops of the bread with melted butter and garlic. Cover the sliders with foil when baking to ensure the tops of the bread don't overbrown.
Frequently asked questions about making Philly cheesesteak sliders recipe:
What kind of meat is used for a Philly cheesesteak?
You can use sirloin, ribeye or strip steak. Ribeye will be the most tender, but it will also be the most expensive. Sirloin and strip steak are comparable cuts, at a more economical price.
What condiments do I put on a Philly cheesesteak sandwich?
The most common condiment to add to a cheesesteak is mayo. This is in addition to the sauteed onions, peppers and cheese.
Does a Philly cheesesteak have sauce?
Traditionally a Philly cheesesteak does not include sauce. Some like to include a pizza or marinara sauce, and switch out the Provolone cheese for mozzarella. This is called a pizza steak. Although delicious, it is not the same as a cheesesteak.
If you loved this party food recipe, check out some of our other recipes perfect for entertaining: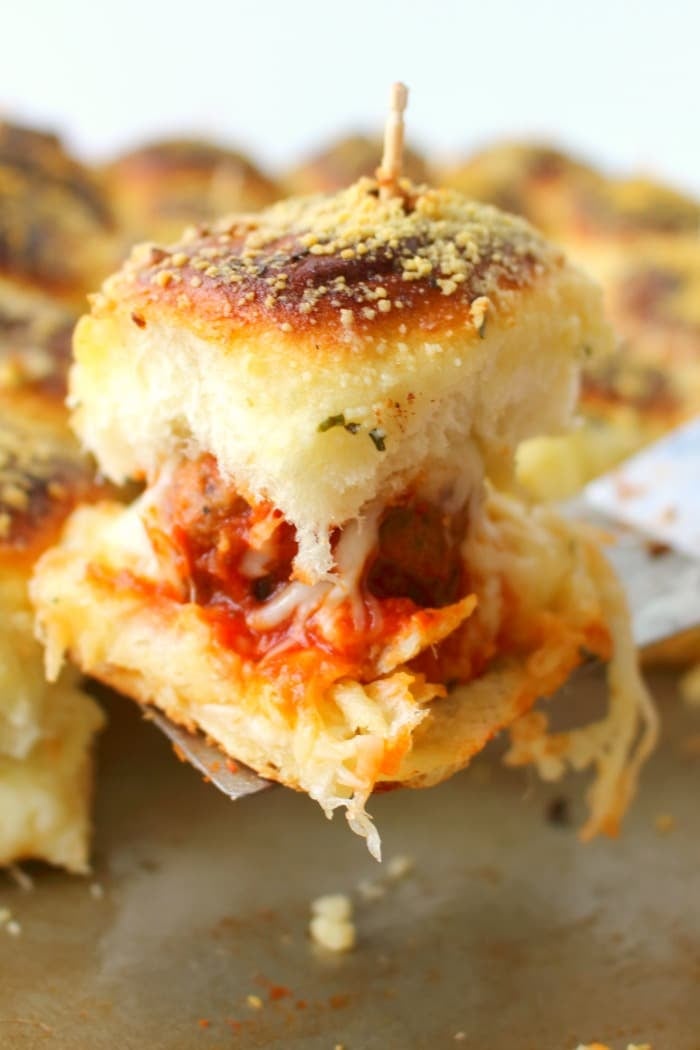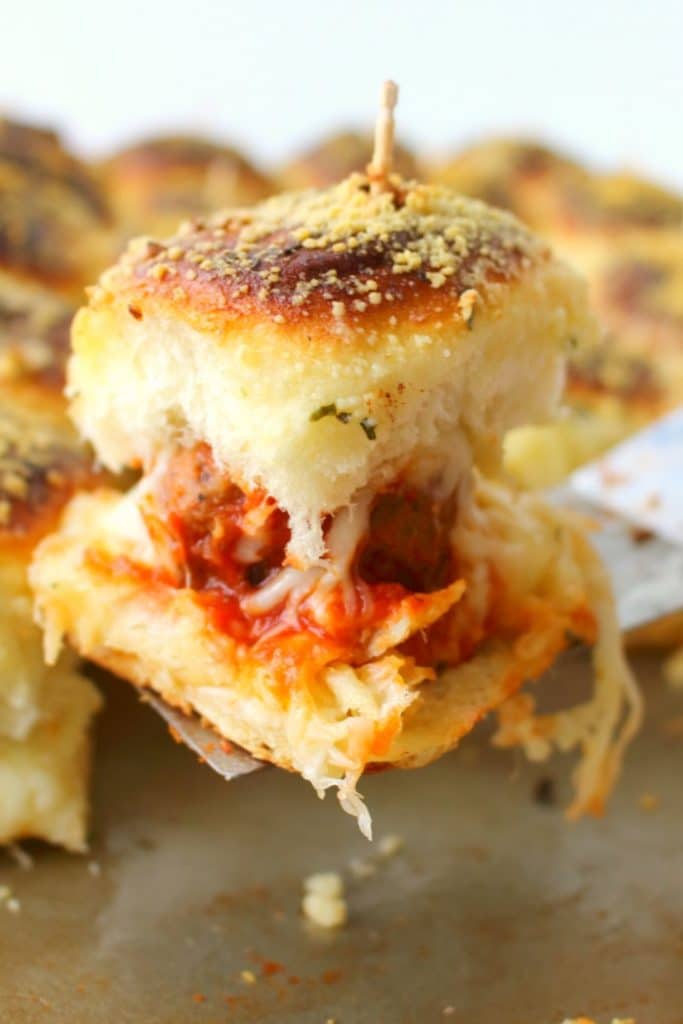 ---
---
Philly Cheesesteak Sliders
If you love the classic Philly cheesesteak, this mini version is right up your alley! These Philly cheesesteak sliders have tender steak, sauteed onions and peppers and Provolone cheese. Amazing as a party appetizer or an easy weeknight dinner option.
Ingredients
1 (12-pack) slider rolls or mini dinner rolls
1 lb. sirloin steak, thinly sliced
3 tablespoons Worcestershire sauce
1 1/2 teaspoons garlic seasoning salt (or garlic salt)
1/2 teaspoon ground pepper
1 medium yellow onion, sliced into 1" pieces (about 1 cup)
1 medium green bell pepper, sliced into 1" pieces (about 1 cup)
1 tablespoon olive oil
6 slices Provolone cheese
2 tablespoons mayonnaise
3 tablespoons butter, melted
1 tablespoon minced garlic
Instructions
Preheat oven to 350 degrees. Lightly spray a baking dish or medium sheet pan with non-stick spray. Set aside.
Slice the package of slider rolls horizontally, keeping the bottom portion and top portion. Place the bottom half of the slider rolls on the prepared baking dish. Set the top portion of the rolls aside.
In a skillet, heat the olive oil over medium-high heat. Sautee the sliced peppers and onions for 5-7 minutes or until tender and onions are translucent. Remove from pan and transfer to a dish.
In the same skillet, over medium-high heat, sauté the sliced steak. Season the steak with the Worcestershire, seasoning salt and pepper. Brown the steak until no longer pink, about 5-7 minutes. Drain off the excess grease.
To the bottom half of the slider rolls on the pan, spread the mayonnaise. Then, add the browned steak. Then top the steak with the sauteed onions and peppers. Next, place the Provolone cheese slices over the top of the peppers and onions.
Place the top half of the slider rolls on top of the cheese. Combine the melted butter and garlic and brush the tops of the rolls. Cover the sliders with a sheet of foil the prevent the bread from overbrowning.
Bake at 350 degrees for 15 minutes, then remove the foil and bake for another 5 minutes uncovered.
Once out of the oven, slice into 12 individual sliders and serve right away while hot.
Notes
The sliders are best served fresh and right out of the oven. If you want to prepare these in advance of a party or gathering, the best option is to prepare the individual components: sautee the peppers and onions, and sautee the steak, then refrigerate in separate containers. Just before your event, assemble the sliders and bake as directed.
Storing leftovers: store any leftovers in an airtight container and keep refrigerated. Sliders will keep for up to 5 days refrigerated. Reheat in a toaster oven or traditional oven to toast the bread.
Recommended Products
As an Amazon Associate and member of other affiliate programs, I earn from qualifying purchases.
Nutrition Information:
Yield:

6
Serving Size:

1
Amount Per Serving:
Calories:

432
Total Fat:

30g
Saturated Fat:

14g
Trans Fat:

0g
Unsaturated Fat:

14g
Cholesterol:

106mg
Sodium:

560mg
Carbohydrates:

10g
Fiber:

1g
Sugar:

3g
Protein:

29g
Two sliders per serving