Pumpkin Meringue Pie – the perfect Thanksgiving Dessert!
A delicious twist on the classic pumpkin pie, this his wonderfully easy pumpkin pie recipe is topped with a silky, delicious meringue. Easy enough to make for a simple holiday meal, and fancy enough for a formal dinner, this Pumpkin Meringue Pie is the ultimate Thanksgiving dessert!
This post may contain affiliate links. Delightful E Made is a participant in the Amazon Services LLC Associates Program, an affiliate advertising program designed to provide a means for us to earn fees by linking to Amazon.com and affiliated sites.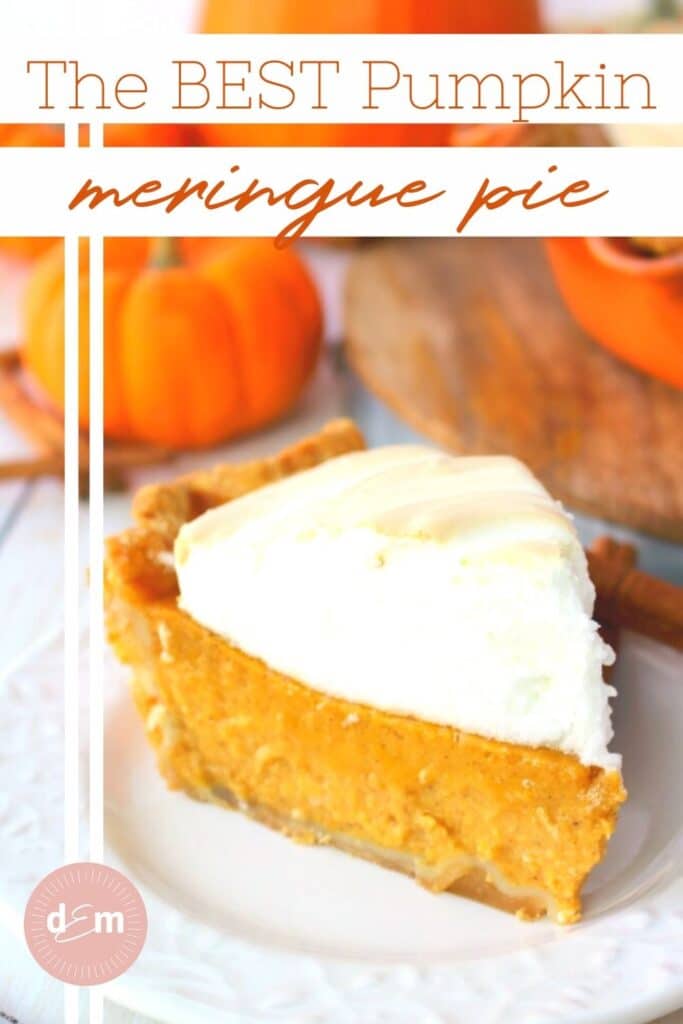 As far as I'm concerned, you simply cannot have Thanksgiving without a really awesome pie. Yes, you can certainly have more than one dessert, especially if you're hosting a big crowd. My Pumpkin Caramel Cream Cheese Poke Cake is a nice addition. But to not have pie, particularly pumpkin pie, on Thanksgiving seems to be somewhat of a travesty.
I am definitely a pumpkin meringue pie person. My husband and mom are all about pecan pie, and my brothers cannot get through a holiday without Mom's Famous Coconut Cream Pie. Any way you slice it (haha – see what I did there?!) pie is the quintessential dessert for Thanksgiving.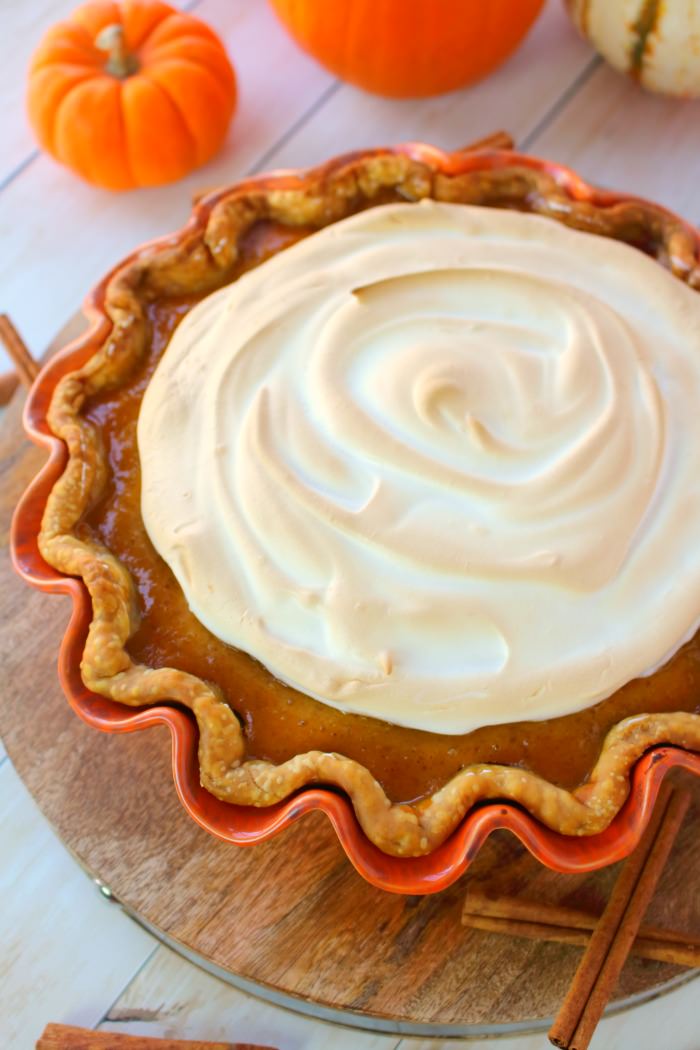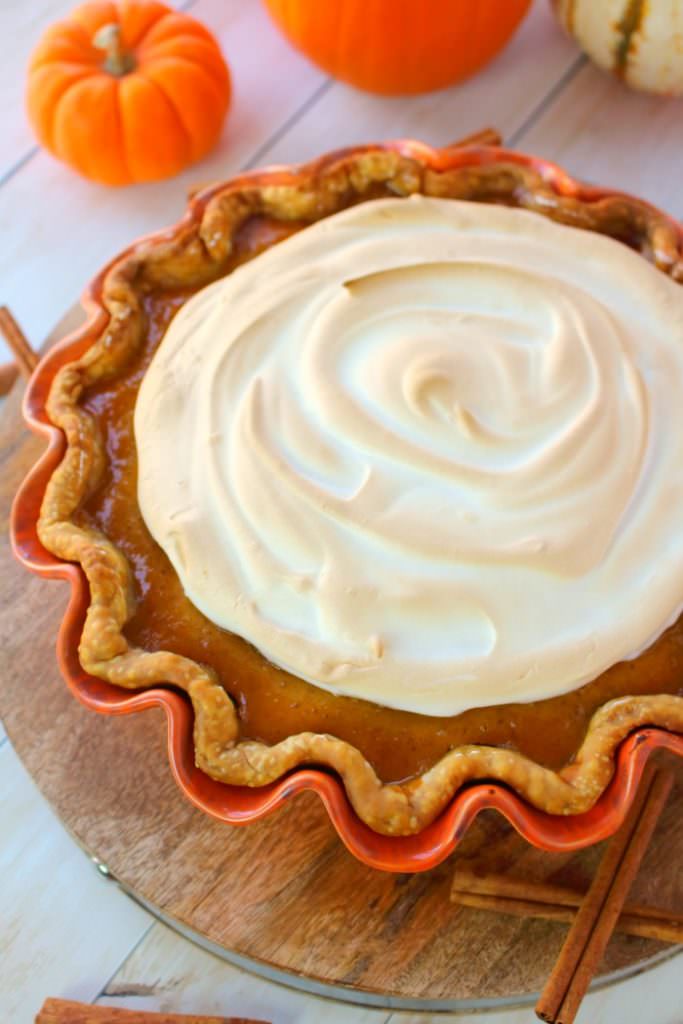 Why Pumpkin Pie with Meringue?
Since pumpkin pie is my personal favorite, I wanted to revamp the classic pumpkin dessert and given it a bit more glamour, and sophistication by adding a gorgeous meringue. Don't worry – making a meringue to go on top of this pie is actually a really simple process. If you have a hand or stand mixer, I have the KitchenAid Stand Mixer
it basically does all of the work for you.
I actually really love the idea of adding a meringue to a pumpkin pie. It eliminates the whipped cream that has to be made during your Thanksgiving meal. Let's be honest, making fresh whipped cream is kind of a inconvenience – especially when you have guests, and leftovers to take care of and dishes, and all the other things that come with hosting a holiday meal. A meringue also adds a gorgeous, cloud-like topping to the pie that makes it wonderfully special for a holiday meal.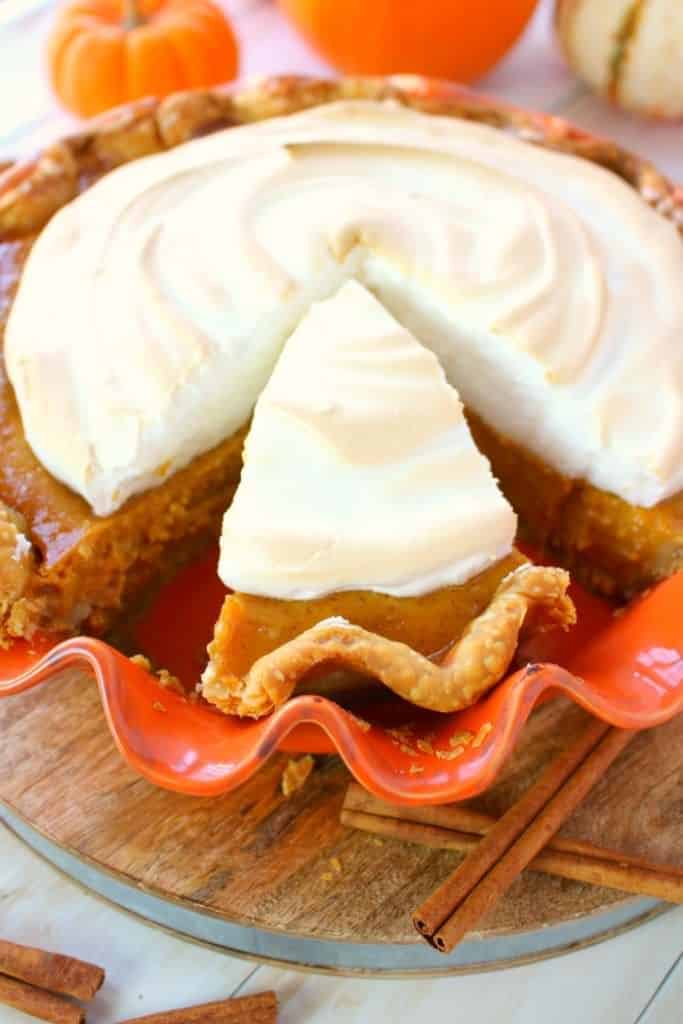 Can I make Pumpkin Meringue Pie for Thanksgiving in advance?
Yes, you can definitely make pie in advance. I actually like to make my pies the day before the big dinner. Once it has cooled, lightly cover with foil (making sure you don't squish the meringue), and refrigerate.
Making your desserts the day before the dinner is a nice way to free up oven space (and time!) When you're cooking a big turkey, along with sides, and possibly dinner rolls or bread, having your desserts done ahead of time is a good way to plan ahead.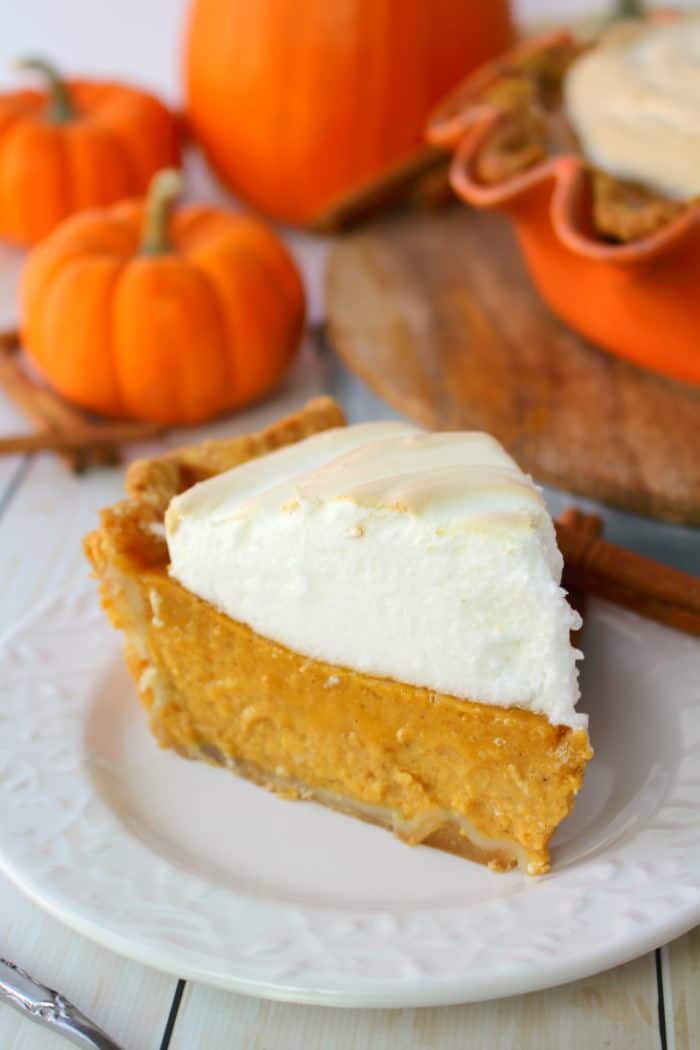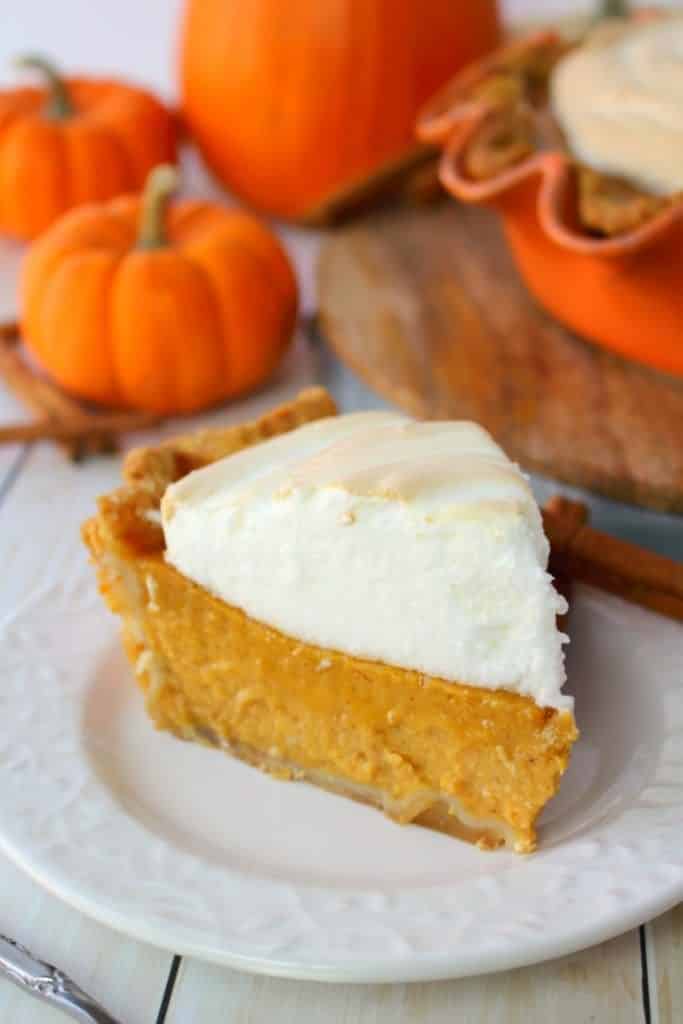 What should I serve with Pumpkin Meringue Pie?
Dessert isn't complete without some delicious drinks to go along with it. Here are a few ideas:
Fresh brewed coffee – serve with cream, sugar and any other condiments your guests might like
Port Wine
Sherry
Espresso
Slow Cooker Spiced Mulled Wine – fabulous on Thanksgiving and smells amazing while in your slow cooker!
How do I slice pumpkin pie with meringue?
Use a long, sharp knife. Dip the knife blade in hot water, and slice the pie in half. Draw the knife out, and rinse again in hot water to clean the blade. Wipe clean, and dip again in hot water.
The meringue is less likely to stick to a hot, wet knife blade and will cut smoothly. Serve the pie onto each plate with a pie or cake server utensil.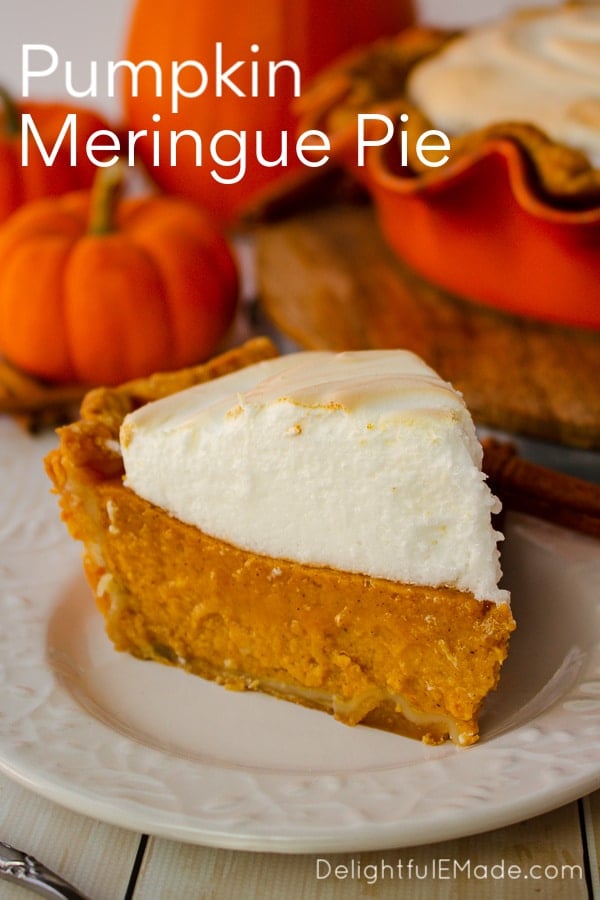 Here's a quick-reference grocery list of the ingredients you'll need for this fantastic Pumpkin Meringue Pie:
(Full recipe with exact ingredient amounts and complete instructions is below – just keep scrolling.)
Refrigerated Pie Crust
Pumpkin Puree (1 – 15 oz. can)
Pumpkin Pie Spice
Evaporated Milk
Granulated Sugar
Eggs
Salt
Cream of Tartar
Marshmallow Cream (or marshmallow fluff)
(For exact amounts and directions, please reference the recipe below.)
If you would rather make your pie crust from scratch, my friend Melissa over at Bless This Mess Please has an awesome post for 4 Recipes for Perfect Pie Crust.
If you loved this Pumpkin Meringue Pie recipe, check out my other delicious holiday desserts:
Here's the easy, delicious recipe for my Pumpkin Meringue Pie:
Pumpkin Meringue Pie

Cook Time:

1 hour

15 minutes

Total Time:

1 hour

35 minutes

A delicious twist on the classic pumpkin pie, this his wonderfully simple pumpkin pie recipe is topped with a silky, delicious meringue.  Easy enough to make for a simple holiday meal, and fancy enough for a formal dinner, this Pumpkin Meringue Pie is the ultimate Thanksgiving dessert!

Ingredients

1 refrigerated pie crust
1½ c. pumpkin puree
1½ tsp. pumpkin pie spice
1 (12 oz.) can, evaporated milk (NOT sweetened condensed)
¾ c. sugar
2 eggs, sightly beaten
½ tsp. salt
3 egg whites (room temperature)
1/8 tsp. cream of tartar
1 (7 oz.) container, marshmallow cream (or marshmallow fluff)

Instructions

Preheat oven to 400 degrees. Line a pie tin or pie plate (average of about 9") with the store-bought pie crust. Crimp or fold over the edges of the crust to fit the plate. Set aside.
In a bowl, whisk together the pumpkin puree, pumpkin pie spice, evaporated milk, sugar, eggs and salt. Whisk until smooth. Pour into the prepared pie crust. Bake pie for 55 - 60 minutes. Before removing from the oven, test pie to ensure it is done by inserting a knife blade into the center. If knife comes out clean, pie is done. Let pie cool completely.
For meringue: Using a hand or stand mixer, beat the egg whites and cream of tartar on medium high speed until soft peaks form. Add the marshmallow cream and continue to beat until stiff peaks form. (Meringue should hold its shape.) Spread meringue over the top of the pie, leaving a small space between the crust and meringue. (Don't make peaks or tips of the meringue. They will burn before the rest of the meringue cooks.) Bake at 400 degrees for 10-15 minutes or until meringue is lightly browned. Let pie cool completely before serving.

Nutrition Information:

Serving Size:

1 slice Amount Per Serving:

Calories:

1207

Total Fat:

10g

Saturated Fat:

3g

Cholesterol:

8mg

Sodium:

3799mg

Carbohydrates:

205g

Sugar:

175g

Protein:

94g
Have an amazing holiday season filled with joy, laughter, blessings and fabulous food. ~Erin