The most amazing fall and holiday drink! This easy Slow Cooker Mulled Wine recipe is wonderfully aromatic and perfect anytime you want to warm up with a hot beverage. Amazing for holiday party!
This post may contain affiliate links. Delightful E Made is a participant in the Amazon Services LLC Associates Program, an affiliate advertising program designed to provide a means for us to earn fees by linking to Amazon.com and affiliated sites.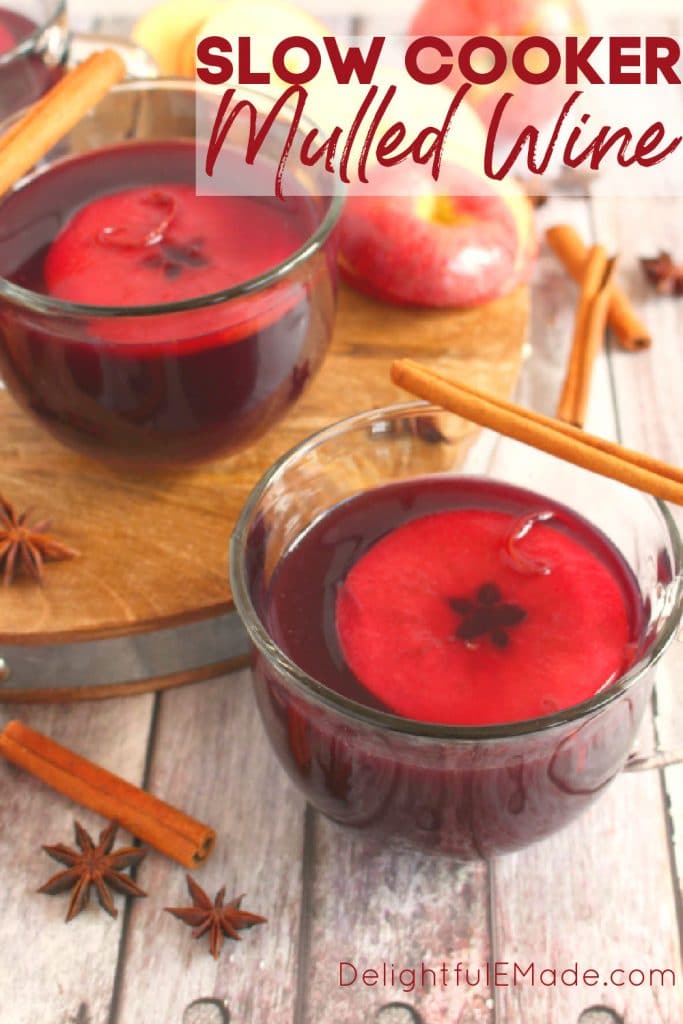 The Easiest Mulled Wine Recipe for your Slow Cooker or Crock Pot!
If you're hosting a holiday party, brunch or get-together, this Slow Cooker Mulled Wine is the perfect hot drink.
Made with just a few simple ingredients, and heated in your crock pot or slow cooker, this hot toddy will warm your belly and have your house smelling amazing!!
Here's how you make this wonderful Mulled Wine recipe: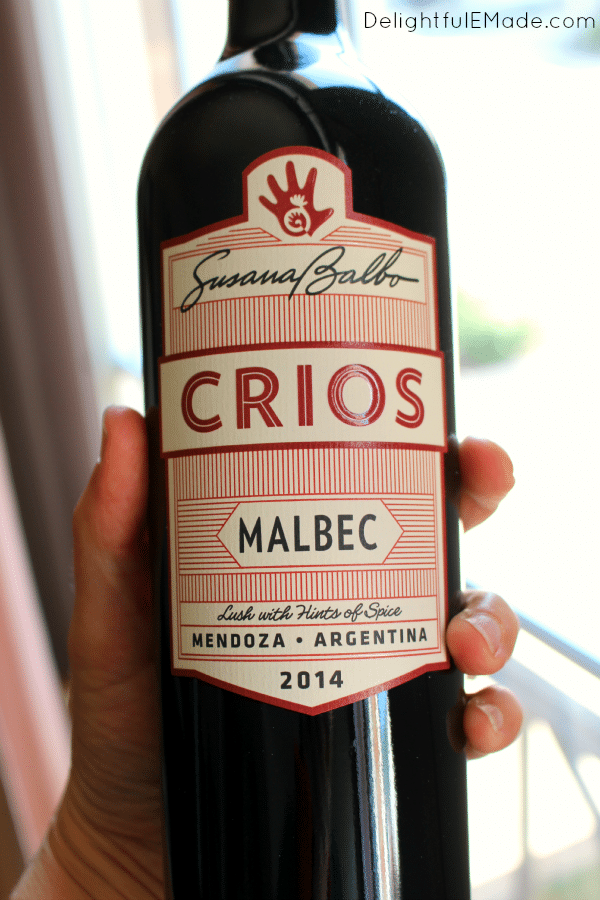 What wine is best for Mulled wine?
Ideally, any red wine with a high alcohol content, tannins and fruity flavors is best for making mulled wine. Malbec's, merlot's and Cabs are ideal.
I used a bottle of this fantastic Susana Balbo Crios Malbec.  Just like it states on the bottle, it's lush with hints of spice, which was a perfect pairing for the spicy notes of cinnamon and anise.
The lush notes along with the hints of spice were perfect to go along with the apple cider, cinnamon and anise in this classic mulled wine cocktail.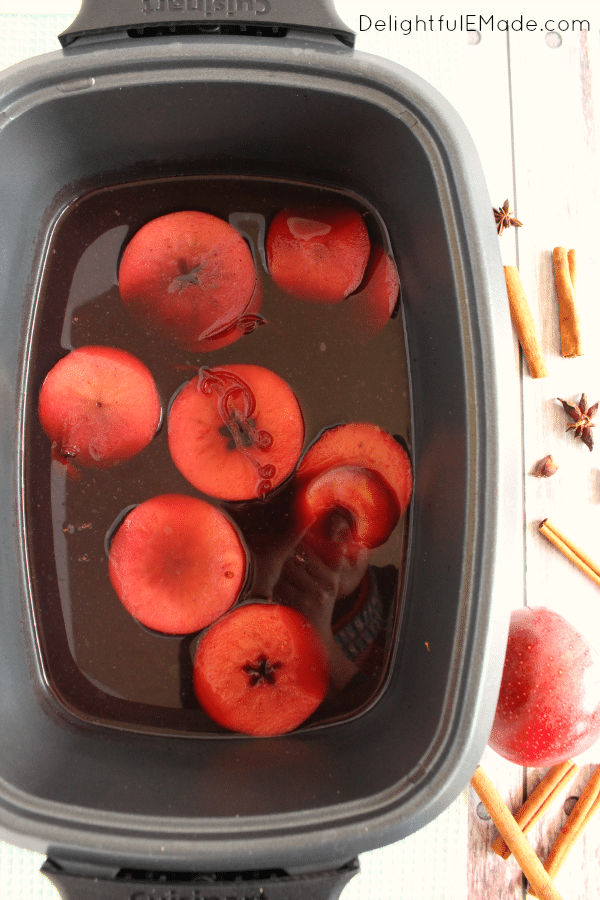 How do I warm up mulled wine?
Mulled wine is best when heated in a slow cooker. I really love my Cuisinart 3-in-1 Multi-Cooker Slow Cooker. If you don't have a slow cooker or crock pot, you can also heat on the stove-top on low-heat.
Even though it's absolutely perfect for the holidays, this Spiced Mulled Wine is great any time there is a nip in the air.  It's wonderful to come home to after a football game, or after a long night of Trick-or-Treating with the kids.  
Just take 5 minutes to get your ingredients into the slow cooker, set your slow cooker on low, and when you come home, you'll have the most amazing hot drink waiting for you!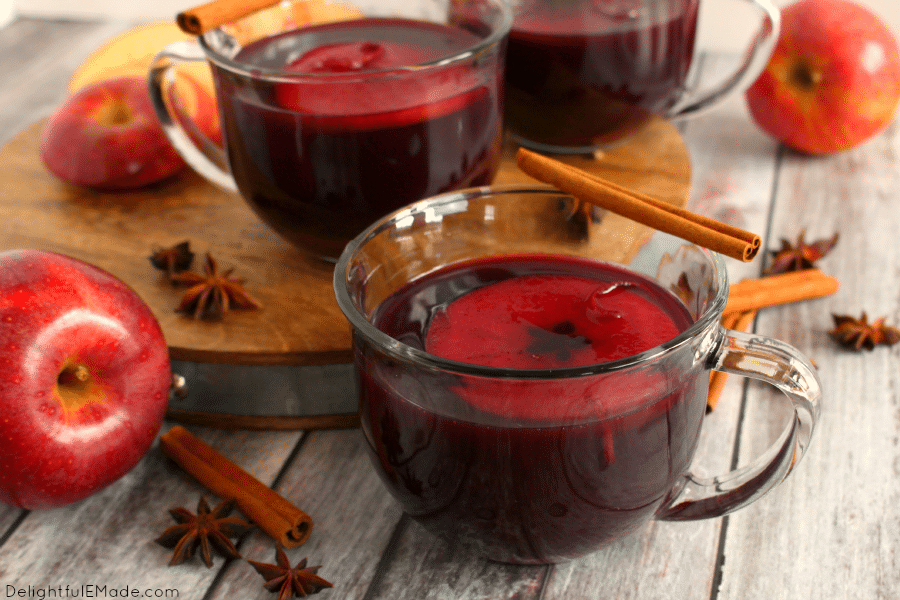 How do you keep mulled wine warm at a party?
Add all of the ingredients of this slow cooker mulled wine recipe to your slow cooker about 2-3 hours prior to your party. Set it on low heat and let it do the work for you. You will be able to keep the slow cooker on low and it will keep your mulled wine hot all through the evening.
The amazing aromas of this Spiced Mulled Wine are incredible.  Because the slow cooker heats the wine slowly, the spicy notes of cinnamon, anise and fruit come together beautifully with the Malbec.  
The smells and aromas are incredible, and once you ladle this delicious drink into mugs for your friends and family, the party will officially begin!
What can I serve with mulled wine?
Sweet and savory appetizers would be ideal with mulled wine. Here are some party appetizers that would pair perfectly: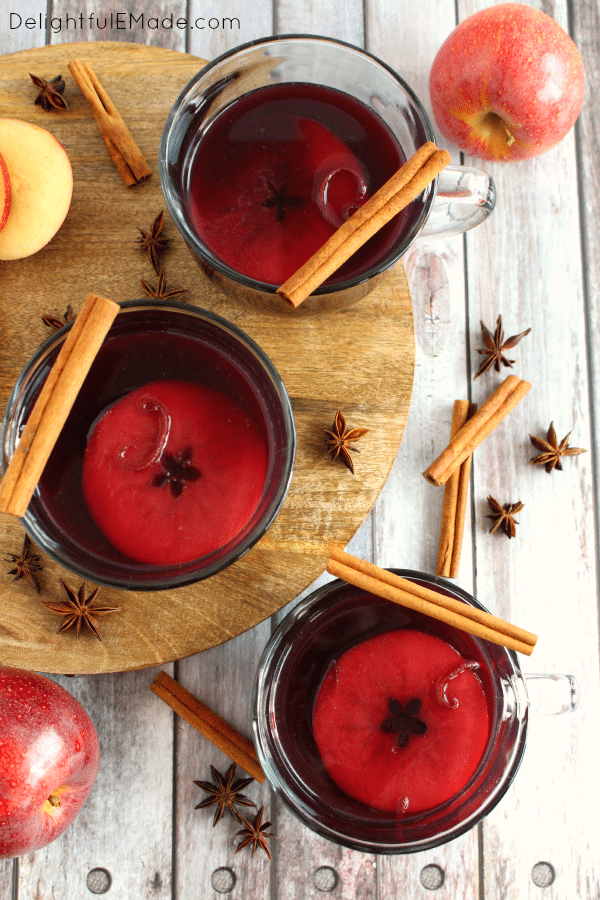 You'll find that the wine colors the apples a beautiful deep red color. I topped off each drink with one of these apple slices, which made for a really pretty garnish! The orange zest also finds its way into the cups, which adds for some pretty accents as well.
Can mulled wine be reheated?
Yes. Mulled wine can be reheated in either a slow cooker or on low heat on the stove-top. I would recommend adding an extra fresh sliced apple if you're serving for guests.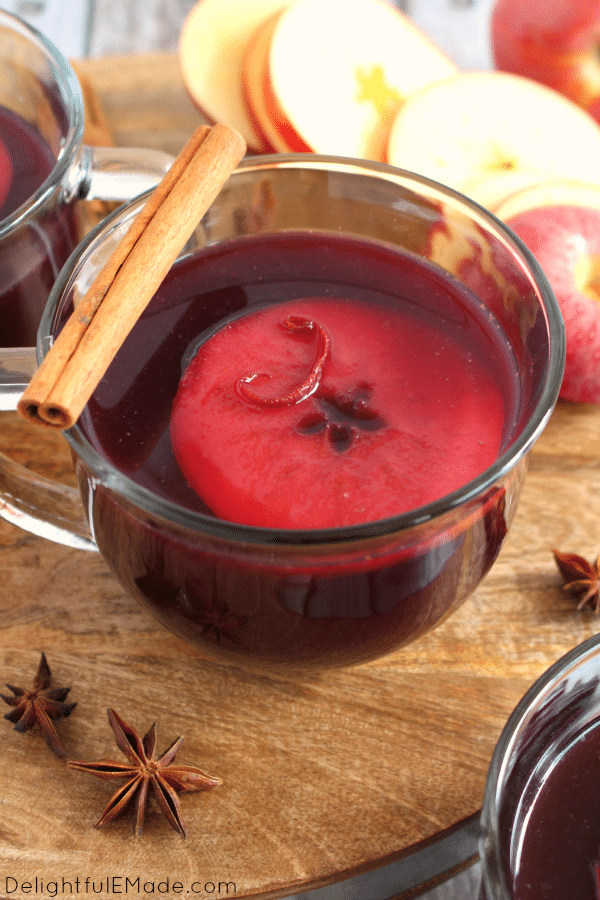 If you loved this Slow Cooker Mulled Wine recipe, check my other hot drinks and cocktails great for the holidays: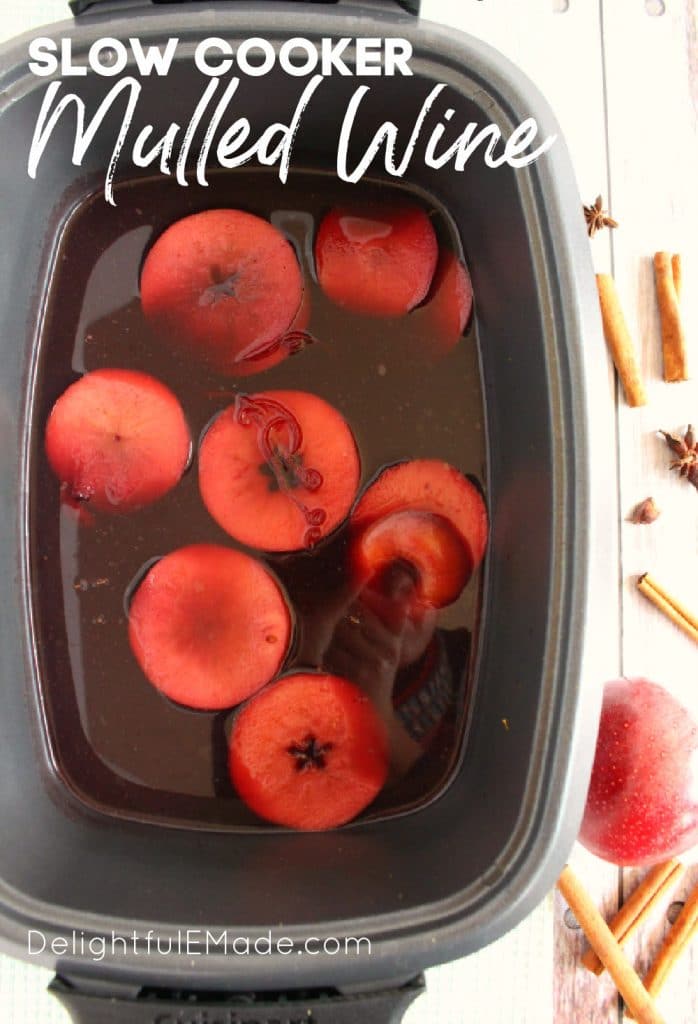 Here's the recipe for this easy, delicious Slow Cooker Mulled Wine:
Slow Cooker Spiced Mulled Wine
Total Time:
1 hour
5 minutes
The most amazing fall and holiday drink! Made in a slow cooker, this delicious mulled wine is wonderfully aromatic and perfect anytime you want to warm up with a hot beverage. Cheers!!
Ingredients
1 (750 ml) bottle, Malbec Red Wine (Merlot or Cabernet is also good)
2 c. apple cider
1/4 c. spiced rum
3 Tbsp. honey
zest and juice of 1 orange
1 apple, thinly sliced
3 cinnamon sticks
1 star anise
Instructions
In a slow cooker, stir together the wine, cider, rum and honey. Add the orange zest and juice, apple slices, cinnamon sticks and anise, and gently stir to combine. Cover the slow cooker with lid, and heat on low for 2-3 hours.
Ladle the hot wine into mugs and include an apple slice, if desired. Enjoy!
I was selected for this opportunity as a member of Clever Girls and the content and opinions expressed here are all my own.