Harrison and I came back to my home town, Burke, SD to visit my family for a couple weeks. Unlike last summer, they've had lots of rain and sunshine, which has helped the local crops and gardens grow leaps and bounds. My dad's strawberry patch is no exception. I've never seen strawberry plants as full and plentiful as these.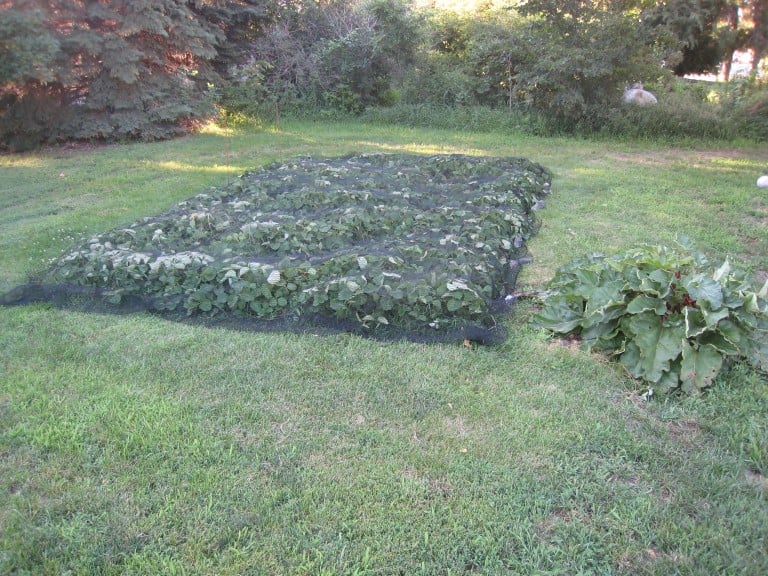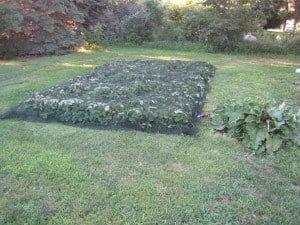 Dad has picked several gallons of strawberries so far this summer, filling up their freezer for fall and winter. Since they have a nice sized rhubarb plant, I thought hmmmm, what could we make with copious amounts of strawberries and rhubarb? Jam!!! I raided mom's basement pantry of miscellaneous jars, picked up some jar flats, and pectin at the local grocery store, and pulled out the big pot. In a couple hours we had several jars of sweet, delicious strawberry rhubarb jam – enough to last all year, and then some.
The house smelled amazing, and everyone wanted a taste as it was cooking. When cleaning up, I couldn't help but have a taste (or 3 or 4!) of the remains in the bottom of the pot. It was so yummy I wanted to put it on ice cream. The next morning I made a fresh batch of biscuits, and slathered them with the jam, which made for a fantastic breakfast. Now, before you say no to canning, let me say that its easier than you think. I first learned about canning/food preservation when I was in 4-H as a kid. My mom and grandmas did quite a bit of canning back in the day – mostly stuff from their garden, like green beans, pickles, and an occasional jelly or apple butter. If you are new to canning, or like me, need a refresher I would highly recommend the Ball Canning Guide. It will give you great tips and information on the process of canning and food preservation. Go to http://www.freshpreserving.com/tools.aspx

Strawberry Rhubarb Jam
Total Time:
1 hour
5 minutes
Fantastic on a scone, biscuit, toast or even over the top of ice cream. This sweet, delicious Strawberry Rhubarb Jam is the perfect way to preserve the taste of summer.
Ingredients
4 cups of rhubarb, peeled and diced
6 cups of strawberries, cleaned and quartered
9 cups of sugar
6 Tbsp. lemon juice
2 (1.75 oz) boxes of pectin (found near the canning supplies at most grocery stores)
Instructions
In a large pot, bring the strawberries, rhubarb and lemon juice to a low boil. Using a potato masher, begin to crush and break apart the strawberries and rhubarb. Simmer until the rhubarb breaks apart. Stir in the pectin until dissolved. Bring back to a boil, and then add in the sugar all at once. Boil hard for a minute longer. Let the jam cool for 10 minutes.
Prepare your canning supplies. Bring the temperature of 8 pint glass jars up by processing them in hot water for several minutes, and heat a few cups of water in a small saucepan for the lids.
Before filling the jars with jam, skim off any foam and ladle the hot jam into the hot jars, leaving 1/4? headspace. Place the lids and bands on top, screwing on the bands just until fingertip-tight. Place the full jars back into the boiling water and process 10 minutes. Remove from the water and place the jars on a towel upside down. Let the jars cool. The seals should suck down (you'll hear a popping noise as they do).
Makes approximately 8 pint jars.
Recipe adapted from Food Fanatic at http://www.foodfanatic.com/2013/06/strawberry-rhubarb-jam-a-classic-combination/
Enjoy! E
Related articles across the web