Now that summer is in full swing, I've been meaning to take down my Spring Cherry Blossom wreath, and put up something more "summery". I've had the materials to make this wreath for several months, but haven't had the chance to sit down and finish it. Alas – this past weekend I had a bit of time to sit down and finish the flowers, and now its finally hanging on our front door. I'm really happy with how it turned out, and hopefully I can inspire a little bird for your front door, too. Here are the materials you'll need and the steps to complete this cute and welcoming wreath:
Materials:
Styrofoam Wreath
Yarn for base color
Rick-Rack for the chevron stripes
Felt for the flowers (at least 3 colors, 1-2 sheets per color)
A cute little bird – I found mine at Michaels in the Seasonal Decor area. (It came on a stand, but I cut it off.)
Ribbon for hanging (about 1 1/2 yards, depending on how high or low you want your wreath on the door.)
Hot glue and glue gun
(I found all of these items at Michaels, with exception to the Rick-Rack, which can be purchased at JoAnn Fabrics.)
Instructions:
Step One: Begin by wrapping your wreath with yarn. Wrap. Wrap. Wrap. I would cut the yarn in 3 -4 yard segments, glue the tip/start, secure with a pin and then wrap. This is helpful so you don't have to constantly handle your full bundle of yarn each time you go around your wreath. Remove the pins once the glue is dry.
Wrap until you've covered the entire surface area of your wreath. I've seen some cute photos on Pinterest where people alternate colors of yarn. Give it a try – it could be really cute!
Step Two: Once your entire surface area of your wreath is covered with yarn, you can then glue on your Rick-Rack stripes. Choose how many stripes you want, and space them out appropriately. Cut your rick-rack to size, and hot glue in the appropriate spots. Secure with pin if needed. (After a few minutes the glue will be dry and the pins can be removed.)
Step Three: Create your flowers!! I created two different types of flowers for my wreath. Chrysanthemums and Lilies are what I came up with, but anything you want to glue on will do.
I created the Chrysanthemums by simply folding over a long strip of felt. Sewed a straight stitch with my machine (if you don't have a sewing machine, simply run a long bead of glue down the edges to secure it in place), and snipped the folded edge every centimeter or so. I then rolled it up, and glued it every few inches to secure.
I created the lilies by using something I had in my golf bag – golf tees! These came in really handy when securing the flowers to the wreath, as you simply just push them into the Styrofoam. So here's how I made them. Cut out three separate petal sizes from your felt. You'll need four each of a small, medium and large petal. You'll also need a small one inch square of a contrasting color for the center. Begin by securing your small square on the top of the tee. Then add your four small petals, next your medium petals, and lastly your large petals.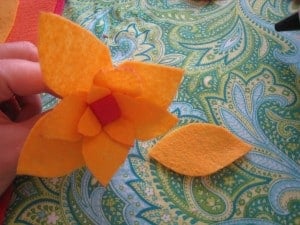 I made about 7 flowers total – you don't need a lot.
Step Four: Finish up! Glue your bird on first, and then arrange your flowers around the bird. Have fun and get creative with this. I like the bird a bit off center, but put him wherever he wants to land. 🙂 Use your ribbon to hang on your door. You now have a great seasonal wreath to welcome you and your summer guests to your home!
Hope you enjoy! I welcome any feedback and input you might have in the comments area.
E