Chocolate for breakfast is always a good idea! A batch of these delicious Triple Chocolate Muffins includes both white and semi-sweet chocolate chips nestled in a moist, delicious cake-like batter!  It's the perfect way to enjoy some chocolaty deliciousness first thing in the morning!
Triple Chocolate Muffins
The past several days have been pretty rainy and dreary here.  Anytime its cool outside, there is nothing I love more than a great cup of coffee, and a fantastic muffin to go with it!  Muffins don't get any better than these Triple Chocolate Muffins! In my opinion, in order for a muffin to be especially great, it needs to have two things. First, a super-moist, cake-like batter. Life is not worth living if a muffin is dry and falls apart in the first bite. Second, it must have something really great nestled inside that batter – berries, fruit, or in this case chocolate chips!
Ingredients you'll need to make these Chocolate Muffins:
These chocolate muffins come together quickly and easily. Here are the ingredients you'll need to make these delicious breakfast treats:
Flour (all-purpose)
Cocoa powder
Baking Powder
Baking Soda
Eggs
Sour Cream
Butter
Brown Sugar
White Chocolate Chips
Semi-Sweet Chocolate Chips
How long do these chocolate muffins take to bake?
These chocolate muffins are really easy to make, and bake up pretty quickly. They need approximately 18-20 minutes, which is an average muffin bake time.  Made with a plentiful amount of sour cream, these stay really moist and delicious. The chocolate chips on top of the batter are definitely show-stoppers, however, if you don't like the way the white chocolate browns, you can always add all of the white chocolate chips to the batter, and just leave the semi-sweet chocolate chips for the topping. Adjust to your preference.
Take these pretty chocolate muffins into a work meeting, or bring to a morning coffee date with friends, and you'll be loved forever!  I brought one of these muffins with me on the way to pick up my son from school as an after-school snack.  Needless to say, it was gone well before we even got home.  Definitely kid-tested and approved!
If you loved this delicious Triple Chocolate Muffin recipe, check out some of my other similar recipes:
Double Chocolate Zucchini Bread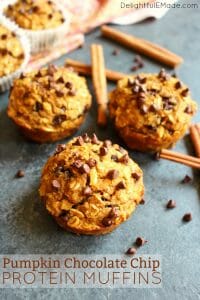 Pumpkin Chocolate Chip Protein Muffins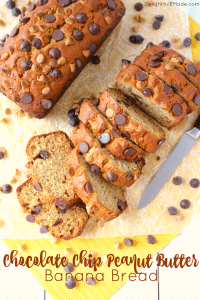 Chocolate Chip Peanut Butter Banana Bread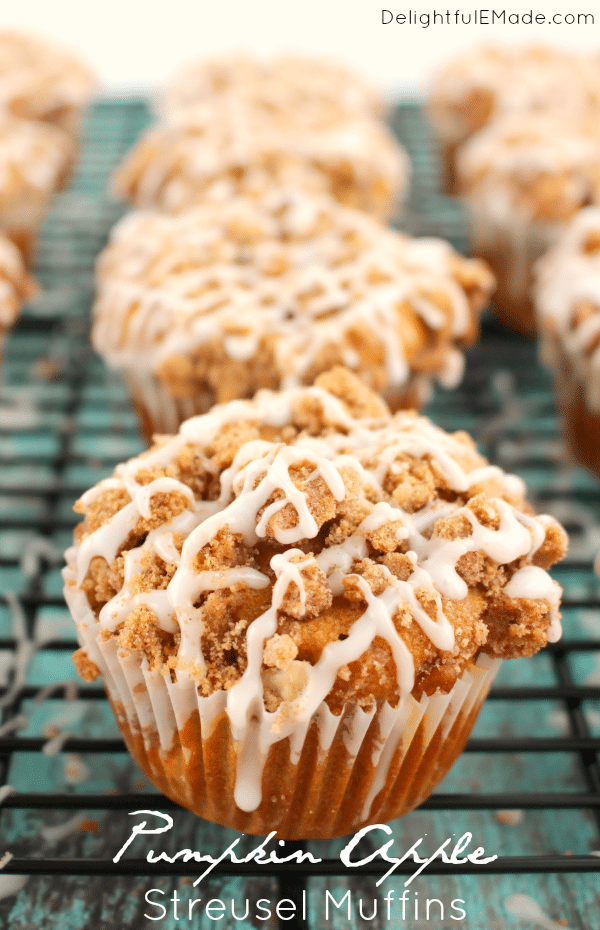 Pumpkin Apple Streusel Muffins
Citrus Glazed Cranberry Orange Muffins
Glazed Lemon Poppy Seed Muffins
Here's the recipe for these delicious Triple Chocolate Muffins:
Triple Chocolate Muffins
Dotted with semi-sweet and white chocolate chips, these Triple Chocolate Muffins are the perfect sweet treat first thing in the morning!
Ingredients
1 3/4 c. all-purpose flour
1/3 c. unsweetened cocoa
2 tsp. baking powder
1/2 tsp. baking soda
1/2 c. semisweet chocolate chips + 2 Tbsp.
1/2 c. white chocolate chips + 2 tbsp.
2 eggs
1 1/4 c. sour cream
6 Tbsp. brown sugar
6 Tbsp. butter, melted
Instructions
Preheat oven to 400 degrees. Prepare a 12-cup muffin tin using baking spray, or line cups with cupcake liners. Set pan aside.
In large mixing bowl, sift together flour, cocoa, baking powder, and baking soda. Add 1/2 cup of the semi sweet and white chocolate chips. Stir to incorporate. (Reserve the final 2 Tbsp of white and semi sweet chocolate chips for topping the muffins at the end.)
In a second bowl, gently whisk together eggs, sour cream, brown sugar and melted butter. Add the wet ingredients to the dry ingredients and stir just until combined. Batter will be thick, fluffy and slightly sticky.
Divide batter evenly among the muffin cups. Top each muffin with the remaining semi sweet and white chocolate chips. Bake at 400 for 18-20 minutes. Remove from oven and let cool slightly in the pan for 5-10 minutes before removing. Transfer to a wire rack to cool completely.
Nutrition Information:
Serving Size:

1
Amount Per Serving:
Calories:

3598
Total Fat:

189g
Saturated Fat:

129g
Cholesterol:

383mg
Sodium:

3127mg
Carbohydrates:

425g
Sugar:

220g
Protein:

62g
This recipe was adapted in part from the cookbook
Mmmm…Chocolate
by Parragon Press.  You can purchase this cookbook at Barnes and Noble
here
.