Watermelon Coconut Rum Punch – the Perfect Summer Rum Punch Recipe
This amazing watermelon coconut rum punch is the quintessential summer cocktail! Made with fresh watermelon and coconut rum, this simple rum punch cocktail comes together in moments. Perfect for sipping poolside or serving at your next summer soiree!
This post may contain affiliate links. Delightful E Made is a participant in the Amazon Services LLC Associates Program, an affiliate advertising program designed to provide a means for us to earn fees by linking to Amazon.com and affiliated sites.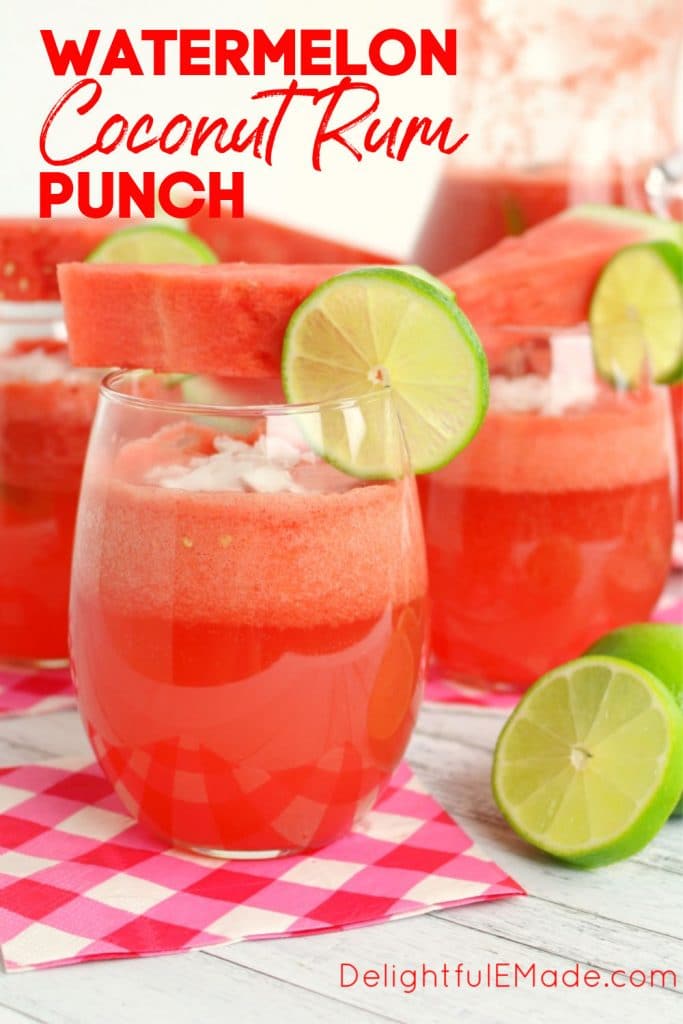 Do you have a favorite go-to summer drink? For many its a cold, crisp glass of lemonade, or a fresh pour of iced tea. Don't get me wrong – I really love both of these, especially my Ginger Peach Iced Tea, my Arnold Palmer Iced Tea and Sparkling Blackberry Lemonade.
But sometimes a cold, refreshing cocktail is in order. Something fruity, crisp and with the addition of a fantastic rum is perfect on a warm summer day. My cool, fruity and refreshing Watermelon Coconut Rum Punch fits the bill perfectly!
Here's how this wonderful coconut rum punch recipe comes together:
Step 1: Gather Ingredients and Refrigerate
When making this simple coconut rum punch, one of the most important steps is starting with cold ingredients. If you're making this cocktail for a party or get-together, consider prepping the ingredients before-hand and refrigerating.
You could even mix beforehand, refrigerate and pour once your guests arrive. Once you're ready to make the punch, not only will everything be ready to go, but it will be cold and ready to drink in moments.
What is rum good to mix with?
Rum is really versatile. Mixing rum with fresh fruit is always a winner and brings out the delicious tropical summer flavors.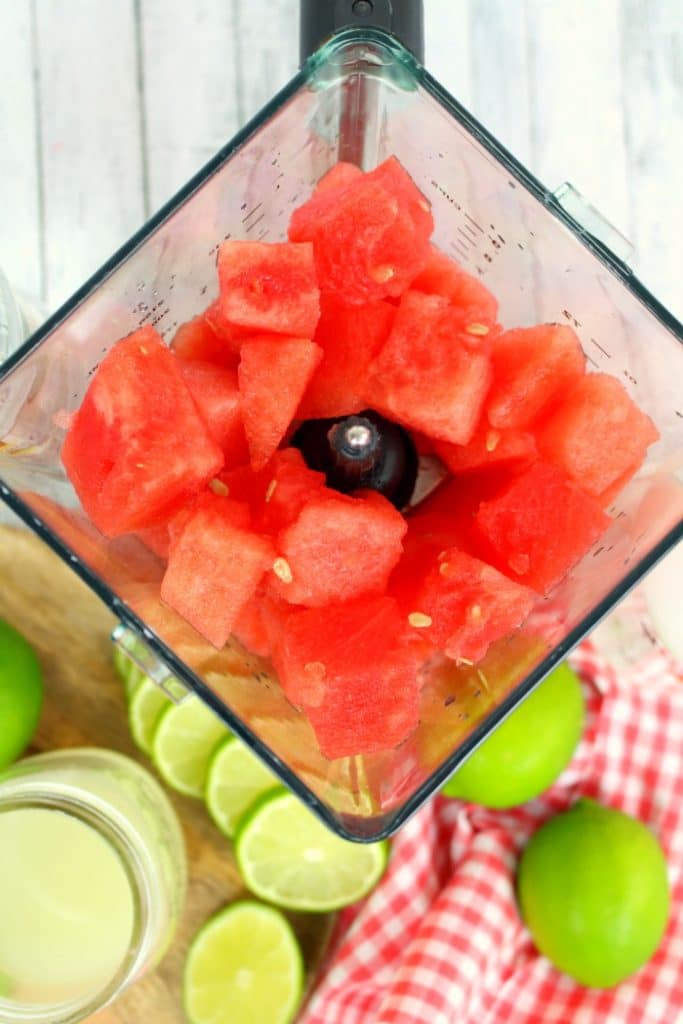 Step 2: Blend the watermelon and lime juice
This step may take all of 30 seconds, and you'll quickly have a juicy, sweet watermelon puree. This juicy puree will act as the base of the cocktail and deliver serious flavor in every sip. You can then pour this puree into a pitcher or drink dispenser.
Then, to complete the punch, simply add the rum and sparkling water. Depending on how strong you like your punch, test by pouring just half of the water into the punch. You can always add additional water or rum should you want a stronger or weaker drink.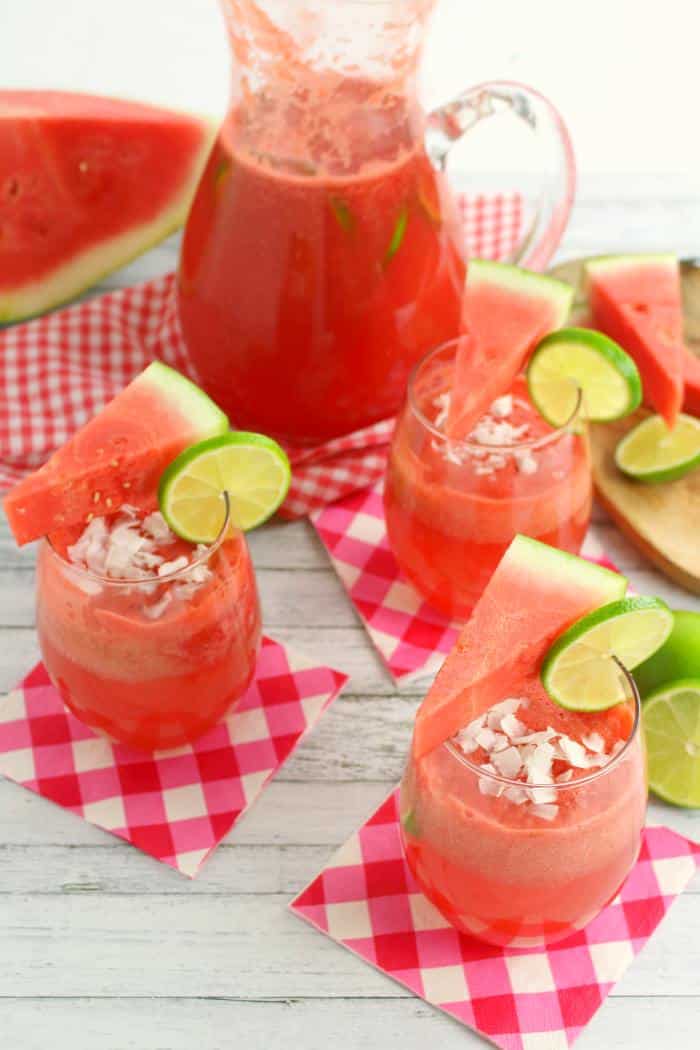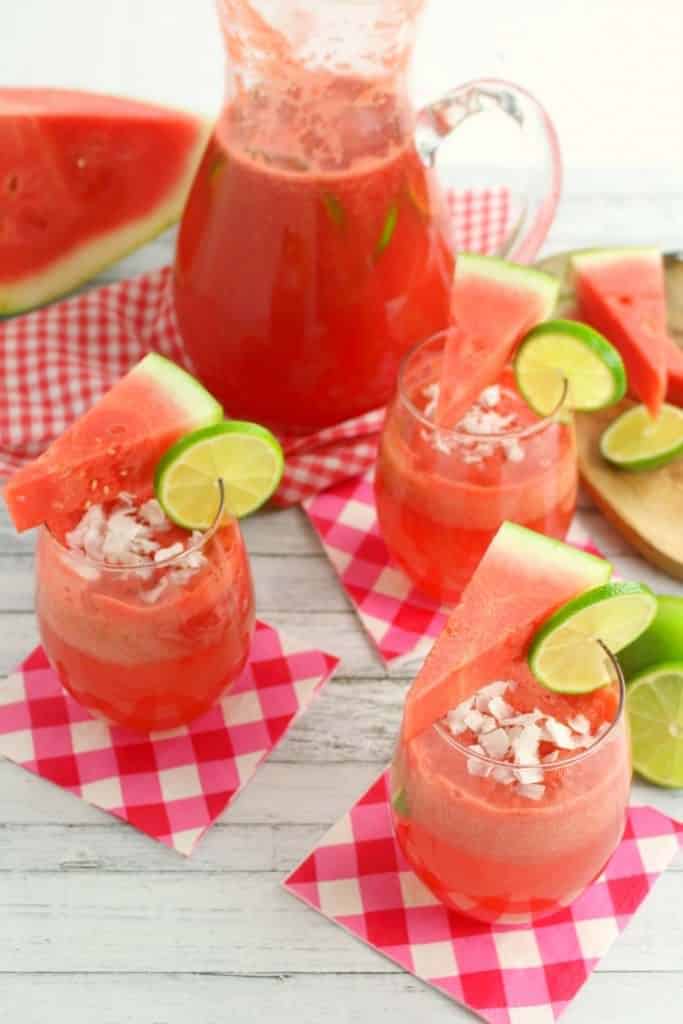 Step 3: Add lime slices, stir and serve
I sliced up two limes simply to add to the glasses and pitcher. Not only does it add some additional lime flavor, it adds some pretty green color to the punch as well. Next, stir up the punch, and pour into glasses. Garnish with additional lime slices, wedges of watermelon and a sprinkling of flake coconut.
Serve up this amazing coconut rum punch anytime you're in the mood for a delicious cocktail. This drink is perfect to serve for parties, showers, back yard cookouts, or anytime you're in the mood for a fresh, fruity drink.
Dust off your favorite patio chair, pour your self a glass of this amazing punch, and enjoy the amazing flavors of summer one sip at a time. Cheers! ~Erin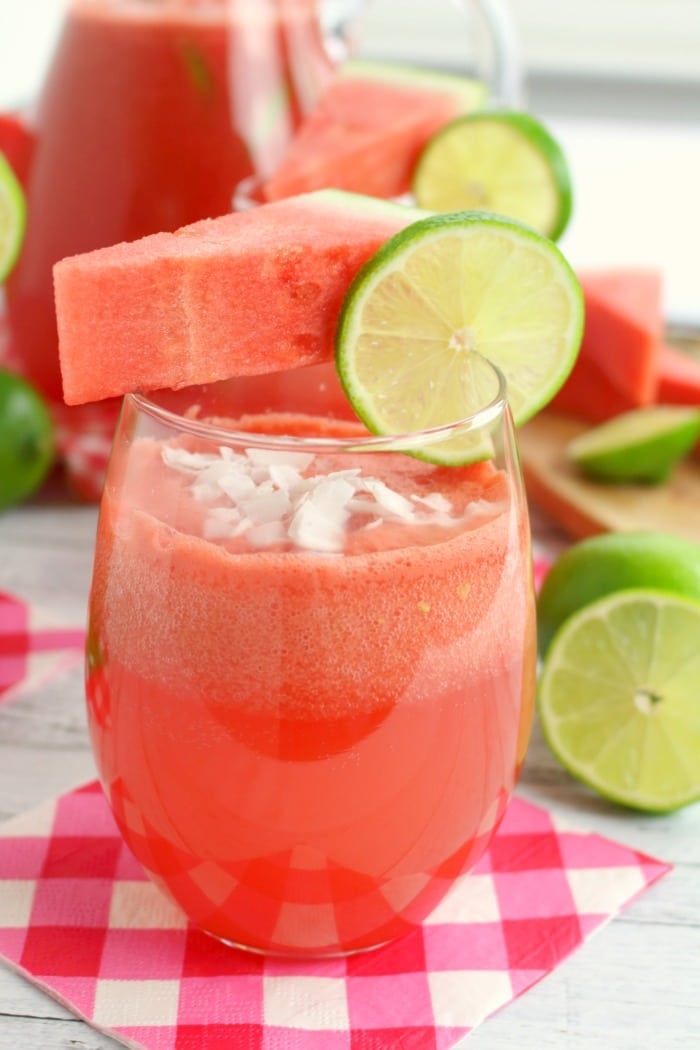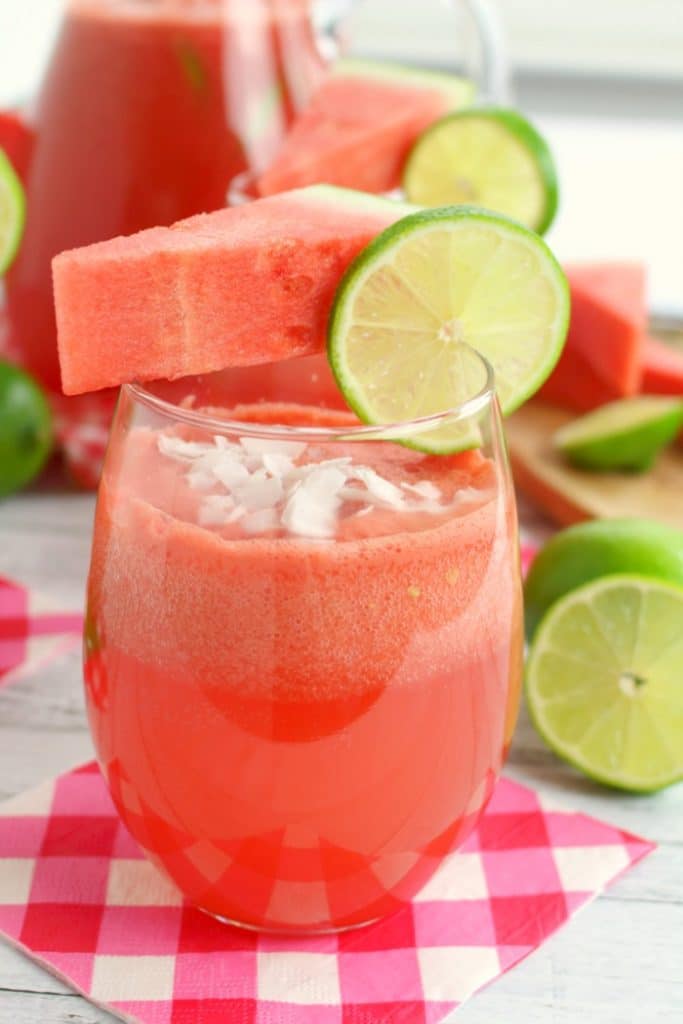 Here's a quick-reference shopping list of the ingredients you'll need for this fantastic rum punch recipe:
Fresh watermelon
Limes – 5 to 6 (for juice and slices)
Sparkling Water – Coconut flavor (if not available, you can use 7up, Sprite or Ginger Ale)
Coconut Rum – like Malibu or any other Coconut rum of your preference
Flake Coconut (this is totally optional, but it adds a nice garnish)
(For the exact ingredient amounts and directions, be sure to reference the complete recipe below.)
What is the best alcohol to soak watermelon in?
Depending on the flavor you want to achieve, rum, coconut rum, and vodka are all great choices. This watermelon coconut rum punch mixes quickly, so there's no need to wait for the watermelon to soak.
What is a good mixer for watermelon vodka?
Naturally, fresh watermelon is the perfect watermelon vodka mixer. Blending together with a bit of lime juice makes for an amazing cocktail idea!
If you loved this cocktail recipe, be sure to check out some of my other delicious summer drinks and cocktails:
Here's the fantastic recipe for this delicious, refreshing coconut rum punch:
Watermelon Coconut Rum Punch
This amazing coconut rum punch is the quintessential summer cocktail! Made with fresh watermelon and coconut rum, this simple rum punch recipe comes together in moments. Perfect for sipping poolside or serving at your next summer soiree!
Ingredients
6-7 c. fresh watermelon
3/4 c. lime juice (juice of 3 limes)
1 (33.8 oz.) bottle, sparkling coconut flavored water
1 c. coconut rum (like Malibu Rum, or other preferred rum)
Lime Slices
Garnishes:
Watermelon slices for rim
Lime slices for rim
Flake coconut to top drinks
Instructions
Fill a blender with the fresh watermelon. Add the lime juice. Blend until liquid. Pour into pitcher or drink dispenser, add the sparkling water, rum, and lime slices. Stir.
Pour into glasses. Top glasses with watermelon slices, lime slices and coconut flakes if desired. Refrigerate any leftovers.
Notes
*To ensure drinks are cold, refrigerate all ingredients prior to mixing. Add ice to glasses if punch needs to be extra cold.
*If you cannot find coconut flavored sparkling water, feel free to use a lemon-lime soda, like sprite or 7up.
*For a stronger drink, consider adding less sparkling water and more rum.
Nutrition Information:
Serving Size:

1
Amount Per Serving:
Calories:

70
Sodium:

50mg
Carbohydrates:

2g