Halloween Candy Bark
Wondering how to make chocolate bark? This Halloween Candy Bark is made with delicious chocolate, white and orange candy melts, and bejeweled with loads of candy. An amazing chocolate bark recipe!
Disclosure: This post may contain affiliate links. Delightful E Made is a participant in the Amazon Services LLC Associates Program, an affiliate advertising program designed to provide a means for us to earn fees by linking to Amazon.com and affiliated sites.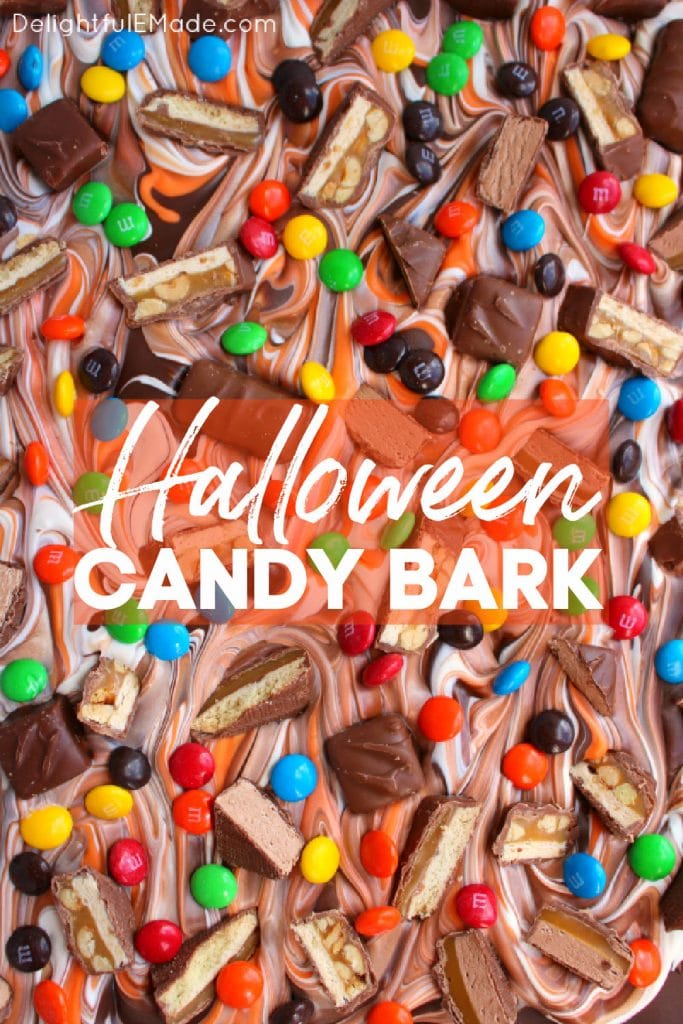 How to make chocolate bark with Halloween Candy
Even though Halloween is still a few weeks away, we are in prime Halloween prep mode here at our house. Costumes decisions are being finalized, plans are being made, and were even getting things going in our neighborhood early by getting a fun #BOOItForward exchange going!
Boo baskets are a great way to get your neighborhood in the Halloween spirit and share some fun treats with your friends and neighbors. Here's how I created this simple, delicious Halloween Candy Bark that I included in our Boo basket.
What you'll need to make a Boo Basket:
A big bag of Halloween candy like M&M's®, SNICKERS®, TWIX®, MILKY WAY®, and 3 MUSKETEERS®!
Chocolate candy bark, white candy melts and orange candy melts. (Found in most craft stores or at Walmart.)
Boo basket supplies: I used a cute Jack-O-Lantern basket. I also picked up celophane bags for the bark, and tissue paper to place in the bottom of the basket.
8 oz. cans of 7UP®, Sunkist®, Canada Dry ®, and A&W®, which are the perfect little size for adding to our Boo Basket!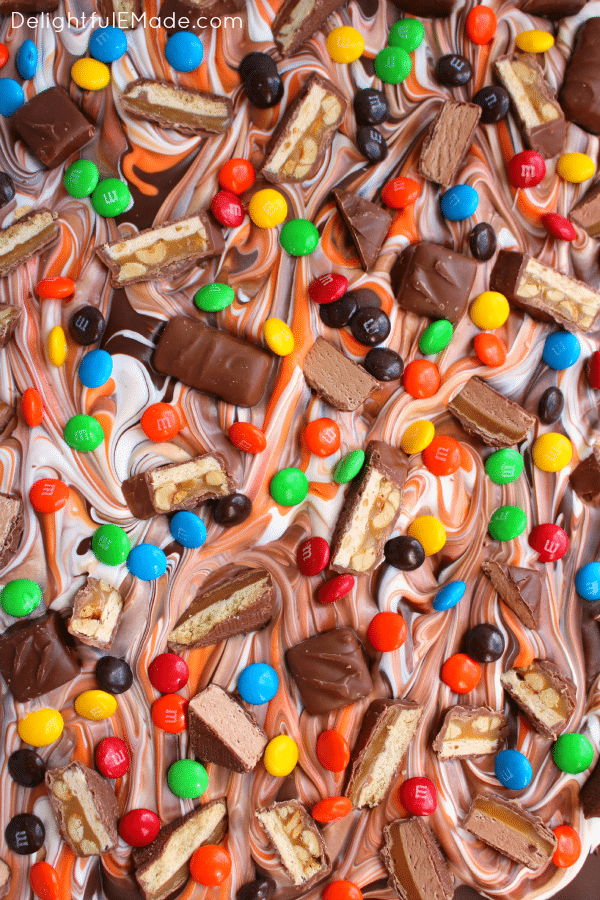 How to Make Chocolate Bark:
This Halloween Candy Bark comes together quickly, and easily. The chocolates are melted in the microwave and spread onto a piece of waxed paper within a cookie sheet.
You'll then use a spatula to swirl the chocolates together to create a pretty brown, orange and white chocolate backdrop. Easy enough for everyone in the family to make!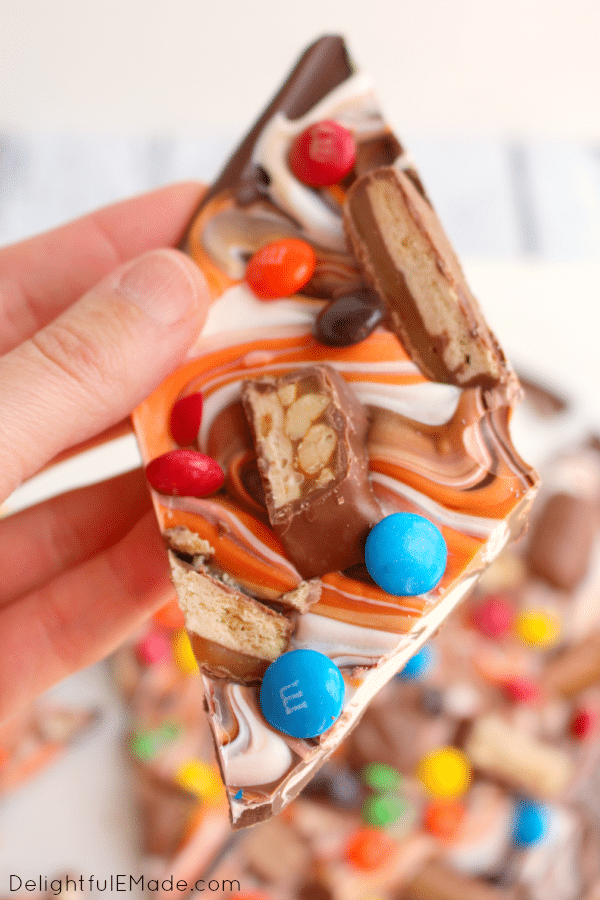 What should I add to this chocolate bark recipe?
Working quickly, you'll then add all your favorite candies, like &M's®, SNICKERS®, TWIX®, MILKY WAY®, and 3 MUSKETEERS®! You can cut these before adding them to the chocolate, or leave them whole. Anyway you choose, this bark is delicious!
Other add-in ideas for this chocolate bark recipe:
Halloween OREOS
Candy Corn
Candy Eyeballs
Gummy Worms
Peanut Butter Cups
Peanuts, Almonds or Walnuts (assuming you know your recipient doesn't have a nut allergy)
Dried fruit: raisins, cranberries, apricots or golden raisins
If you're loving this chocolate candy bark recipe, check out my Peanut Butter Pretzel Bark, which is an amazing combination of chocolate, peanut butter and crisp, salty pretzels!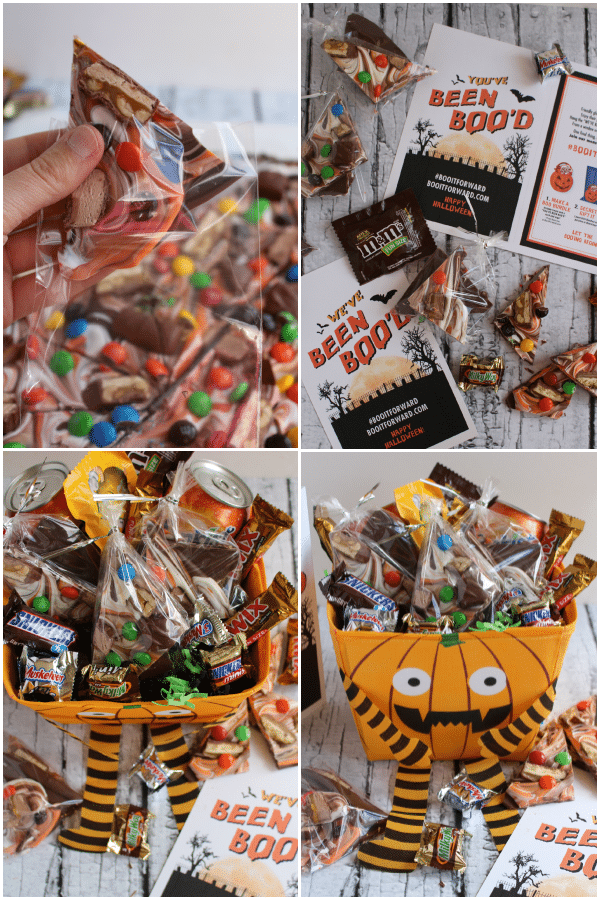 Putting together these fun BOO Baskets were easy, and fantastic for the entire family to enjoy. I started by adding pieces of my Halloween Candy Bark into small cellophane bags. I then made sure to print off some of these awesome "You've Been BOO'd" cards, which are essential in getting your entire neighborhood in on the fun!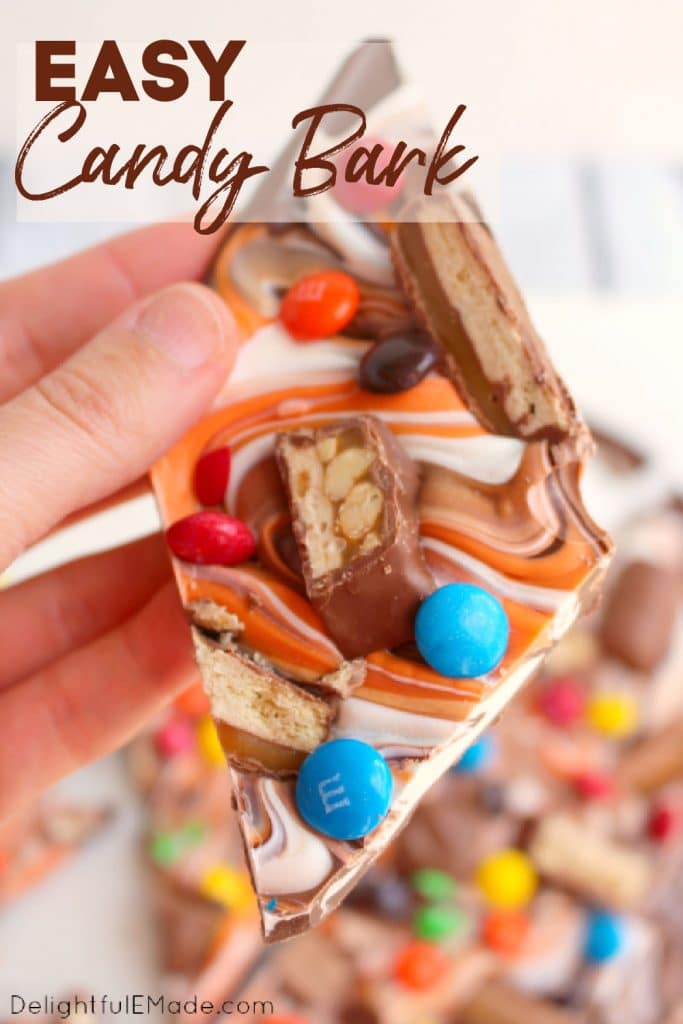 Next, assemble your fun, festive baskets my adding the 8 oz. cans of soda, an assortment of candy, and bags of Halloween Candy Bark. In just minutes, you'll have these fun BOO Baskets ready to be secretly dropped off to all your friends and neighbors!
Don't let them see you – drop off the basket in front of their door, and keep it a secret. This is a part of the fun!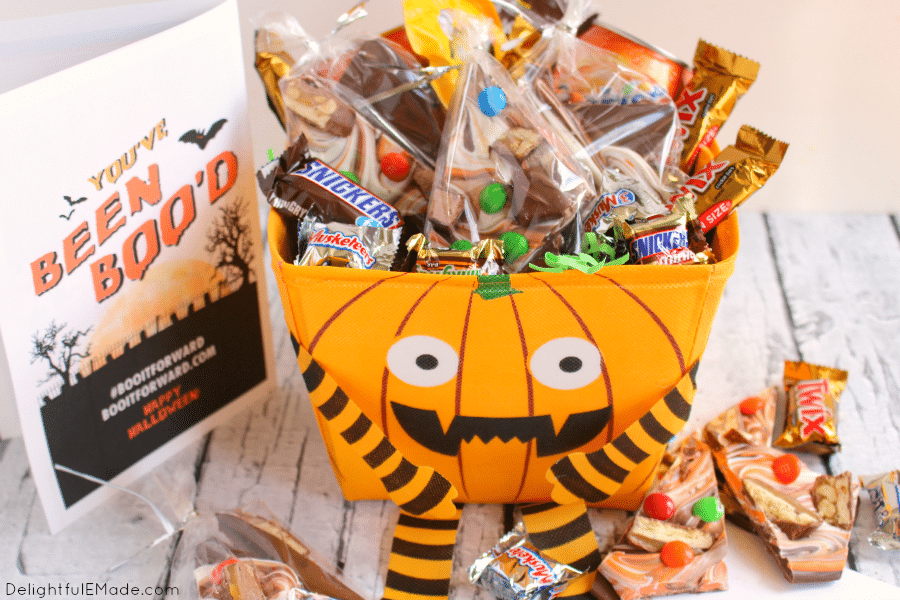 As you can see, with just a few simple supplies, you'll be able to put together these fantastic, festive treats for everyone in your community to enjoy! Start thinking of people you and your family would love to BOO!!
Here are more ideas and recipes for your Halloween season:
The BEST Spooktacular Halloween Party Food
Here's the recipe for this fun, delicious Halloween Candy Bark:
Halloween Candy Bark and Creating the Perfect Boo Basket
The perfect way to enjoy all your favorite candy in one glorious bite! My Halloween Candy Bark is made with delicious chocolate, white and orange candy melts, and bejeweled with loads of candy! A great treat to add to any Halloween Boo basket!
Ingredients
1 (16 oz.) package, chocolate candy bark
1 c. white candy melts
1 c. orange candy melts
1/2 c. M&M® candies
1/2 c. TWIX® fun sized bars, cut
1/2 c. MILKY WAY® fun sized bars, cut
1/2 c. THREE MUSKETEERS® fun sized bars, cut
1/2 c. SNICKERS® fun sized bars, cut
Instructions
Line a large cookie sheet with waxed paper, set aside.
Prepare all of your candies by unwrapping and cutting into desired pieces. You'll want to have all of the candy ready to go. (Once the chocolate is melted, you'll need to work quickly before it sets.)
In the microwave, begin by melting the 16 oz. of chocolate candy bark according to package directions, making sure not to overcook. When fully melted, spread into a large rectangle (about 10" by 14") onto the lined cookie sheet. Working quickly, begin melting the white and orange candy melts in the microwave. Stir until smooth, and then dot the chocolate with the orange and white candy melts. Swirl the chocolates with a rubber scraper or spatula.
Top the swirled chocolate with all of the candy pieces. Let the chocolate cool and set. (Place in refrigerator to speed up the cooling process.) Cut or break the bark into pieces. Enjoy!
Nutrition Information:
Serving Size:

1
Amount Per Serving:
Calories:

142
Total Fat:

8g
Saturated Fat:

5g
Cholesterol:

9mg
Sodium:

22mg
Carbohydrates:

17g
Sugar:

16g
Protein:

2g
I hope my fun idea for BOO'ing your friends and neighbors gets you in the mood for a great Halloween! Everyone in your neighborhood will surely have all kinds of fun coming together for a fantastic fall season. Enjoy! ~Erin
This post was compensated by Collective Bias, Inc. and its advertiser. All opinions are mine alone. #BOOItForward #CollectiveBias