One of my favorite cookie recipes are these White Chocolate Cranberry Oatmeal Cookies! The pretty red "craisins" make these cranberry oatmeal cookies perfect for Christmas, but they're actually amazing any time of year!
This post may contain affiliate links. Delightful E Made is a participant in the Amazon Services LLC Associates Program, an affiliate advertising program designed to provide a means for us to earn fees by linking to Amazon.com and affiliated sites.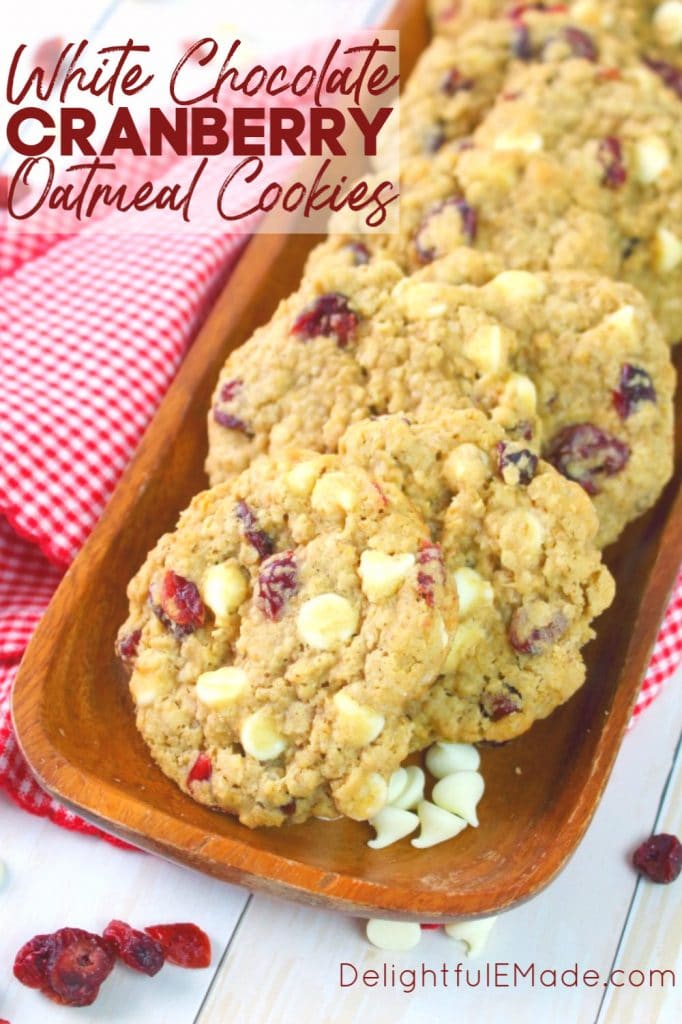 I don't know about you, but one of my favorite things to snack on is dried cranberries. I always seem to have a big bag in our pantry and they go especially well with almonds (or white chocolate chips, if I'm really craving something sweet!) Several years ago, I decided to make some oatmeal cookies, but not just any oatmeal cookie recipe would do. These cranberry oatmeal cookies were a must!
I was going to throw in some raisins, but didn't have any. I did have dried cranberries and some white chocolate chunks. And voila!! There you have it – White Chocolate Cranberry Oatmeal Cookies!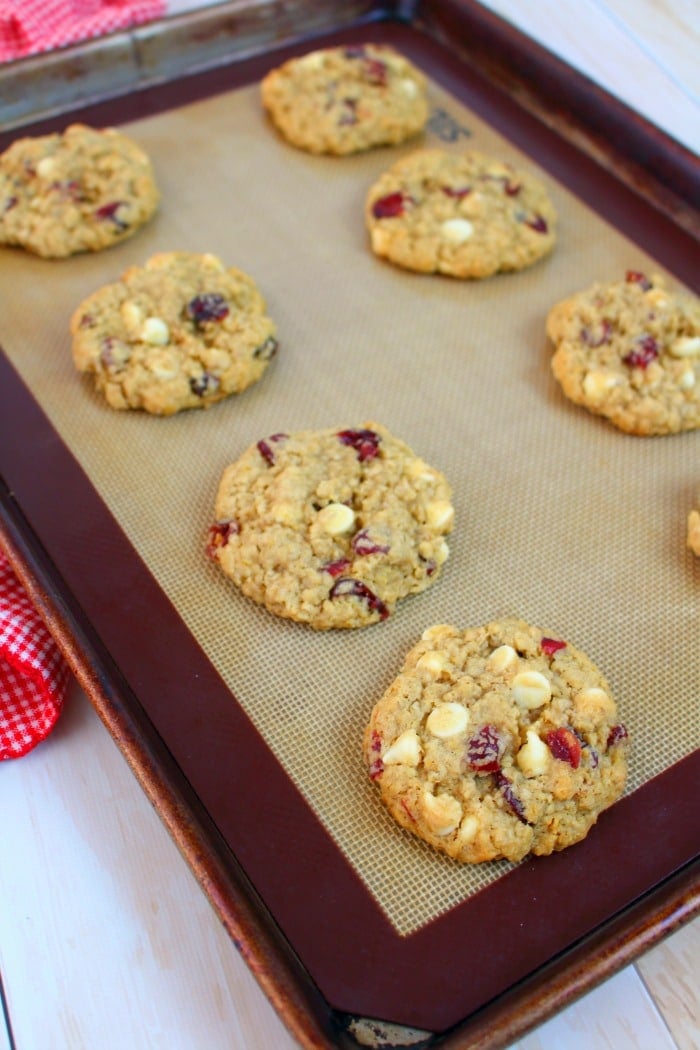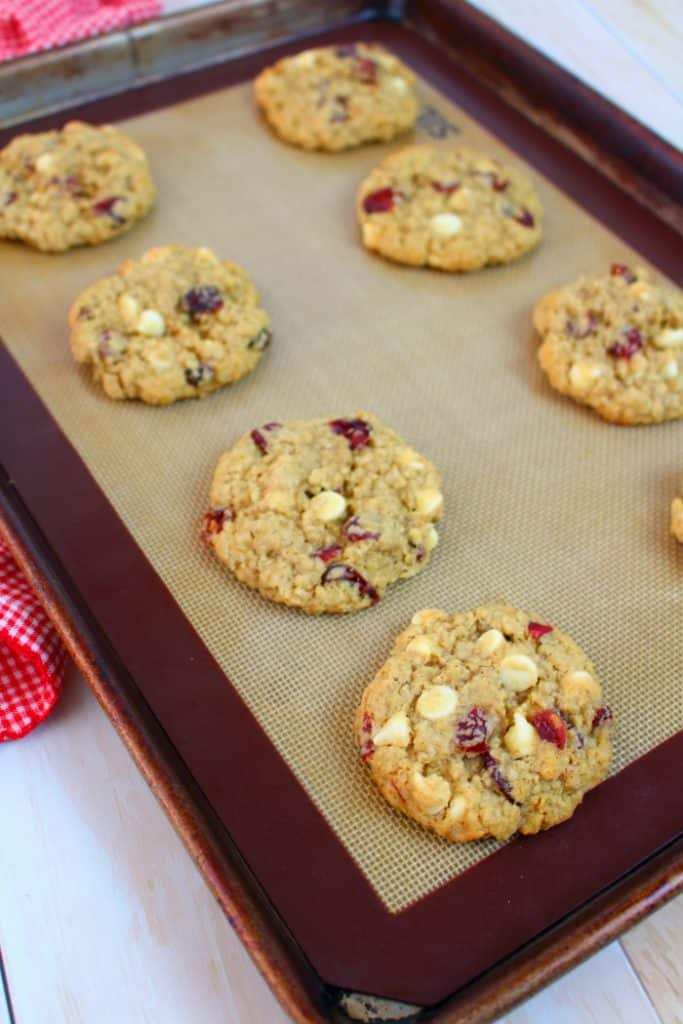 This is definitely on of the more simple oatmeal cookie recipes you'll find! The texture and flavor of these cookies are pretty awesome. They are soft and chewy like a standard oatmeal cookie, but the sweetness of the white chocolate and the slight tartness of the cranberries make them amazing!
Here is how these delicious cranberry oatmeal cookies come together:
Step 1: Cream together the wet ingredients
Start by creaming together the room temperature butter with the sugars until fluffy. Then add the eggs and vanilla. You can use a hand or stand mixer or do it by hand.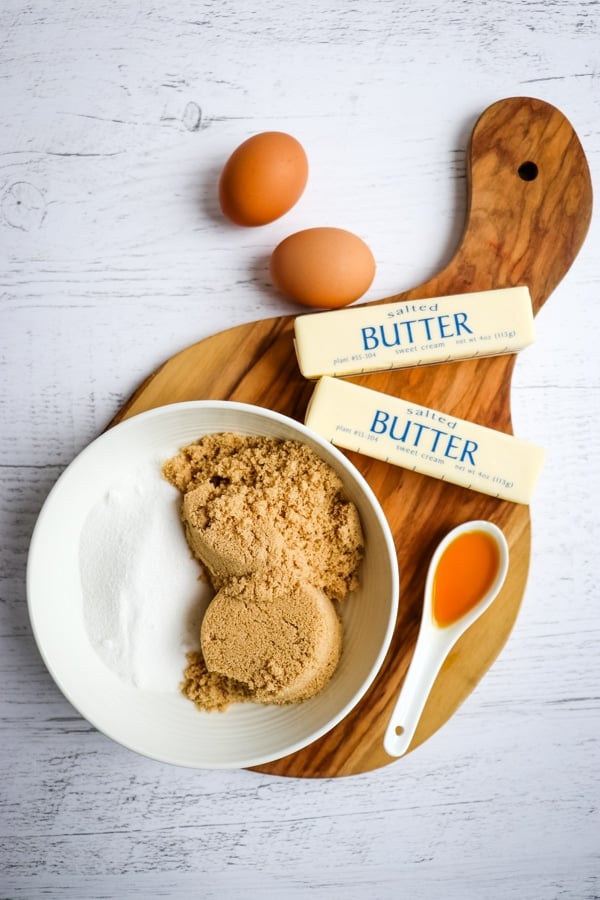 Step 2: Gradually add in the dry ingredients
In a separate bowl, combine the dry ingredients (oatmeal, flour, baking soda and salt). Gradually begin adding the dry ingredients to the wet ingredients. Once all the dry ingredients have been added the dough will be thick.
Pro-Tip: If you're using a hand or stand mixer, the dough will get too thick at the end for the mixer to handle. You'll need to fold in the last of the dry ingredients by hand.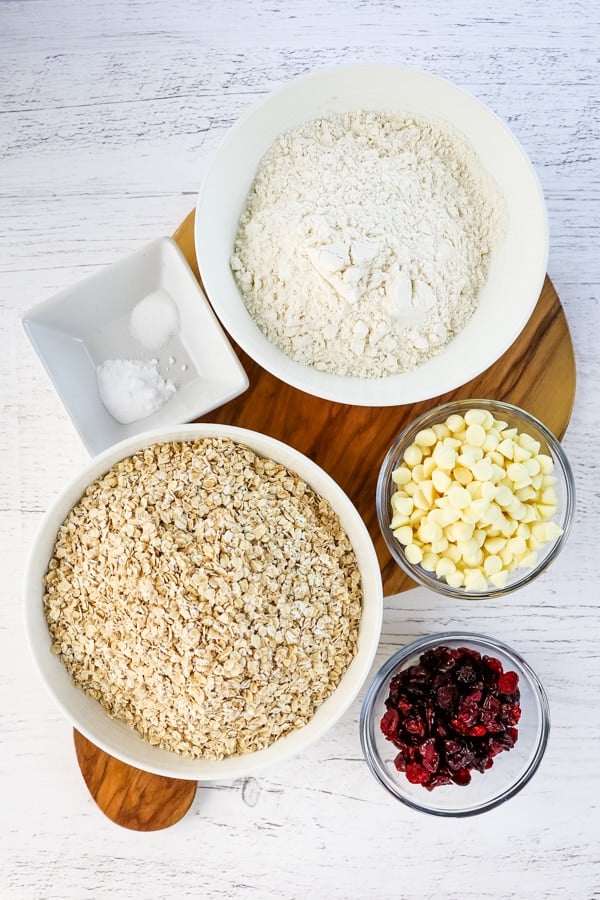 Once the dough comes together you can do one of two things:
Bake the cookies right away. Simply spoon out the cookie dough onto baking sheets. I like to use silicone pan liners, as the cookies bake a little more evenly.
Freeze the dough for later use. I like to do this during the holidays when I want to pre-mix the dough and then bake a dozen cookies at a time. You can add all the dough to a single freezer-safe container OR shape individual cookies, freeze on a cookie sheet for 1 hour and then add the individual cookie dough balls to a bag or container to freeze. Cookie dough will keep frozen for up to 2 months.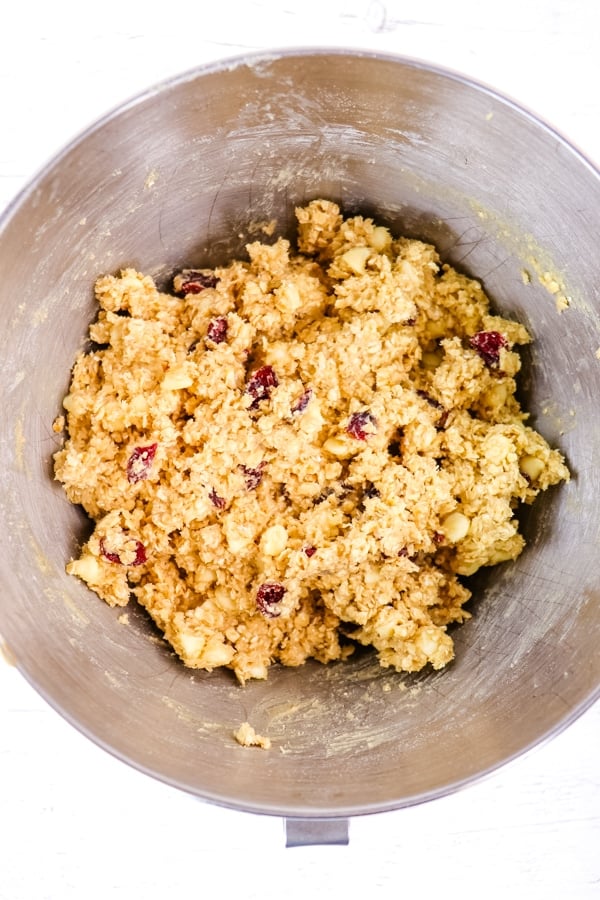 Step 3: Add in the cranberries and white chocolate chips
Lastly, fold in the cranberries and white chocolate chips to the batter. Using a cookie scoop or teaspoons, place the cookies on a baking sheet lined with a silicone baking mat. (See below in the Tools I use section to order the tools I use.)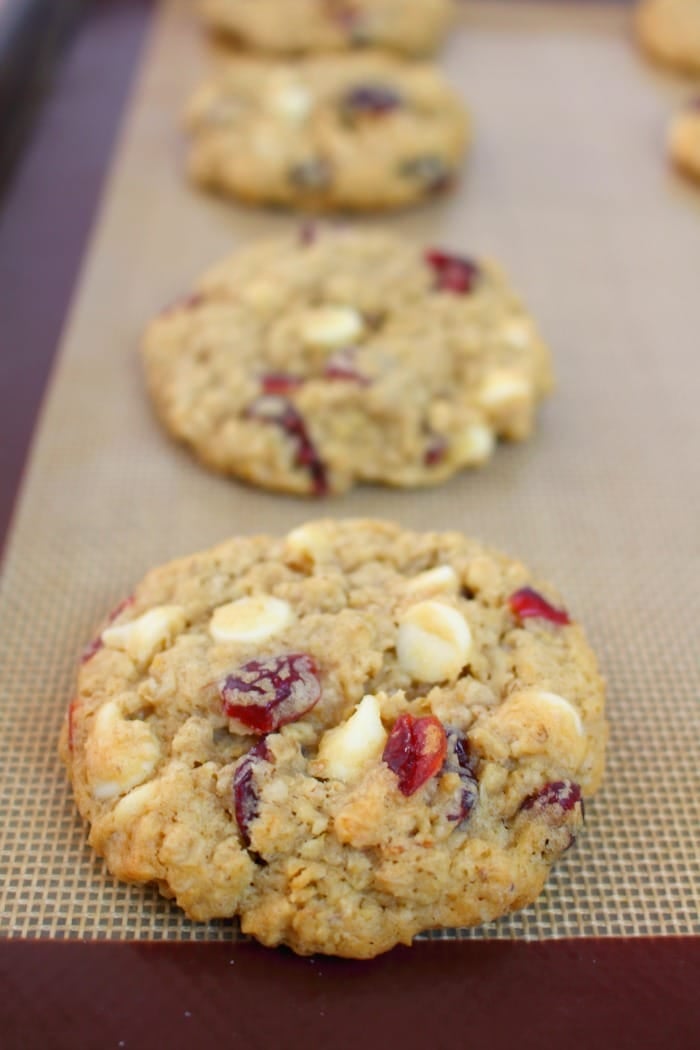 Step 4: Bake the Cookies
Bake the cookies for 10-12 minutes or until slightly golden brown on the edges. Remove from oven and let cool on the pan for a few minutes before transferring to a cooling rack to cool completely.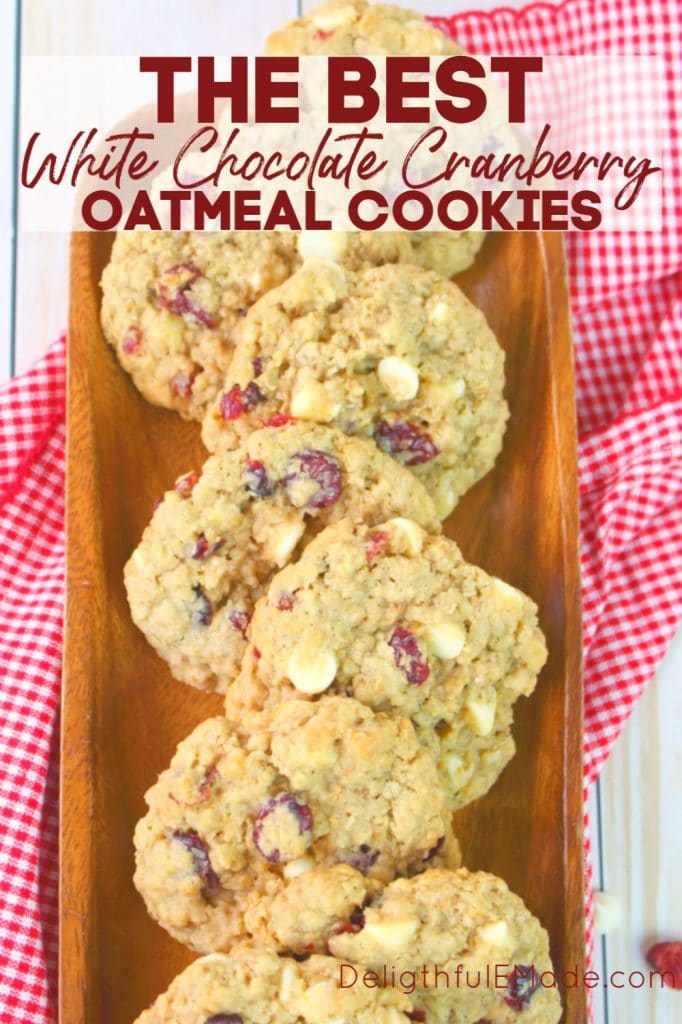 These cranberry oatmeal cookies are absolutely scrumptious! Package some up and deliver to your neighbors during the holidays. They would also make a great addition to your Christmas cookie and candy platters.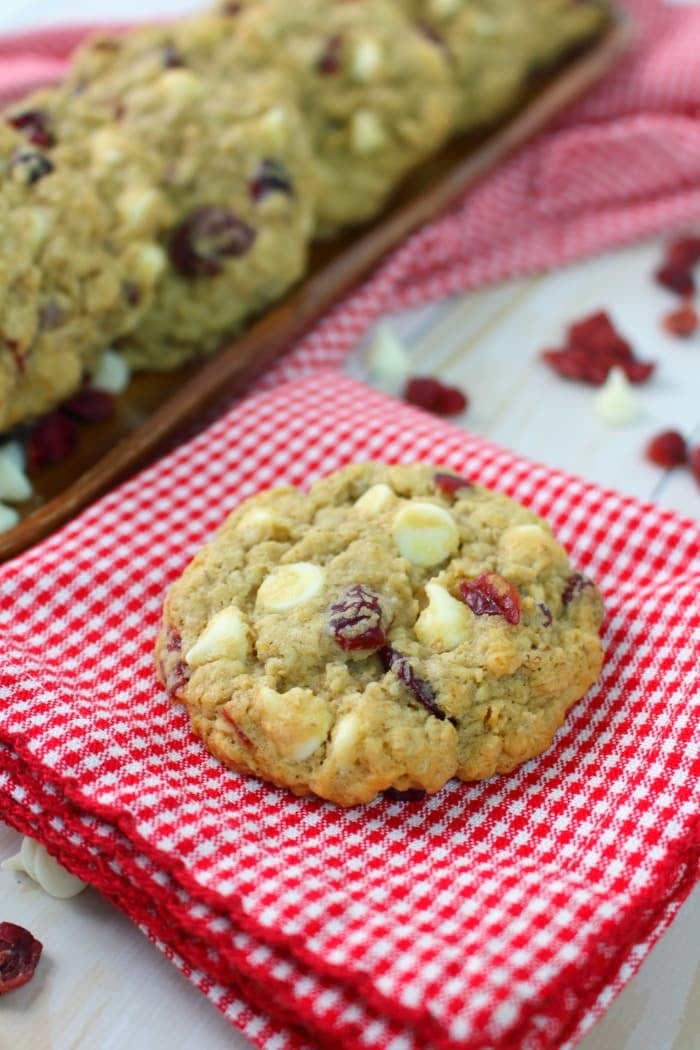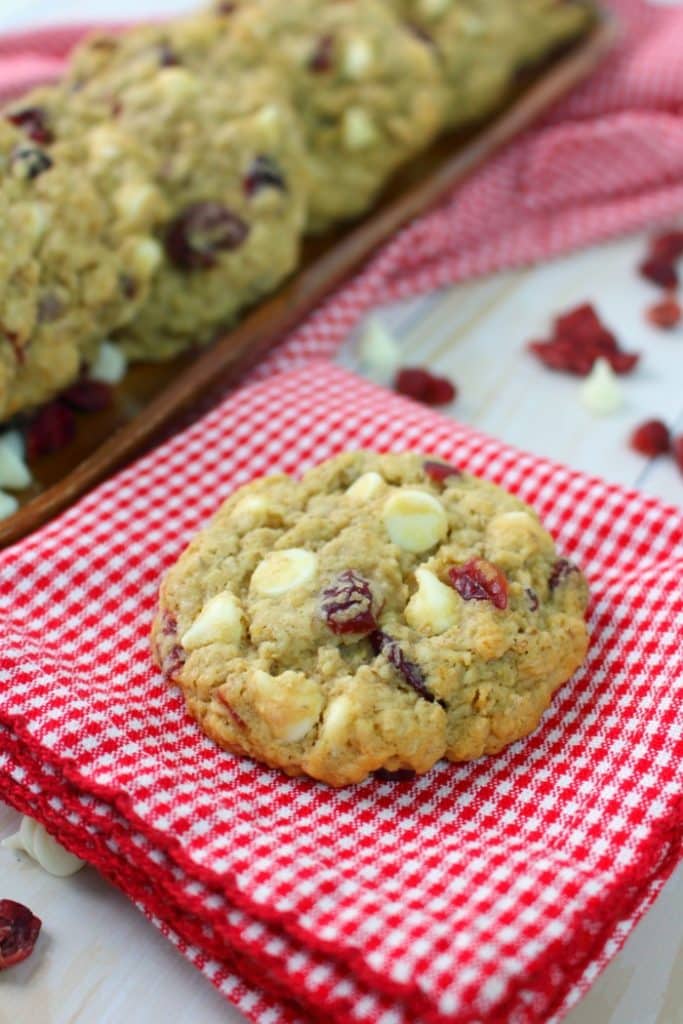 These cranberry oatmeal cookies are great to have on hand for company over the holidays, or just something fun for you and the kids to enjoy for an after-school or morning snack.
These have come to be one of my favorite cookies to make and have on hand for a snack. The recipe makes about 3 dozen, so I tend to keep about half out for us to snack on and then freeze the rest.
Love healthy oatmeal snack ideas? My Chocolate Chip Peanut Butter Oatmeal Bars, my Banana Blueberry Oatmeal Muffins and No Bake Granola Bars are both great healthy oatmeal snack options.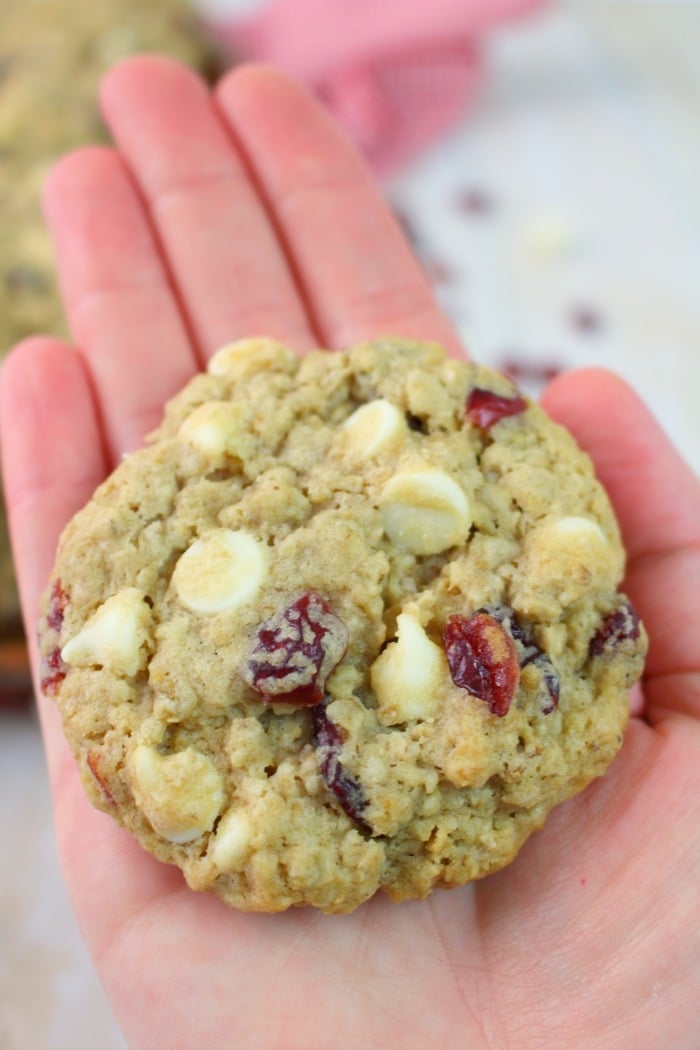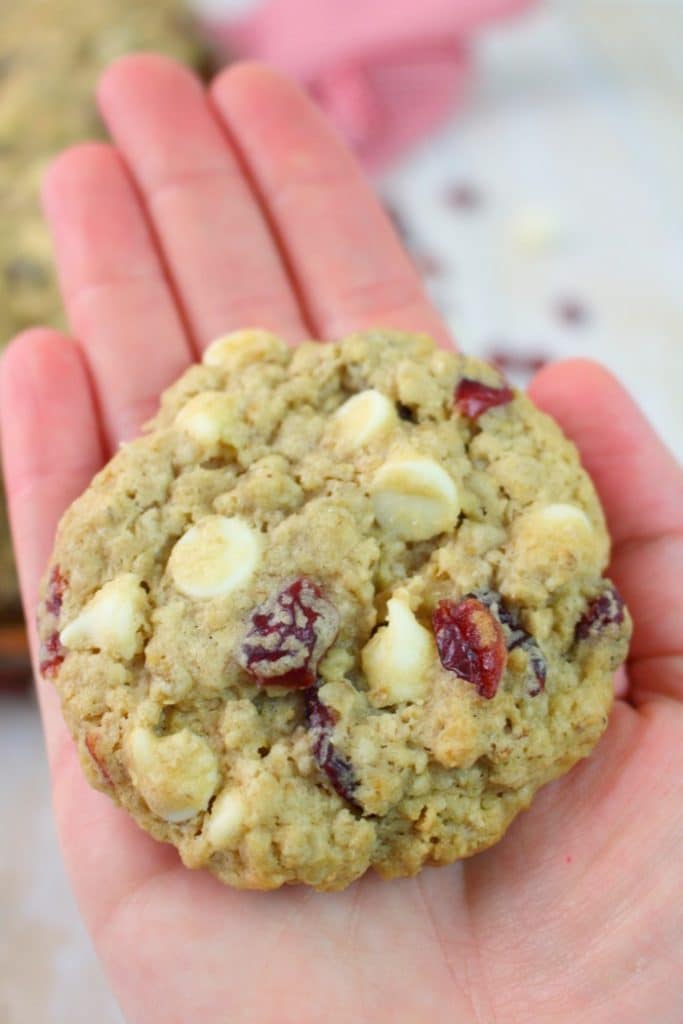 Love cranberry treats? Check out some of my other Cranberry recipes: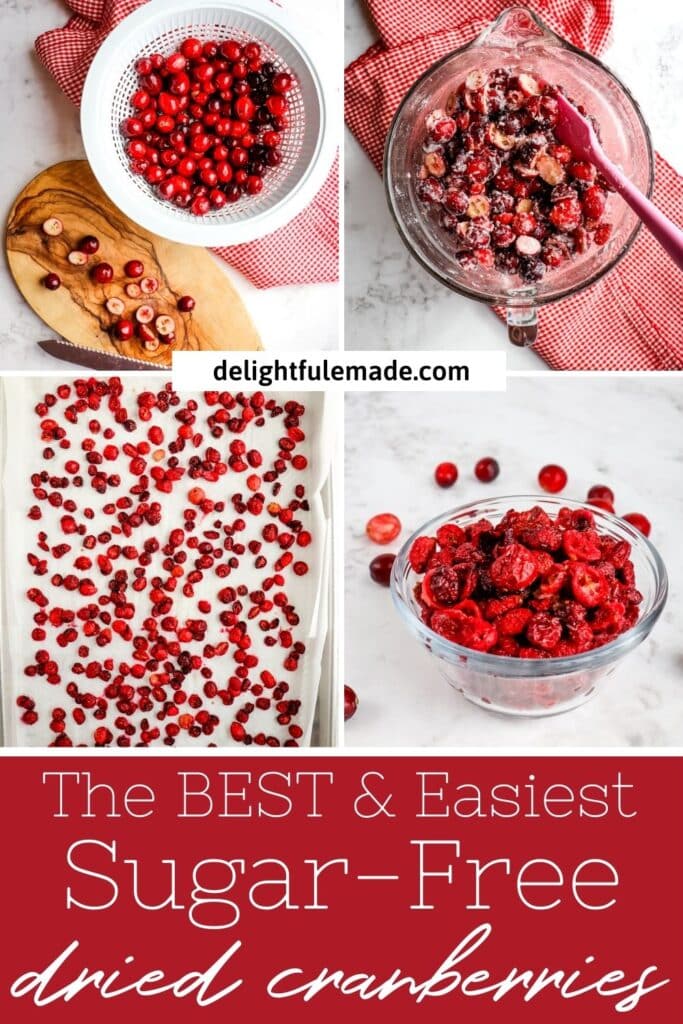 Want to make your own dried cranberries?
Check out my post for How to Make Dried Cranberries recipe! No dehydrator necessary – just 3 ingredients and your oven does the work.
These dried cranberries are great in salads, cookies, bars (like these cranberry bliss bars!), homemade granola & granola bars, and stirring into yogurt and oatmeal.
If you loved this delicious cranberry oatmeal cookie recipe, check out some of my other cookie recipes: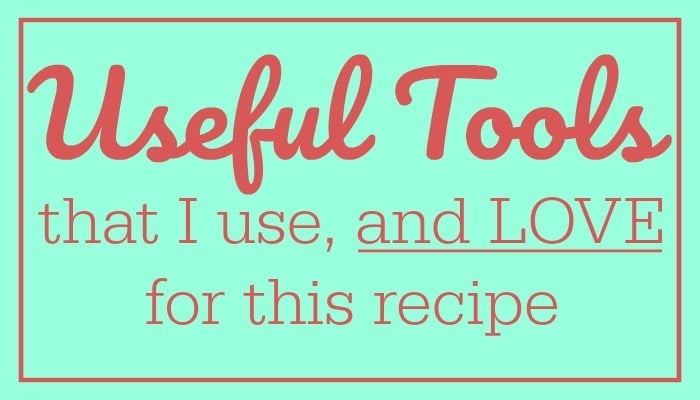 Nordic Ware Aluminum Half-Sheet Baking Sheets (Amazon Link): Having some good, sturdy baking sheets is really helpful when in comes to baking cookies. I love these Nordic Ware pans – they're very durable and easy to clean.
Silicone Baking Mats (Amazon Link): What did we do before silicone baking mats? They help the cookies bake evenly, and will never stick to the bottom of the pan. Get yourself a set!
Here's the simple, delicious recipe for these White Chocolate Cranberry Oatmeal Cookies: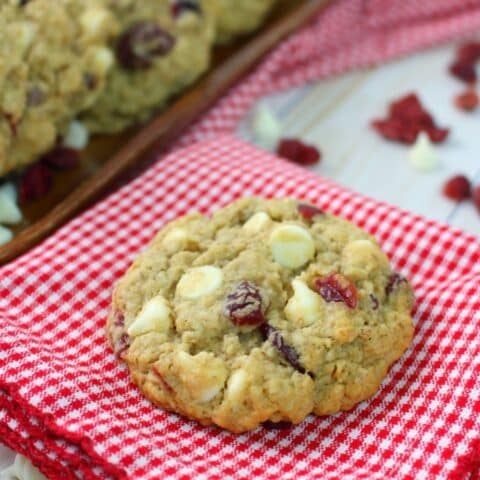 White Chocolate Chunk Cranberry Cookies
Not your standard oatmeal cookie, these White Chocolate Chunk Cranberry cookies make an amazing snack or sweet treat!
Ingredients
1 c. butter (2 sticks, soft/room temperature)
1 c. brown sugar
1/2 c. granulated sugar
2 eggs
1 tsp. vanilla extract
3 c. oatmeal (quick cook or old fashioned)
1 1/2 c. all-purpose flour
1 tsp. baking soda
1/2 tsp. salt
1 c. white chocolate chips
3/4 c. dried cranberries
Instructions
Preheat oven to 350 degrees.
In large mixing bowl, cream together butter and sugars. Add eggs and vanilla and combine. Set aside.
In another bowl, combine oatmeal, flour, baking soda and salt. Gradually add this dry ingredient combination to the butter/sugar mixture. Mixture will will be thick. Lastly, fold in white chocolate chips and cranberries.
By the teaspoonful, drop cookie batter on to an ungreased cookie sheet. (About a dozen per cookie sheet.) Bake at 350 degrees for 10-12 minutes or until golden brown. Let cool on sheet for a couple minutes and transfer cookies to a cooling rack.
Notes
This recipe will yield approximately 3 1/2 dozen cookies.
Recommended Products
As an Amazon Associate and member of other affiliate programs, I earn from qualifying purchases.
Nutrition Information:
Yield:

36
Serving Size:

1
Amount Per Serving:
Calories:

147
Total Fat:

7g
Saturated Fat:

4g
Trans Fat:

0g
Unsaturated Fat:

2g
Cholesterol:

25mg
Sodium:

118mg
Carbohydrates:

19g
Fiber:

1g
Sugar:

13g
Protein:

2g