Penguin Cookies
These delicious Penguin Cookies are the perfect treat for your next holiday party or get-together. Made with Town House Crackers and few other goodies, these no bake Christmas cookies need just 6 ingredients, are super simple to make and will be loved by everyone!
This post may contain affiliate links. Delightful E Made is a participant in the Amazon Services LLC Associates Program, an affiliate advertising program designed to provide a means for us to earn fees by linking to Amazon.com and affiliated sites.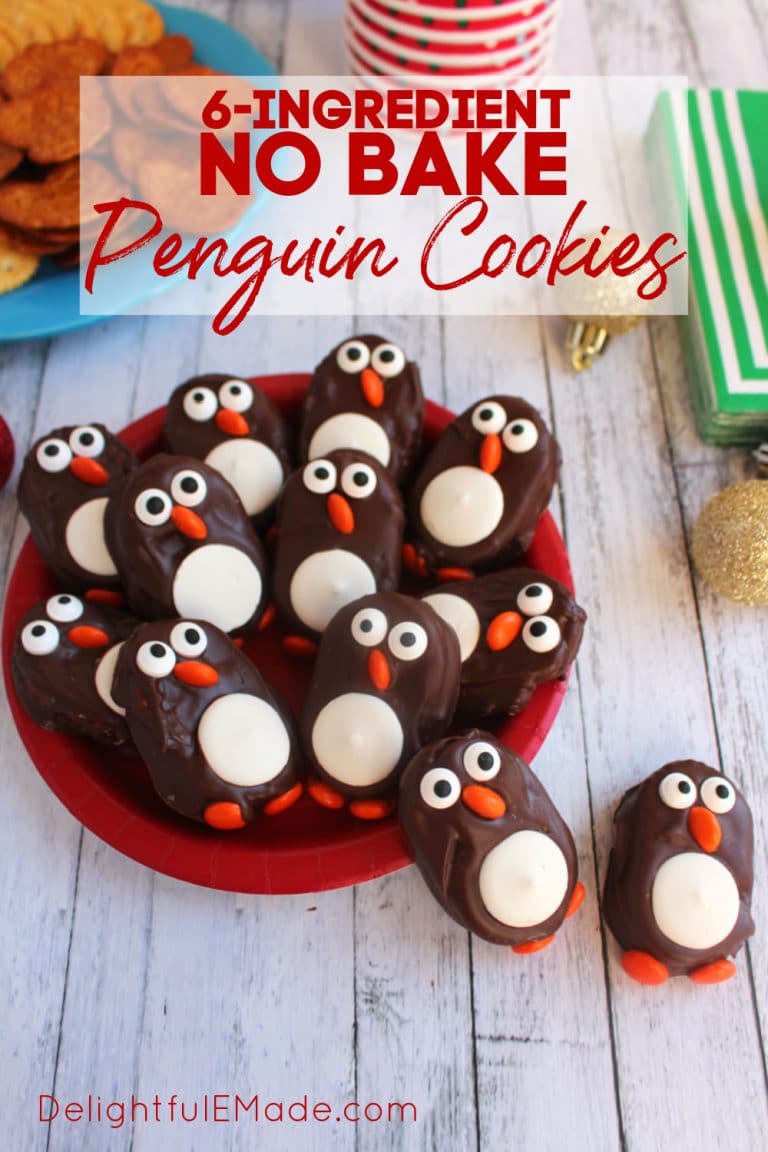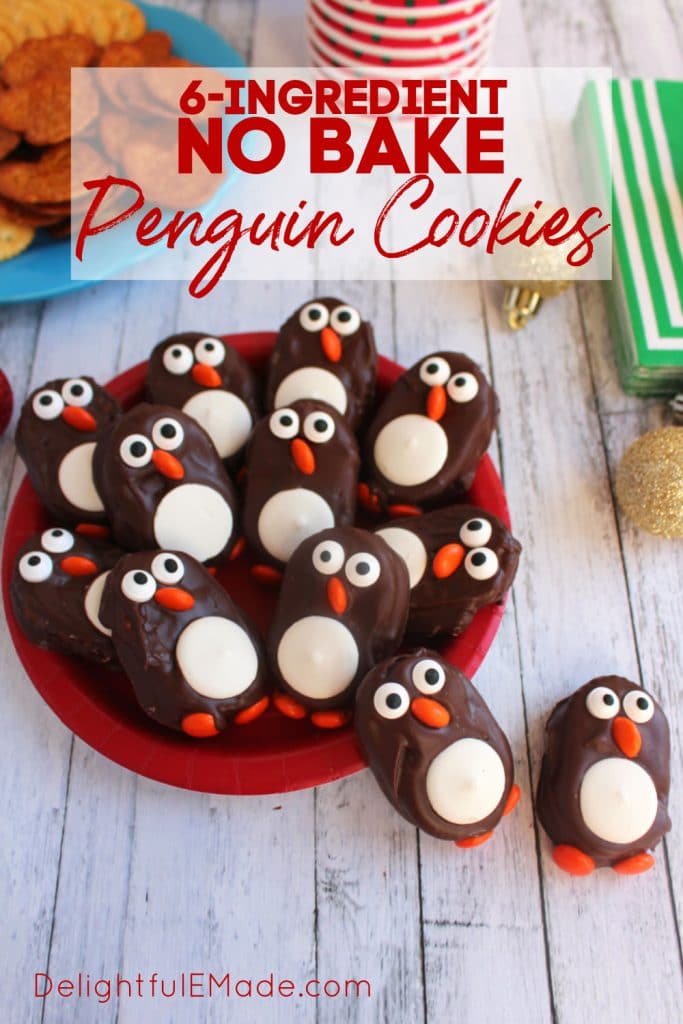 No Bake Penguin Cookies
We live in wonderful neighborhood, filled with lots of kids and great people we now consider our closest friends. Getting together with our neighbors during the holiday season is something I'm really looking forward to.
I've decided to have a casual, fun holiday party with kids and grown-ups – everyone included! These Penguin Cookies will be the perfect treat for our holiday party and something that both kids and grown-ups will love!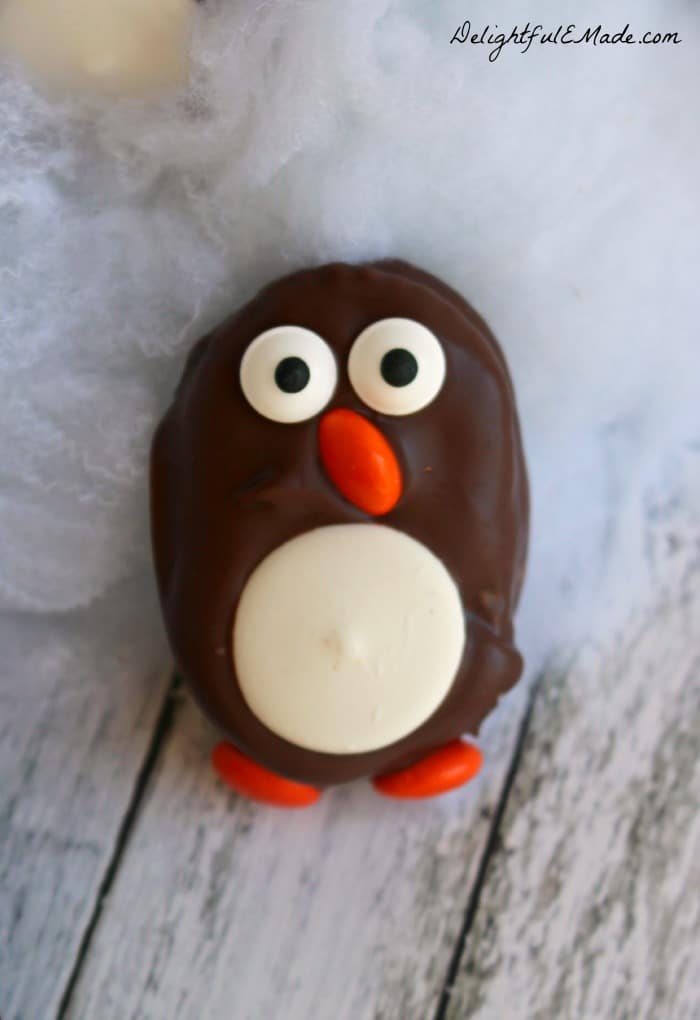 The ingredients you'll need to make your Penguin Cookies:
Townhouse Crackers – these are an oblong/oval shape, which works well for the shape of a penguin.
Candy eyes – found at craft stores, many grocery stores cake decorating areas and Amazon.
Orange M&M's or Reese's Pieces candies
Creamy peanut butter
Chocolate candy melts
White candy melts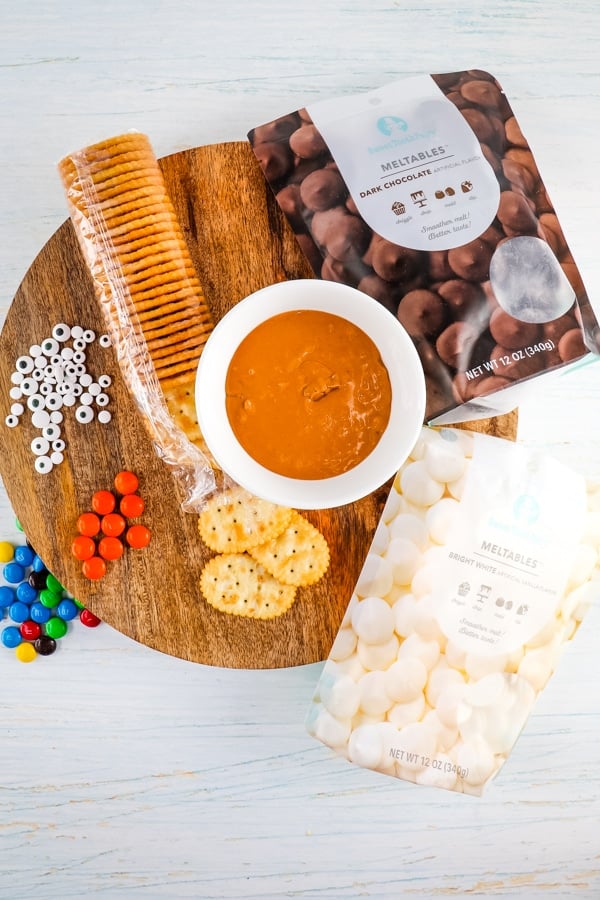 Ingredient Substitutions and Recommendations:
Chocolate candy melts – you can also use chocolate candy quik (large block of melting chocolate) or chocolate chips. Follow the melting directions on the package.
Peanut butter – you can use any nut butter or spread. If you would prefer to not use nut butter, or keep these nut-free, simply omit the peanut butter and dip single crackers in the chocolate.
Crackers – instead of the crackers, you could use Nutter Butter Cookies, which are an oblong shaped peanut butter sandwich cookie. You could then eliminate the step of creating the cracker/peanut butter sandwich.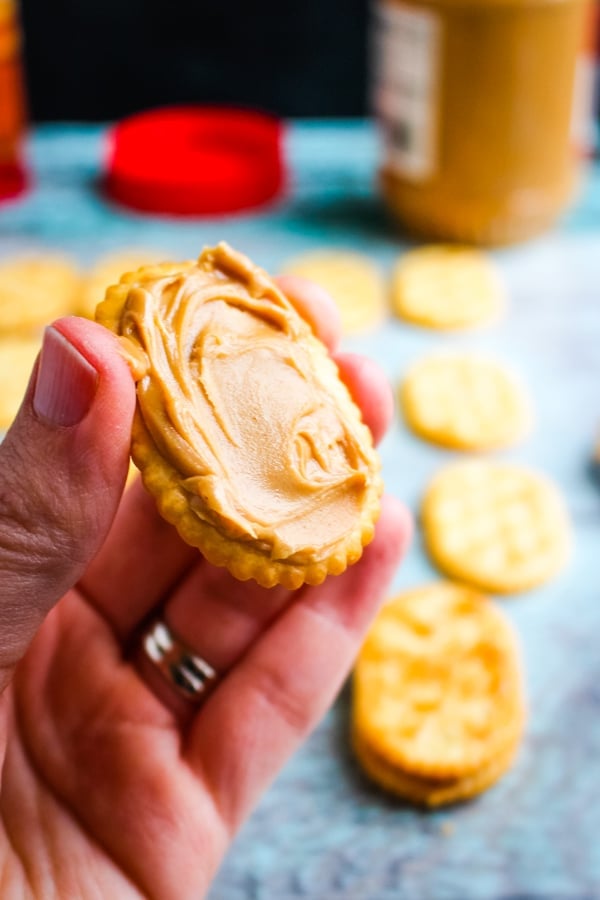 How to Assemble your Penguin Cookies:
Making these Penguin Cookies is a very simple process. In fact, this is fun no-bake project that you can do with your kids! Simply start by spreading the peanut butter on a Town House Cracker and sandwiching it with another cracker.
Repeat this process for as many cookies as you would like to make.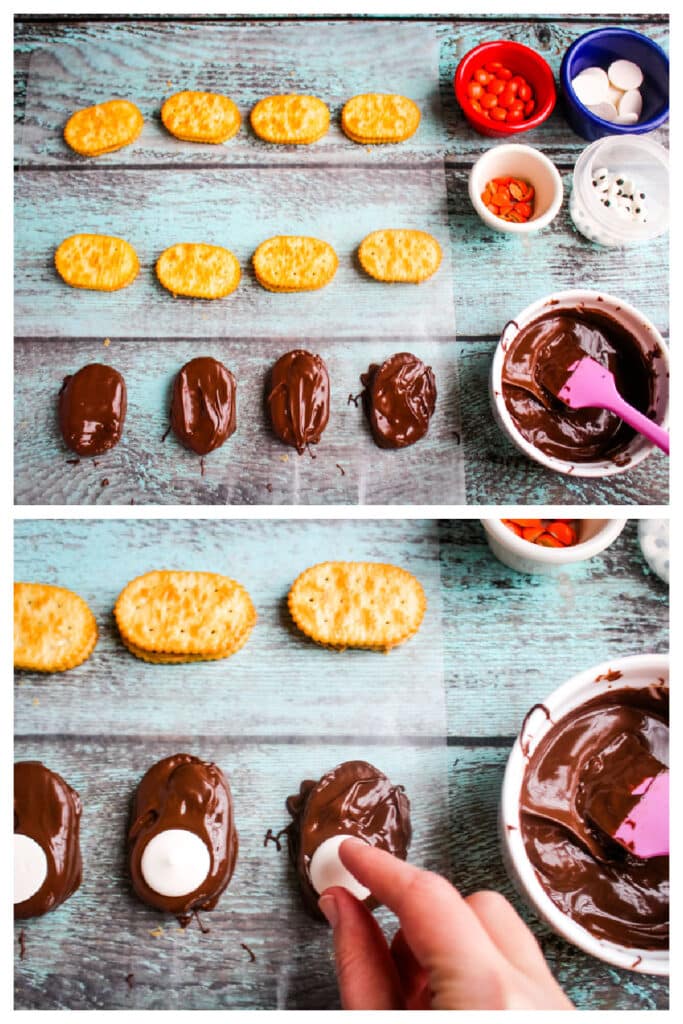 Decorating the Penguin Cookies:
Next, begin dipping the cracker sandwiches into the chocolate, coating the entire exterior. While the chocolate is still wet, add a white round candy melt (un-melted) for the tummy, add a couple of eyes, and add two orange candies for the feet.
Cut some orange candies in half, and then add these to make the penguin beak.
Pro-Tip: I recommend having all of your decorations ready to go, as once you dip the chocolate, it will begin to harden rather quickly.
The best way to get the decorations to stick, is to add them right away will the chocolate is still wet. Working in groups of 4-5 cookies seemed to work well.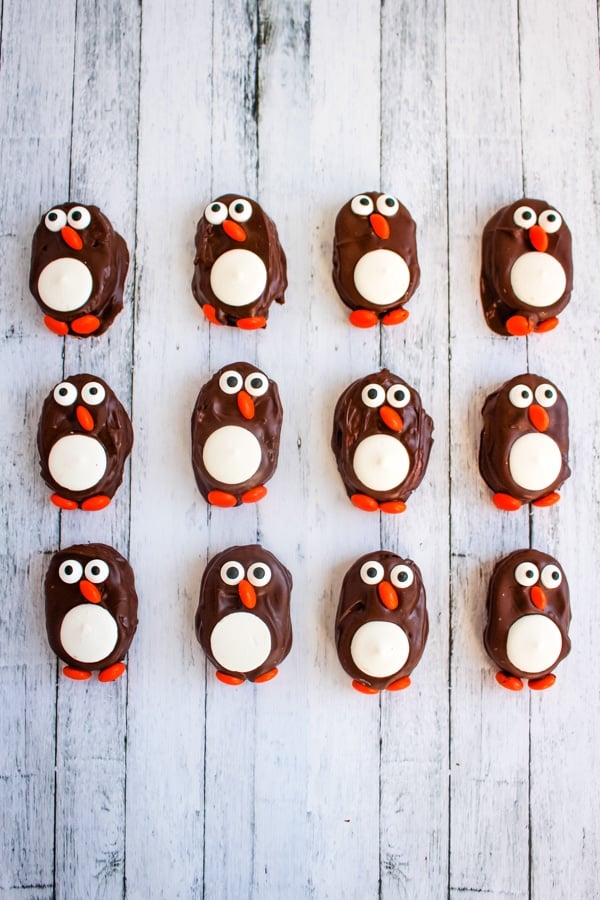 Let the chocolate set and you'll have some adorable penguins that are the perfect treat for your next holiday party! Both kids and grown-up will love these! Don't these little guys look adorable?!
These would also be fantastic for a Christmas break play-date, or a fun get together with all the kids the in the neighborhood!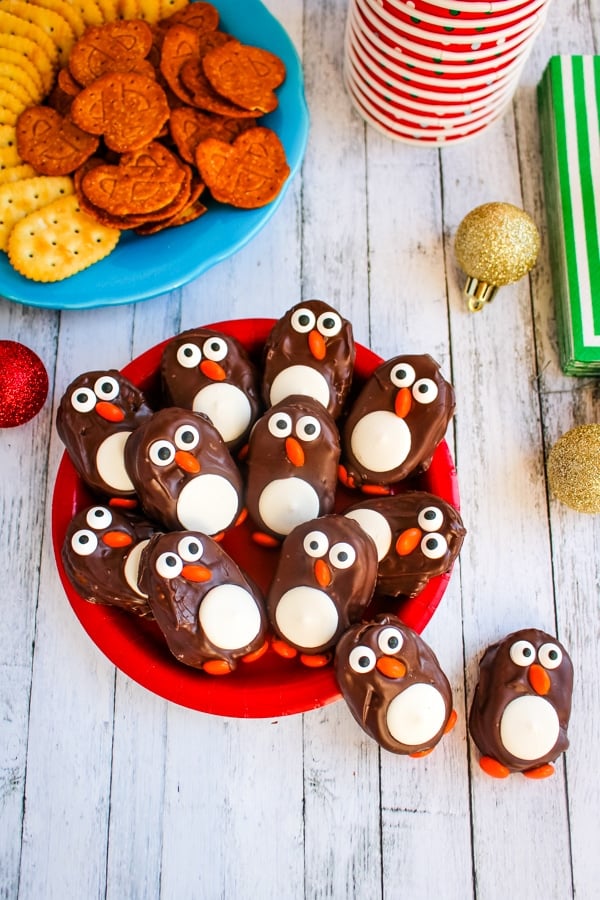 If you loved these No-Bake Penguin Cookies, be sure to check out some of my other cookie recipes that are great for Christmas cookie baking:
Watching Christmas movies? Here are a few drinks and snacks that would go perfectly with these cookies: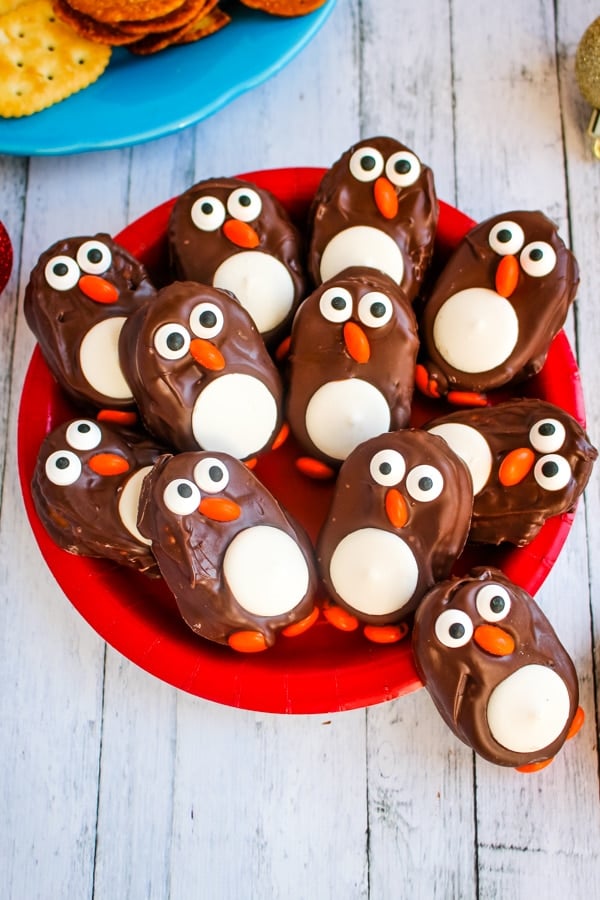 Here's the recipe for these fun to make, delicious Penguin Cookies:
Penguin Cookies - The Perfect Holiday Recipe!
The perfect treat for any holiday party, these Penguin Sandwich Cookies are easy to make and super delicious!
Ingredients
24 Town House Crackers
creamy peanut butter (about 1 tsp. per cookie)
1 (16 oz) pkg, chocolate candy coating
12 bright white chocolate candy melt wafers
orange candy coated peanut butter candies (2 candies for feet and 1/2 candy for beak)
candy eyes (2 per cookie)
Instructions
Lay out a couple large sheets of waxed paper on your work surface. Prepare your decorations - its helpful to place each decoration in small bowls so they are ready to go when you need them. The chocolate will cool and harden within minutes, so you'll need everything at your fingertips to work quickly.
Begin making the cracker sandwiches by spreading one cracker with 1 tsp. of peanut butter. Place the second cracker on top to create a sandwich. Repeat this process for all of your cookies.
Next, melt the chocolate candy coating according to package directions. Dip each of the cracker sandwiches into the chocolate coating, covering the entire outer surface. Place on the waxed paper. While the chocolate is still wet, place a white chocolate wafer on the bottom half of the cookie for the penguin tummy. Place two orange candies at the bottom for the feet, two eyes at the top, and a 1/2 orange candy for the beak.
Let the chocolate cool and set completely before handling. Keep cookies at room temperature or freeze.
Nutrition Information:
Serving Size:

1
Amount Per Serving:
Calories:

195
Total Fat:

12g
Saturated Fat:

5g
Cholesterol:

7mg
Sodium:

103mg
Carbohydrates:

23g
Sugar:

17g
Protein:

4g