Italian Chicken Salad – the Perfect Meal Prep Salad
Could you use a new meal prep salad that's healthy AND delicious? This Italian Chicken Salad is the perfect mix of Italian flavors and healthy ingredients to keep you full for hours. If you need lunch salad ideas, you'll love this one!
This post may contain affiliate links. Delightful E Made is a participant in the Amazon Services LLC Associates Program, an affiliate advertising program designed to provide a means for us to earn fees by linking to Amazon.com and affiliated sites.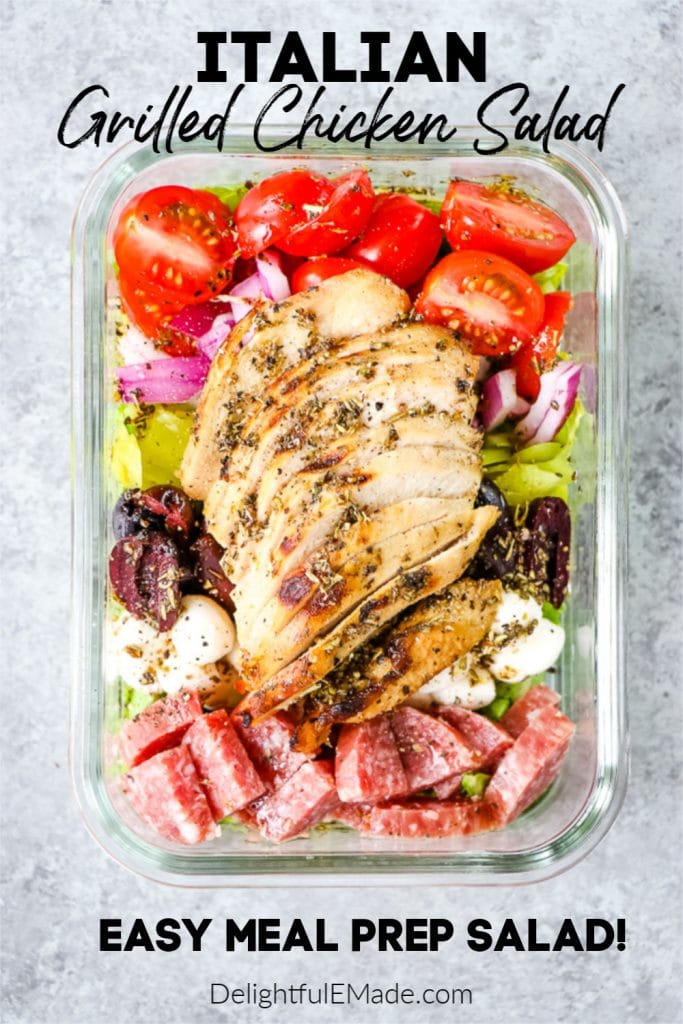 If you're looking for Meal Prep Salad Ideas, you've come to the right place!
Even though I work from home, I try to always have some meal prep salad ideas ready to make on the weekend. I tend to make much better lunch choices when I pre-make my lunch. I'm a firm believer that when you make healthy choices *in advance* you are invested in those choices and are much more likely to make that choice when its time to eat.
These Italian Chicken Salads are the perfect way to make a healthy choice in advance. They are loaded with protein, good fats and fiber, all of which will help keep you fuller, longer. This is your secret weapon to unhealthy snacking later in the day.
Here's how these healthy, simple and delicious Italian Chicken Salads come together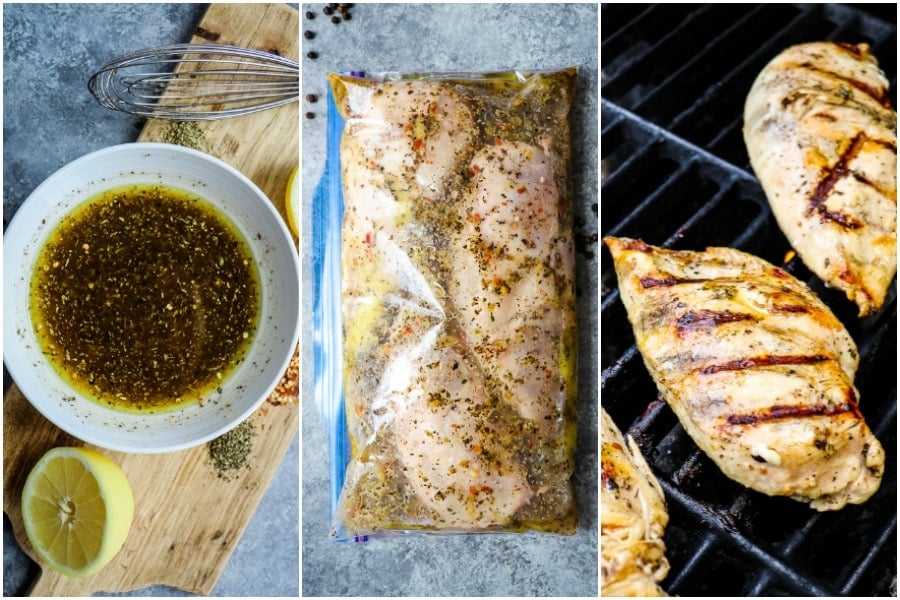 Step 1: Grill the chicken
This is, hands down, one of my very favorite ways to grill chicken. This Italian Grilled Chicken is my go-to marinade (and dressing!) anytime my family and I are in the mood for grilled chicken. The marinade comes together in just minutes. Simply add chicken breasts, thighs or legs into a resealable plastic bag, and refrigerate.
When you're ready for dinner, simply fire up the grill and grill your chicken, approximately 6 minutes a side for chicken breasts.
I will often add an extra pound of chicken – we will then have half of the chicken for dinner and the other half I will add to my Italian Chicken Salads for meal prep.
Check out some of my other healthy, delicious grilled chicken options: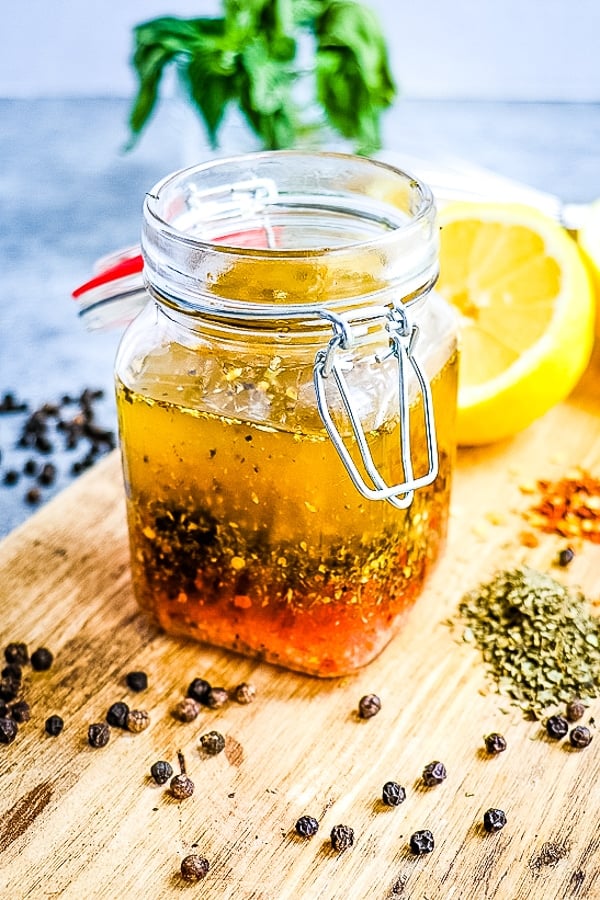 Step 2: Mix the Homemade Italian Dressing
I will definitely encourage you to make your own dressing for a couple of reasons. First, homemade salad dressing tastes WAY better than store bought bottled stuff.
Secondly, store bought, bottled dressing contains highly unhealthy ingredients and toxic oils that you do NOT need on your healthy salad or in your body. Making your own dressing takes just a few minutes and is also much more economical than the bottled junk.
Get the exact ingredients and amounts for my Healthy Homemade Italian Dressing here. FYI it is also used as the marinade for the Italian Chicken! I also use this dressing in my Baked Italian Chicken – a great option for a one-pan weeknight dinner!
Check out my other homemade salad dressing recipes like my Healthy Caesar Dressing and my Healthy Greek Yogurt Ranch Dressing, my Honey Balsamic Vinaigrette and my Homemade Poppy Seed Dressing.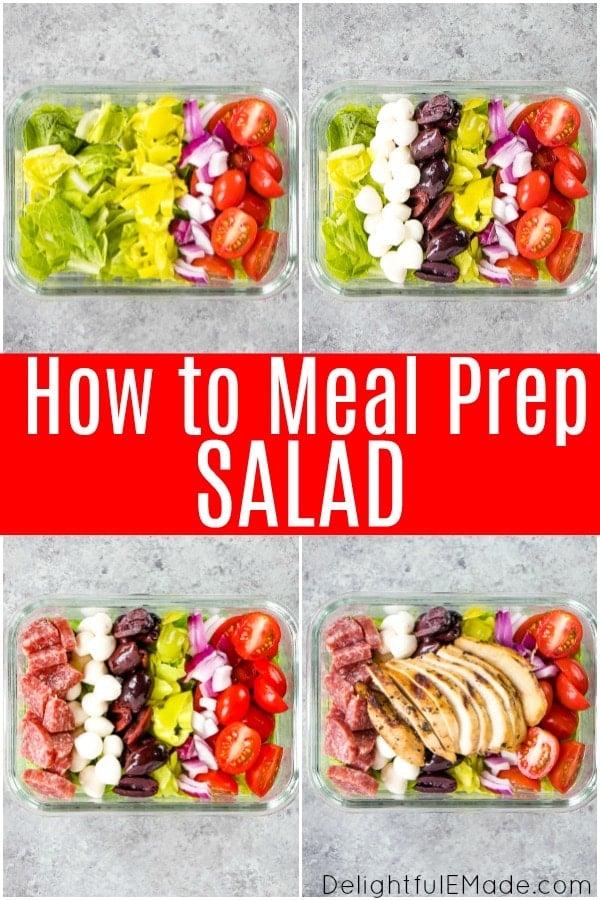 Step 3: Build Your Meal Prep Salad
Assembling your Italian Chicken Salads are very simple. This is actually something I will do after I'm done with dinner, using the leftover Italian Grilled Chicken. Here are the simple steps:
Start with your lettuce on the bottom. I will use two big handfuls of either Romaine lettuce or any other salad greens I have in the refrigerator.
Next, add your vegetables. For this salad I have tomatoes, red onion, yellow banana peppers and olives.
Add the protein. For this salad I have fresh mozzarella cheese, salami and the grilled chicken.
Portion out your dressing in a separate container. Do NOT dress your salad at this time – this will guarantee your salad is soggy and soft, not crisp and fresh.

FAQ's about How to Meal Prep Salads:
How do you keep meal prep salad fresh?
The best way to keep a meal prep salad fresh is to include fresh ingredients at their peek, and to use good container with a tight sealing lid.
How long can you meal prep salads?
If you meal prep a salad on the weekend (Saturday or Sunday), the salad will be good through the rest of the week, or up to 5-6 days. Make sure you use fresh ingredients and a well-sealing container.
What to eat with salad to fill you up?
Make sure to include plenty of protein and good fats in your salad. Some ideas include hard boiled eggs, beans, nuts, legumes, chicken, beef, salmon, shrimp or pork.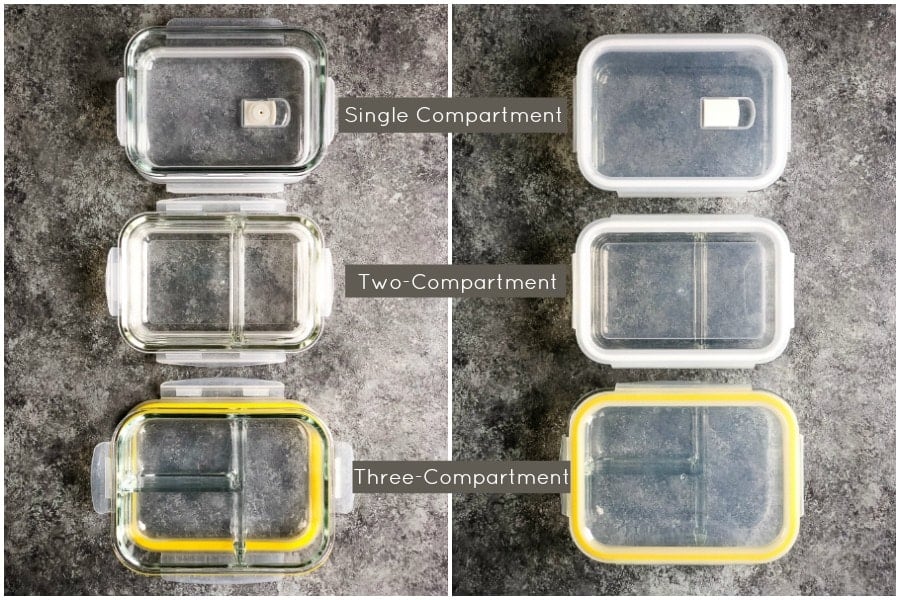 What are the best containers for salad meal prep?
I personally love these Prep Naturals Glass Meal Prep Containers. They will keep your ingredients fresh and your salad will stay crisp for up to a week. I will often make salads on the weekend, and my salad will still be fresh and crisp on the following Friday. Check out my Best Meal Prep Containers here.
If you loved this delicious Italian Chicken Salad, then check out some of my other lunch salad ideas:
Do you take your breakfast to work? I've got some great Breakfast Meal Prep ideas here.
Here's the recipe for my delicious Italian Chicken Salad: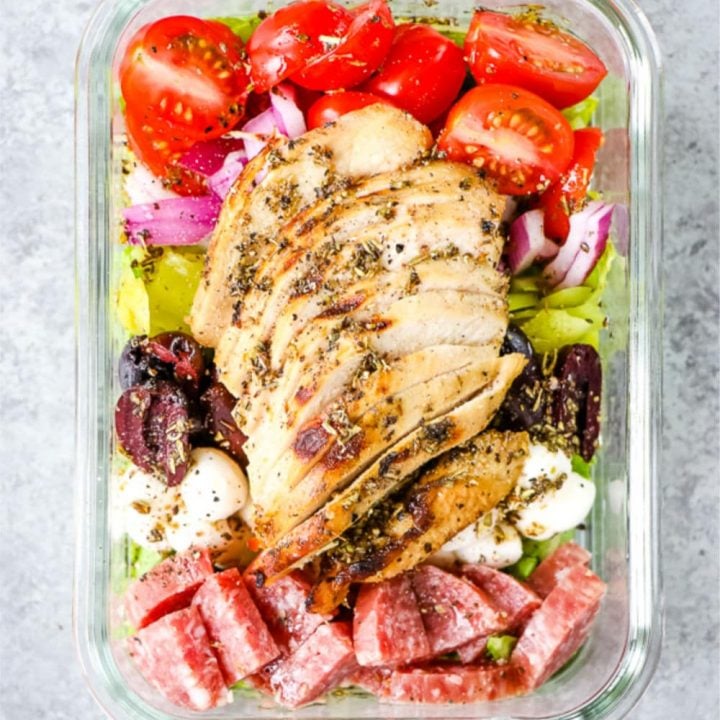 Italian Chicken Salad
Could you use a new meal prep salad that's healthy AND delicious? This Italian Chicken Salad is the perfect mix of Italian flavors and healthy ingredients to keep you full for hours. If you need lunch salad ideas, you'll love this one!
Ingredients
1 lb. Italian Grilled Chicken
8 c. Romaine lettuce, chopped or any other mixed greens
1 pint cherry tomatoes, halved
1 c. (8 oz.) hard salami, diced
1 c. (8 oz.) fresh mini mozzarella balls (pearl or marble sized)
1 c. (8 oz.) kalamata or black olives, pitted
1 c. (8 oz.) jarred yellow banana peppers, sliced
1/2 c. (4 oz.) red onion, diced
Instructions
Grill chicken according to directions. Let cool completely and slice.
Into four meal prep containers, add two handfuls each (approximately 2 cups, each) of the lettuce to the bottom of each container. To each container add 4 oz of the sliced chicken, 1/2 c. of tomatoes, 1/4 c. salami, 1/4 c. mozzarella, 1/4 c. olives, 1/4 c. peppers, and 2 Tbsp. of red onion.
If making dressing, add to separate dressing cups and keep separate of the salads.
Place tight fitting lids onto salad containers and refrigerate for up to 5 days.
Notes
This can also be made into one large entree salad and served as a lunch or dinner.
These meal prep salads can be made on the weekend and when using well-sealing containers, the salads will keep fresh through Friday.
Recommended Products
As an Amazon Associate and member of other affiliate programs, I earn from qualifying purchases.
Nutrition Information:
Yield:

4
Serving Size:

1
Amount Per Serving:
Calories:

372
Total Fat:

10g
Saturated Fat:

3g
Trans Fat:

0g
Unsaturated Fat:

5g
Cholesterol:

212mg
Sodium:

609mg
Carbohydrates:

12g
Fiber:

5g
Sugar:

5g
Protein:

62g