The BEST Raspberry Smoothie Recipe!
Meet your new favorite raspberry smoothie recipe! This delicious Raspberry Almond Chia Smoothie is not only pretty, but it's really good for you too! Loaded with protein, antioxidants and packed with flavor this smoothie is the perfect way to start your day.
This post may contain affiliate links. Delightful E Made is a participant in the Amazon Services LLC Associates Program, an affiliate advertising program designed to provide a means for us to earn fees by linking to Amazon.com and affiliated sites.
Raspberry Almond Chia Smoothie – the very best Raspberry Smoothie Recipe!
Could you use a quick, nutritious and filling breakfast option instead of drive-thru, fast food breakfasts? This delicious, healthy Raspberry Smoothie recipe is here for you.
Made with real ingredients like raspberries, almonds, chia seeds and yogurt, you'll have protein to fuel your body first thing in the morning. It's such a better option than anything that you can get from a drive-thru window, and your body will feel so much better.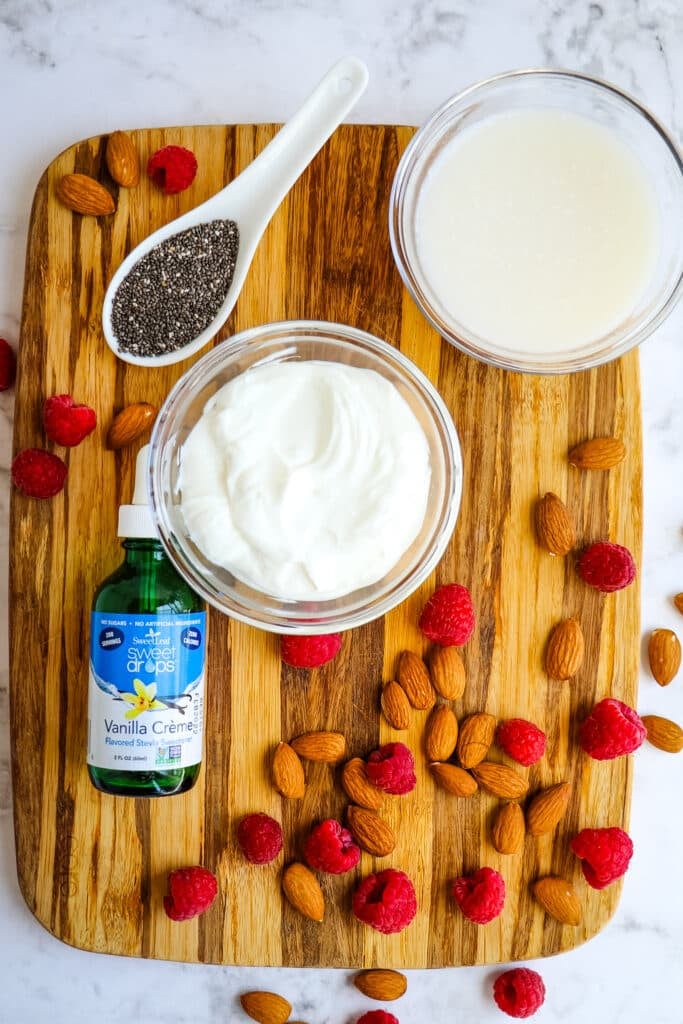 What do I need to make a raspberry smoothie?
Here's a quick-reference check list of the ingredients you'll need to make this raspberry smoothie recipe:
Frozen raspberries
Plain Greek Yogurt
Unsweetened Almond Milk
Almonds
Chia Seeds
Sweetener of choice – liquid or granular
For exact ingredient amounts and full recipe instructions please see the recipe card at the bottom of this post. Thanks!
How do I make a raspberry smoothie?
Start by adding the liquid ingredients to the blender first. The almond milk and yogurt will help the viscosity of the blades work through the almonds and frozen raspberries.
Next, add the frozen raspberries, almonds, chia seeds and sweetener to the blender.
Blend for 30-45 seconds on medium-high speed or until the ingredients are fully blended and creamy.
Pour into a glass and enjoy right away. Top with extra raspberries and chopped almonds if you would like.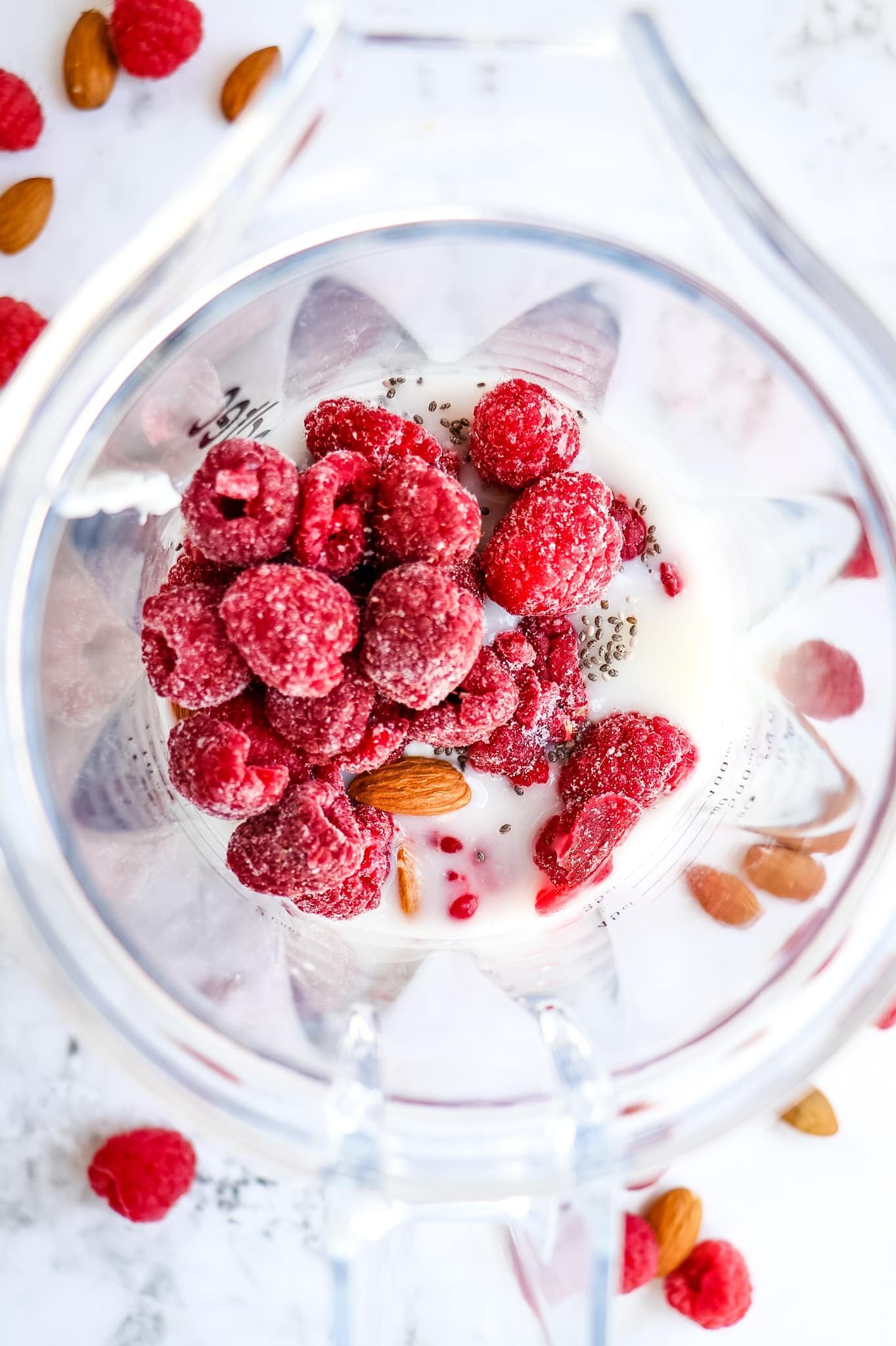 Ingredient substitutions and recommendations for making this raspberry smoothie recipe:
Yogurt – I specifically chose plain Greek yogurt (I buy Fage, either 2% or 5%). Plain Greek yogurt is a great source of protein and calcium, and has no added/refined sugar. If you need to substitute a non-dairy yogurt, there are some great plant-based options on the market. You can also use regular plain yogurt. If you want to use flavored yogurt (vanilla or fruit-flavored) be sure to read the labels and watch the sugar content.
Raspberries – Most grocery stores carry frozen raspberries in the frozen foods section all year round. If they are in season and available, feel free to substitute fresh raspberries. You'll need to add 1 heaping cup of ice to the smoothie when using fresh berries.
Sweeteners – there are a few sweeteners I recommend. For this recipe I chose a liquid sweetener, Vanilla Cream Stevia Sweet Drops. You can also use granular sweeteners, like Lakanto or Whole Earth Monk Fruit Sweeteners. You can also use 1 tsp. of honey or maple syrup. Note that honey or maple syrup will increase the calorie content of the smoothie.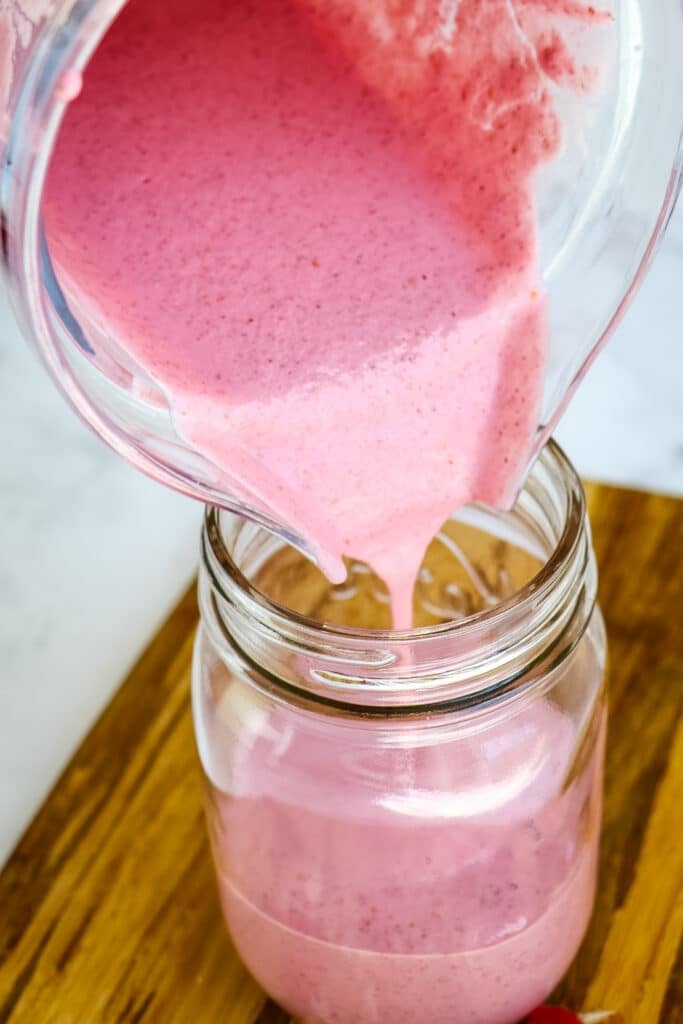 Can I make this raspberry smoothie into a smoothie bowl?
Yes. Simply make the smoothie according to the recipe instructions (below) and pour into a bowl. Top with additional chopped almonds, chia seeds and fresh raspberries. Eat with a spoon and enjoy right away while cold.
What can I add to a raspberry almond smoothie for extra protein?
I recommend adding 1-2 scoops of vanilla protein powder or your preferred collagen powder to add protein.
We use Orgain Organic Vanilla Protein Powder as it has quality ingredients and zero grams of added sugar. I also use and prefer Zhou Nutrition Collagen Peptides. This can be added to smoothies, overnight oats and coffee.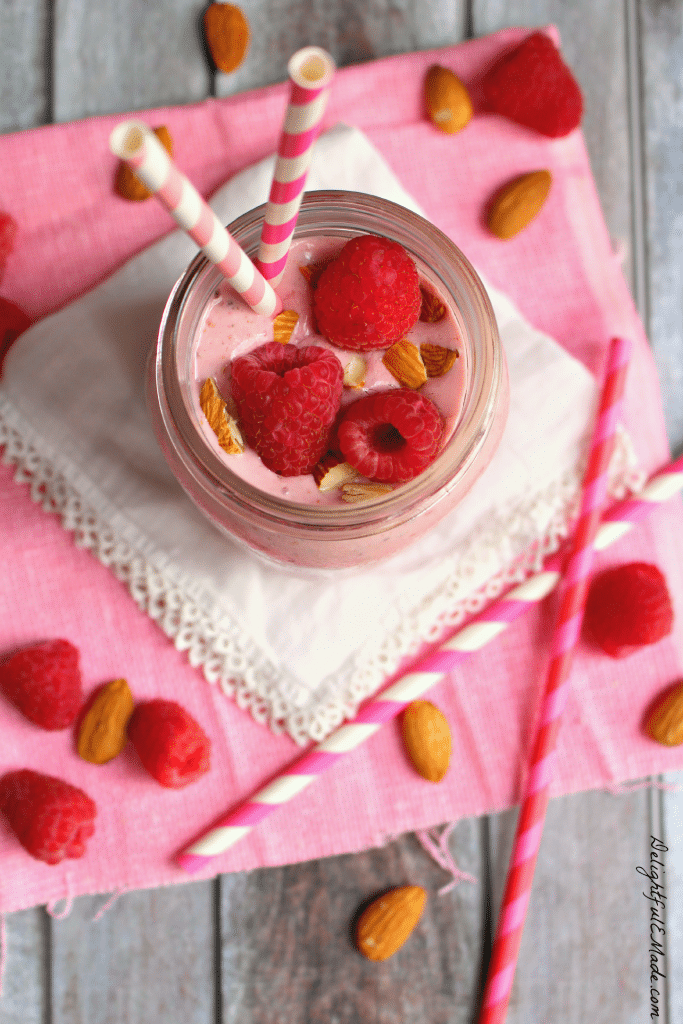 How do I meal prep a smoothie?
For the yogurt & sweetener, stir together and then spoon into an ice-cube tray and freeze. Two tablespoons will typically fit into a standard cube. I would place 5 frozen yogurt & honey cubes into a bag.
Add the raspberries, almonds and chia seeds into the bag as well.
Leave the milk out (unfrozen), as you will need it to be in liquid form for blending. You may need to add extra milk, as the extra frozen ingredients will make the smoothie very thick.
I hope this recipe has inspired you to have a healthy start to your day. Something as simple as a smoothie can really kick-start your day. It will help you feel better, fuller and you might even feel happier given the fact that you made a great choice for yourself.
Could you use a good tutorial on How to Make Smoothies? Check out my post over at Genius Kitchen where I break everything down, step-by-step for the ultimate, easy smoothie treat!
Love a cold, refreshing drink made with berries? Check out these recipes:
If you loved this delicious raspberry smoothie recipe, be sure to check out some of my other healthy breakfast & snack ideas:
I wrote the book on smoothies…literally!
Yes, that's right! I'm the author, photographer and creator of The Protein Smoothie Bible cookbook.
It offers simple, 5-minute smoothie recipes that are perfect for quick, healthy breakfasts, snacks, or post-workout recovery.
I've even got a chapter all for kids! That's right! Simple, easy, kid-friendly smoothie recipes that will get your kids and grandkids excited about making healthy food.
You can get The Protein Smoothie Bible here!
Here's how this healthy, easy Raspberry Smoothie recipe comes together: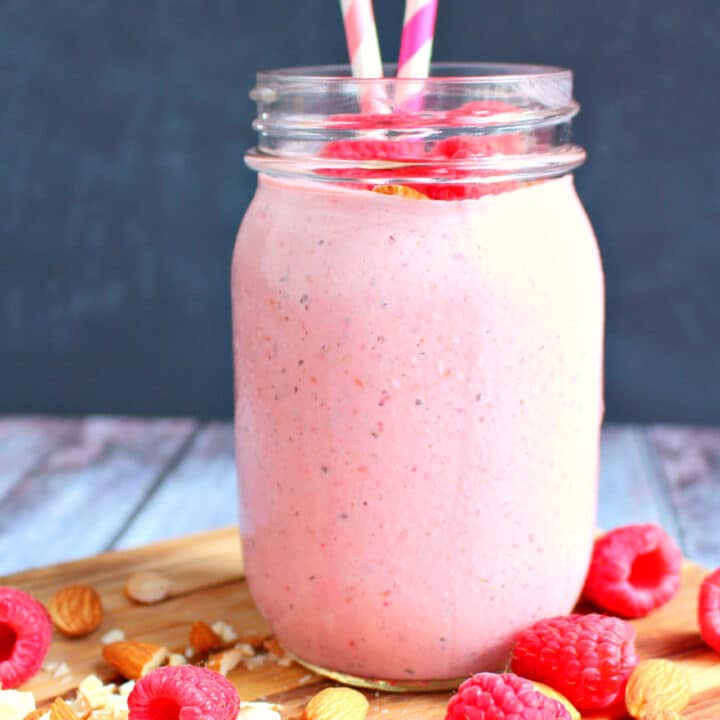 Raspberry Smoothie Recipe
Do you love making smoothies for breakfast or snacks? This raspberry smoothie recipe is healthy, flavorful and loaded with protein and the perfect way to start your day.
Ingredients
2/3 c. plain Greek yogurt, like Fage 2%
2/3 c. unsweetened almond milk
2/3 c. frozen raspberries
2 tbsp. whole almonds
1 tbsp. chia seeds
1 tsp. granular monk fruit sweetener, like Whole Earth or Lakanto
Instructions
In a blender jar, add the milk, yogurt, raspberries, almonds, chia seeds and sweetener.
Make sure lid is well secured to the blender jar. Blend for 30-45 seconds or until ingredients are completely blended and creamy.
Pour into a glass and enjoy right away while cold.
Notes
For ingredient substitutions and recommendations be sure to see the blog post for a full run down.
For sweeteners, you can also use liquid Stevia sweet drops. Use 8-10 drops, or use to your preferred sweetness.
Nutrition Information:
Yield:

1
Serving Size:

1 smoothie
Amount Per Serving:
Calories:

341
Total Fat:

21g
Saturated Fat:

4.4g
Trans Fat:

0g
Unsaturated Fat:

14g
Cholesterol:

20mg
Sodium:

161mg
Carbohydrates:

28g
Fiber:

12.2g
Sugar:

0g
Protein:

18.1g