Healthy Cashew Chicken recipe – The perfect sheet pan dinner!
This Healthy Cashew Chicken recipe will be your new favorite weeknight dinner idea. Simply made, this sheet pan dinner idea is loaded with veggies and an amazing sauce.
This post may contain affiliate links. Delightful E Made is a participant in the Amazon Services LLC Associates Program, an affiliate advertising program designed to provide a means for us to earn fees by linking to Amazon.com and affiliated sites.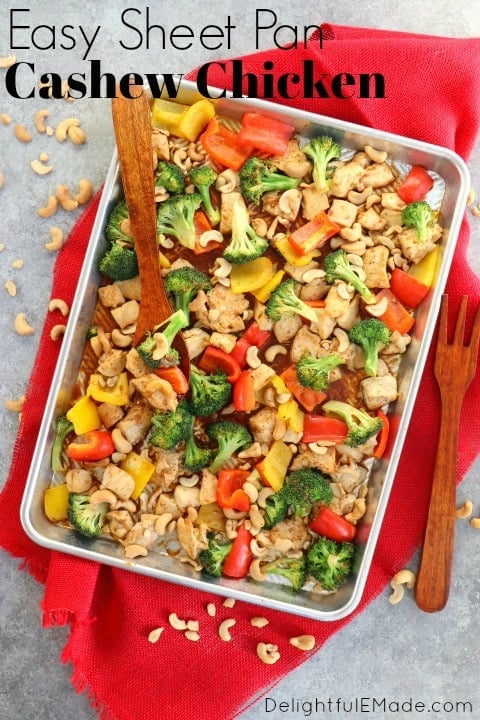 Healthy Cashew Chicken recipe – The perfect sheet pan dinner!
If you love take-out, but don't like all the calories, carbs and fat that come along with it, then my Healthy Cashew Chicken recipe is for you! This simple sheet pan recipe is perfect for a busy weeknight when you don't have time to cook.
It's also the perfect option for when you want to make something healthy for your family. It's also great as a meal prep idea! Prepare with cauliflower rice, which I love, and take to work as a healthy lunch or reheat for a simple dinner idea at the end of the day.
Like this recipe? Be sure to pin it to your DINNER board on Pinterest!
Follow DelightfulEMade on Pinterest for some of the very best HEALTHY DINNER ideas!
The fact of the matter is, this cashew chicken recipe is much more healthy than it's restaurant counterpart. The average take-out Cashew Chicken order contains over 1000 calories, and is loaded with sodium.
Not exactly what I want to be feeding my child on a regular basis. My recipe is much healthier, as it includes more vegetables, is made with boneless, skinless chicken breasts, and the sauce (although very flavorful) has just a small fraction of the sodium and sugar than the restaurant version.
Here's how I "skinnied up" this Cashew Chicken recipe, and made it healthy AND tasty:
Step 1: Cut and Bake the Chicken Pieces
You'll begin by trimming and cutting up about 1 1/2 lbs of boneless, skinless chicken breasts. (This is approximately 2 medium-large breasts.)
While your oven is preheating, cut the boneless, skinless chicken breasts and place them directly on a sheet pan. Because the chicken needs a little longer to cook than the vegetables, you'll cook the chicken for 12-15 minutes before adding the vegetables, sauce and cashews.
While the chicken is baking for the first 15 minutes, cut the vegetables and mix together the sauce so it is ready to go.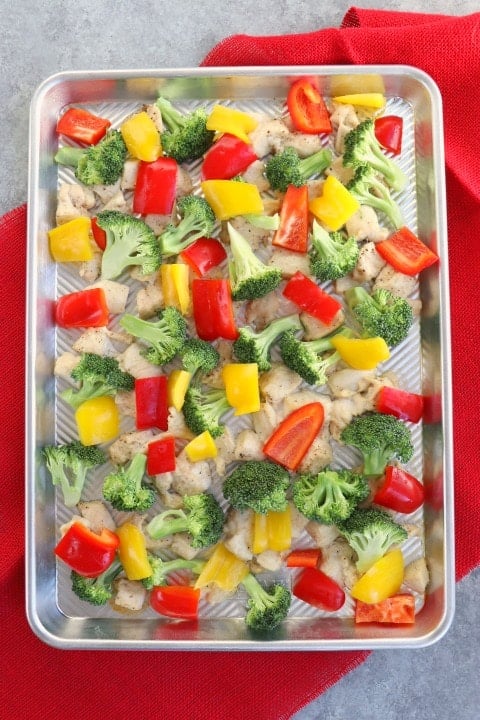 Step 2: Add the Vegetables to the Chicken Pieces and bake for a few more minutes
Remove the chicken from the oven, and add the vegetables to the same pan as the chicken.
FYI – for photography purposes, I neatly placed the vegetables on the pan with the chicken so you can see both the chicken and the vegetables. When making, feel free to just dump them on. 🙂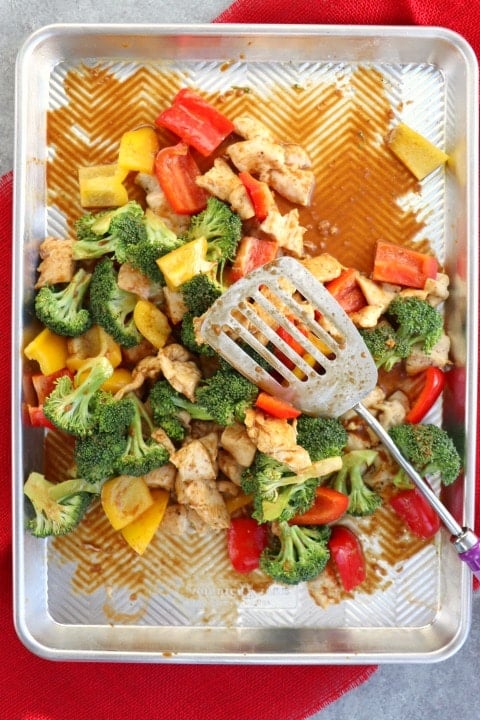 Step 3: Coat the chicken and Vegetables with the sauce
For this healthy cashew chicken, I made a sauce that is much healthier than your average take-out cashew chicken. It's lighter, but still full of flavor. It includes fresh ginger, which I love, and also slightly sweetened with honey.
Pour the sauce all over the chicken pieces and vegetables. Using a spatula or rubber scraper, toss the ingredients together to ensure everything is evenly coated.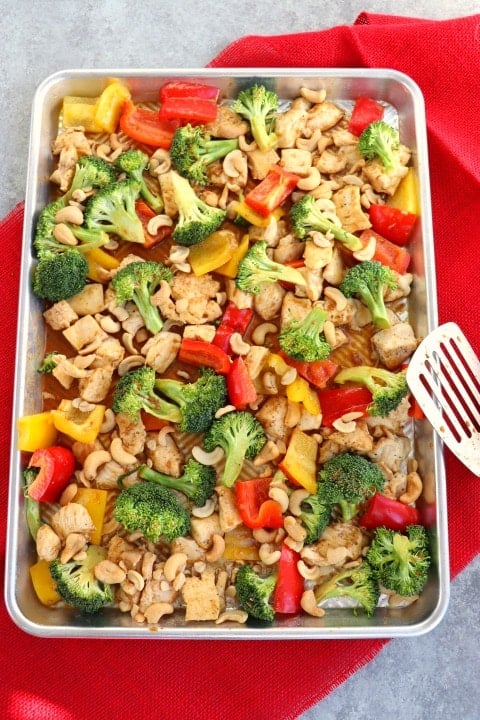 Step 4: Add Cashews and Bake for another 10-12 minutes.
It wouldn't be a cashew chicken recipe without cashews, right?! Toss on the cashews to the coated chicken and vegetables and then place the pan back into the oven for another 10-12 minutes.
The vegetables will roast, the chicken will cook more completely and the cashews will be perfectly toasted.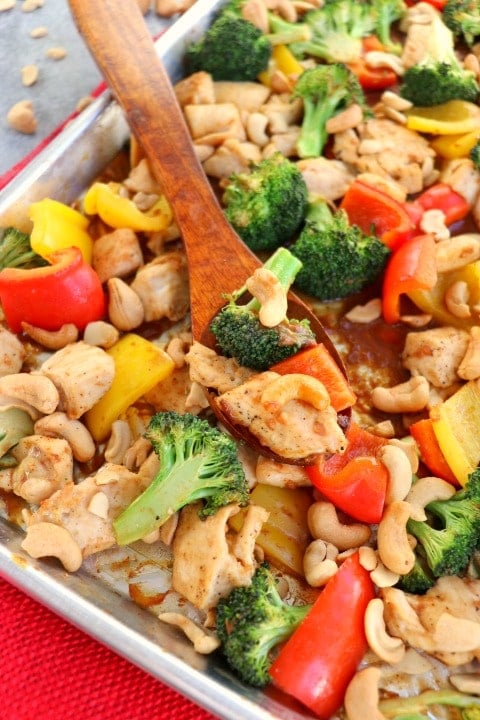 Once this healthy cashew chicken comes out of the oven it is ready to enjoy! Serve with white or brown rice, or for a healthier low-carb option, I like to enjoy it with cauliflower rice.
There you have it! The perfect healthy weeknight dinner idea that everyone in your family will love.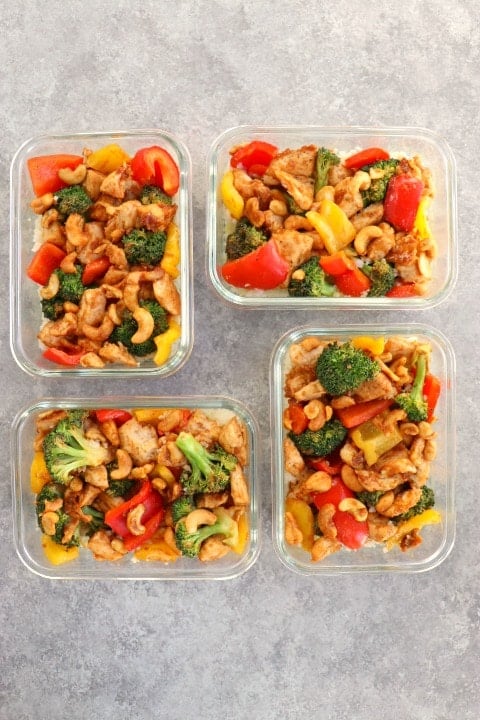 Meal Prep Option: Add a serving of cauliflower rice to the bottom of your meal prep containers. Place a 1 1/2 cup serving of the Healthy Cashew Chicken to each container. Refrigerate for up to five days, or freeze for up to two months. These make for a fantastic healthy lunch to take to work, or for a simple make-ahead dinner idea.
Where to get these meal prep containers: Is meal prepping a part of your weekly routine? Mine too! In fact, I put together a post with my Best Meal Prep Containers where you can purchase all of the containers that I use and love. I've included these meal prep containers, as well as my favorites for food prep & storage and even my favorite kids lunchbox containers.
If you loved this delicious Cashew Chicken recipe, then be sure to check out some of my other similar healthy dinner recipes:
Looking for a few more low-carb, healthy dinner ideas? Check these out: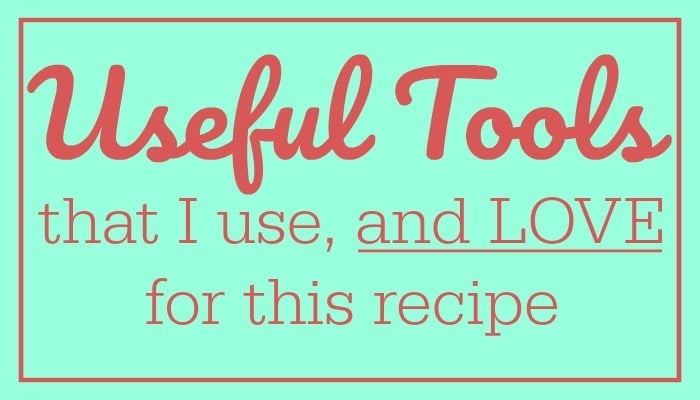 Nordic Ware Natural Aluminum Commercial Baker's Half Sheet (2 Pack), Silver (Amazon link): I absolutely love these sheet pans. Not only are they the perfect size for sheet pan dinners, but are great for making cookies, and even baking a sheet cake. Can't recommend these enough!
Wusthof Classic Ikon 5-Inch Santoku Hollow Edge Knife, Black (Amazon Link): Easily my go-to, favorite knife in my knife block! Fantastic for cutting vegetables, as well as easily cutting meat. Love this knife!
Are you on my e-mail newsletter list? I send all my subscribers my latest recipes and you get lots of tips and tricks all things food! Subscribe to my newsletter and get this FREE Costco Shopping Checklist!
Here's the recipe for my delicious, Healthy Cashew Chicken: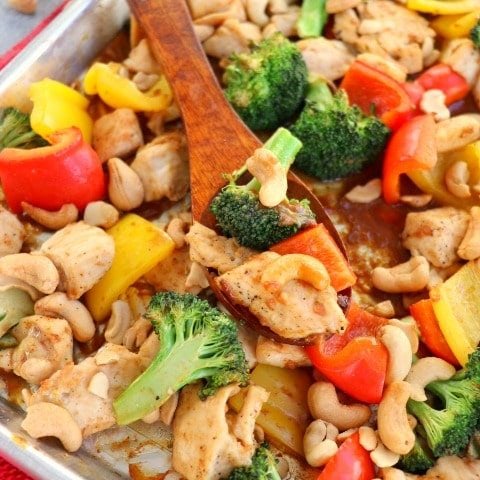 Healthy Cashew Chicken Recipe
This Healthy Cashew Chicken recipe will be your new favorite weeknight dinner idea. Simply made, this sheet pan dinner idea is loaded with veggies and an amazing sauce.
Ingredients
1 1/2 lbs. boneless, skinless chicken breasts, trimmed and cut into cubes
salt and pepper
1 large yellow bell pepper, cut into pieces
1 large red bell pepper, cut into pieces
2 c. broccoli florets
3/4 c. whole cashews or cashew halves
Sauce:
1/3 c. water
1/3 c. low sodium soy sauce
2 Tbsp. rice vinegar
1 Tbsp. Hoisin sauce
1 Tbsp. honey
2 tsp. vegetable oil
2 tsp. minced garlic
2 tsp. grated fresh ginger
1 Tbsp. corn starch
Instructions
Preheat oven to 400 degrees. Spray a baking sheet with non-stick baking spray or coconut oil spray and set aside.
Trim and cut the chicken breasts into cubes and place on to the baking sheet. Bake for 12-15 minutes.
While the chicken is cooking, (using a clean cutting board and knife), cut the vegtetables and set aside in a bowl. Measure out the cashews and set aside.
In a medium bowl, whisk together the sauce. Add the water, soy sauce, vinegar, Hoisin sauce, honey, oil, garlic and ginger and whisk together well. Then add the corn starch and whisk well, ensuring there are no lumps of starch.
Once chicken has precooked, place the vegetables on the sheet pan with the chicken. Pour the sauce over the top of the chicken and vegetables and toss together well to coat the ingredients. Top with the cashews. Bake for another 10-12 minutes.
Remove from the oven and let cool for 5 minutes before serving.
Notes
To keep this recipe low-carb, serve or meal prep with cauliflower rice, versus white or brown rise.
Nutrition Information:
Serving Size:

1 1/2 cups
Amount Per Serving:
Calories:

1656
Total Fat:

65g
Saturated Fat:

11g
Cholesterol:

497mg
Sodium:

3684mg
Carbohydrates:

75g
Sugar:

29g
Protein:

181g