Looking for a healthier Parmesan crusted chicken recipe? This delicious, crispy Baked Parmesan Crusted Chicken is healthier than it's fried counterpart, yet still offers amazing flavor and texture.
This post may contain affiliate links. Delightful E Made is a participant in the Amazon Services LLC Associates Program, an affiliate advertising program designed to provide a means for us to earn fees by linking to Amazon.com and affiliated sites.
Do you love ordering chicken parmesan at your favorite Italian restaurant? This Parmesan crusted chicken recipe is a great way to enjoy that delicious dish at home.
Because this Parmesan crusted chicken is baked and not fried, you're creating a healthier option. In this post I'll show you how easy it is to make this chicken recipe, and still keep it crispy and flavorful!
Ingredients needed to make Parmesan Crusted Chicken:
All purpose flour – this is used to create the outer crust of the chicken
Eggs – eggs are used in an egg wash. This helps the Parmesan coating stick to the chicken.
Panko bread crumbs – these are idea for creating a crispy exterior crust.
Grated Parmesan cheese – the store-bought grated cheese works the best. Save the fresh grated cheese for topping.
Garlic salt – ideal for seasoning the chicken and coating
Dried parsley – great for adding a bit of color to the coating.
Boneless, skinless chicken breast cutlets – it is important to buy the "thin cut" breasts. Regular chicken breasts are too thick for this recipe. If you want to use regular chicken breasts, slice them in half, lengthwise.
Marinara sauce – choose a marinara sauce that doesn't contain added sugar.
Shredded mozzarella cheese – shredded mozzarella is best for topping the chicken and melts perfectly.
For exact ingredient amounts and full recipe instructions be sure to scroll down to the bottom of the post for the recipe. Thanks!
Where is the best place to buy chicken breasts?
I've discovered that Costco has the most economical prices per pound for chicken breasts. The chicken breasts come packed in a 6 (1 lb.) package, so you will have to buy the chicken breasts in bulk.
Check out my page for the 15 Things I Always Buy at Costco for healthy meals and snacks for more recipes, ideas and tips.
How do you make Parmesan crusted chicken?
Start by coating and breading your chicken breast cutlets. You'll need separate bowls that include a flour mixture, and egg wash and the Parmesan panko crust.
Dip each chicken cutlet first into the flour, then the egg wash, and lastly the panko crust.
Once each chicken cutlet is coated, place on a sheet pan with a baking rack. Using a baking rack is very helpful in keeping the underside of the chicken crispy and not soggy.
Once the chicken has baked, top with marinara sauce and shredded mozzarella cheese. Return to the oven to melt the cheese.
Frequently asked questions about making Baked Parmesan Crusted Chicken:
What is Parmesan crust made of?
The Parmesan crust on chicken is made with flour, eggs, garlic salt, Panko bread crumbs and Parmesan cheese.
How do you keep breading on chicken Parmesan?
To keep the breading on chicken Parmesan, make sure you are properly dredging the chicken, first in flour mixture, then beaten egg mixture and lastly the crumb coating. Each layer will help the coating stick to the chicken when it is baked.
How do you keep chicken parm from getting soggy?
When baking the chicken, it helps to bake it on a wire baking rack. The rack elevates the chicken so all sides become crisp and the underside is not soggy.
Does chicken Parmesan have mozzarella?
Chicken Parmesan is typically served with a mozzarella topping, which is melted just before serving.
What pasta goes with chicken Parmesan?
Spaghetti is the most common pasta served with chicken Parmesan. However, feel free to serve any pasta of your liking.
What do I serve with Parmesan crusted chicken?
Pasta – spaghetti is the most traditional pasta to serve with chicken Parmesan, but other noodles like linguini, rigatoni, penne or ziti are all great options.
Vegetables – steam up some broccoli, carrots or your favorite frozen vegetables to add some nutrients and color to your plate.
Salad – toss together your favorite greens and fresh veggies and top with my Healthy Homemade Italian Dressing Recipe, my Greek Yogurt Ranch Dressing or my Healthy Caesar Dressing.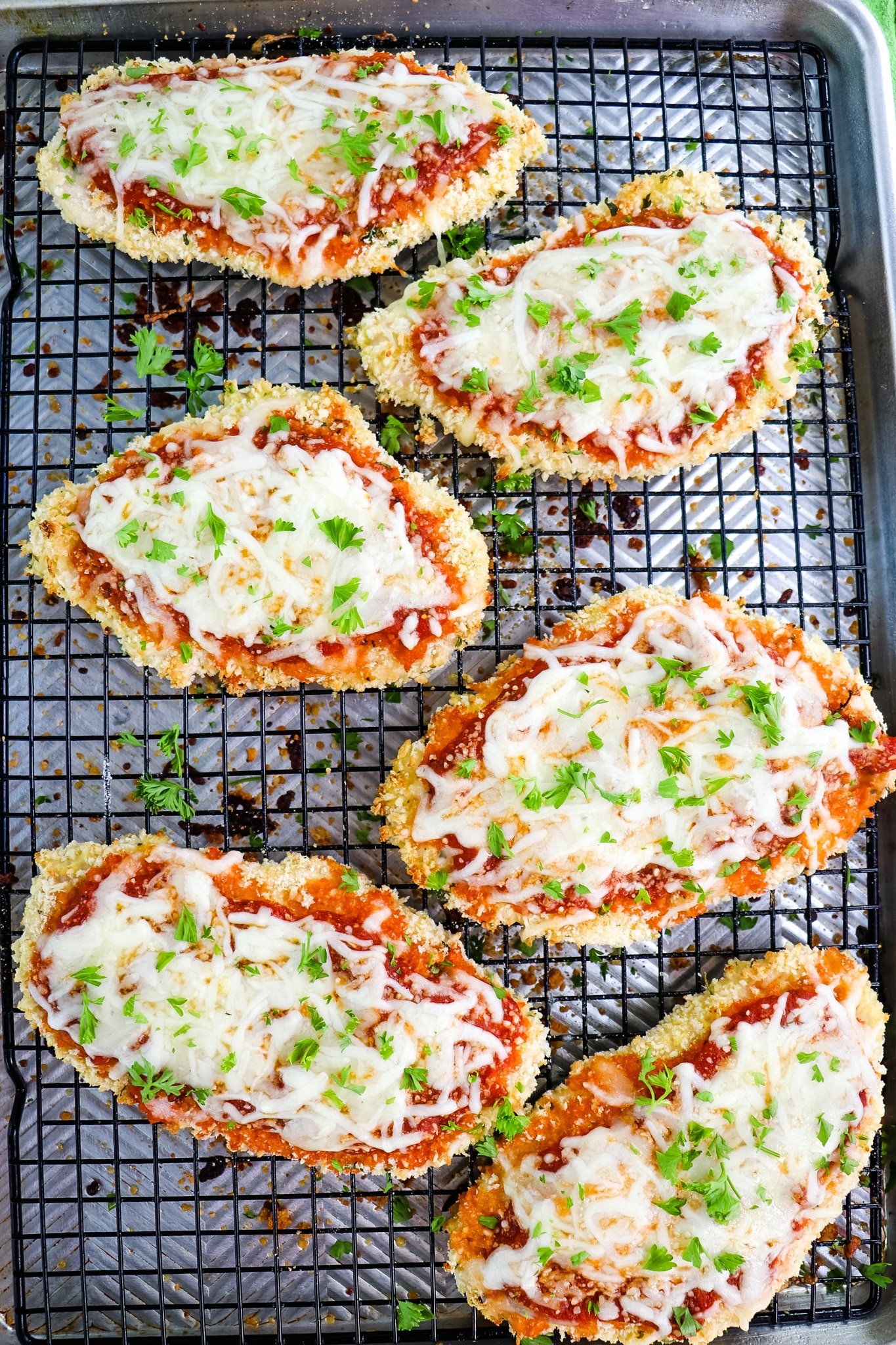 Need more easy dinner ideas? Check out some of our other dinner recipes:
If you loved this chicken recipe, check out some of these other similar recipes using chicken breasts: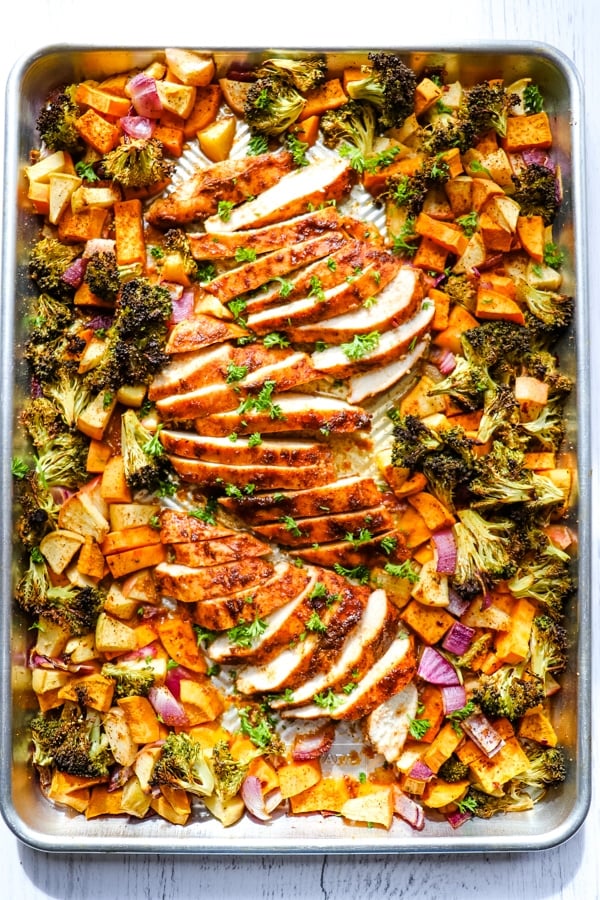 ---
---
Baked Parmesan Crusted Chicken
Looking for a healthier Parmesan crusted chicken recipe? This baked Parmesan crusted chicken is a great alternative to fried, as it stays crispy and tastes just as amazing!
Ingredients
1 1/2 lbs. boneless, skinless chicken breast cutlets (thin sliced chicken breasts)
1/2 cup all-purpose flour
1 tsp. garlic salt
2 large eggs
2 Tbsp. water
2 cups panko bread crumbs
1/2 cup grated Parmesan cheese
For Topping and Serving:
1 cup marinara sauce
2/3 cup mozzarella cheese, shredded
chopped parsley, for garnish (optional)
Spaghetti, cooked al dente, for serving
Instructions
Preheat oven to 450 degrees, and arrange rack in oven to be near to top, around 6" from broiler . Fit a baking rack on to a rimmed baking sheet and lightly spray with non-stick cooking spray. Set prepared pan aside.
In a shallow bowl, mix together the flour and garlic salt. In a second bowl, whisk together the eggs and water. In third bowl, stir together the panko and Parmesan cheese.
Dip each chicken cutlet, first into the flour, shaking off any excess. Then dip into the egg mixture and third, coat with the panko crumbs. Place onto the prepared pan. Repeat the process for each chicken cutlet.
Roast the chicken at 450 degrees for 14-16 minutes or until the chicken is golden brown.
Remove the chicken from the oven, and top each chicken cutlet with 2 tablespoons of marinara sauce. Then add two tablespoons of shredded mozzarella cheese to each cutlet. Bake topped chicken for another 3-4 minutes or until cheese becomes melted.
Top with parsley, if desired. Serve over pasta and additional marinara sauce.
Notes
This chicken is best served the same day. For leftovers, store in an airtight container. Will keep for up to 5 days refrigerated.
Reheat leftovers in a toaster oven or air fryer until exterior is crisp.
Nutrition Information:
Yield:

6
Serving Size:

1
Amount Per Serving:
Calories:

317
Total Fat:

10g
Saturated Fat:

4g
Trans Fat:

0g
Unsaturated Fat:

2g
Cholesterol:

133mg
Sodium:

645mg
Carbohydrates:

26g
Net Carbohydrates:

24g
Fiber:

2g
Sugar:

3g
Protein:

32g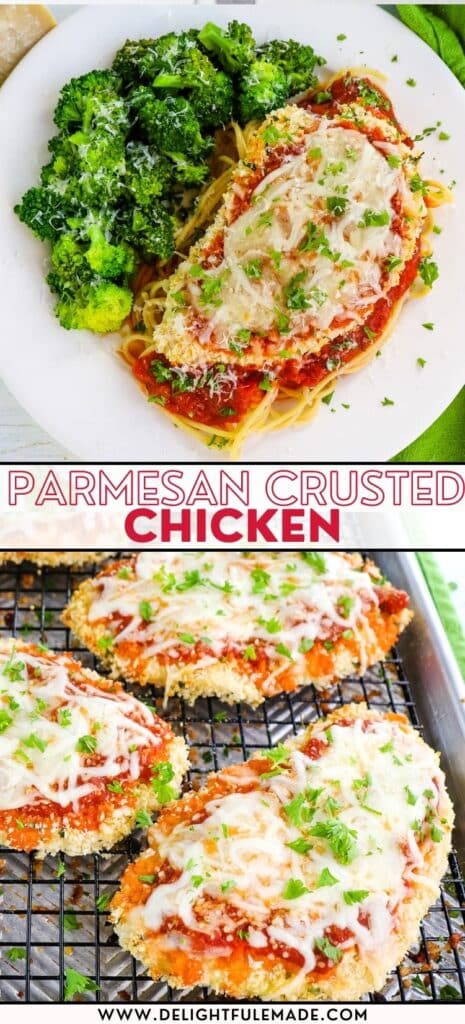 You Might Also Like These Recipes