Do you love ordering Panda Express honey sesame chicken? Now you can make honey sesame chicken Panda Express at home! An amazing sauce with crisp chunks of chicken tasting even better than take-out.
This post first appeared at Savory Experiments where I am a contributor.
This post may contain affiliate links. Delightful E Made is a participant in the Amazon Services LLC Associates Program, an affiliate advertising program designed to provide a means for us to earn fees by linking to Amazon.com and affiliated sites.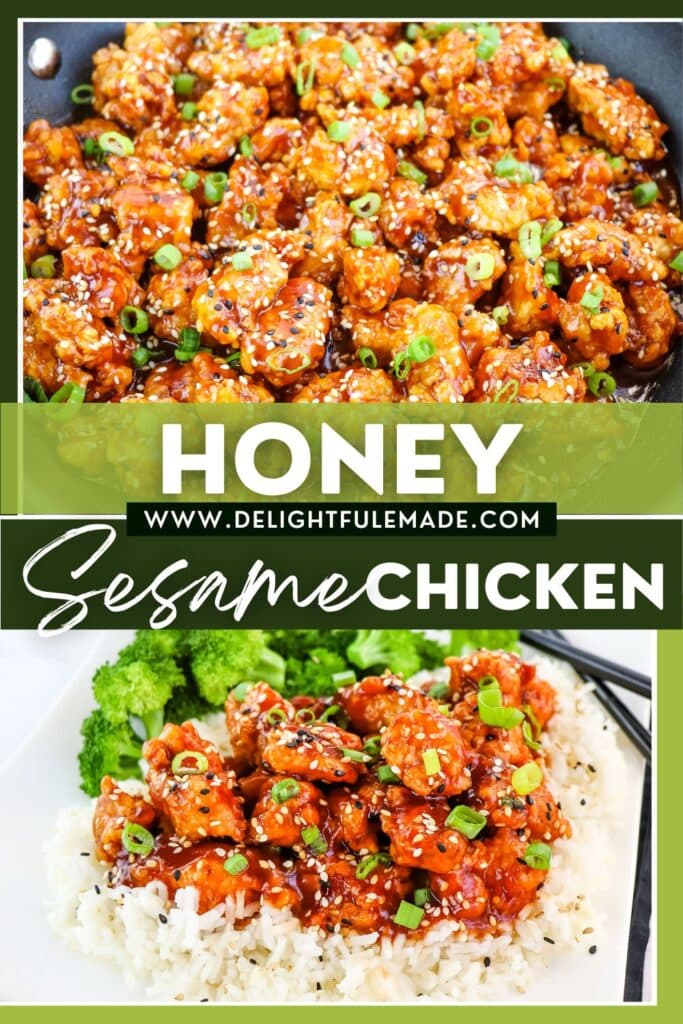 Honey sesame chicken is a great take-out recipe that you can make at home. The crispy chicken is breaded and fried, making it a perfect pairing for the honey sesame sauce.
The honey sesame sauce is just like Panda Express. Sweet, slightly tart and a little spicy. In this post I'll show you exactly how to make the chicken, the sauce and what you'll need for both.
What is sesame chicken?
Sesame chicken is an Asian-inspired dish commonly found in Chinese restaurants in the United States and Canada. It is made of fried chicken pieces coated in a thick sauce made of honey, garlic, ketchup, brown sugar, rice vinegar and sesame oil.
What is in Sesame Chicken?
Here's a checklist of all the ingredients you'll need to make honey sesame chicken:
Boneless, skinless chicken breasts – white breast meat is the most common when making sesame chicken, but you could also use chicken thighs.
Eggs – an important ingredient when breading this chicken. The egg wash will help the breading stick to the chicken keeping it especially crispy.
Flour – an essential ingredient of breading the chicken. Paired with the corn starch, the flour will create a crunchy exterior for the chicken.
Corn Starch – mixed with the flour, the corn starch helps create a crisp exterior for the chicken.
Salt and Pepper
Oil for frying – vegetable oil is most commonly used to fry the chicken; however, you could also use canola, peanut or avocado oil.
Garlic
Honey
Soy Sauce
Ketchup
Chili Sauce – Sambal Oelek chili sauce is ideal in Asian cooking. It brings a great balanced spiciness to the sauce without overpowering. Sambal Oelek can be found in the Asian cooking section of the grocery store. If unavailable, you could also use Sriracha chili sauce.
Brown Sugar
Rice Vinegar
Sesame oil – essential for this sesame chicken recipe. It has a unique flavor that other oils cannot replace.
Sesame seeds – found in the spice section of the grocery store, white or a mix of black and white are typically available. You can also purchase these pre-toasted.
Green onions – a great garnish bringing a pop of color to the dish.
For exact ingredient amounts and full recipe instructions be sure to scroll down to the bottom of the post for the recipe. Thanks!
What is Sambal Oelek?
Sambal Oelek is an Indonesian chili paste made of red-hot chili peppers, vinegar and salt. It is commonly used in Asian cooking to add spiciness to sauces, soups and other dishes.
How do I make honey sesame chicken?
First, start by preparing the chicken to be fried. In separate bowls, you'll combine the eggs salt and pepper, flour and cornstarch, and the chicken which has been cut into 1" pieces.
Dredge the chicken pieces in the egg wash, then lightly coat with the flour mixture, shaking off any excess coating. It works best to coat all the chicken in small batches, placing the coated chicken on a pan.
To a large skillet or Dutch oven, heat the cooking oil. Gently place chicken pieces into the oil and cook until golden brown. Transfer the cooked chicken to a pan lined with a rack or paper towels to drain off any excess oil. Work in smaller batches of chicken (about 10-12 pieces at a time) to help keep the oil at a consistent temperature and to ensure the chicken pieces don't stick together.
How do I make sesame chicken sauce?
In a large skillet, sauté the garlic in oil.
To the skillet, whisk in the honey, soy sauce, ketchup, brown sugar, rice vinegar, chili sauce, sesame oil and corn starch.
Heat over medium low heat and bring to a low simmer. Once the sauce comes to a simmer, the cooked chicken can be added to the sauce. Toss the chicken in the sauce to coat completely.
Can sesame chicken sauce be made in advance?
Sesame chicken sauce can be made up to two days in advance. Whisk the sauce together and store in an airtight container in the refrigerator.
What can I serve with Panda Express honey sesame chicken?
Rice – white or brown rice are great options for serving the honey sesame chicken.
Cauliflower rice – you can find riced cauliflower in most frozen food sections of the grocery store. A great low carb option, too. Love cauliflower rice, check out my Cauliflower Shrimp Fried Rice.
Steamed Vegetables – Fresh broccoli, carrots, and peas are all great options. Feel free to grab a bag of your favorite frozen vegetables and heat in the microwave for another easy option. Try my Sauteed Broccoli with Garlic or my Sauteed Carrots.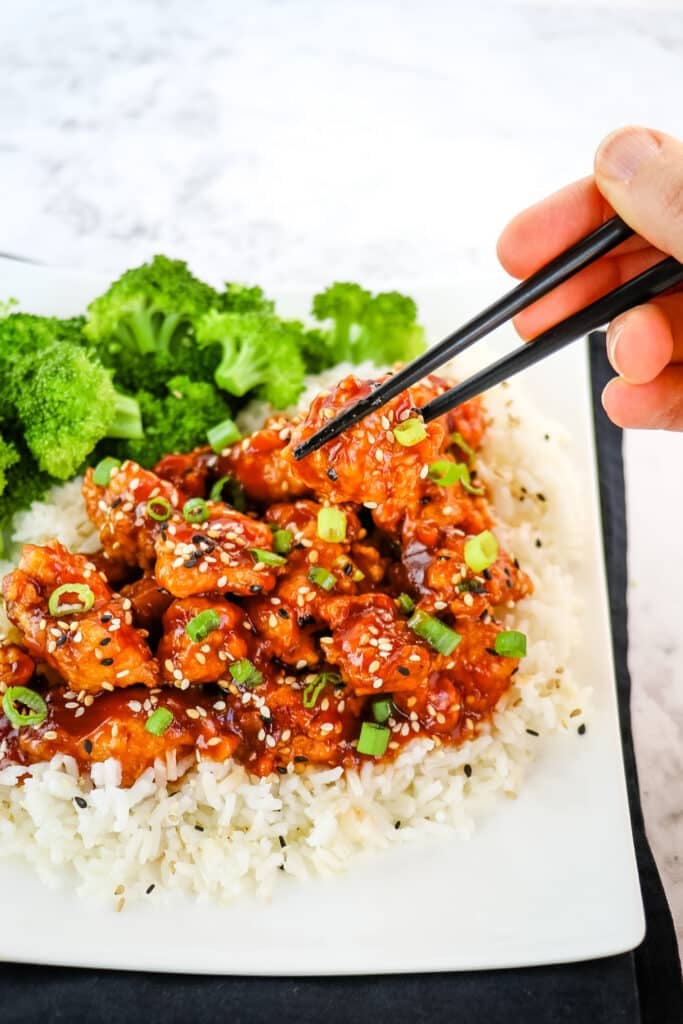 Do you love the ease of cooking with boneless, skinless chicken breasts? Check out my Honey Dijon Chicken, Creamy Tuscan Chicken Pasta and my Chicken Broccoli Alfredo.
Wondering where is the best place to buy boneless, skinless chicken breasts? I've discovered that Costco has one of the best prices per pound for chicken breasts. Check out my post for 15 Things I Buy at Costco for Healthy Meals where I list chicken breasts as one of my top favorites!
If you loved this Asian-inspired recipe, check out some of these other similar recipes: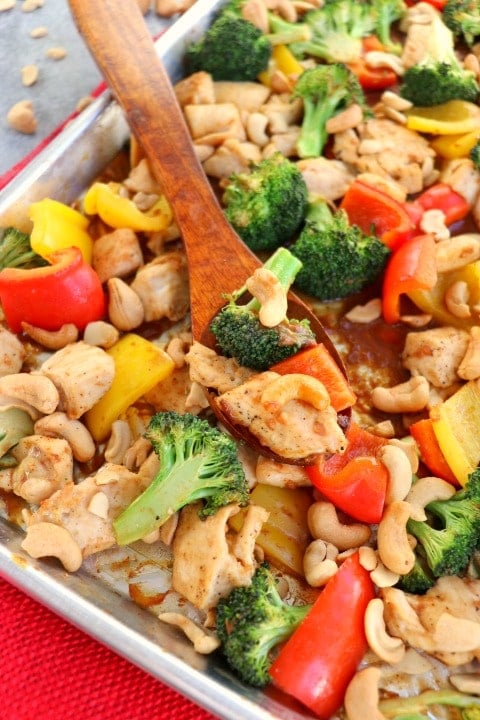 ---
---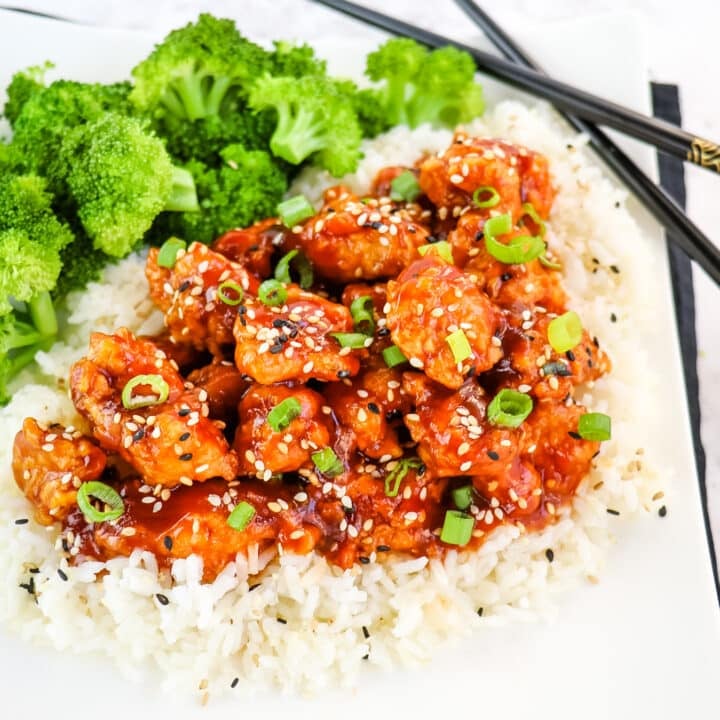 Honey Sesame Chicken
If you love Panda Express honey sesame chicken, then you need to make this honey sesame chicken recipe. Made with crispy chicken and an sweet, tangy sauce, this honey sesame chicken is better than take-out!
Ingredients
For Crispy Chicken:
1 ½ lbs. boneless, skinless chicken breasts, cut into 1" pieces
2 eggs, slightly beaten
Salt and Pepper to taste
¾ cup all-purpose flour
½ cup corn starch
Vegetable oil for frying (approximately 3 cups)
For Honey Sauce:
1 tablespoon minced garlic
1 tablespoon olive oil
½ cup ketchup
1/3 cup honey
1/3 cup soy sauce
3 tablespoons rice vinegar
3 tablespoons brown sugar
2 tablespoons sesame oil
1 tablespoon Sambal Oelek, or other preferred chili sauce
1 tablespoon corn starch
For Garnish:
2 tablespoons toasted sesame seeds
2 tablespoons green onions, sliced
Instructions
To a dry skillet, add the sesame
seeds. Heat over medium heat, and stir until slightly fragrant, about 2-3
minutes. Remove from heat and transfer to bowl. Set the seeds aside.
In a medium bowl, whisk together the eggs, salt and pepper. Set aside.
In another bowl, combine the flour and corn starch. Stir together with fork and set aside.
Working in small batches, dredge the chicken pieces first in the egg wash, then into the flour mixture, shaking of any excess coating. Place the coated chicken pieces on a pan. Repeat the process until all chicken is coated.
To a large skillet or Dutch oven, heat the cooking oil over medium-high heat until it reaches 350 degrees. Place 10-12 pieces of coated chicken into the hot oil. Cook for 3-5 minutes or until the chicken is golden brown. Using a metal slotted spoon, remove the chicken from the oil and place on a sheet pan with a rack to drain off any excess oil and to keep the chicken crisp. Repeat until all the chicken is cooked.
While chicken is cooking, add the olive oil to a large skillet and heat over medium-high heat. Add in the garlic and cook for 2-3 minutes, or until golden and aromatic. Reduce heat to low and whisk in the ketchup, honey, soy sauce, brown sugar, rice vinegar, sesame oil, chili sauce and corn starch. Heat over low until sauce comes to a low simmer.
To the simmering sauce, add in the cooked chicken, and stir together to coat well. Garnish with the toasted sesame seeds and sliced green onions. Serve over rice, if desired.
Notes
This recipe is best when cooked the same day. The chicken will be the most crispy when serving right after coating in the sauce.
Storage: Store any leftovers in an airtight container in the refrigerator. Leftovers
will keep for up to three days refrigerated.
Nutrition Information:
Yield:

6
Serving Size:

1
Amount Per Serving:
Calories:

520
Total Fat:

16g
Saturated Fat:

3g
Trans Fat:

0g
Unsaturated Fat:

12g
Cholesterol:

158mg
Sodium:

1178mg
Carbohydrates:

52g
Fiber:

1g
Sugar:

25g
Protein:

41g