Looking for a healthy recipe for pumpkin bread with chocolate chips? I've got you! My Healthy Pumpkin Bread Recipe leaves out the unhealthy oil and refined sugar and replaces it with good-for-you ingredients. It's moist, flavorful and completely delicious!
This post may contain affiliate links. Delightful E Made is a participant in the Amazon Services LLC Associates Program, an affiliate advertising program designed to provide a means for us to earn fees by linking to Amazon.com and affiliated sites.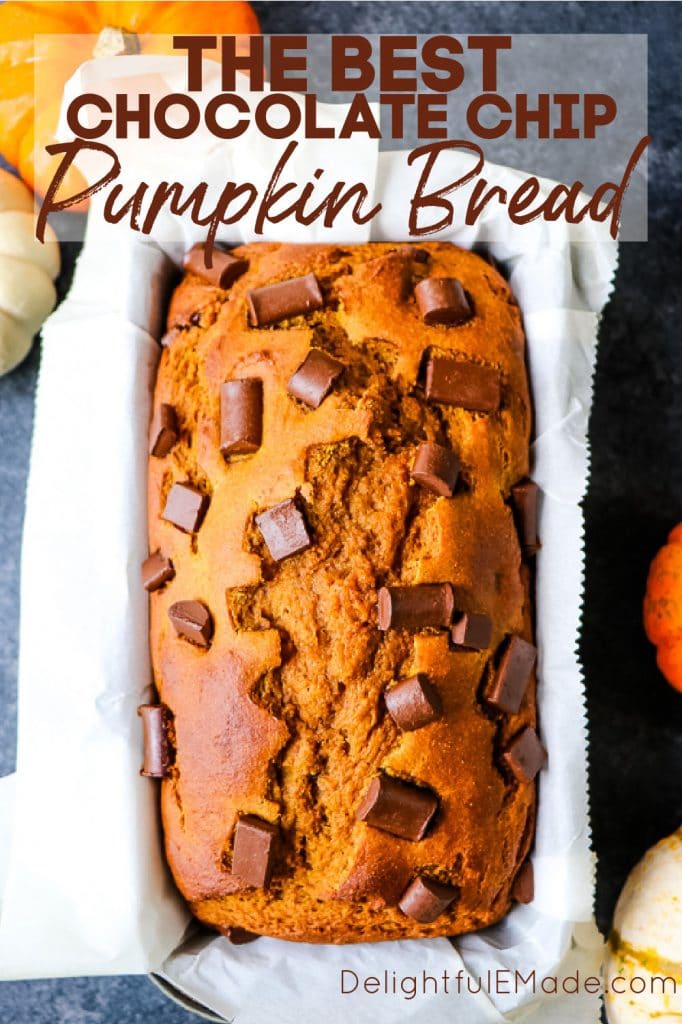 Healthy Pumpkin Bread with Chocolate Chips
If you love Starbucks Pumpkin Loaf, but not all the sugar, fake oils and calories then I've got a treat for you. This Healthy Pumpkin Bread recipe is amazing. All the same great flavors as the Starbucks version, but this one is made with NO refined sugar and NO oil!
Instead I've swapped in better for you ingredients like Greek yogurt to replace the oil and honey and maple syrup to keep this snack sweet. Making this pumpkin bread healthy is one of the best things you can treat yourself to!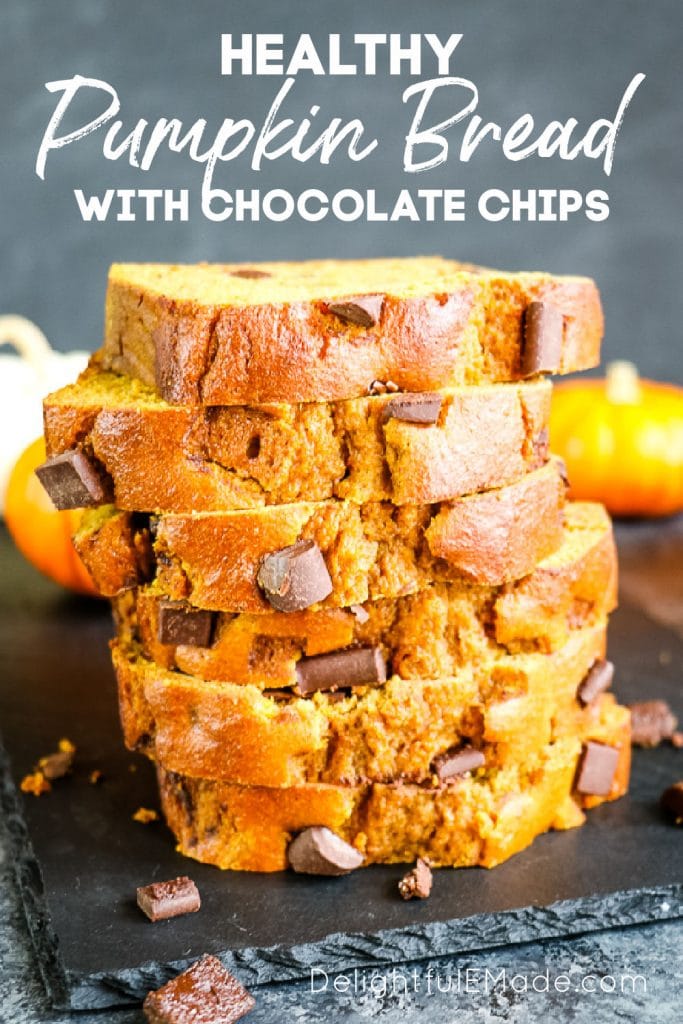 Pumpkin bread is one of my favorite fall treats. But I can't stand the fact that it contains so much sugar, unhealthy oils and excessive calories! FYI – A slice of Starbucks Pumpkin Loaf contains 39g of sugar, and 410 calories. Dunkin Donuts Pumpkin Coffee Cake Muffin has 40g of sugar and 550 calories!
With this in mind, I went on a mission to create the best possible tasting slice of pumpkin bread without using two things: refined sugar or oil. The results where quite impressive and I couldn't believe how delicious this bread turned out! Here's how I did it.
The simple steps to making a healthy pumpkin bread recipe: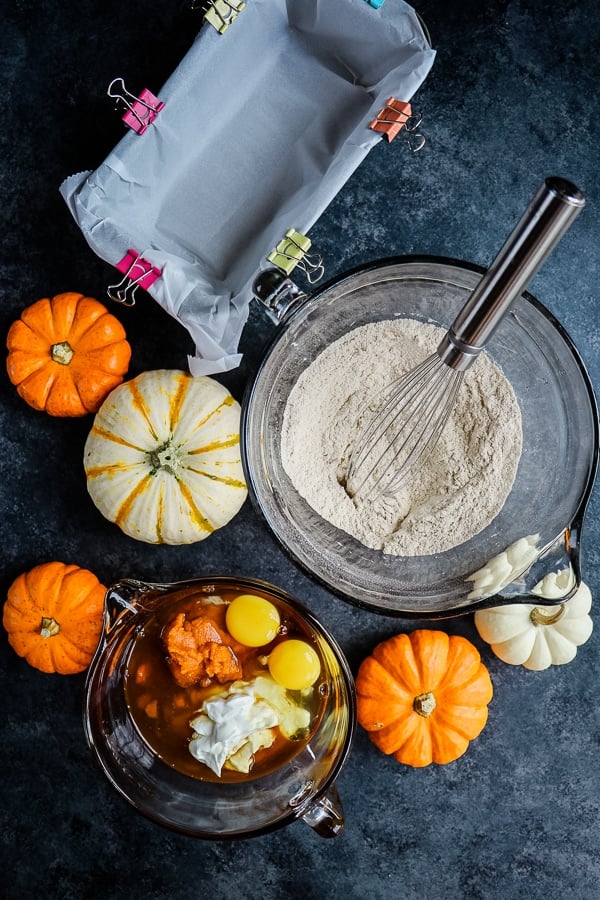 Step 1: Start by mixing the dry and wet ingredients separately
Just like any other quick bread recipe, this one starts by mixing the dry ingredients and wet ingredients in separate bowls. The dry ingredients include:
White Whole Wheat Flour (unbleached & unbromated – more on what unbromated means below)
Baking powder
Baking soda
Pumpkin Pie Spice (if you don't have this, you can also add cinnamon, ginger, cloves and nutmeg, which I will outline in the recipe)
Salt
For the wet ingredients you'll need:
Canned Pumpkin Puree (NOT pumpkin pie mix – be sure to look for 100% pumpkin)
Eggs
Plain Greek Yogurt (I prefer whole milk, full fat yogurt – I like Fage)
Maple Syrup
Honey
Vanilla Extract
Chocolate Chunks (these are optional, but a fantastic add-in!)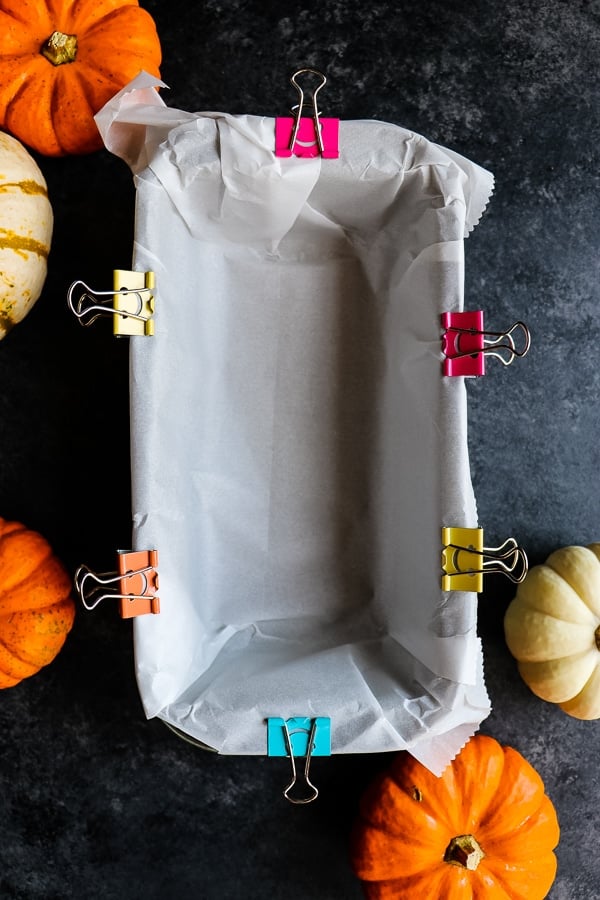 Step 2: Line a 9 x 5″ loaf pan with parchment paper
I got rid of my non-stick baking spray quite a long time ago for parchment paper sheets instead. This also helps eliminate some of those bad-for-you oils! You guys – these sheet are amazing, and the perfect size for a loaf pan or cookie sheet. Get these easy pre-cut parchment paper sheets here (Amazon Affiliate Link).
Press the sheet into the pan and secure the sides of the paper with binder clips. I've found this little trick to be useful. It helps keep the paper in place when pouring the batter into the pan. Just don't forget to remove the clips – these are not oven-safe.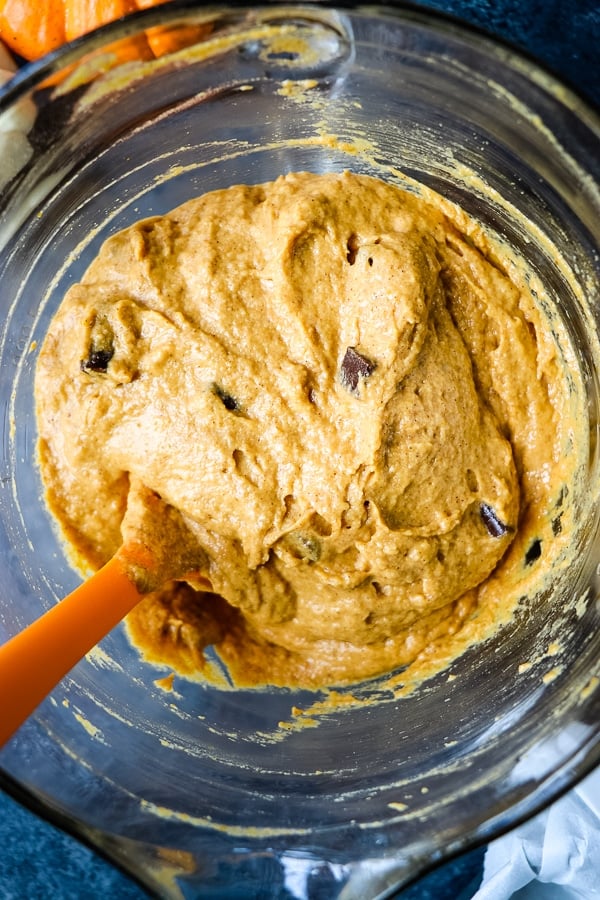 Step 3: Mix the dry & wet ingredients, and fold in chocolate chunks
Once you've mixed your wet and dry ingredients separately, you'll add both together to create your batter. Use a rubber scraper to make sure you adequately scrape down the side of the bowl.
Once the wet and dry ingredients are fully incorporated, you can then fold in 1/2 cup of the chocolate chunks.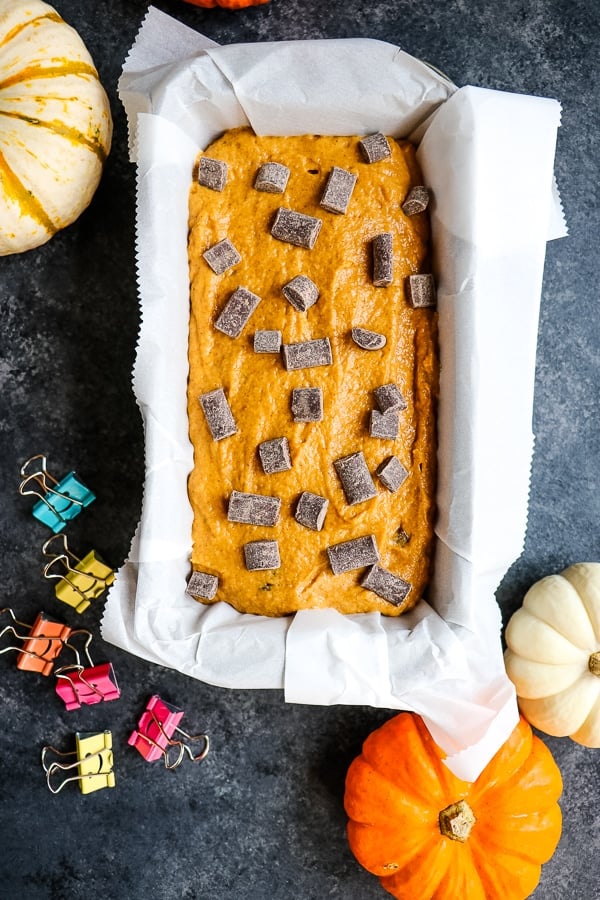 Step 4: Add chocolate chunks to the batter and top
This is an optional ingredient, but these chocolate chunks really make this recipe. Feel free to leave them out if you would prefer to go even lower with calories.
Here are chocolate chunks I used in this recipe: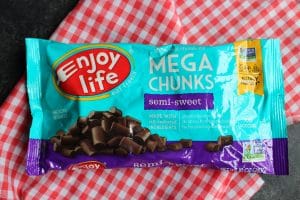 I wanted to keep this recipe on the healthier side, but because I removed quite a bit of sugar from this recipe, I wanted to replace it with a bit of sweetness from chocolate.
I chose to use these chocolate chunks from Enjoy Life. (Not sponsored, just really like this product.) If you cannot find these chocolate chunks in your grocery store health food section, you can get them here on Amazon. (Amazon Affiliate Link)
These chocolate chunks contain just 3 ingredients: cane sugar, unsweetened chocolate and cocoa butter. Yep, just 3 ingredients!! No weird oils or fillers like some other chocolates have.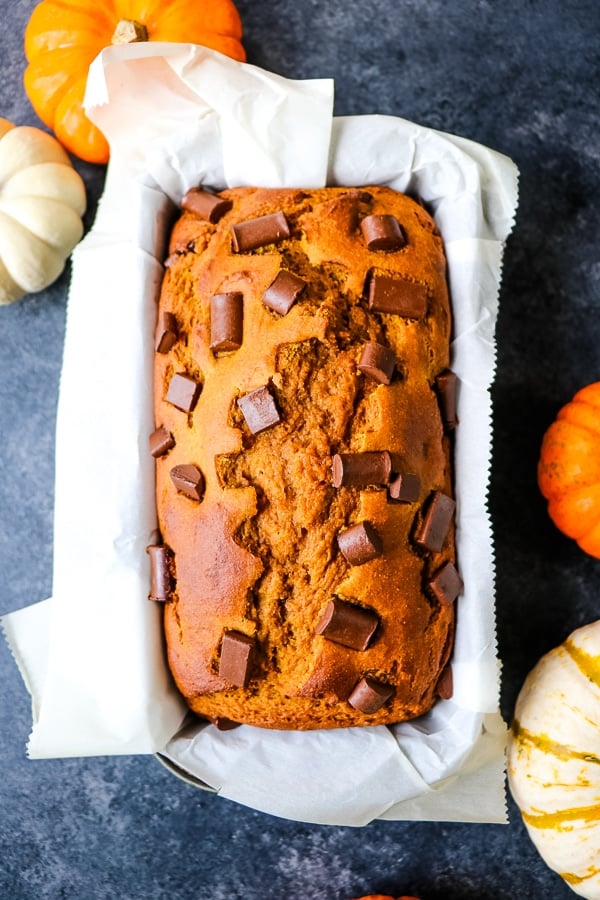 What makes this pumpkin bread healthy?
No processed sugar: Many recipes have granulated sugar and brown sugar, which are both highly processed. Instead, I've substituted the sweetener in this recipe with honey and maple syrup. A little bit of these goes a long way, so only 1/4 a cup of each is necessary.
No fake or toxic oils: An ingredient that continues to get us in trouble is vegetable oil, canola oil and other highly processed, toxic oils. To eliminate oil from this recipe, I've substituted it with plain full-fat Greek yogurt. The yogurt does an amazing job. It keeps the bread moist, and helps retain a great consistency.
Using white whole wheat flour instead of bleached, processed all-purpose flour. I tested this recipe with multiple flour types, and found that white whole wheat (unbromated) maintained the best consistency for this bread. If you can, look for unbromated on the label of the white whole wheat. Unbromated means it is a higher protein baking flour that does not contain potassium bromate.

Once this healthy pumpkin bread comes out of the oven, you'll hardly be able to wait before tearing into a slice. You guys!! For being a "healthy recipe" this pumpkin bread is incredible. The Greek yogurt helps keep it moist, and the honey & maple syrup help keep it sweet, without overdoing it.
I hope you get to enjoy this recipe soon. It's perfect for making for your next fall gathering, work meeting, or school function. Great when you want to take something sweet, but not completely unhealthy. This is also a great option for when you want to keep things in check, but still have something enjoyable.

If you loved this delicious pumpkin bread with chocolate chips, then be sure to check out some of my other healthy breakfast & snack ideas:
If you love quick bread, check out some of my top recipes:
Here's the recipe for my delicious Healthy Pumpkin Bread: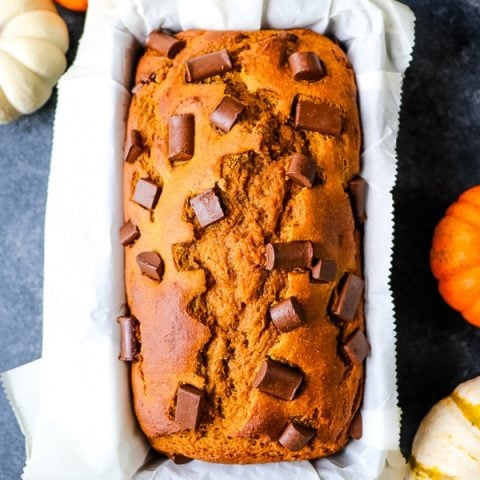 Healthy Pumpkin Bread
Total Time:
1 hour
15 minutes
Looking for a way to make pumpkin bread healthy? I've got you! My Healthy Pumpkin Bread Recipe leaves out the unhealthy oil and refined sugar and replaces it with good-for-you ingredients. It's moist, flavorful and completely delicious!
Ingredients
1 c. canned pumpkin puree (NOT pumpkin pie filling)
2 eggs
1/2 c. plain Greek yogurt
1/4 c. maple syrup (use REAL maple syrup, not pancake syrup)
1/4 c. honey
1 tsp. vanilla extract
1 1/2 c. white whole wheat flour
2 tsp. pumpkin pie spice
1 tsp. baking powder
1/2 tsp. baking soda
1/2 tsp. salt
2/3 c. chocolate chunks, divided (optional)
Instructions
Preheat oven to 350 degrees. Line a 9 x 5" loaf pan with parchment paper. Set aside
In a mixing bowl, whisk together the wet ingredients: pumpkin, eggs, yogurt, honey, maple syrup and vanilla. Set wet ingredients aside.
In a separate bowl, combine the dry ingredients: flour, pumpkin pie spice, baking powder, baking soda and salt. Add the wet ingredients to the dry ingredients, and stir together with a rubber scraper until fully combined. Batter will be thick. Fold in 1/2 cup of the chocolate chunks, reserving the rest for the top of the loaf.
Pour batter into prepared pan, and spread evenly. Top with the remaining chocolate chunks.
Bake for 55-60 minutes at 350 degrees. After 45 minutes I would recommend topping the loaf with a sheet of aluminum foil to prevent over-browning.
Remove from oven and let cool to room temperature. Lift loaf out of pan by the edges of the parchment paper. Slice and enjoy!
Notes
If you do not have Pumpkin Pie Spice on hand you can use the following: 1 tsp. cinnamon, 1/2 tsp. ginger, 1/4 tsp. cloves, 1/4 tsp. nutmeg.
Nutrition Information:
Serving Size:

12 slices
Amount Per Serving:
Calories:

184
Total Fat:

4g
Saturated Fat:

2g
Sodium:

254mg
Carbohydrates:

35g
Sugar:

13g
Protein:

5g