Award winning Banana Bread recipe! The best (and only!) recipe for banana bread you'll ever need. Moist, flavorful and super delicious!
If you knew me when I was a kid back in rural  South Dakota, you knew that I was heavily involved in 4-H.  I was in 4-H from the ages of 8 to around 16 or 17.  I can't even begin to tell you how much 4-H taught me – everything from the basics of cooking and baking, to food safety, horticulture and gardening, sewing, stitching, food preservation and canning, photography, art, and even the basics of dairy cows!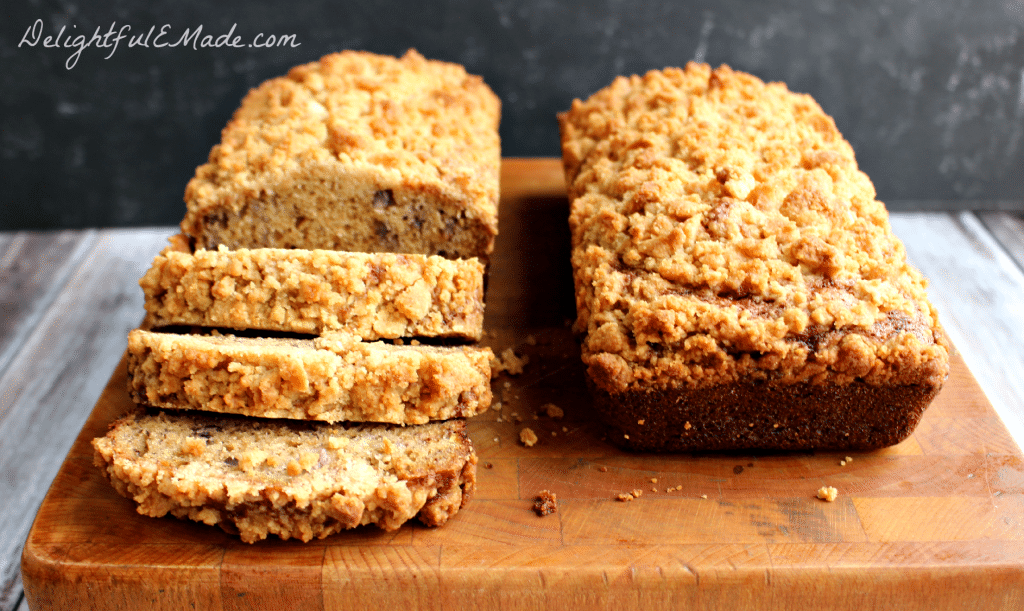 Summer is usually when my brother and I were the most active in 4-H, as this was the time to prepare all of your exhibits for county achievement days.  For several years, my mom's car would be packed full of stuff that we were taking to be judged at Achievement days, and if you did an especially good job on your item/exhibit, you would receive a purple ribbon, and then get to submit that item again for the State Fair.  This Purple Ribbon Banana Bread is one of my very favorite recipes that I've been making since about 8 years old.  And it ALWAYS won a purple ribbon!!  (Thus, the name!)
This Banana Bread recipe, is moist, delicious and super flavorful!  When its baking in the oven, your entire house smells of the most beautiful, sweet delicious aromas you can possibly imagine.  Its topped with a delightful crumble topping which gives in an amazing texture that complements the bread beautifully!  The bread itself it not overly dense or heavy – in fact is has a lightness that melts in your mouth!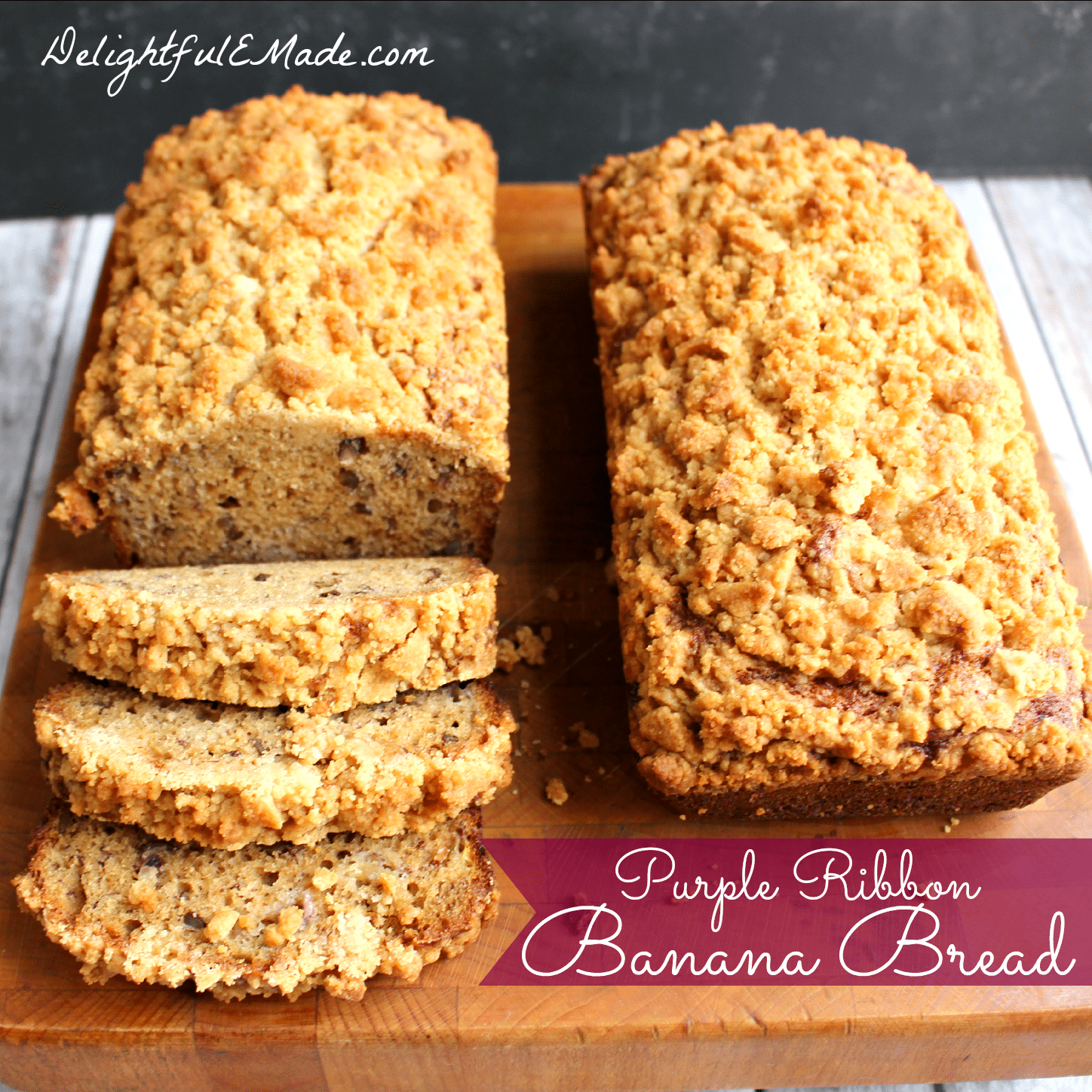 The best thing about this recipe is how easy it is to make!  Honestly, I was making this bread at the age of 8 – its pretty simple.  The recipe makes two loaves if you're using the 3 1/3 x 7 1/2″ pans, but you can also make mini loaves if you have the pans for it.  (Adjust your baking times accordingly – mini pans usually require around 30 min of baking time.  Always test with a toothpick before removing from the oven.)

Erin Indahl-Fink
Yields 16-20
Purple Ribbon Banana Bread
This classic quickbread is easy to make, and tastes amazing! Perfect for a light breakfast, or a snack with coffee or tea. A family classic!
20 minPrep Time
45 minCook Time
1 hr, 5 Total Time
Ingredients
3 ripe bananas, mashed
1/2 c. vegetable oil
1 c. granulated sugar
2 eggs
4 1/2 tsp. lemon juice (juice of 1/2 lemon)
2 c. flour
1/2 tsp. baking powder
1 tsp. baking soda
1/2 tsp. salt
1/2 c. chopped pecans or walnuts
Crumb Topping:
1/3 c. softened butter, (NOT melted, just softened)
1/3 c. light brown sugar
2/3 c. flour
Instructions
Preheat oven to 350 degrees. Line the bottoms of (2) 3 1/2" x 7 1/2" loaf pans with waxed paper. Additionally, spray pans with paper bottoms with nonstick baking spray. Set pans aside.
In mixing bowl combine mashed bananas, oil, sugar, and lemon juice. Set aside.
In another mixing bowl, combine the flour, baking soda, baking powder, and salt. Gradually add the dry ingredients to the wet mixture. Stir until batter is combined. Lastly, stir in the chopped nuts. Evenly pour the batter into the prepared pans.
For the crumb topping: In a bowl, combined the softened butter, brown sugar and flour. Mix with a fork until crumbly. Sprinkle over the batter of each loaf.
Bake at 350 degrees for 40-45 minutes or until toothpick inserted comes out clean and free of crumbs. Let cook on rack for 10 minutes before removing from pans. Remember to remove the waxed paper from the bottoms. Slice warm or let cool.
7.8.1.2
64
https://delightfulemade.com/2014/03/18/purple-ribbon-banana-bread/
Copyright by DelightfulEMade.com
This Purple Ribbon Banana Bread recipe has been in my family for decades!!  Its a classic, and my dad will even whip up a batch when he's in the mood.  He's also been known to throw some chocolate chips into the batter on occasion.  I hope you get to enjoy this recipe with your family – as it has been enjoyed for many years by mine!
Enjoy,
Erin