Spooktacular Halloween Buffet Ideas from Dollar General
Looking for some awesome Halloween party food ideas? I've put together some of my favorite Halloween party appetizers and sweet treats to create a simple, fun and budget-friendly Halloween party buffet!
This post was created in partnership with Dollar General. All photos, ideas and opinions are 100% my own. #sponsored #DollarGeneralFinds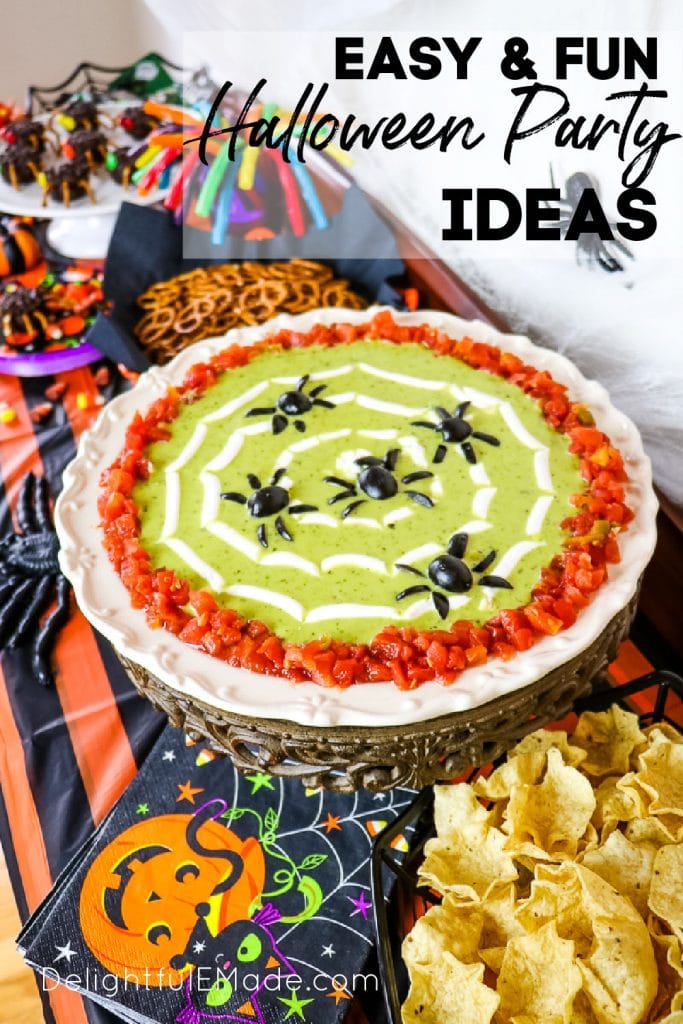 Spooktacular Halloween Party Food Ideas for kids and adults!
Are you thinking of having your neighbors and friends over for a Halloween party before you head out to trick-or-treat? Maybe you're hosting a fun costume party for your kids and their friends. I've got everything you need to create a "Spooktacular" Halloween party buffet!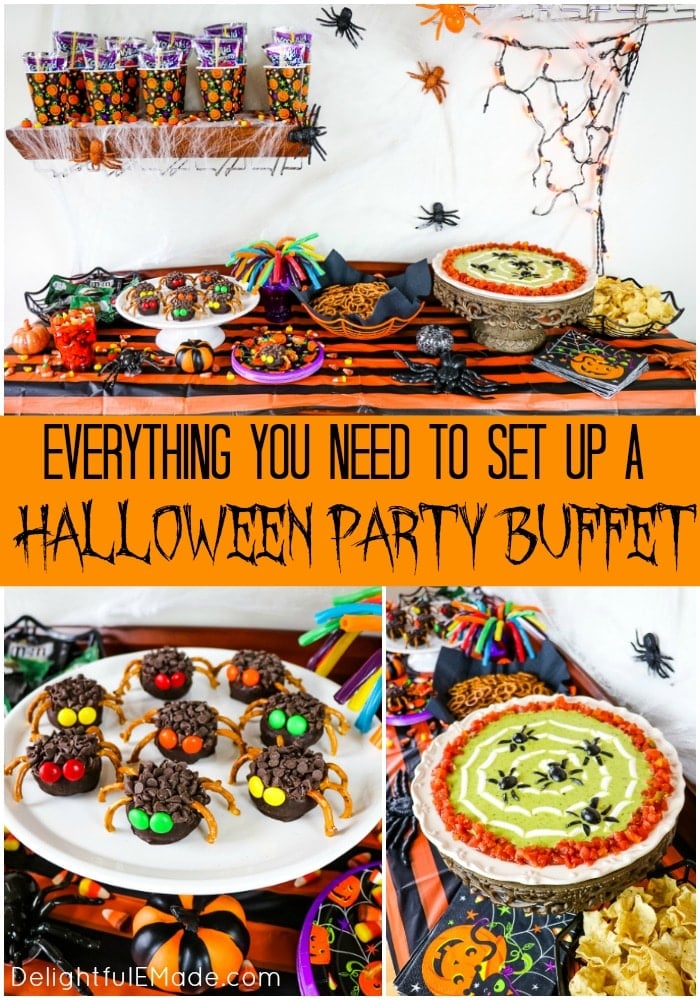 Tip #1: Stop at Dollar General to Pick up all of your supplies
One of the many reasons I love Dollar General is that they carry food, supplies AND décor for all of your seasonal parties and events. They have a great selection of Halloween party décor, costumes, and tableware for your party. Here's what I picked up for my Halloween party buffet:
Halloween themed plates, cups and napkins

Black & Orange Halloween tablecloth

Spiderweb serving bowls for my pretzels, chips and candy

Lots and lots of spooky spiders – they have some awesome Halloween themed items!

Spiderwebs & Spiderweb lights
For the food, I found all of my ingredients at Dollar General! Here's what I picked up:
Halloween Candy – Dollar General has LOADS of Halloween candy for your party and for trick-or-treat'ers all at a great price!

Multi-Color Rainbow Twist Twizzlers for the candy station

Candy Corn Mix

Drinks: I picked up Kool-Aid Jammers for my son & his friends

ALL of the Ingredients for my Donut Spiders: Pretzels, M&M's, Clover Valley Mini Chocolate Chips, Chocolate Frosting & Mini Donuts.

ALL of the Ingredients for my Spiderweb Bean Dip: Clover Valley Refried Beans, Salsa and diced tomatoes with chilies, taco seasoning, sour cream, guacamole dip and black olives. I also made sure to pick up plenty of chips and pretzels to serve with the dip.
Tip 2: Create a Sweets Station with Candy and these Spooky Spider Donuts:
Sweets are definitely a big draw for kids (and grown-ups!) for Halloween! No party would be complete without some yummy sweet treats and candy to enjoy. Here's what I included in this sweets station on my Halloween Party Buffet: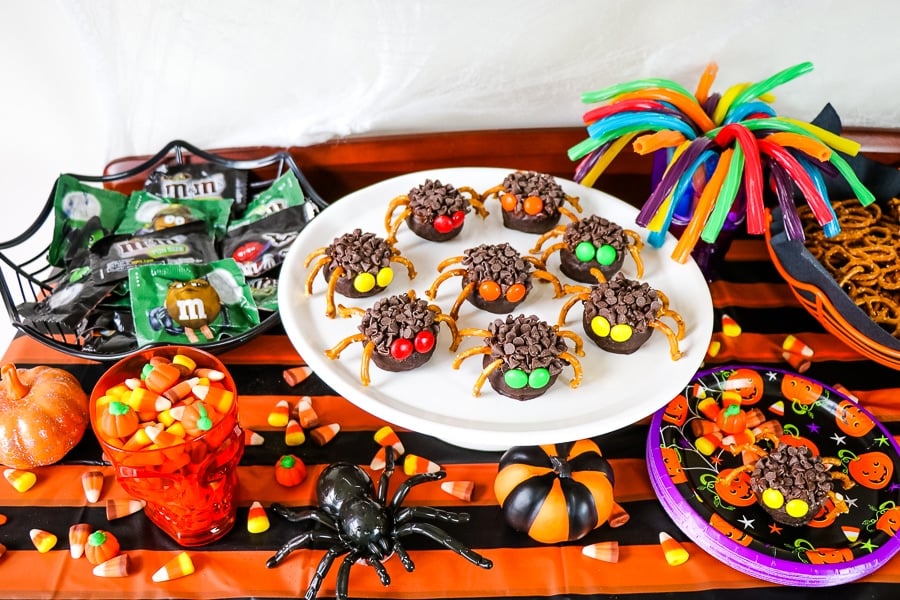 Rainbow Twist Twizzlers – a fun, colorful addition to any party table.

M&M's Candy

Candy Corn Mix – great in a cool skull cup (found at Dollar General!) and added to the buffet table for some color.

These fun and festive Spooky Spider Donuts – these are simple to assemble using ingredients you can pick up at

Dollar General

.
For the ingredients, you'll need TastyKake Chocolate-Covered Mini Donuts, Betty Crocker Chocolate Frosting, Rold Gold Tiny Twist Pretzels, Milk Chocolate M&M's candies and Clover Valley Mini Semi-Sweet Chocolate Morsels. You can find all of these ingredients at Dollar General.
Here's how easy it is to assemble these adorably spooky donut spiders.
Top each of the mini-donus with about 1 tsp. of the frosting.

Dip the frosting side into the mini chocolate chips.

For the spider eyes, add two of the same color M&M candies. Use the frosting to keep the eyes in place.

For the spider legs, use pretzel 6 pretzel pieces. Insert 3 pretzel pieces on each side of the donut.
Not only are these donuts easy to put together for a party, they look amazing on your Halloween buffet and kids and grown-ups will love them!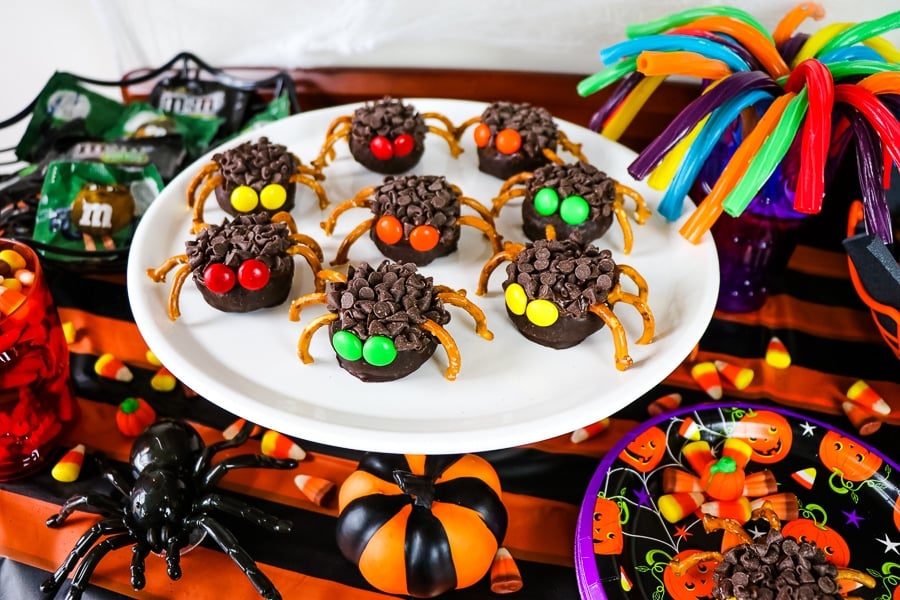 Looking for some other easy Halloween sweet treats? Check out these fun, simple recipes:
Double Chocolate Candy Corn Cookies
Chocolate Sugar Cookie Spiders
Tip 3: Have some delicious Halloween Party Appetizers on your buffet!
Along with your sweet treats, having at least one appetizer or something savory is essential for your Halloween buffet.
I created this fun and simple Halloween Themed Spider Web Bean Dip, which is the perfect addition to my spider themed buffet. Here's what you'll need to make this simple, delicious Halloween party appetizers.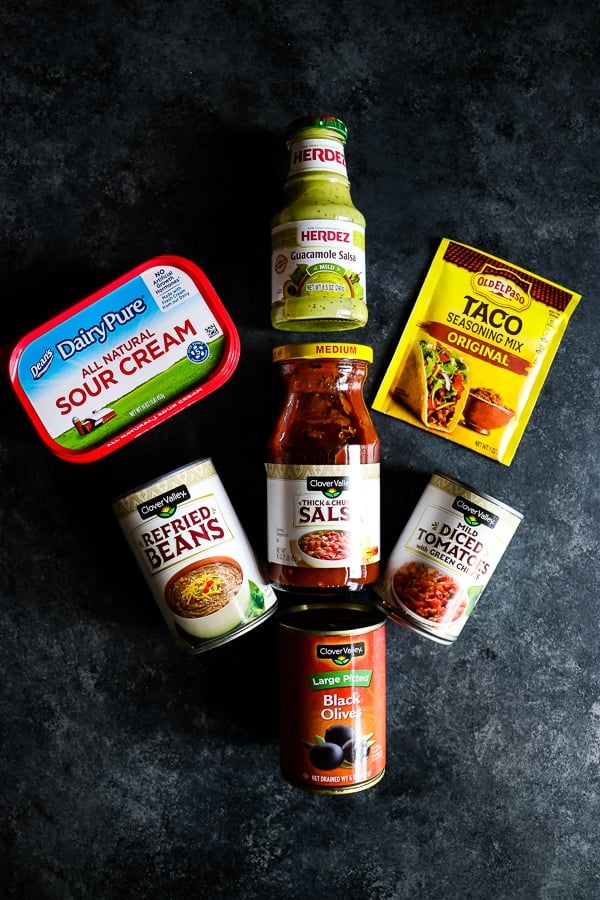 Pick up these Clover Valley Refried Beans, Salsa, Diced Tomatoes with Chilies and Large Black Olives. I also used this Dairy Pure All Natural Sour Cream, Herdez Guacamole Salsa and a Old El Paso Taco Seasoning. You can get ALL of these ingredients at Dollar General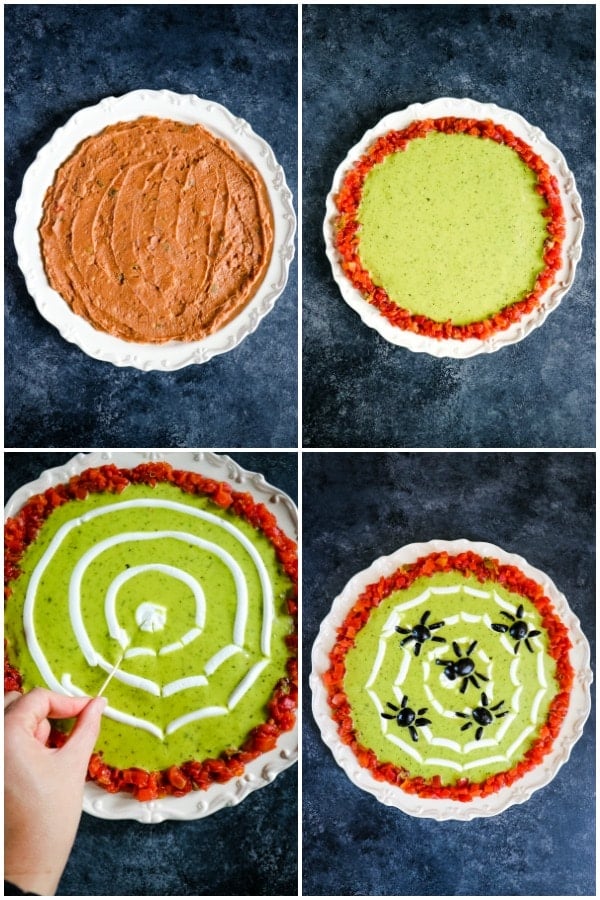 Here are the quick and easy steps to creating this festive Spider Web Bean Dip:
Mix together the 16 oz. can of Clover Valley Refried Beans with ½ cup of the Clover Valley Salsa and 1 Tbsp. of the taco seasoning. Spread evenly onto a serving platter or dish.

Top the bean layer with the 8.5 oz. bottle of the guacamole salsa and add the Clover Valley Diced Tomatoes and Chilies to the edge of the platter. This adds a nice border edge to the dip.

Add about 1/3 cup of the sour cream to a resealable plastic bag. Cut off a ¼ corner of the plastic bag. (This acts as a piping bag for the sour cream.) Pipe rings of sour cream on top of the guacamole dip. Using a toothpick, drag the sour cream out to the edge, creating the illusion of a spider web.

Slice the Clover Valley Black Olives into pieces, arranging them into decorative spiders on top of the spiderweb.
Serve this festive Halloween dip with Tostitos Scoops Tortilla Chips and Rold Gold Pretzels, both also at Dollar General!
Here are some other awesome dip recipes just like this that would be great for a Halloween party buffet:
Tip 4: Add a Drink Station to your Halloween Party Buffet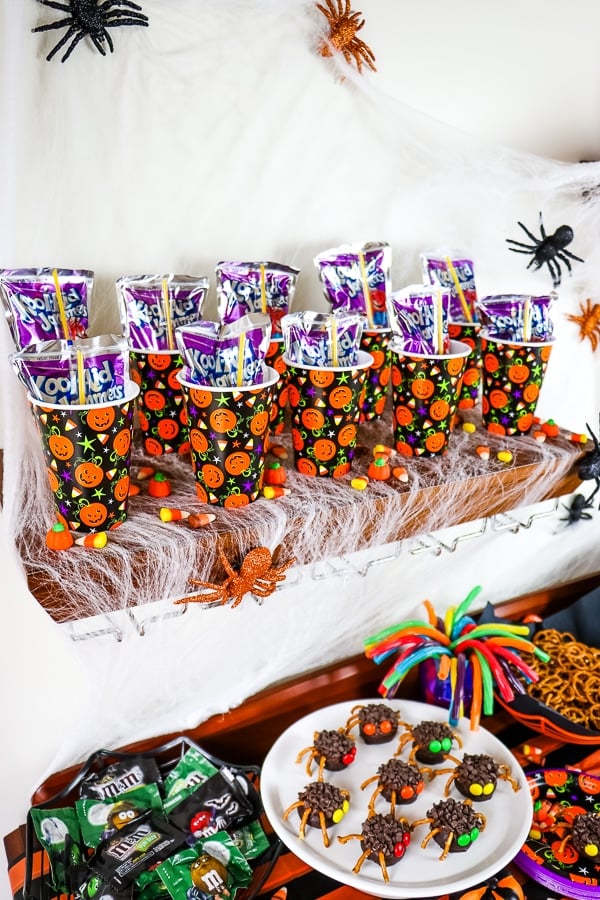 Your little monsters will be thirsty! These fun Grape Kool Aid Jammers are the perfect drink for your Halloween Party Buffet. They come in multiple flavors and can also be found at Dollar General.
I placed the drinks on a separate shelf above the buffet table, but feel free to set up a small card table or other area where the drinks can be easily accessed by your guests.
Don't forget the cocktails for the parents! Here are a few drink recipes that would be awesome for your Halloween Party: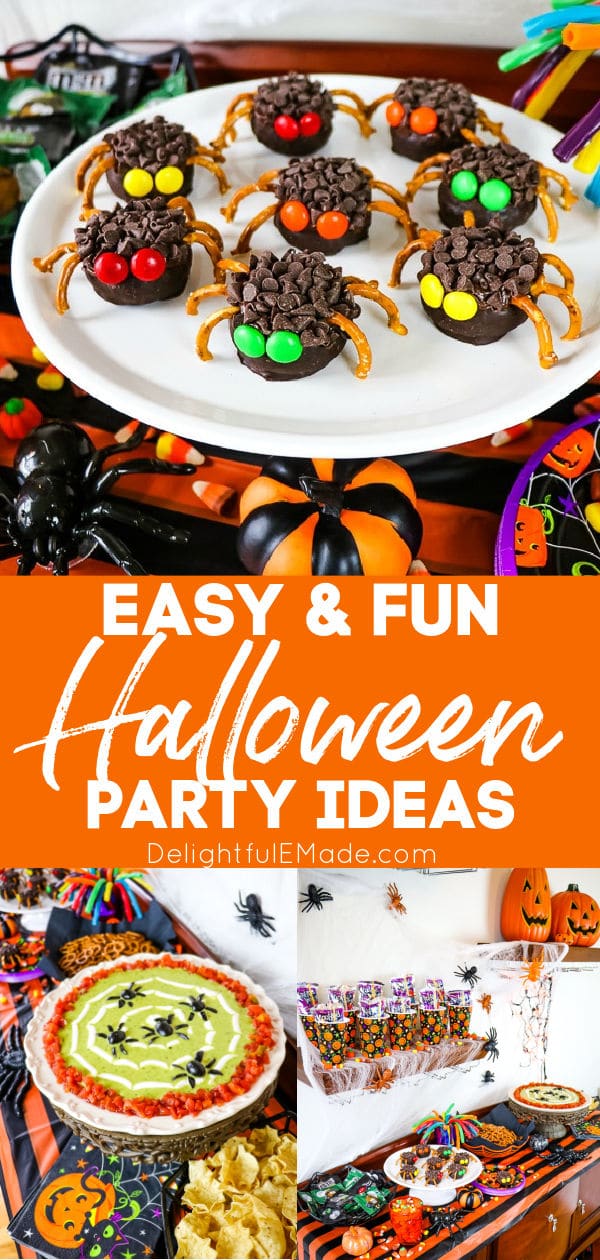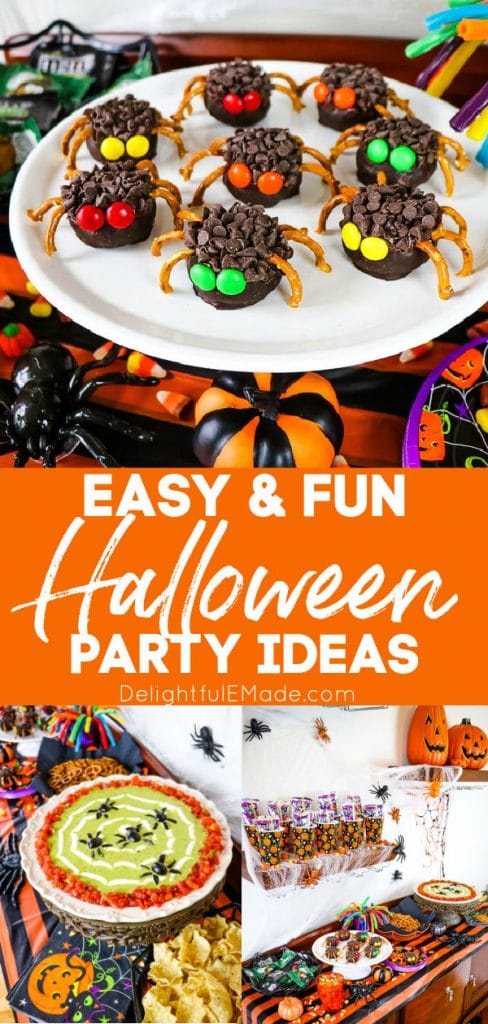 I hope these tips, recipes and ideas inspire you to have an amazing Halloween party this year. Gathering your neighbors, friends and family for these fun holidays is a great way to make memories and enjoy all that the season offers.
Looking for more delicious Halloween Party Foods? Check out my post on more yummy, spooky Halloween party favorites: