Simple, Kid-Friendly Pumpkin Waffles Recipe!
These Pumpkin Spice Waffles are great for a weekend brunch, and even better for freezing and toasting for an easy weekday breakfast. Made with simple ingredients, this delicious pumpkin waffle recipe will be a new family favorite!
This post may contain affiliate links. Delightful E Made is a participant in the Amazon Services LLC Associates Program, an affiliate advertising program designed to provide a means for us to earn fees by linking to Amazon.com and affiliated sites.
Pumpkin Spice Waffles perfect for your fall breakfast or brunch
If you love the flavors of fall then this pumpkin waffle recipe is for you. Made with simple ingredients, these homemade pumpkin spice waffles come together easily.
Great for a weekend breakfast, this waffle recipe is also great for freezing for busy weekday mornings.
What do I need to make pumpkin waffles?
Here's a quick-reference check list of the ingredients you'll need to make these pumpkin spice waffles:
All-purpose flour – you could also substitute whole wheat, oat flour or gluten-free flour.
Light brown sugar – to keep this recipe a little healthier, I use Swerve Brown Sugar Substitute.
Pumpkin pie spice – an essential ingredient in achieving that pumpkin spice flavor.
Baking powder – an essential leavening to help your waffles become fluffy.
Baking soda – also helpful in keeping your waffles fluffy.
Salt – this helps balance the flavor. Don't leave this ingredient out!
Milk – I use whole dairy milk, but you could also use buttermilk, or a plant-based milk of your choice.
Butter – melted butter, either salted or unsalted.
Canned pumpkin puree – or homemade pumpkin puree if you have it available.
For exact ingredient amounts and full recipe instructions be sure to scroll to the bottom of the post to the recipe card. Thanks!
How do I make pumpkin spice waffles?
Make your waffle batter. Start by whisking together your dry ingredients; flour, brown sugar, baking powder and soda, pumpkin pie spice and salt. Then, add the milk, melted butter and pumpkin puree. Whisk together until fully combined and smooth.
Preheat your waffle iron. I have and enjoy this All-Clad Round Waffle Iron. It is very durable, heats perfectly, and has a temperature control that beeps when the waffles are perfectly cooked and browned. I highly recommend it!
Add batter to the waffle iron. I use a ladle to add the perfect amount of batter to the waffle iron. I made sure to not add too much batter, as it will overflow through the sides, making a bit of a mess. For best results, leave a 1/2″ space to allow the batter to spread when folding the top lid down.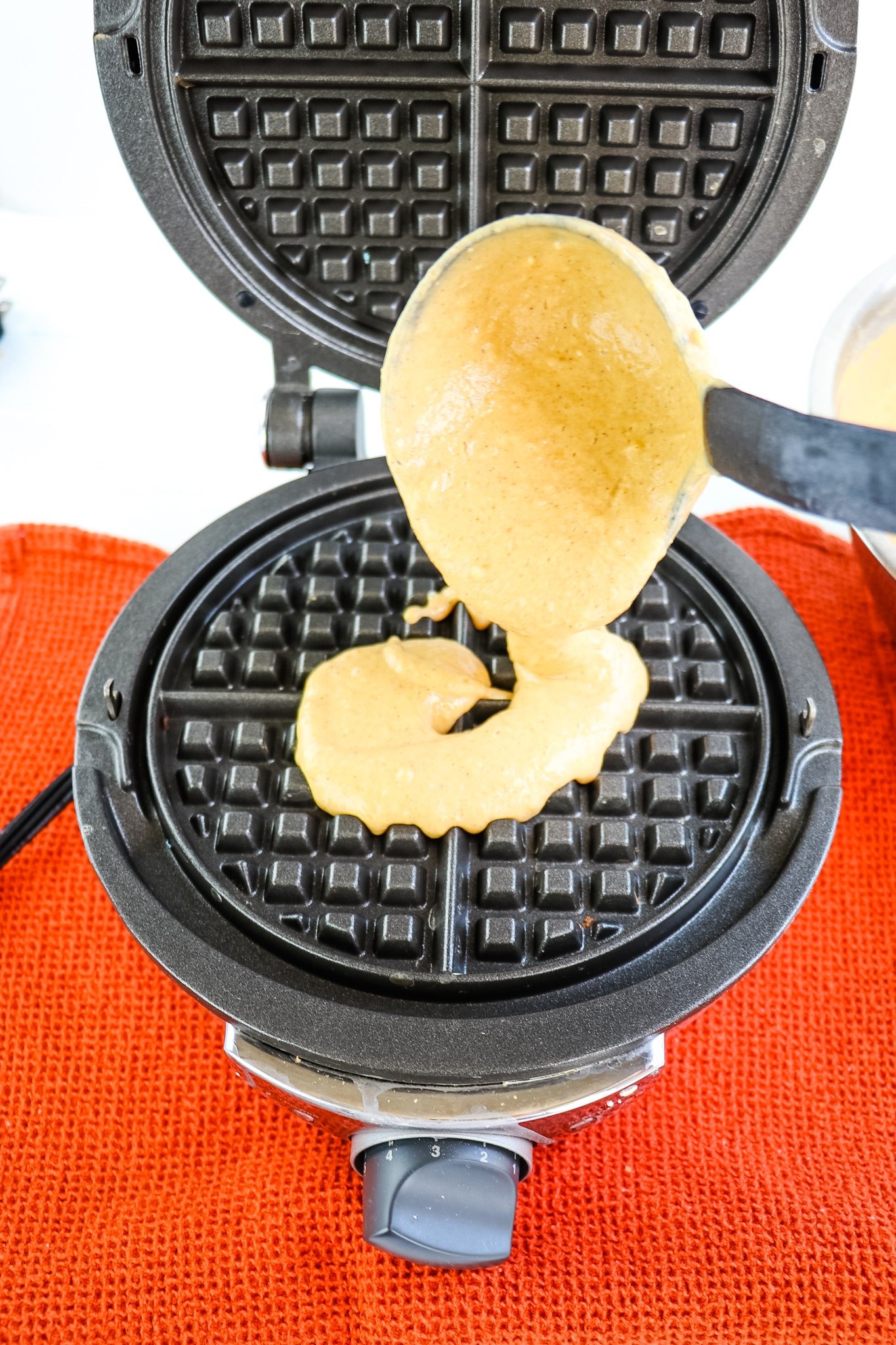 Storing waffles:
For best results, waffles can be refrigerated or frozen.
For refrigeration: This is best if you know you'll enjoy the waffles within a day or two. Place in an airtight container, with waffles separated by sheets of waxed paper or parchment paper. This will prevent the waffles from sticking together.
Refrigerated, waffles will keep for up to 3 days.
For freezing: This is best if you're enjoying the waffles one-at-a-time. This is also ideal for kids making their own breakfast in the morning. To freeze, store in an airtight freezer container or Zip-loc freezer bag. Waffles can be placed frozen in a toaster or toaster oven and reheated.
Frozen, waffles will keep for up to two months.
Looking for some other healthy breakfast options that can be frozen in advance? Check out my Healthy Breakfast Sandwiches and my Baked Egg Cups, which are great heat-and-go options.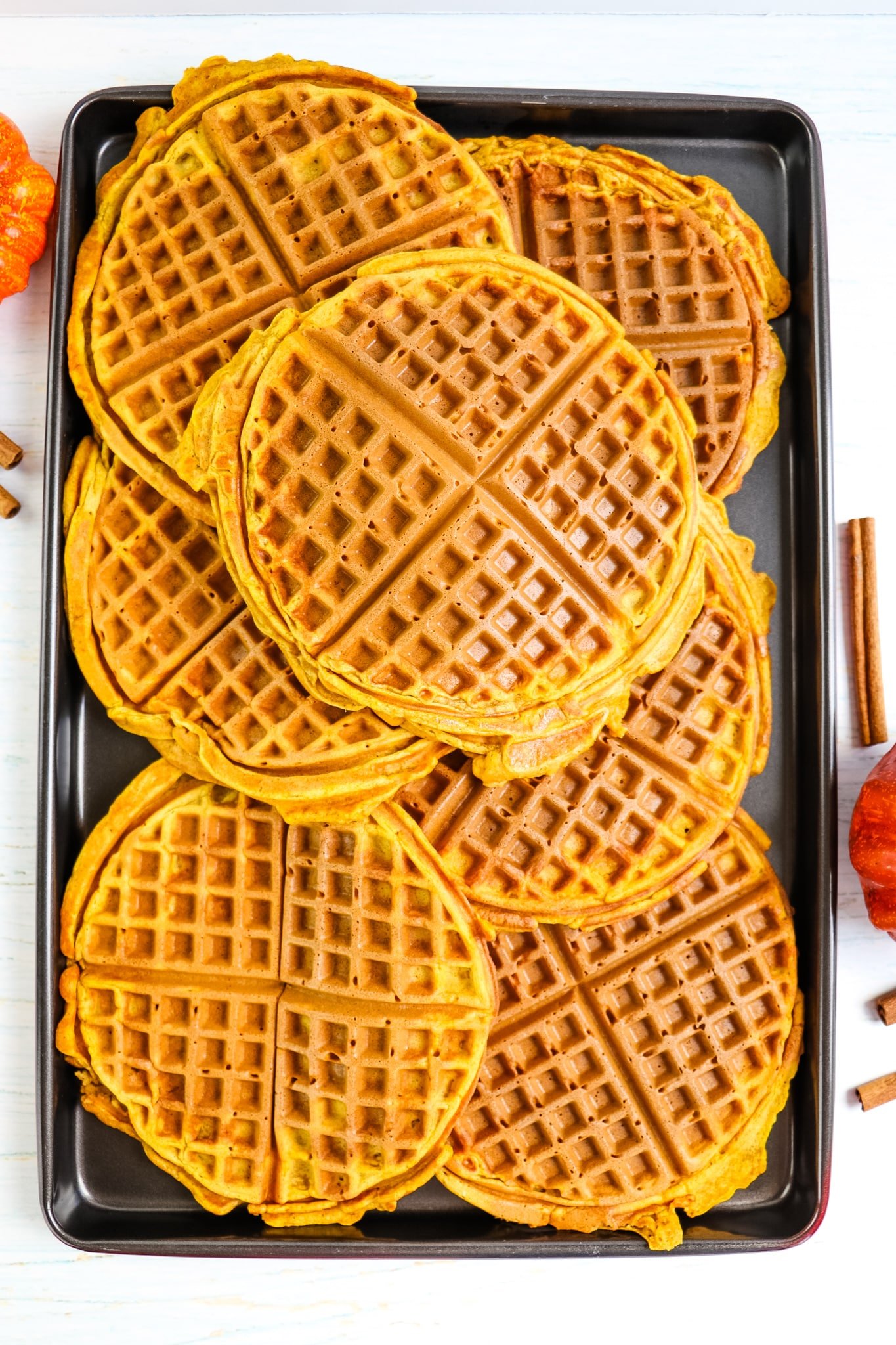 The recipe for these Pumpkin Spice Waffles was inspired by the Pumpkin Patch Waffles from The Ultimate Kids Cookbook, by Tiffany Dahle.
Looking for more pumpkin inspiration? Check out some of my other pumpkin recipes that are great for breakfast: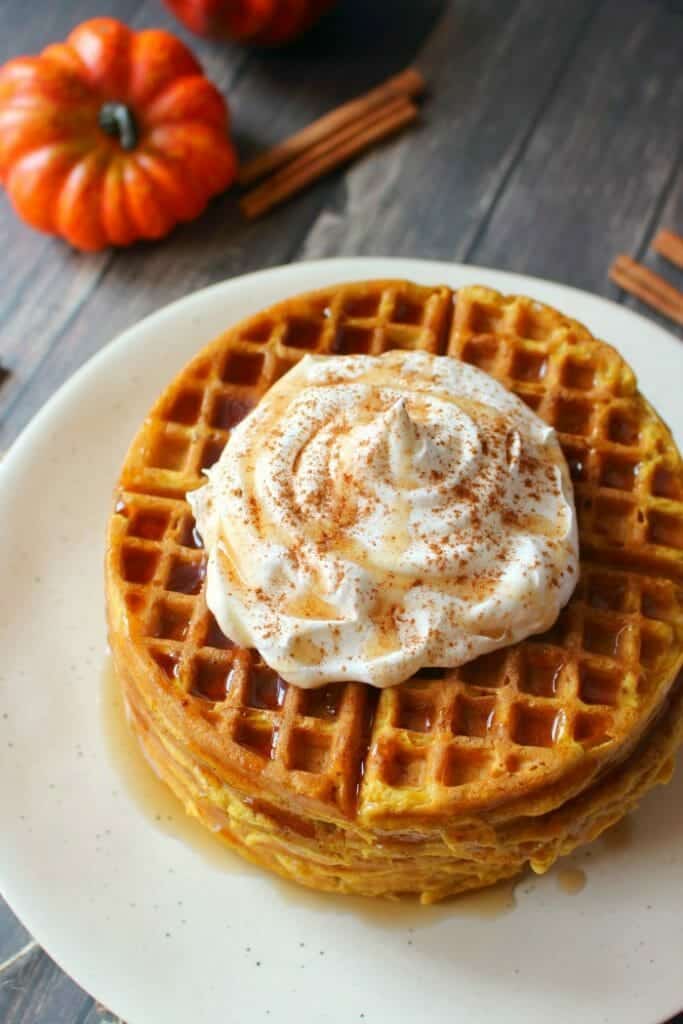 What toppings are good for pumpkin waffles?
Greek yogurt and a few dollops of my Homemade Pumpkin Butter
Whipped cream and cinnamon
Butter and maple syrup (of course!)
Chocolate chips and toasted pecans
Honey nut cream cheese (great fresh out of the toaster!)
A drizzle of honey and apple slices
Nutella and banana slices
Greek yogurt with cinnamon and nutmeg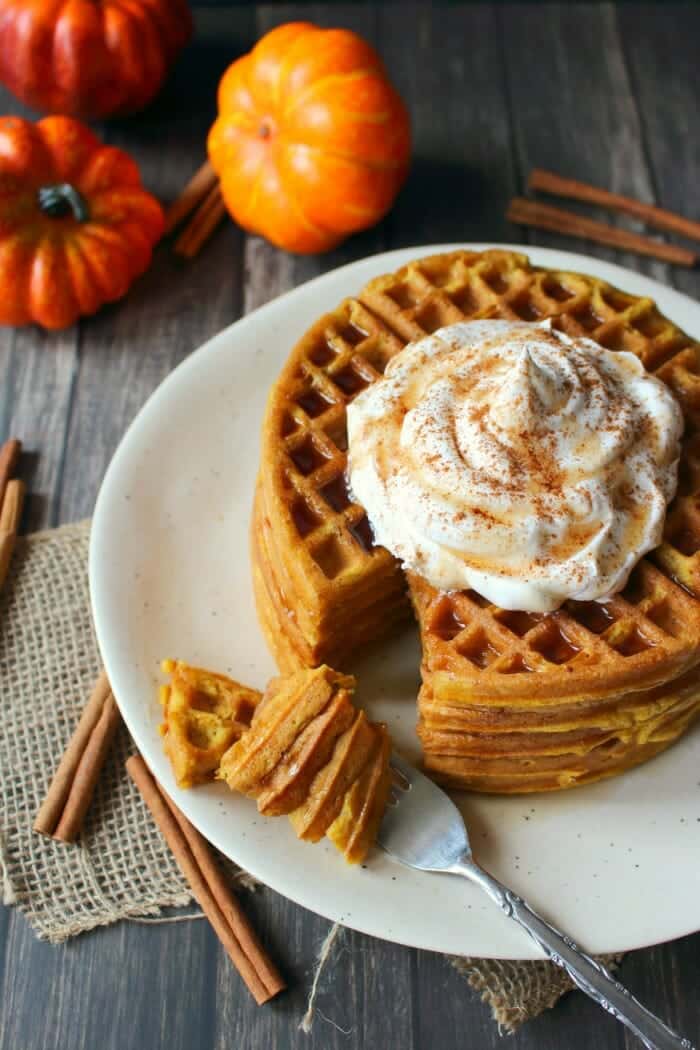 If you loved this pumpkin waffle recipe, check out some of my healthier pumpkin breakfast recipes:
Pumpkin Waffle Recipe
Looking for an easy pumpkin waffle recipe? These delicious pumpkin spice waffles are great for making on the weekend or freezing for busy weekday mornings.
Ingredients
2 1/2 c. all-purpose flour
1/4 c. Swerve Brown Sugar Substitute, or regular brown sugar
4 tsp. pumpkin pie spice
2 tsp. baking powder
1/2 tsp. baking soda
1/2 tsp. salt
2 1/2 c. milk
1 c. pumpkin puree
4 large eggs, lightly beaten
1/4 c. butter, melted
Instructions
In a large mixing bowl, combine the dry ingredients: flour, Swerve Brown Sugar Substitute, pumpkin pie spice, baking powder, baking soda and salt. Whisk together to combine.
To the dry ingredients, add in the wet ingredients; milk, pumpkin, eggs and melted butter. Whisk together to combine all ingredients until smooth.
Preheat waffle iron. (Follow appropriate temperature and cooking directions according to your users manual.) To the hot iron add about 3/4 cup of batter (for a large, round waffle), and cook according to machine directions. Square versus round irons may differ slightly.
Keep waffles warm on a baking sheet in a warm oven, if desired. Serve right away while hot.
Notes
Storage: refrigerate any leftovers in an airtight container. Separate waffles with sheets of waxed or parchment paper. Waffles will keep refrigerated for up to three days.
Freezing: waffles can be frozen in an airtight container or Zip-loc freezer bag. Will keep frozen for up to two months.
To reheat, place in toaster or toaster oven, either cold or frozen. Toast until hot and crispy.
Nutrition Information:
Yield:

8
Serving Size:

1
Amount Per Serving:
Calories:

303
Total Fat:

10g
Saturated Fat:

6g
Trans Fat:

0g
Unsaturated Fat:

4g
Cholesterol:

114mg
Sodium:

467mg
Carbohydrates:

43g
Fiber:

2g
Sugar:

11g
Protein:

10g