Love pumpkin oatmeal? You need to try this Pumpkin Slow Cooker Steel Cut Oats! This slow cooker oatmeal recipe is not only healthy, but made much easier using your crock pot. The perfect breakfast idea for the entire family!
This post contains Amazon affiliate links. This just means that I receive a very small portion of the sale should you decide to purchase any of these items from Amazon.
Slow Cooker Steel Cut Oats
Pumpkin Steel Cut Oats easily made in the Crock Pot!
As soon as fall rolls around, I love a warm, comforting breakfast. But I also way a breakfast that is healthy, won't weigh me down, and will also help me refuel after my workout.
This Pumpkin Oatmeal recipe checks all those boxes! Made with steel-cut oats, this breakfast recipe is loaded with fiber and protein from the milk, yogurt and nuts.
These Slow Cooker Steel Cut Oats are great for making on the weekend and portioning out for your weekday breakfasts. It's an amazing healthy breakfast option that will keep you full well into your afternoon!
Like this recipe? Be sure to pin it to your BREAKFAST board!
Here's some tips and directions on how I made this slow cooker oatmeal: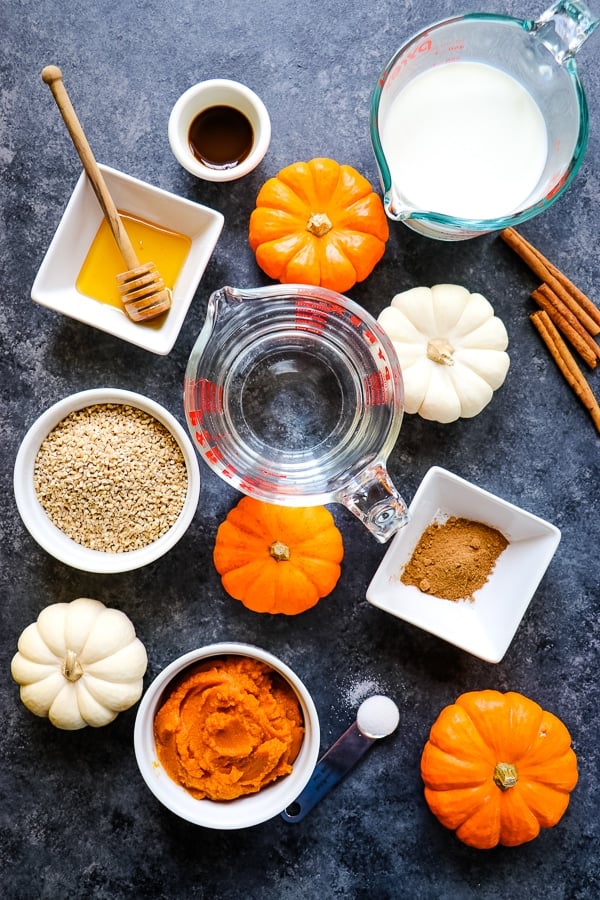 Add all of the ingredients to your crock pot and combine
For this recipe I'm using Bob's Red Mill Organic Steel Cut Oats, water, whole milk, canned pumpkin puree, pumpkin pie spice, salt, vanilla and honey for sweetener. When purchasing steel-cut oats, make sure NOT purchase quick-cooking. These oats will quickly turn to mush in the slow-cooker. (See below for more notes on steel-cut oats.)
What type of milk is best for this pumpkin oatmeal?
I used whole, organic milk (dairy) as it is what my family regularly uses. I've also tested this recipe with almond milk, which is a good plant-based alternative to diary milk. I will say that if you're looking for the most protein, whole milk (dairy) will have the most.
What is best for sweetening this slow cooker steel cut oats?
I prefer honey, as it is a natural, unprocessed sweetener. You can also use maple syrup or agave nectar, which are also more natural and less-processed.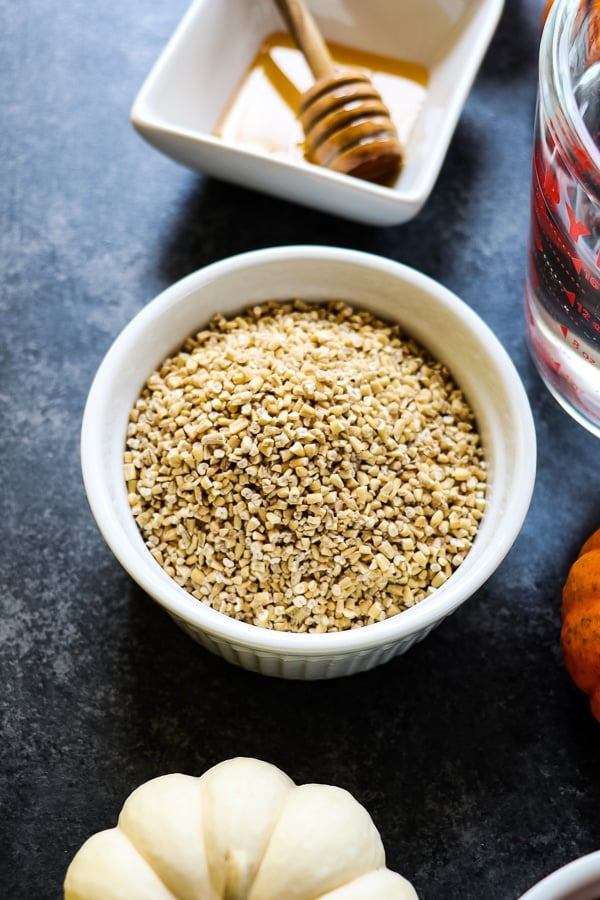 Are steel-cut oats healthy?
Because steel-cut oats are minimally processed, and because they contain more fiber and density than their counterparts, steel cut oats are one of the healthiest grains you can eat.
What's the difference between steel cut oatmeal and regular oatmeal?
The main difference between steel-cut oats and quick oats lies in the processing. Steel-cut oats are oat groats that have been cut into two or three pieces, for a relatively unprocessed product. Quick oats are rolled oats that have been chopped into smaller pieces for even faster cooking.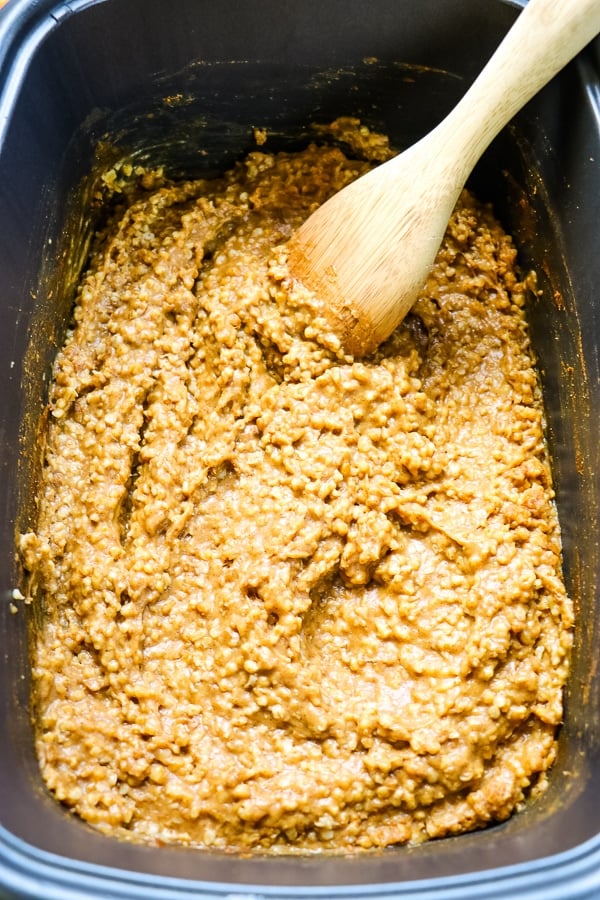 How do I cook oatmeal in a slow cooker?
When cooking oatmeal in your slow cooker, I only recommend using regular (NOT quick-cooking) steel cut oats. Instant rolled oats, old-fashioned oats, and quick-cooking oats will quickly turn into mush shortly after slow cooking.
If you want to use these other types of oatmeal I would recommend cooking them on the stove-top or microwave, not in your slow cooker.
COOKING NOTE: Cooking temperatures of slow cookers can vary greatly. I highly recommend doing a test-run of your slow cooker oatmeal during the day, while you can keep a watchful eye on it.
With my slow cooker, it only needed 4 hours on low to cook through, even though the cook time of the label of the oatmeal states 7 hours (on low). Once you have a good idea of how long your slow cooker will take to cook the oatmeal, feel free to cook overnight for breakfast the next morning.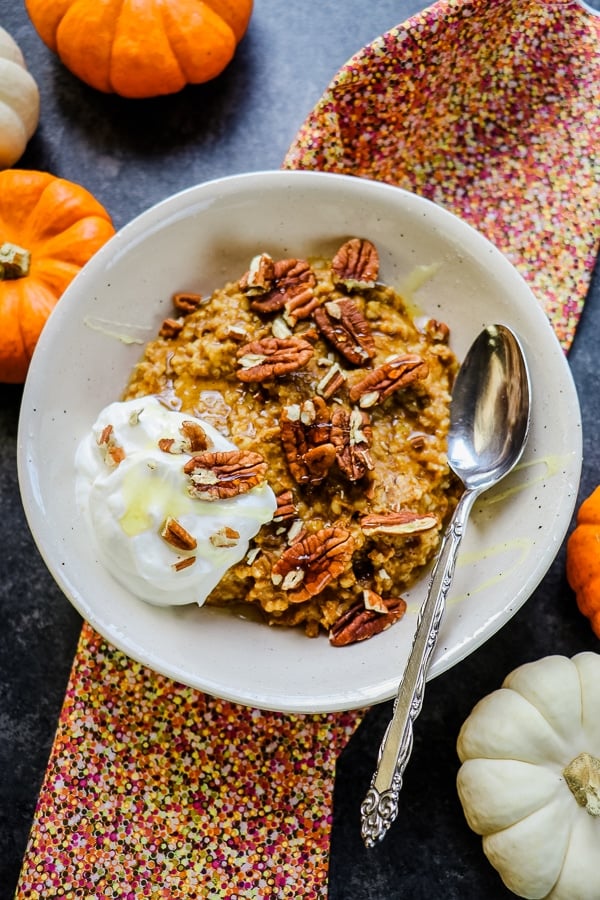 Toppings and Mix-Ins for your Pumpkin Oatmeal
This pumpkin oatmeal recipe has all the fantastic flavors of fall. Here are some delicious topping options:
pecans
walnuts
chopped apples
Greek yogurt – I like plain Fage full-fat Greek yogurt. Be sure to watch the sugar content of other non-fat yogurts.
Homemade Pumpkin Butter – tastes just like Trader Joe's, but without the added sugar!
chocolate chips
drizzle of honey or maple syrup for additional sweetness
Protein powder (mix-in) – this is a great option when looking to add even more protein to your breakfast. A vanilla protein powder or collagen protein are both great options.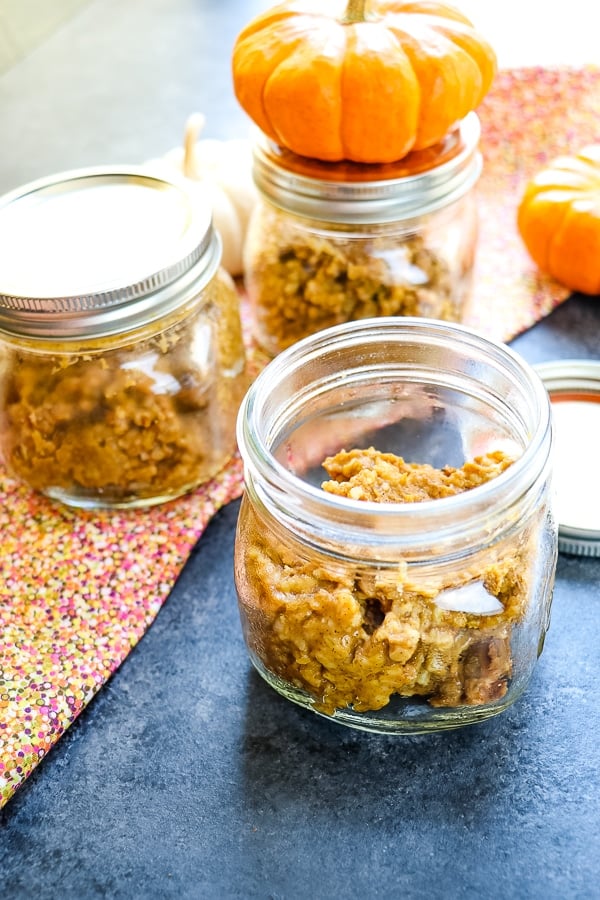 Can I meal prep oatmeal?
Yes, absolutely! In fact, this recipe is perfect for making on a Sunday afternoon. Once it is done cooking, let the oatmeal cool and portion out into mason jars or resealable containers.
This recipe will make 4 servings, which are perfect for having a healthy breakfast ready on busy weekday mornings. This pumpkin oatmeal is also great to take to work.
Containers: I like these 16 oz. Wide-Mouth Ball Mason Jars – they're great for storing the oatmeal in the fridge, and you can reheat the oatmeal right in the jar. Reheat the oatmeal in the microwave on 45-second increments, stirring in between.
You can also reheat this oatmeal on the stove-top at a medium-low heat.
If meal prepping is your thing, be sure to check out all of my favorite Meal Prep Containers!
How do I meal prep breakfast?
Meal prepping breakfast is a great way to start eating healthy. Be sure to check out my post for Healthy Breakfast Meal Prep. It includes all of my healthy breakfast recipes, as well as meal prep tips, tools and ideas to get you eating healthy first thing in the morning!
Love the idea of meal prep, but don't know where to start? Check out my post on Healthy Meal Prep Ideas for the Week, were we focus on the basics of meal prep, and starting with just one or two things, taking less than an hour!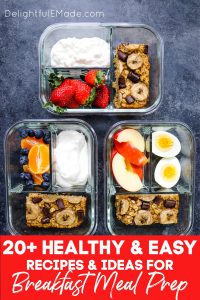 How long will oatmeal last in the refrigerator?
To maximize the shelf life of cooked oatmeal, refrigerate in covered airtight containers, like the jars pictured above. Properly stored, cooked oatmeal will last for 4 to 6 days in the refrigerator.
Love pumpkin spice anything? Check out some of my most popular pumpkin recipes:
If you loved this delicious Slow Cooker Oatmeal, then be sure to check out some of my other healthy breakfast recipes:
Here's the recipe for my delicious Pumpkin Slow Cooker Steel Cut Oats:
Pumpkin Slow Cooker Steel Cut Oats
Total Time:
6 hours
10 minutes
Love pumpkin oatmeal? You need to try this Pumpkin Slow Cooker Steel Cut Oats! This slow cooker oatmeal recipe is not only healthy, but made much easier using your crock pot. The perfect breakfast idea for the entire family!
Ingredients
2 c. water
1 1/2 c. milk
1 c. Steel-cut oats (NOT quick cooking or rolled oats)
1 c. canned pumpkin puree
3 Tbsp. honey
2 tsp. vanilla extract
1 1/2 tsp. pumpkin pie spice
1/2 tsp. salt
Instructions
Into your slow cooker, add the water, milk, oats, pumpkin, honey, vanilla, pumpkin pie spice and salt. Whisk together well to combine.
Cover with lid and set slow cooker to low. Cook for 4-6 hours, or until oats are soft, but retain their form.
Serve right away while warm and top with preferred toppings. If refrigerating, store in airtight containers for up to six days.
Notes
Be sure to use regular steel-cut oats, NOT quick-cooking, rolled or instant oats.
I used whole dairy milk, however, you can also almond milk.
Cooking times & temperatures of slow-cookers vary greatly. This recipe cooks fully in 4 hours in my slow cooker. I highly recommend testing this recipe in your own slow cooker during the day when you can keep an eye on it. Note the cook time for your own slow cooker. Once you have a test run with your slow cooker, feel free to make these oats overnight (setting the timer for the appropriate start time) for breakfast that's ready to go in the morning.
Nutrition Information:
Serving Size:

1 1/2 cups
Amount Per Serving:
Calories:

1188
Total Fat:

25g
Saturated Fat:

7g
Cholesterol:

37mg
Sodium:

1367mg
Carbohydrates:

199g
Sugar:

77g
Protein:

38g