Healthy Breakfast Meal Prep Ideas for Busy Mornings
Looking to eat a healthy breakfast but short on time? Are you looking for some good grab and go breakfast ideas to keep you away from the greasy, drive-thru breakfast? I've got ya covered with these 20+ Healthy Breakfast Meal Prep Ideas for your busiest mornings!
Disclosure: This post may contain affiliate links. Delightful E Made is a participant in the Amazon Services LLC Associates Program, an affiliate advertising program designed to provide a means to earn fees by linking to Amazon.com and affiliated sites.
These Healthy Breakfast Meal Prep Ideas include meal prep eggs, grab and go breakfast ideas for work, healthy oatmeal ideas, muffins and smoothies!
Are your mornings busy and pressed for time? Instead of hitting the donut shop or the fast-food drive thru for a greasy, sugar-laden breakfast, start meal prepping your breakfast.
Making healthy choices for yourself in advance (like meal prep eggs!) takes the guess-work and decision-fatigue out of trying to decide "what to have for breakfast" when you're trying to eat healthy.
I've put together some of my favorite recipes and breakfast meal prep ideas for getting your morning off to a healthy start.
Meal Prep Eggs
Eggs are a breakfast mainstay and an idea way to add some much needed protein and good fat to your day. Eggs help stave-off mid-morning hunger and are a MUCH better option and sugary cereals, breakfast bars, donuts and muffins.
However, many feel that they don't have time to make eggs, especially on weekday mornings when you need to get out the door for work.
Here are some fantastic options for meal prep eggs that can be made in advance and reheated at the ready:
Baked Spinach and Mushroom Frittata
Meal Prep Oatmeal
When paired with a healthy protein and fat, oatmeal is a super healthy meal prep breakfast! There are many ways you can make it; baked oatmeal bars, overnight oats, protein oatmeal, and even in your slow cooker.
Adding good quality oatmeal to your daily breakfast helps add much needed fiber to your diet and it will help keep you full and satiated well through lunchtime!
Here are some of my healthy oatmeal recipes perfect for breakfast meal prep:
Peanut Butter Banana Baked Oatmeal
Almond Joy Oatmeal Breakfast Bars
Pumpkin Slow Cooker Steel Cut Oats
Blueberry Vanilla Protein Oatmeal
I love pairing these baked oatmeal bars with yogurt and my Homemade Pumpkin Butter!
Have you tried overnight oats? It's a fantastic way to mix together your breakfast before bed. When you wake up, your oatmeal is ready to go! Here are all of my favorite overnight oats recipes:
Blueberry Almond Overnight Oats
Meal Prep Muffins
Protein muffins are a great option, especially if you're looking for grab and go breakfast ideas for work. Muffins are ideally made in one large batch on the weekend and then wrapping or storing in an air-tight container and then refrigerating or freezing.
They're an ideal way to avoid those over-sugared & unhealthy donuts and muffins in the break room. Pair a protein muffin with fresh fruit and yogurt, and you've got yourself a rock-solid, breakfast meal prep option!
Are you shopping for ingredients at Target? While you're there, pick up some of my 30 Best Healthy Target Snacks for some quick and easy healthy snack options.
Here are some of my favorite muffin recipes:
Healthy Blueberry Muffins – Bakery Style with Streusel!
Pumpkin Chocolate Chip Protein Muffins
On the Go Smoothies
Smoothies are a fantastic, nutritious grab and go breakfast ideas for work! In under 5 minutes you can make a quality, protein-rich smoothie, pour into a to-go cup and be out the door.
What' you'll need to have on hand to quickly make a smoothie in the morning:
Here are some of my most popular smoothie recipes that are perfect for your busy mornings:
Freezer Friendly Waffles and Pancakes:
Waffles and pancakes are great for making on the weekend, and freezing leftovers. When you're ready for breakfast, simply reheat in the toaster or toaster oven until hot and toasty.
When freezing pancakes and waffles make sure they are cooled completely and store in an airtight container. Additionally, separate layers of waffles and pancakes with sheets of waxed or parchment paper to prevent from sticking to each other.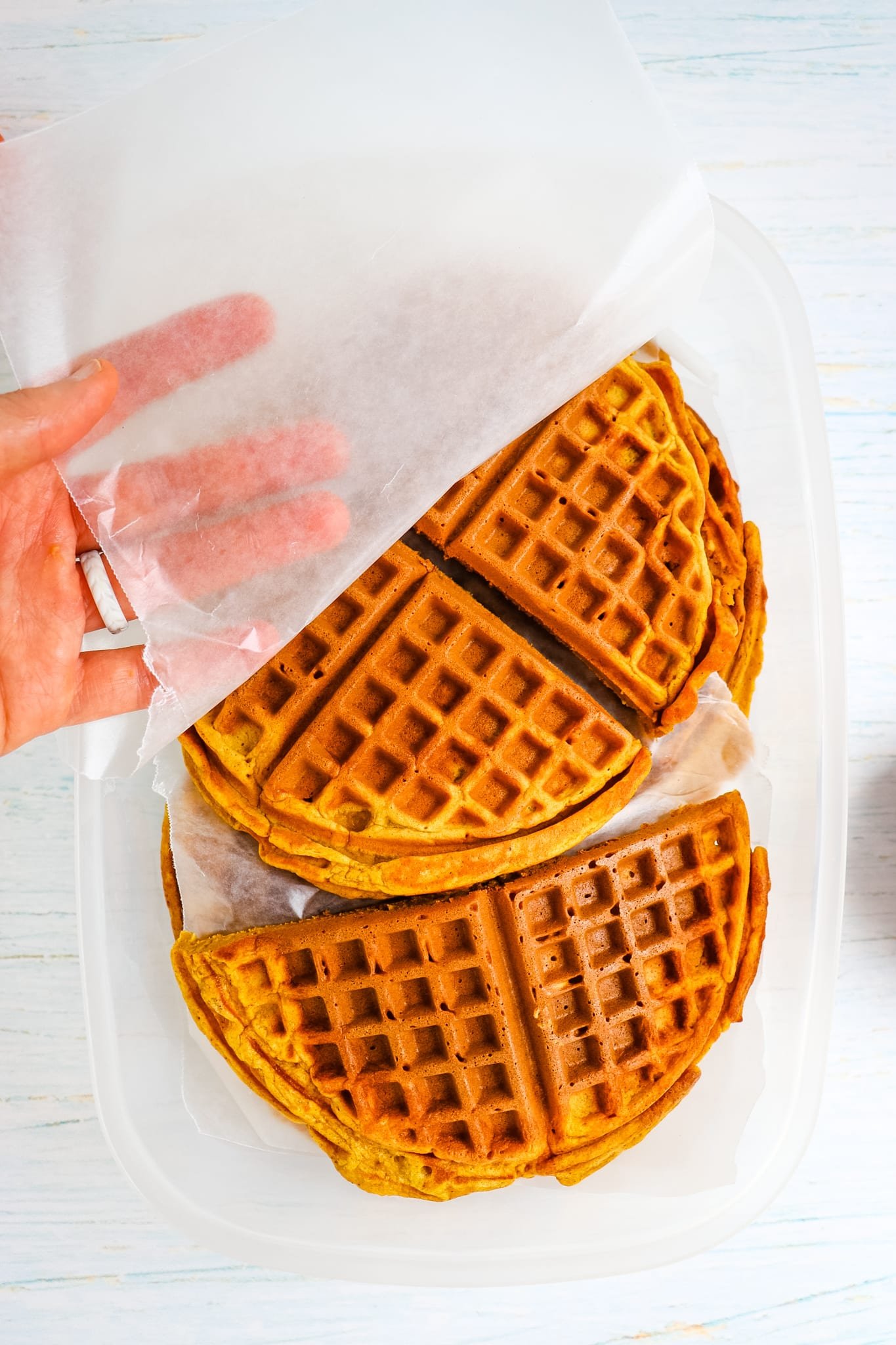 Here are some of our favorite waffle and pancake recipes:
The Best Containers for your Breakfast Meal Prep
One of the most useful tools you'll ever buy for breakfast meal prep is good, quality meal prep containers. I've used many and discovered some solid favorites. In my opinion, they've got to be dishwasher, microwave, freezer and oven safe.
They also must be durable and withstand leaks. The three containers below meet and exceed all of these criteria. Here's what I love:
The photo above includes single compartment, 2-compartment and 3-compartment meal prep containers. Each of these can be found on Amazon. Links are here:
Looking for more meal prep container ideas. I've got a complete list of ALL of my BEST Meal Prep Containers, including meal prep, refrigerator storage, and more!
My Go-To Healthy Breakfast Add-in's for extra protein and good fats:
Many of my recipes are perfect for pairing with additional protein and good fats. Protein and good fats (YES! We need fat in our diet!) help keep us full and satiated.
This also prevents us from snacking our way through the office break room or taking trips to the vending machine. Listed below are just a few of my favorite proteins and fats that I love to add to my breakfasts.
Cottage Cheese
Plain Full-Fat Greek Yogurt
Hard Boiled Eggs
Pre-cooked meats like bacon, chicken sausage, smoked salmon (be sure to look for nitrate & nitrite-free)
Almonds and Walnuts (raw, if roasted make sure they don't have added oils)
Good quality nut butter (look for nut butters that have NO added sugar or added oils like canola, vegetable or palm oil)
FAQ's about Breakfast Meal Prep
What is a good breakfast meal prep?
A good breakfast meal prep should typically include a healthy carb, protein and fat, and keep you full and satiated well through lunchtime. It should also work for you and your lifestyle, for example, if you take your breakfast to work, it should be in a portable, spill-proof container. If you need to quickly reheat the breakfast, make sure to use a container that is microwave-safe to save you time.
Can eggs be meal prepped?
Yes, definitely! A great way to meal prep eggs is to hard-boil. Refrigerate the cooled eggs, and enjoy at breakfast time. If you're meal prepping egg cups, a frittata or an egg scramble, simply reheat in the microwave until steaming.
What is a healthy filling breakfast?
A healthy filling breakfast typically includes healthy protein, fat and carbs. The protein, fat and fiber will help keep you full and satiated well through lunchtime.
I'm always looking for more breakfast meal prep ideas. What do you love to make that helps keep you healthy, full and motivated to crush your day? What would you like to see more of? I will definitely add to this page as I develop more recipes that are great for meal prep.
Looking for some additional inspiration for your healthy living journey? Check some of my other helpful resources: