Pumpkin muffins just got a major upgrade!  These Pumpkin Apple Streusel Muffins are wonderfully moist, with big chunks of apples baked inside with a delicious pecan streusel and glaze on top.  Bakery quality muffins right at home!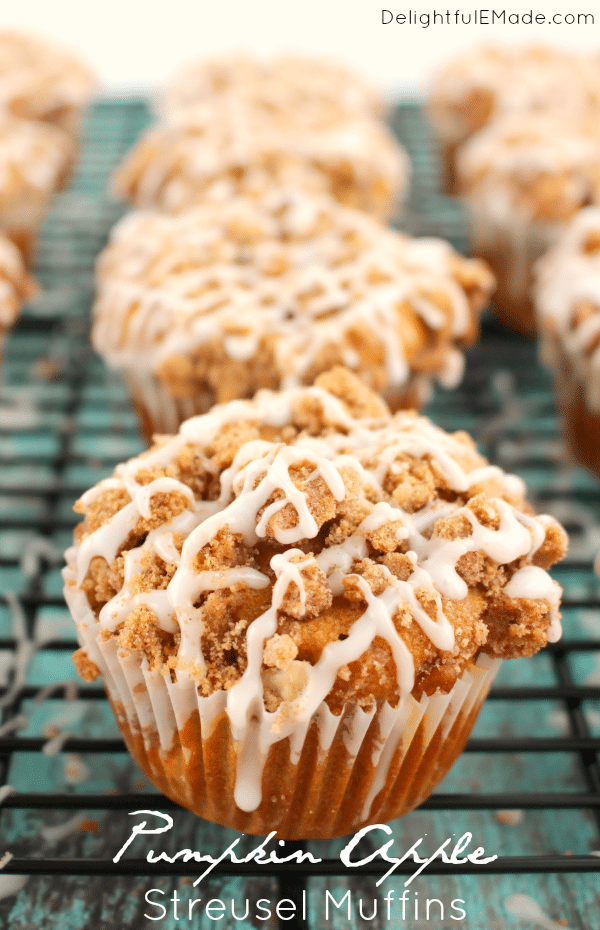 Pumpkin Apple Streusel Muffins
I know I've said it before, but its totally worth saying again; I absolutely LOVE fall!  It is hands-down my favorite time of year.  College football, apple-picking, back-to-school, cool crisp weather, and most of all, the smell of cinnamon baking in the oven!  This recipe for pumpkin muffins is nothing short of the perfect fall breakfast treat!
A great make-ahead breakfast treat
Pumpkin muffins are such a great way to enjoy a home-baked, delicious treat on a cool, fall morning.  Making a batch of these ahead of time for busy mornings. Wrap in plastic wrap and then freeze for a quick grab-and-go treat whenever you're in the mood.  Simply pull these out of the freezer the night before, let them thaw on your counter overnight, and you'll have a tasty, delicious muffin to go with your morning coffee on the way out the door!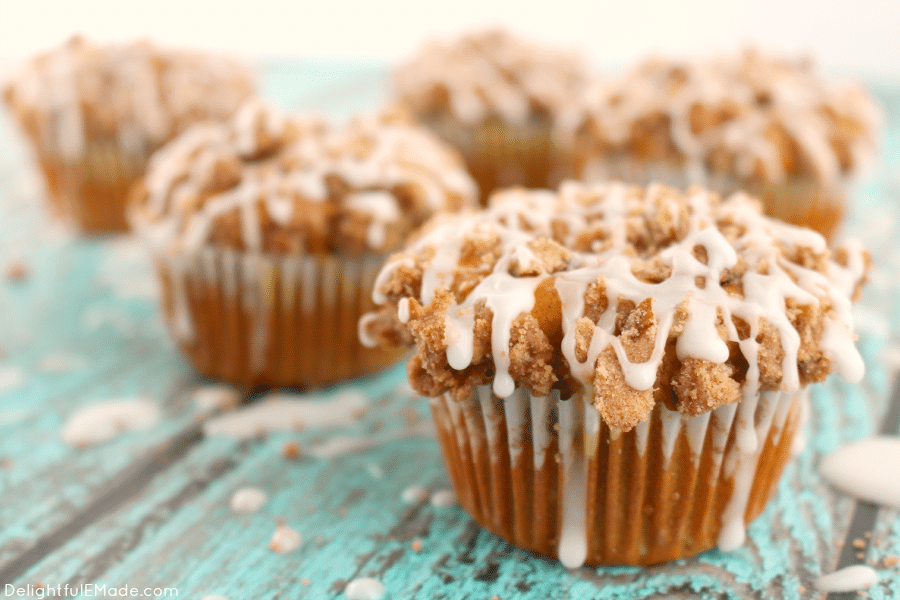 My 7-year-old absolutely loves these pumpkin muffins!  The big chunks of apples along with the moist, delicious pumpkin make an amazing snack or after-school treat.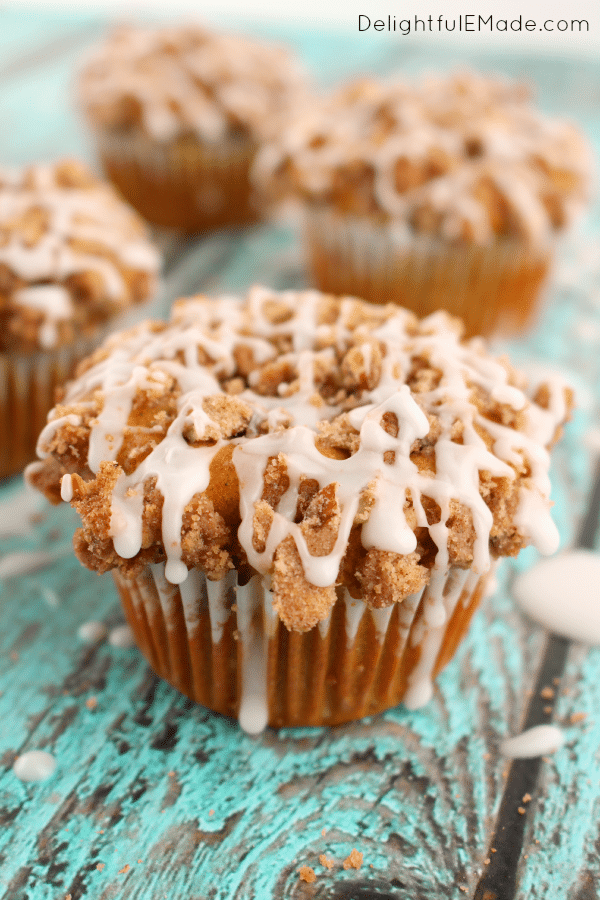 The Pecan Streusel Topping
I personally love the delicious pecan streusel topping!  The sugary, crunchy nuts go so wonderfully with the moist, delicious muffin below it.  The glaze is literally the icing on the cake – it looks very pretty, too!  These muffins make for a great treat for your PTO meeting, work break-room or a nice treat to share when you have friends over for coffee.  You may want to make a double batch, as these muffins go fast!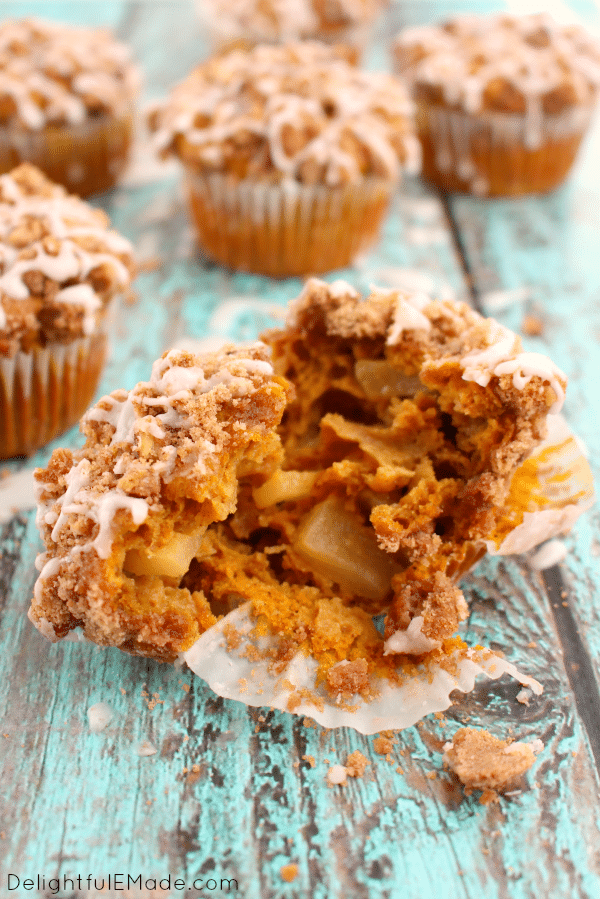 The big chunks of apples in these pumpkin muffins are tender and the perfect compliment to the  streusel topping!  This is such a great way to enjoy all the apples you'll be bringing home from your fall apple-picking trip!
If you loved these delicious pumpkin muffins, be sure to check out some of my other recipes: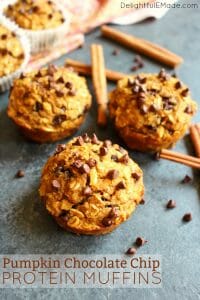 Pumpkin Chocolate Chip Protein Muffins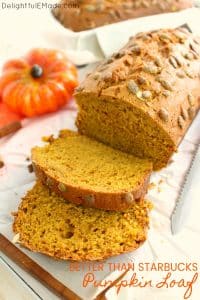 Better Than Starbucks Pumpkin Loaf
Pumpkin Cream Cheese Breakfast Braid
Here's the easy, delicious recipe for these Pumpkin Muffins:
Erin Indahl-Fink

Yields 12

Pumpkin Apple Streusel Muffins

All of your fall favorites in one delicious breakfast treat! These Pumpkin Apple Struesel Muffins are wonderfully moist, with big chunks of apples baked inside with a delicious streusel and glaze on top. Bakery quality muffins right at home!

20 minPrep Time

25 minCook Time

45 minTotal Time

Ingredients

1 1/2 c. all purpose flour
1/2 c. brown sugar
1 tsp. baking powder
1/2 tsp. salt
1/2 tsp. baking soda
1 tsp. cinnamon
1/4 tsp. nutmeg
1/4 tsp. ground cloves
3/4 c. canned pumpkin puree
1/2 c. plain Greek yogurt
2 eggs
1 peeled, diced apple, about 1 cup, (Granny Smith or Gala work well)
Pecan Streusel Topping:
1/3 c. brown sugar
1/3 c. flour
1/4 tsp. cinnamon
1 1/2 Tbsp. melted butter
1/4 c. chopped pecans
Glaze:
1 c. powdered sugar
1 1/2 Tbsp. milk

Instructions

Preheat oven to 350 degrees. Line a cupcake tin with cupcake liners.
In a medium bowl mix together the dry ingredients: flour, brown sugar, baking powder, soda, salt, cinnamon, nutmeg and cloves. Whisk together to combine. Set aside.
In a large mixing bowl, combine the pumpkin puree, yogurt and eggs. Gradually add the dry ingredients to the wet until all are well incorporated and combined. Fold in the apples.
Prepare the streusel by combining the flour, cinnamon and brown sugar. Drizzle the melted butter over the mixture and stir until crumbly. Add the chopped pecans and stir to combine.
Spoon or ladle the batter into the prepared cupcake pan. Each cup with be nearly full. Top each muffin with a generous amount of the streusel topping, divided evenly over each cup. Bake at 350 for 24-26 minutes or until a toothpick inserted comes out clean and crumb-free.
Let cool for 5-10 minutes before removing muffins from pan. Let cool completely on a rack. Mix together the powdered sugar and milk for the glaze and drizzle over the cooled muffins. Enjoy right away. Freeze or refrigerate any leftovers in an airtight container.

7.8.1.2

181

https://delightfulemade.com/2015/08/28/pumpkin-apple-streusel-muffins/

Copyright by DelightfulEMade.com
I hope you get to enjoy all of the delicious flavors of fall soon!  Enjoy!  ~Erin