These brilliant lunch packing tools are super helpful in getting lunches ready, and everyone out the door on busy mornings! Lunchboxes, utensils, containers along with recipe ideas will help streamline mornings and help your kids eat a little healthier in the process!
This post contains affiliate links.  All recipes,  and opinions are 100% my own.
I have to say that before my son started school, I had no idea how crazy mornings could be.  Getting everyone up, dressed, fed, and out to the door has become a major undertaking that makes me miss those days of him being a baby. Just the thought of adding lunch packing to that somewhat impossible list of things to do feels completely daunting.  However, like many other parents out there, I want my kid to eat a healthy, filling lunch that will fuel his day for learning.  I don't want him eating junk or worse yet, eating nothing at all.  I've discovered that my son really likes choosing and helping make his lunch and creating healthy options.  (I've discovered that if he helps make and select the food, he is MUCH more likely to eat it!!)
I'm here to tell you that it took me a few school years to unlock the door of happy, un-stressful mornings.  Waking up before everyone in the house, along with getting backpacks ready to go the night before is a huge help.  Additionally, when it comes to lunch packing I've uncovered some really awesome tools, containers, lunchboxes and water bottles that have REALLY helped me streamline the lunch-packing process, ultimately saving me huge amounts of time and unnecessary stress on already busy mornings.  Here are my recommendations – almost all of which I personally use on a daily basis for myself and my family.
 Sistema Containers:  These containers are incredible!!  As you can see, these  have easy-to-open handles on the sides so that little hands can open them easily.  They're BPA-free, dishwasher safe and store neatly.  They come in multiple sizes, all of which fit really nicely into various lunchbox sizes.  Get a 3-pack of these easy-to-use Sistema Klip It Collection Small Split Food Storage Containers, 1.5 Cup each, Set of 3  or these Sistema Lunch Collection Split Food Storage Containers, 1.5 Cup, Set of 3 in Assorted Colors here:

Pro-Tip: Make sandwiches, wraps, sliced fruit or vegetables (anything that requires more than a couple of minutes to assemble) at night.  Another reason I love these Sistema containers is that they stack neatly in your refrigerator, making it quick to pull out and toss in lunchboxes in the morning.  I would totally recommend getting a couple sets of each of these specifically for this purpose.  By the time you run your dishwasher, they'll be ready to refill and place back in the fridge for easy morning packing once again.
Here are a few fun recipes for lunches and snacks that I include in these containers: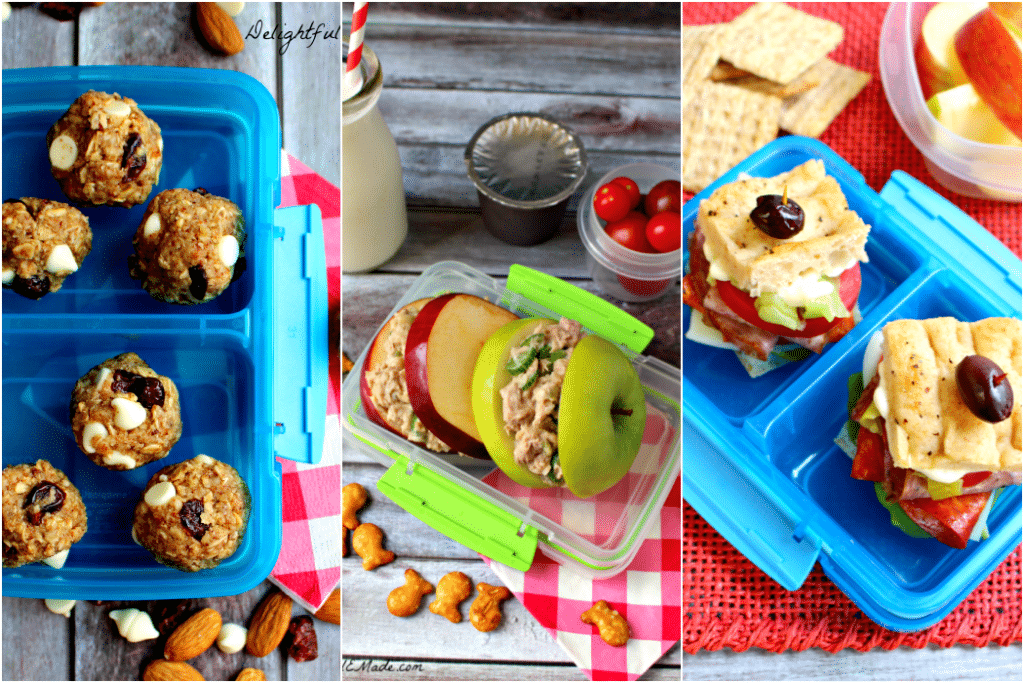 My Cranberry Almond Energy Bites are a fantastic snack or a great addition to a lunch.  My Tuna and Apple Lunchbox Sammies taste fantastic and are a fun twist on the plain-old tuna sandwich.  Additionally, these Italian Salami Sliders make for a great lunch for your teens and a great option to take to work for yourself!
2.  Thermos Food Jar – When the weather turns cold, my son loves bringing warm foods for lunch.  This Thermos will keep foods hot for 5 hours, is easy for small hands to open, and seals tightly to prevent spills.  (I'm here to tell ya, I bought two or three food jars before realizing that if you want to keep food hot, AND prevent spills, getting a good quality food jar like this Thermos is the way to go.)
Get this THERMOS FOOGO Vacuum Insulated Stainless Steel 10-Ounce Food Jar, Charcoal/Teal
 from Amazon:

Pro-Tip:  Pour boiling water into the Thermos, and let it set for about 5 minutes.  After 5 minutes is up, pour out the water, quickly try with a dishtowel, and add the hot food for lunch.  Tightly secure and add to your lunchbox or bag.  This technique will help the container keep and maintain heat, ensuring you and/or your kids will have a warm lunch waiting for them come lunchtime.
3.  A durable Water Bottle to keep your kids hydrated is essential.  I'll be the first one to say that you get what you pay for with water bottles.  We've had a number of bottles break and leak, which we all know is a gigantic hassle.  I've discovered this Thermos Water Bottle is one of the best!  It keeps liquids cold, is dishwasher safe, doesn't leak, and is the perfect size to fit in back packs and lunchboxes.  It comes in lots of cool designs and colors, so your kids will love it as well!  Get this Thermos Funtainer 12 Ounce Bottle, Blue
 at Amazon.
4. A good set of ice packs is a must when packing lunches.  My kid is a big cheese and yogurt eater, so these two things are in his lunch nearly every day.  Keeping these items cold, along with sandwiches, fruits and vegetables is important, especially if you want your kids to actually EAT those foods.  (My kid is known to snub his nose at warm cheese and fruit.)  Keeping these foods cold is also important in helping to keep food-born illnesses at bay.  We have Fit & Fresh Cool Coolers Slim Lunch Ice Packs, Multicolored – Set of 4
 which I really like.  These ice packs are awesome, as they are slim, lay flat, and don't take up much space in the lunchbox or the freezer.  They are BPA-free, non-toxic, too.

5.  
Snack holders are awesome, not only for lunchboxes, but to keep in backpacks.  Because his lunchtime isn't until later, my child is able to bring a mid-morning snack.  This is typically kept in his backpack, separate of his lunchbox.  I really love these Slim Snack: Lunch Box Snack Bag and Silicone Ice Pop Mold All in One. 4 pack Tie Dye Stripes by GreenPaxx
 to use for anything from crackers, carrots, trail-mix, grapes or anything in between.   They can be frozen, refrigerated and easily rinsed, and are phthalate, PVC, and BPA free.  They look pretty awesome, too!

6. A good, durable lunchbox is critical for getting through the school year.  Because I have a boy that his sometime hard on his stuff, choosing a good, durable lunchbox is key.  I love this PackIt Freezable Upright Lunch Box, Go Go
 as it's collapsible, making for easy storage, but you can also FREEZE it, helping to keep food cold for hours!  Cool, right?!  I also love how the handle has a buckle, so it can be clipped on to a backpack or a messenger bag.  It also easily wipes clean, and comes in some really cool fabric designs that all kids will love!


7. Multipurpose utensils are fantastic for packing lunches.  These Cooks Drawer Multi Color Spork 4 Pack Camping Flatware
 utensils are a fork, spoon and knife all in one!!   Because of these multi-purpose nature, you're not having to pack three different utensils.  Also, since my son has food like yogurt, fruit, or hot items like meatballs or mini-corn dogs in his thermos, having a good multi-purpose utensil has proven to be really handy!

8. Simple cloth napkins have proven to be really useful in lunch packing.  When my son was at his pre-school, the school had asked us to pack a simple cloth napkin like these Funkins Cloth Napkin/Placemat for Kids: Elements of fun!
 in place of paper napkins or paper towels.  The school generated quite a bit of garbage, and this was a great way to cut down on excess waste. I have a set of 5 cloth napkins for lunchboxes, so at the end of the week they get washed and re-used. Even though he is now in elementary school, using cloth napkins has stuck with us, and is a good way to cut down on paper waste.

9. A cool Bento Box is an awesome tool to have in your lunch-packing arsenel.  While I was commuting to work, I typically packed my lunch in one of these awesome YUMBOX (Papaya Orange) Leakproof Bento Lunch Box Container for Kids and Adults
.  These are fantastic for middle-schoolers and teens, that may no longer want to carry a lunchbox (too cool for school, are we?)  These slim bento boxes hold everything you need for lunch, are leak-proof, so you can place directly in a backpack or messenger bag.  I loved packing things like pasta salad, diced veggies with dip, and even leftovers!

10. Don't forget the Labels!!  I often volunteer at my son's school.  Their lost-and-found area is typically overflowing with lunch containers, water bottles, lunchboxes – pretty much everything your kid brings to school is there!  Don't for get to label your stuff!!  Last year I became a loyal customer of Mabel's Labels – Self-laminating, Write On Name Labels for kids (Boys – action icons), Waterproof, Dishwasher and Microwave Safe, 30 Labels ready for School, Daycare & Camp
 which has some really cool designs, and are waterproof, dishwasher safe, microwave safe and UV resistant .  Think of it this way, if you're gonna spend the money on good quality lunch items, make sure you label it so it eventually gets back home.

I hope these lunch packing ideas help make your mornings become less stressful, and more organized.  I know that when I started using many of these tools, it really helped streamline the lunch packing process.
Do you have some cool lunch box ideas?  Is there something your kids really love to use that also encourages them to eat healthy at home or at school?  Let me know – leave me a comment below, as we're all about sharing fun, useful ideas that work.
Have a fantastic school year!  ~Erin