Sweet and savory. For me, this is one of my all-time favorite flavor combinations. I'm always trying to come up with new, easy and flavorful things to make for lunch or snacks, and my son is a big fan of quesadillas. So I decided to mix it up a bit, and come up with a sweet, crunchy, savory quesadilla that would work as a snack, lunch or even breakfast. This Smokey Apple & Bacon Quesadilla is perfect!!
The smokey aspect of this quesadilla comes from the creamy, delicious smoked Gouda. I absolutely love this cheese! It adds such a great smokey, savory flavor to just about anything you're cooking. (PS – It's my favorite cheese to top a burger!) Paired with the crisp, slightly tart Granny Smith apple, and thick-cut crisply cooked bacon, this quesadilla can't be beat!
Not only do these make a great lunch or snack for you and the family, they work great as a fun breakfast! In just a few minutes you'll have a warm, crisp, flavorful breakfast in hand, and you're out the door. A great solution to those rushed mornings when you have to eat in the car. (Hey, nobody likes doing it, but some mornings just go that way. Am I right, moms?)
I actually enjoy these for a quick lunch, along with a side salad. We pretty much always have these ingredients on hand. I tend to make bacon a pound at a time, and then keep in the fridge for sandwiches, breakfast, salads or this delicious quesadilla. I crumble about 1 1/2 strips into the quesadilla, which makes for the perfect amount. The apples are sliced thinly, so a single apple goes a long way. (I will usually end up eating the rest of the apple as a snack later in the day.)
Here's how quick and easy these delicious Smokey Apple and Bacon Quesadillas come together: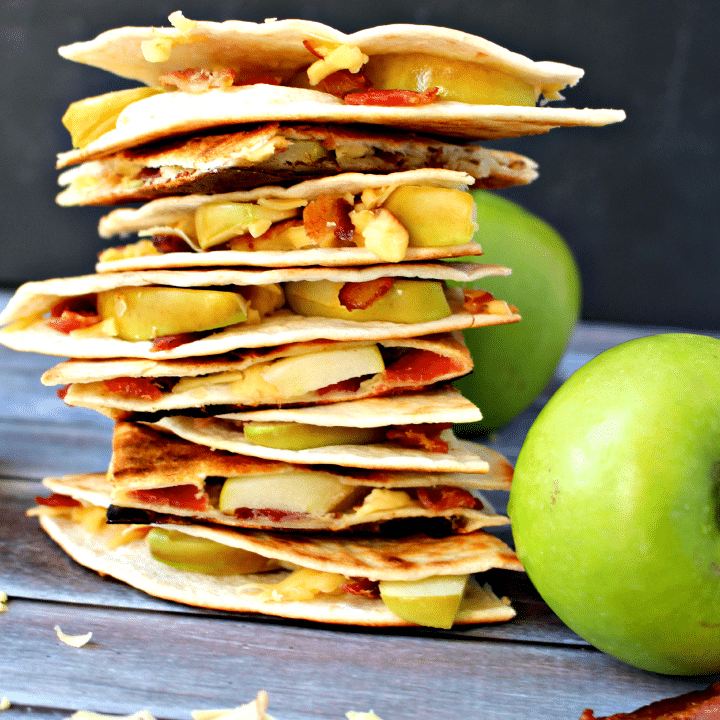 Smokey Apple & Bacon Quesadillas
Smoked Gouda, crisp bacon and sweet, tart Granny Smith apple slices come together for the perfect lunch, snack or breakfast. Quick, easy and delicious!
Ingredients
4 medium flour tortillas
2/3 c. shredded smoked Gouda cheese
3 slices bacon, cooked crisp and broke into pieces
1 small Granny Smith apple, thinly sliced
Instructions
On a griddle, or large skillet, heat to medium/high heat. Add a single tortilla, and add about 6 apple slices. Crumble 1 1/2 slices of bacon, and add about 1/3 cup of the cheese. Top with a second tortilla. Cook for about 4-5 minutes, or until bottom tortilla is browned. Flip over and brown the opposite side for 4-5 minutes or until browned.
Repeat process for second quesadilla. Cut each quesadilla into quarters, for 8 slices total.
See how quick and easy these are to make? These would be a fantastic snack for your kids to learn how to make. With just a few steps, and four simple ingredients, it's a great go-to lunch, snack or breakfast. I will have my 6-year-old shred cheese, or break apart the bacon and help assemble the quesadillas.
I hope you're able to enjoy this easy quesadilla soon!
Enjoy!
Erin