Kid Friendly Cheese and Meat Kabobs with Fruit
Looking for school lunch ideas? These fun and easy cheese and meat kabobs with fruit will have your kids excited to pack their lunchbox! These meat and cheese skewers are loaded with sliced turkey, ham, fruit and cheese. Great for the kid that won't eat a sandwich!
This post may contain affiliate links. Delightful E Made is a participant in the Amazon Services LLC Associates Program, an affiliate advertising program designed to provide a means for us to earn fees by linking to Amazon.com and affiliated sites.
There is something about the start of a new school year that brings excitement and optimism. Perhaps it's the idea of new teachers, new beginnings and the reunion of friendships. As a kid, I secretly loved the start of the new school year, even if it meant the end of summer.
Lunchtime is always a great way to socialize with those old and new friends at the lunch table. These yummy meat and cheese skewers are healthy, nutritious and perfect for refuel your kid's bodies and minds for the rest of the school day.
Packing these Cheese and Meat Kabobs are super simple! Here's the easy steps:
Step 1: Start with Sugardale Natural Uncured Smoked Ham and Honey Turkey Breast
I absolutely love using Sugardale meat in my kid's lunches. I'm providing him a healthy, protein packed lunch that will give him the nutrition he needs. These skewers will also help keep him full, and thus keep him focused in the classroom.
These Sugardale Natural Uncured meats use smoke and honey to enhance the flavor of the meat without any artificial ingredients. I feel good giving these to my son, as there are also no nitrates or added nitrates. The meat is also sliced and packaged in resealable 8 oz. portions, which is very convenient and also avoids any waist of food.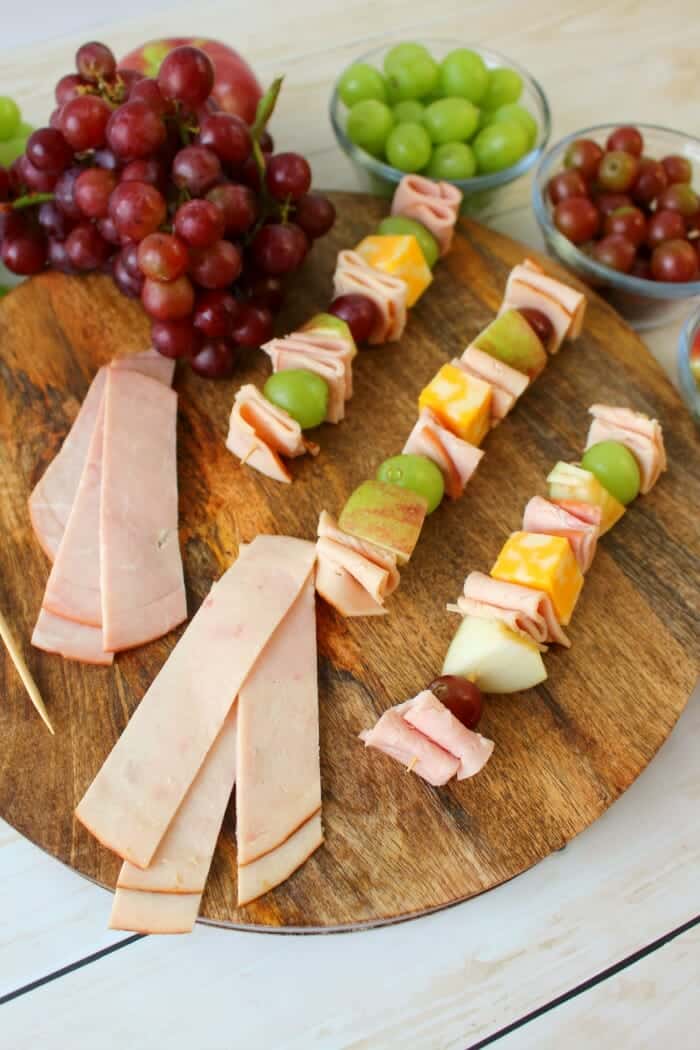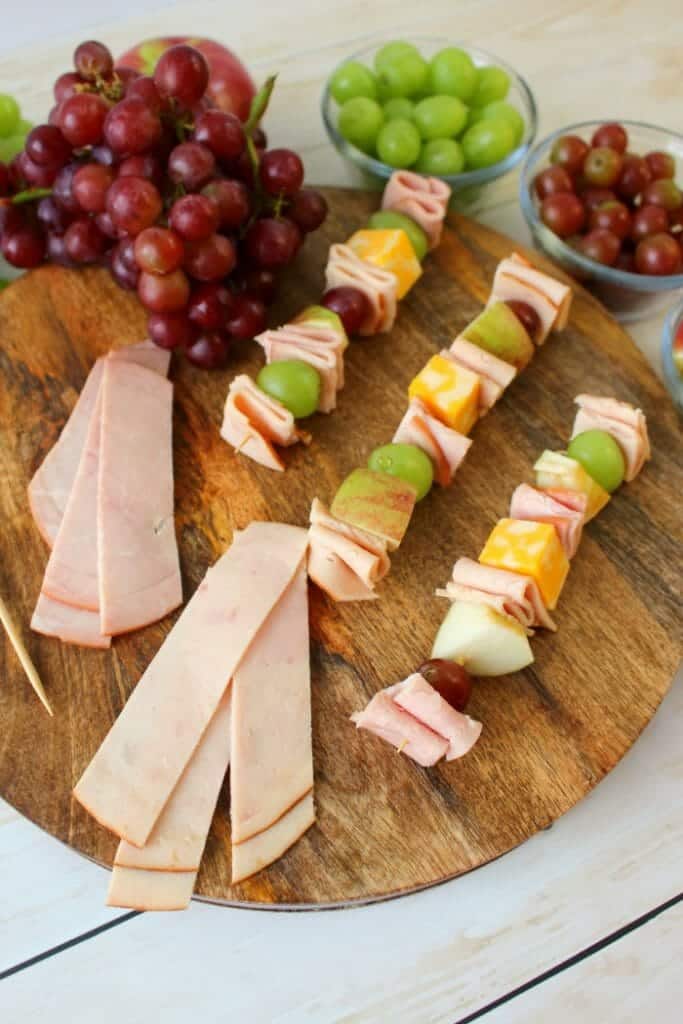 Step 2: Slice the turkey and ham into 1″ strips
Simply take out a couple of slices of both the ham and turkey. With a sharp knife, cut the meat into 1″ strips. You'll then fold the strips "accordion style and begin skewering onto wooden grilling skewers.
Tip: Pre-measure your wooden skewers to make sure they fit into your kid's lunchbox container. Trim off any rough edges with kitchen shears.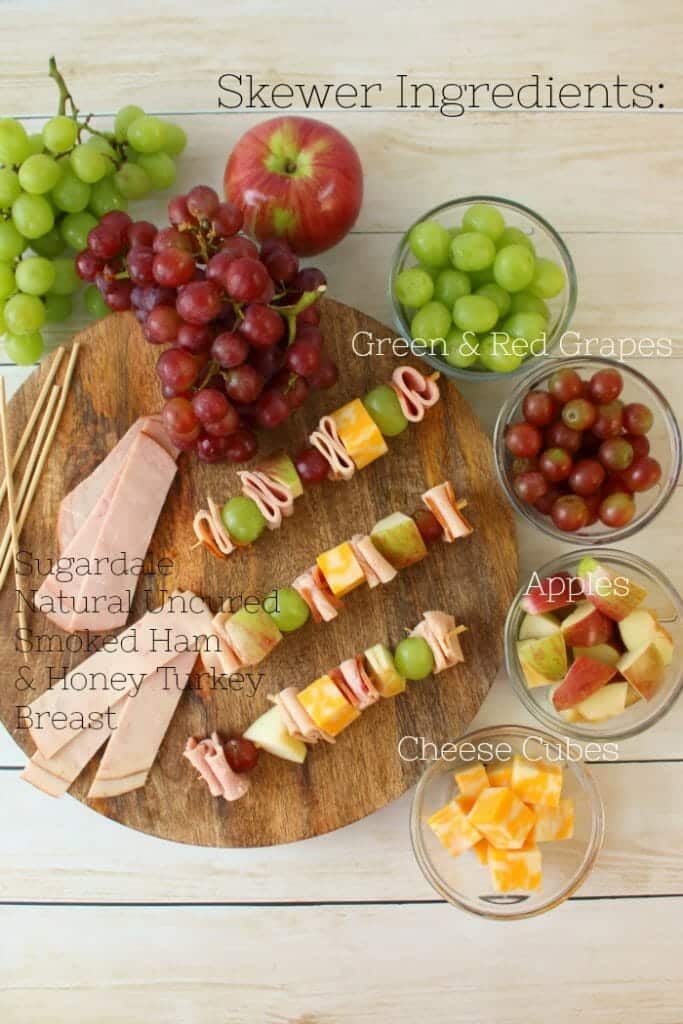 Step 3: Assemble the Meat and Cheese Skewers
In addition to the Sliced Ham & Turkey, I also included some of my son's favorite fruit and cheese. Here's what you can use:
Green & Red Grapes

Apple Chunks

Cubed Jack Cheese
Simply alternate meats with the fruits and cheeses onto the wooden skewers. These come together quickly and easily. Best of all, your kids will love assembling these – before you know it, they will be packing their lunches all on their own! Big time parent victory, right?!
If your kids love snacking on fruit, try my Greek Yogurt Fruit Dip, which is fantastic with apple slices, strawberries, grapes and bananas.
Here are some other fruit & cheese combinations that would taste great with the savory, delicious ham and turkey:
Mangoes

Fresh pineapple

Cantaloupe

Peaches, pears and plums

Honeydew

Mozzarella cheese

Pepperjack cheese

White or sharp cheddar
Feel free to utilize fruits that are in season, and especially those that your kids enjoy. Same goes with the types of cheese that you include.
Are you shopping for ingredients at Target? While you're there, pick up some of my 30 Best Healthy Target Snacks for some quick and easy healthy snack options.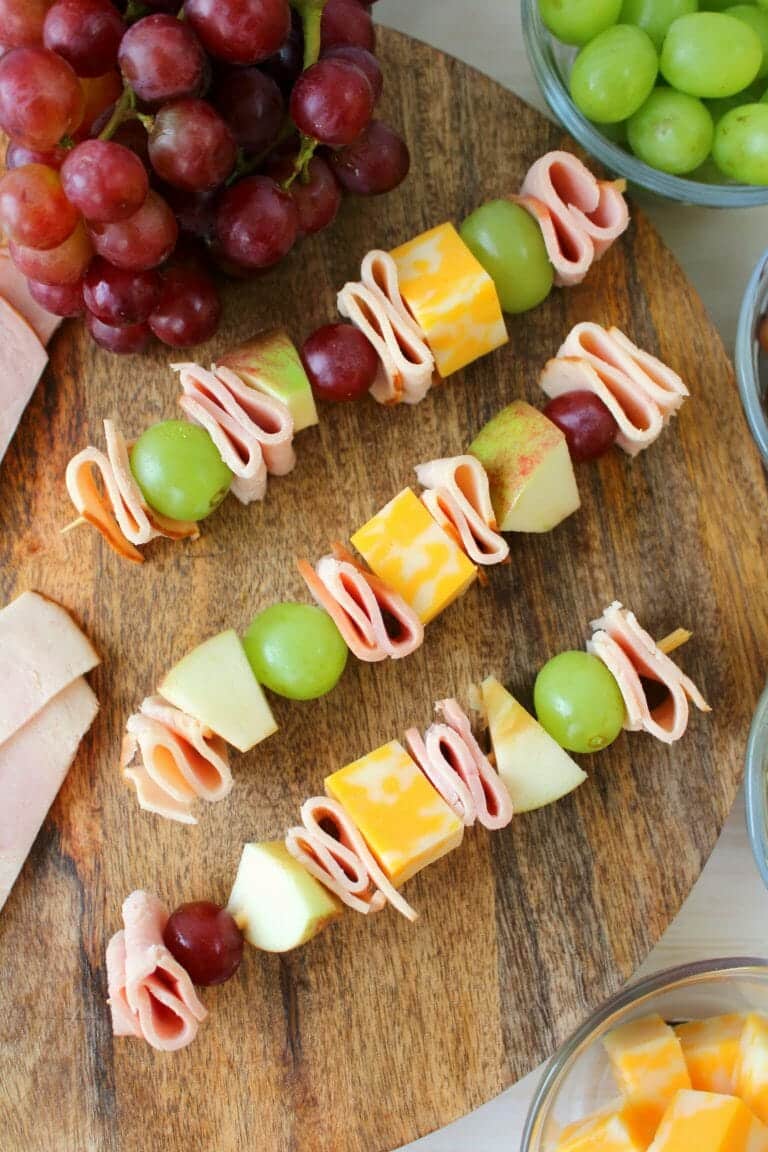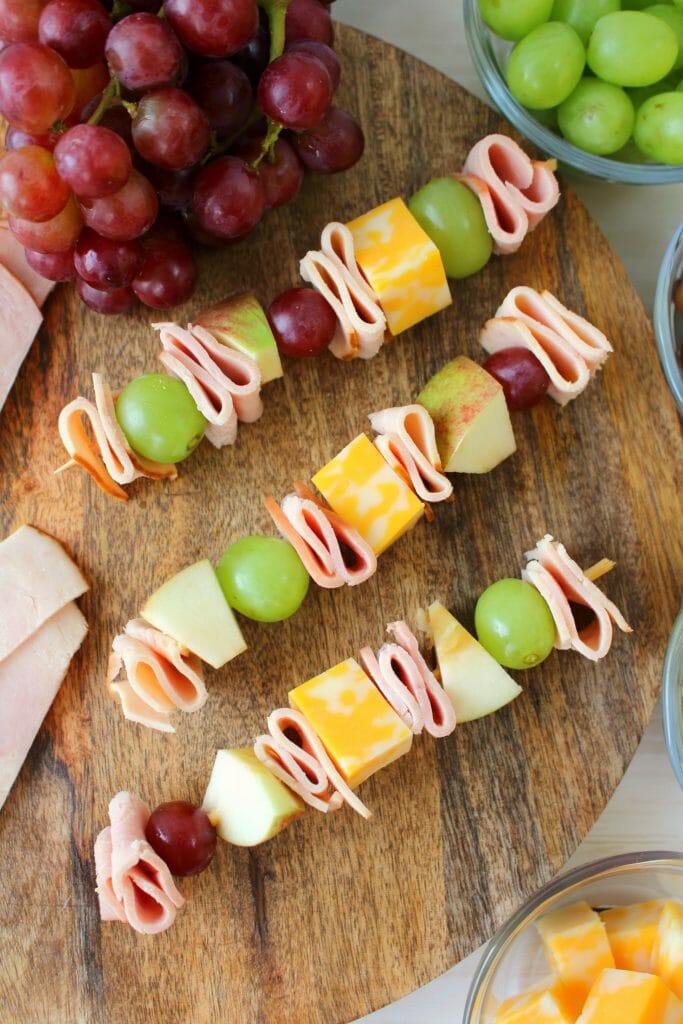 Not only are these skewers nutritious, they're a fun, interesting alternative to the same old sandwich or applesauce. They're a great way to get your kid excited to eat something healthy.
Pack these with some savory crackers, nuts or some crunchy vegetables. Not only will your kid be refueled for the rest of the day, they'll be excited to enjoy lunch with their friends. Sometimes, the best school memories are made at the cafeteria tables surrounded by your best friends.
If you loved these fun and easy meat and cheese skewers, then check out these other kid friendly snack and lunch ideas:
Here's the easy recipe for my Cheese and Meat Kabobs with fruit:
Lunchbox Turkey & Ham Skewers
Looking for a new to school lunch idea? These fun and easy Lunchbox Turkey & Ham Skewers will have your kids jumping for joy at lunch time! Loaded with sliced turkey, ham, fruit and cheese, these will be your kids new lunchbox favorite!
Ingredients
1 slice Sugardale Natural Uncured Smoked Ham
1 slice Sugardale Natural Uncured Honey Turkey Breast
1/2 c. red grapes
1/2 c. green grapes
1/2 c. cubed apples
2 oz. cubed jack cheese
Instructions
Pre-cut wooden grilling skewers to fit into the size of your resealable lunchbox container.
Cut ham and turkey slices into 1" strips. Fold accordion-style and slide onto the wooden skewers. Alternate with grapes, apples and cheese cubes.
Keep cold (with a cold pack) in a lunchbox until ready to eat.
Notes
Depending on how large or small you make the skewers, you'll render approximately 3 medium skewers.
Nutrition Information:
Serving Size:

3 skewers
Amount Per Serving:
Calories:

146
Total Fat:

7g
Saturated Fat:

4g
Cholesterol:

29mg
Sodium:

629mg
Carbohydrates:

14g
Sugar:

11g
Protein:

12g