The BEST Peach Delight Recipe!
If you love fresh, summer peaches this dessert is for you! This Peaches & Cream Dessert has a Pecan Sandie cookie crust, cream cheese filling, fresh peaches and toasted pecans! The ultimate peach delight loaded with delicious peach flavor!
Disclosure: This post may contain affiliate links. Delightful E Made is a participant in the Amazon Services LLC Associates Program, an affiliate advertising program designed to provide a means for us to earn fees by linking to Amazon.com and affiliated sites.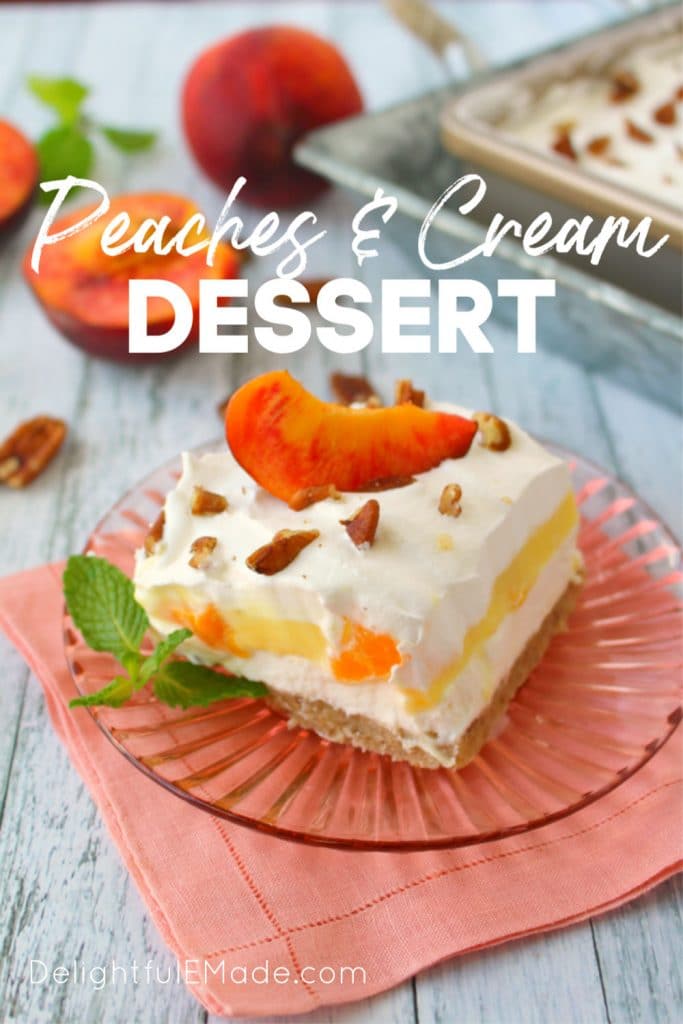 This Peaches and Cream Dessert is a fantastic Fresh Peach Dessert recipe!
As soon as July rolls around, we begin to see beautiful, juicy yellow peaches popping up at our local farmers markets here in Norther Virginia. As much as my family and I love snacking on this juicy, golden fruit, I decided I must make a sweet, creamy dessert perfect for Southern summer days. This Peach Delight recipe is the ultimate fresh peach dessert!
Made with delicious layers of a pecan sandie crust, fluffy cream cheese, fresh peaches, whipped topping and chopped pecans, this dessert has a bit of everything! Creamy, crunchy, fruity, sweet and perfect for summer!
Here's a few tips and tricks to making this delicious Fresh Peach Dessert: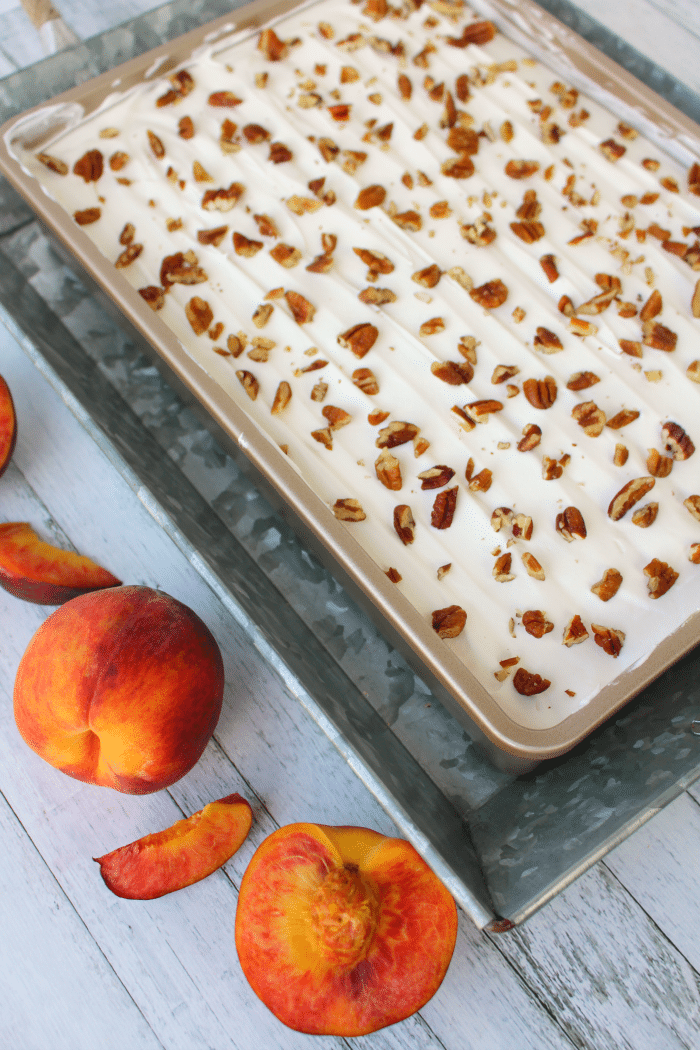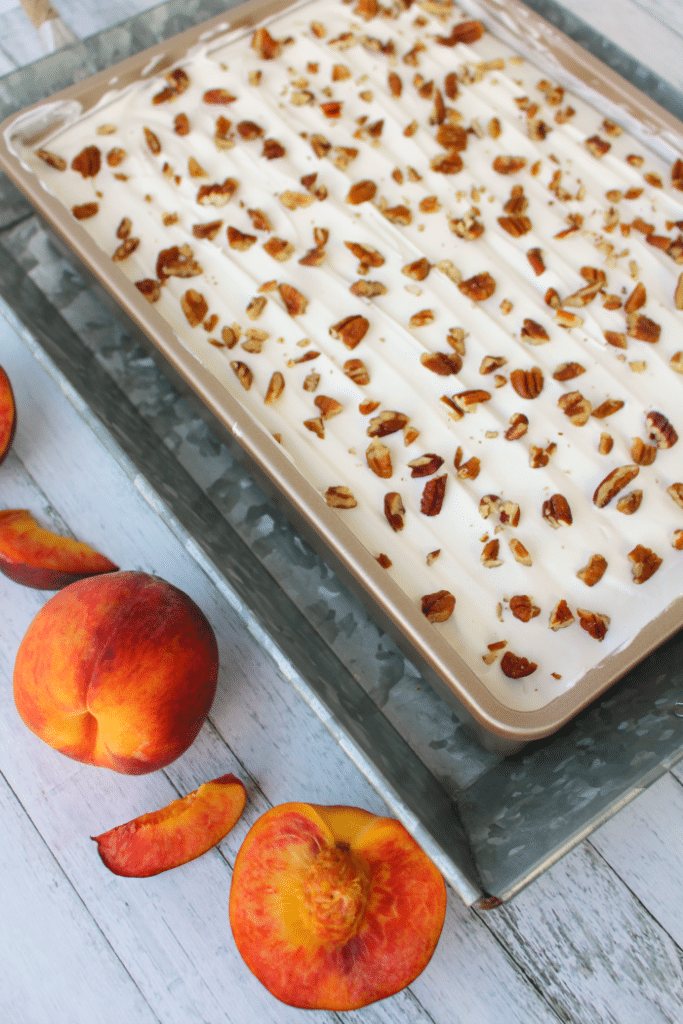 Is this peaches and cream dessert no-bake?
This delicious peach dessert is almost no-bake. With the exception of baking the crust for about 5-7 minutes, simply to crisp it up, this dessert requires no additional cooking or baking. The wonderful, creamy layers of this dessert are perfect for enjoying on a warm summer evening, perhaps sitting on the porch, with friends and family! This dessert would be amazing with my Ginger Peach Iced Tea!
The pan I'm using to make these bars, is the OXO Good Grips Non-Stick 9″ x 13″ Cake Pan. I use this pan a TON!!! It's perfect for making desserts like this, and is fantastic for cakes, bars and brownies, too!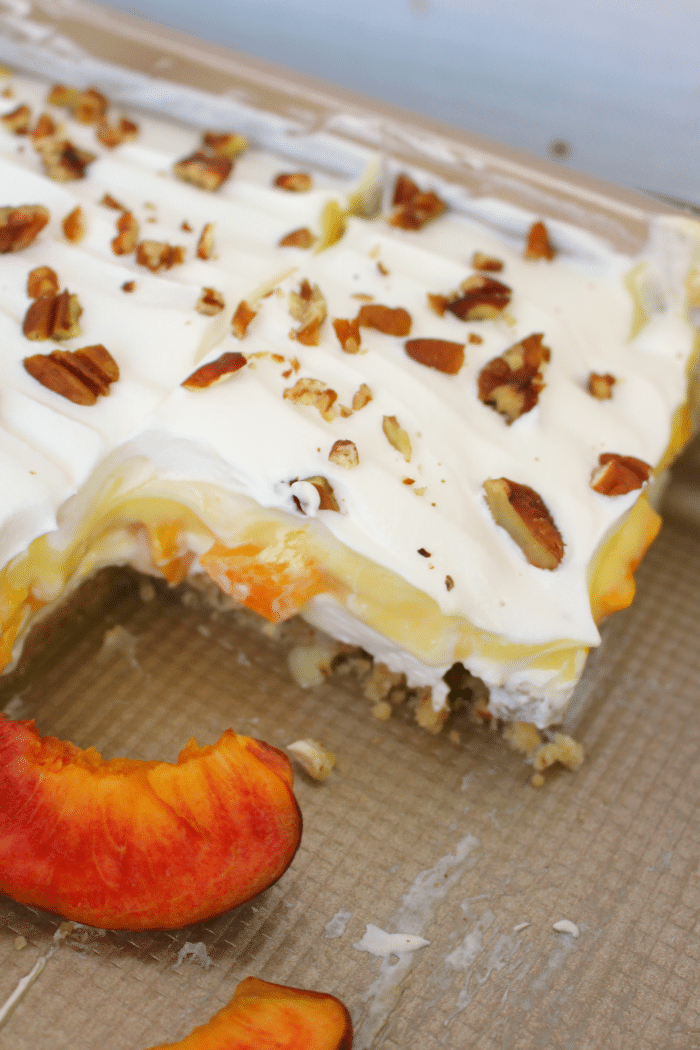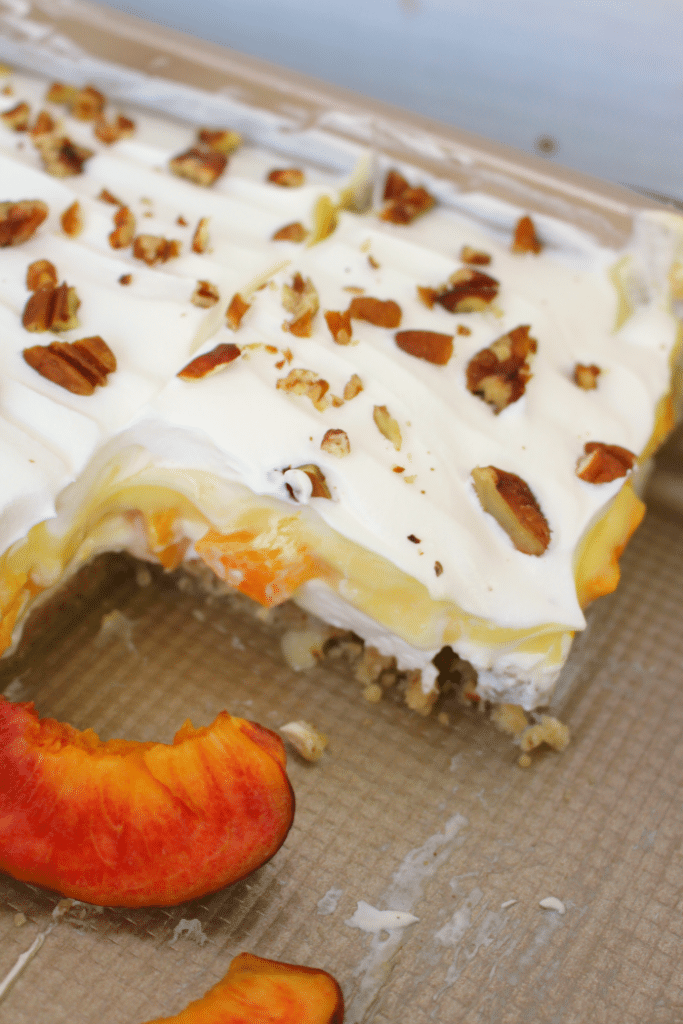 What type of nuts are in this Peach Delight dessert?
Pecans! The pecans in this dessert add the perfect crunch to go with the creamy layers and fresh peaches. Both in the crust and then sprinkled on top, the South's favorite nut goes perfectly in this dessert. My Banana Pecan Sheet Cake and my Maple Pecan Fudge are some other amazing ways to enjoy pecans.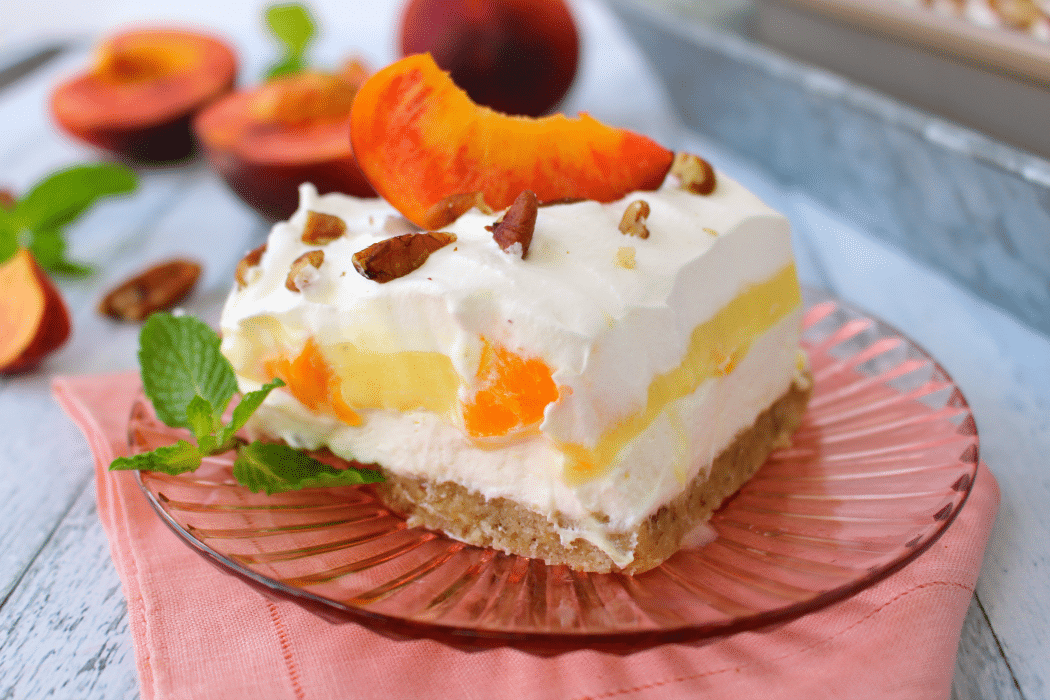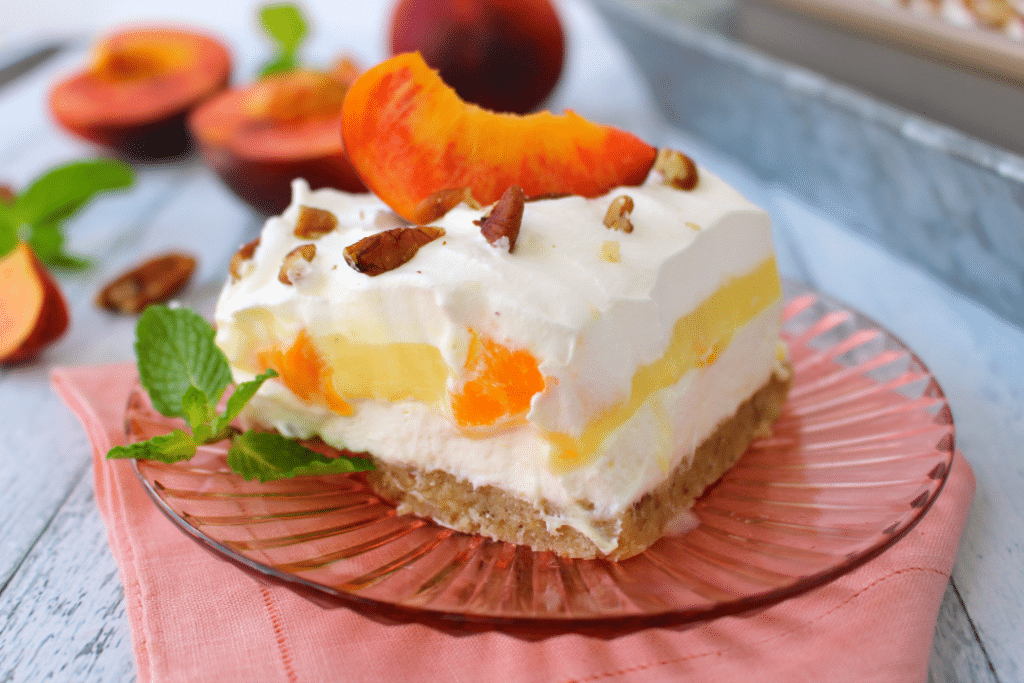 How long do I wait to slice this peach delight dessert?
Refrigerate this peaches and cream dessert at least 2 hours before slicing. The layers of this dessert will need time to set-up prior to slicing to achieve even, square slices.
What should I serve with peaches and cream dessert?
This dessert is great as is – it doesn't really need ice cream or additional whipped topping. I would recommend serving my Ginger Peach Iced Tea, a Ginger Peach Moscow Mule, Peach Margarita or my Vanilla Bean Iced Coffee as drinks to go with this dessert.

If you loved this delicious peaches and cream dessert, check out some of my other peach recipes:
Here's the easy recipe for my Peach Delight dessert: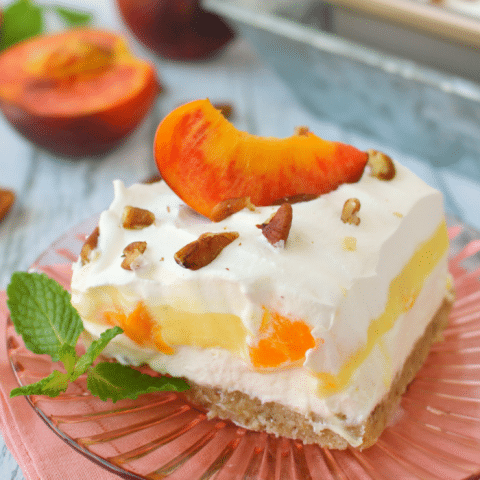 Peaches & Cream Dessert Bars
If you love fresh, summer peaches this dessert is for you! My Peaches & Cream Dessert Bars have a Pecan Sandie cookie crust, cream cheese filling, fresh peaches and toasted pecans! You don't have to be a Southerner to enjoy this fabulous dessert!
Ingredients
Crust:
1 (11.3 oz) pkg., Pecan Sandies Cookies
1/2 c. pecans
1/4 c. sugar
1/3 c. melted butter
Cream Cheese Layer:
1 (8 oz. pkg) cream cheese, room temperature
2 Tbsp. milk
1 c. powdered sugar
1 (8 oz. container) frozen whipped topping, thawed
Peach Layer:
2 1/2 c. fresh or canned peaches, peeled & chopped
1 large (5.9oz. pkg) vanilla pudding mix
3 1/2 c. cold milk
Topping:
1 (8 oz. container) frozen whipped topping, thawed
1/2 c. chopped, toasted pecans
fresh peach slices for garnish, if desired
Instructions
Preheat oven to 350. Lightly spray a 9x13 pan with non-stick spray. Set aside.
In a food processor, crush the cookies, pecans and sugar together. Stop to pour in the melted butter. Pulse a few more times to combine. Pour out into the prepared pan. Press crust mixture firmly and evenly into the bottom of the pan. Bake at 350 for 5-7 minutes just to set the crust. Remove from oven and let cool.
For the cream cheese layer, cream together the cream cheese, powdered sugar and milk until smooth. Fold in the thawed whipped topping. Spread over the bottom crust. Place in refrigerator while making the second layer.
For the peach layer, peel and cut fresh or canned peaches into chunks. Add the peach chunks to the top of the cream cheese layer. Mix the pudding mix and milk. Pour over the top of the peaches.
Top with the remaining container of frozen whipped topping and sprinkle with the toasted pecans. Refrigerate for at least 2 hours before serving for the dessert to set-up.
Slice and top with additional peach slices if desired.
Notes
You can omit the chopped pecans if you prefer not to have nuts in this recipe.
Nutrition Information:
Serving Size:

15 slices
Amount Per Serving:
Calories:

282
Total Fat:

20g
Saturated Fat:

7g
Cholesterol:

42mg
Sodium:

116mg
Carbohydrates:

19g
Sugar:

15g
Protein:

7g
I hope you get the chance to enjoy this amazing dessert this summer with fresh peaches. If the season passes you by, no worries. A great substitution is frozen or canned peaches, which means this dessert can be enjoyed all year round!
Enjoy! ~Erin