Spice up your fries and onion rings with this amazing Smokey Chipotle Dipping Sauce!  Excellent for dipping or even spread on a sandwich.  An amazing snack perfect for watching the big game!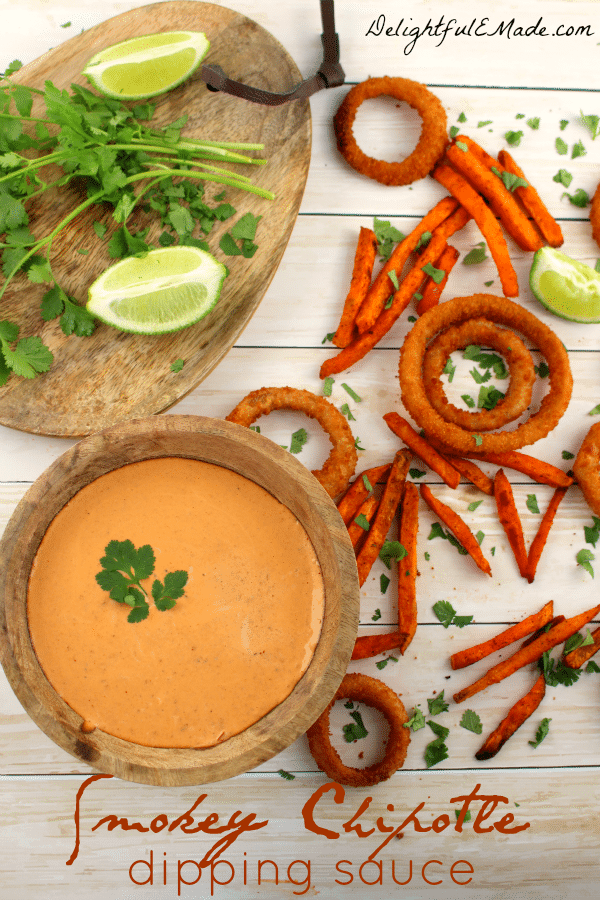 There is probably nothing my husband and son love more than fries and onion rings.  We recently celebrated Harrison's 7th birthday, and one of the first things he requested was fries!  My guys love fries and onion rings with their burgers, hot dogs and sloppy joes.  They also love to bake up some of these tasty treats for a simple snack when watching football or college hoops.  Alexia Sweet Potato Fries and Crispy Onion Rings are the perfect solution for a quick, easy & delicious game time snack!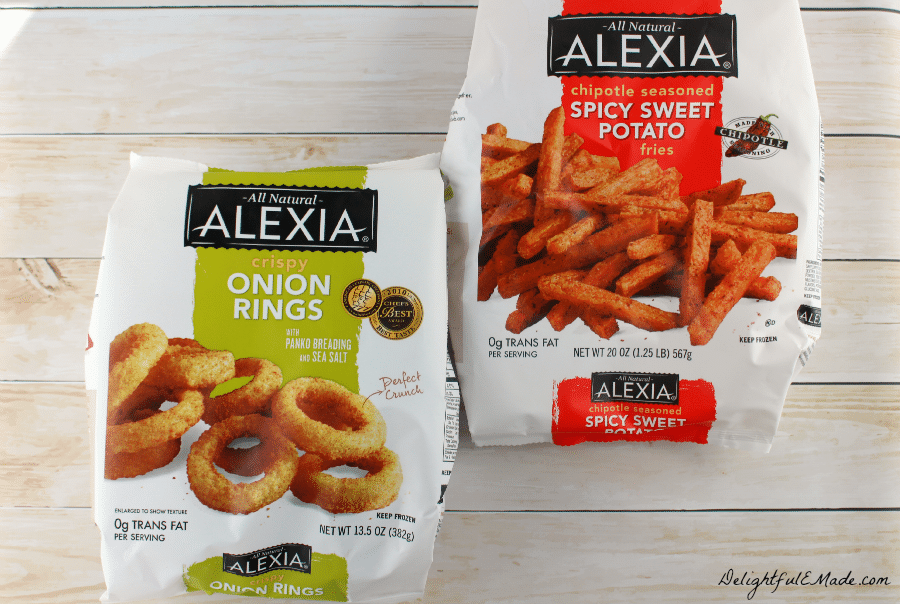 Now that it's college hoops season, I always make sure to stock Alexia Onion Rings and Sweet Potato Fries.  They make such perfect snacks for when we're watching games.  Instead of ketchup, I wanted to mix up a quick, easy dipping sauce for these crispy, delicious fries and rings.  This Smokey Chipotle Dipping Sauce is the perfect compliment!
This dipping sauce couldn't be easier to make!  It involves just a couple ingredients, and tastes completely amazing! If you can operate a blender or food processor, and can open a can and a jar, you're already half way there. 😉  In addition to the sauce, I added a bit of chopped cilantro and lime juice to the fries and onion rings for some amazing flavor!
I think my favorite of the Alexia products are the Spicy Sweet Potato Fries.  My savory dipping sauce is wonderfully complimentary to the sweet fries.  I'll be honest, I ate many, many of these fries with the sauce while taking these photos.
The Onion Rings are pretty fantastic as well.  I absolutely love how crispy these are when they come out of the oven!
Here's the incredibly easy recipe for my Smokey Chipotle Dipping Sauce:

Erin Indahl-Fink
Yields 24 servings
Smokey Chipotle Dipping Sauce
Spice up your fries and onion rings with this amazing Smokey Chipotle Dipping Sauce! Perfect for dipping or even spread on a sandwich!
5 minPrep Time
5 minTotal Time
Ingredients
1 c. mayonnaise
1 (7 oz.) can, chipotle peppers in adobo sauce
fresh lime juice
fresh cilantro
Alexia Onion Rings
Alexia Sweet Potato Fries
Instructions
In a blender or food processor, add the mayonnaise and chipotle peppers with sauce. Puree until fully combined and smooth. Enjoy as a dipping sauce or spread on sandwiches. Refrigerate any leftovers in an airtight jar or container.
Cook onion rings and sweet potato fries according to package directions. Sprinkle with fresh cilantro and lime juice. Dip into the dipping sauce.
7.8.1.2
139
https://delightfulemade.com/2015/02/24/smokey-chipotle-dipping-sauce/
Copyright by DelightfulEMade.com
This dipping sauce is also great spread on a chicken or turkey sandwich, or a great topping to a burger.
The next time you're thinking quick, easy snacks, grab some Alexia fries, onion rings and the ingredients for this dipping sauce.  It's perfect for a party, or just a simple night in with the family!
Stop by Alexia's Facebook page or Pinterest page to check out all of their amazing ideas for game time snacking!
Enjoy!  ~Erin