This is the perfect recipe for smoky chipotle barbecue sauce! Fantastic for burgers, chicken, pork chops and ribs, this simple chipotle BBQ sauce will be your new go-to recipe for grilling season.
This post may contain affiliate links. Delightful E Made is a participant in the Amazon Services LLC Associates Program, an affiliate advertising program designed to provide a means for us to earn fees by linking to Amazon.com and affiliated sites.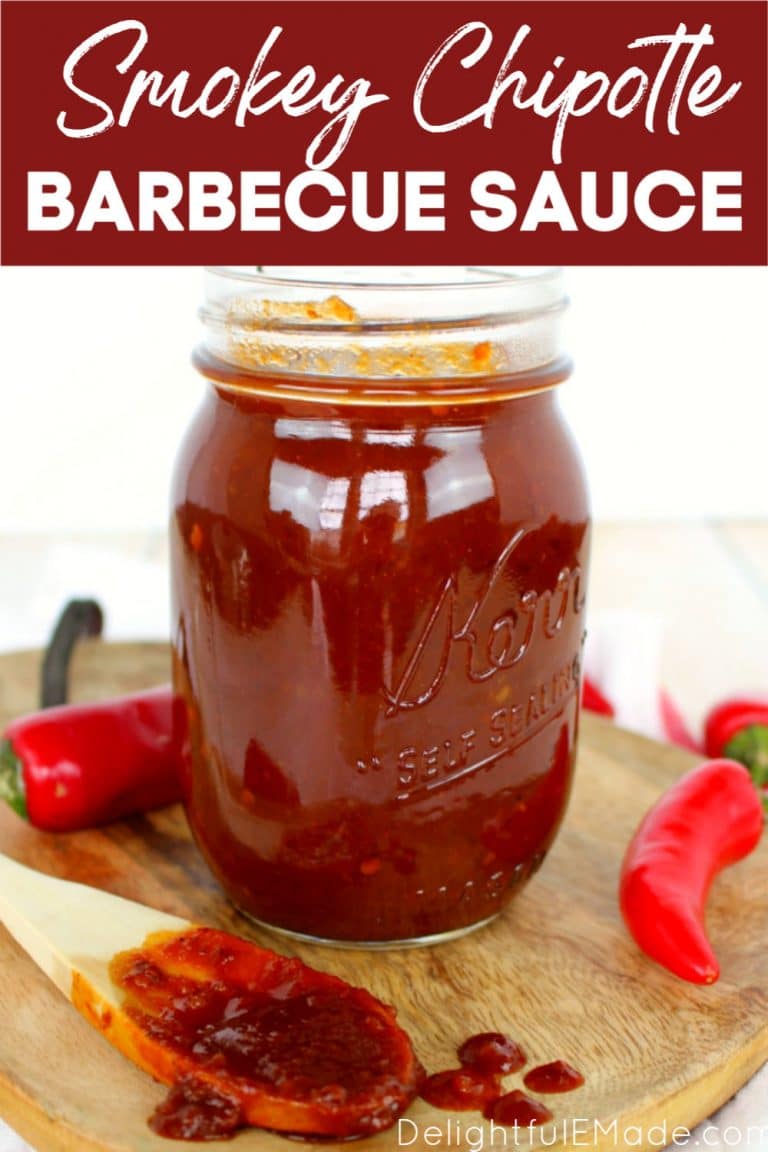 Is getting together with neighbors, friends and family for cookouts and get-together's on your summer to-do list? Every summer we get together with our neighbors for fun cookouts. Great burgers, grilled chicken and pork chops are always on the menu.
But, in order for those burgers, chicken and chops to be great, they've gotta have a fantastic barbecue sauce! My Smoky Chipotle BBQ Sauce is the perfect go-to sauce recipe that I use all spring, summer and into the fall for tailgating season!
Here's how this simple, delicious smoky barbecue sauce comes together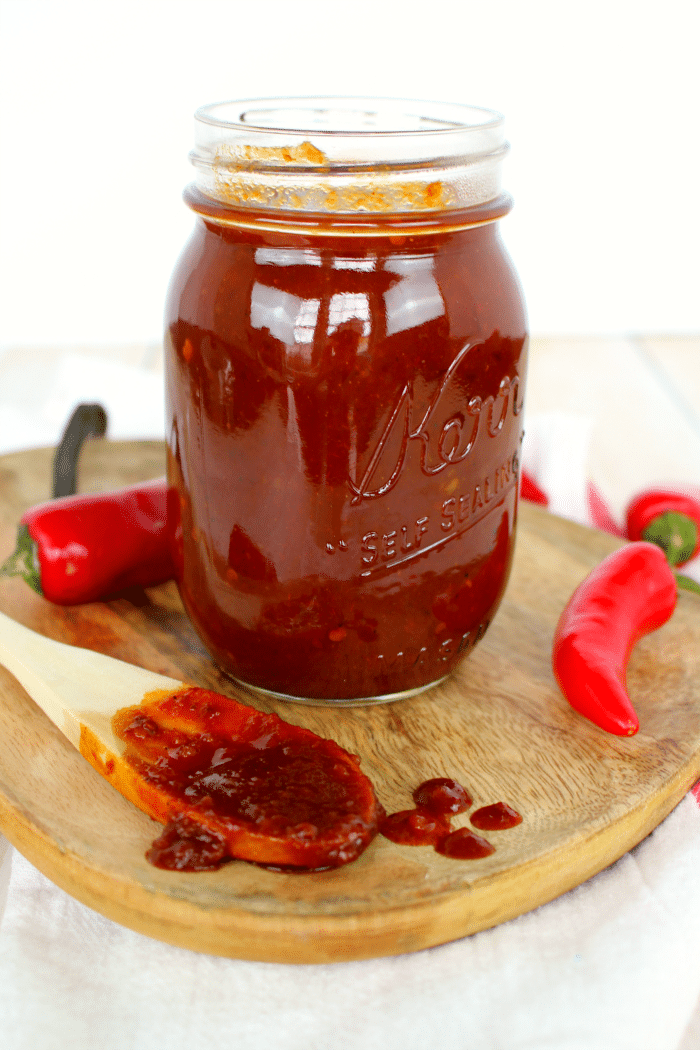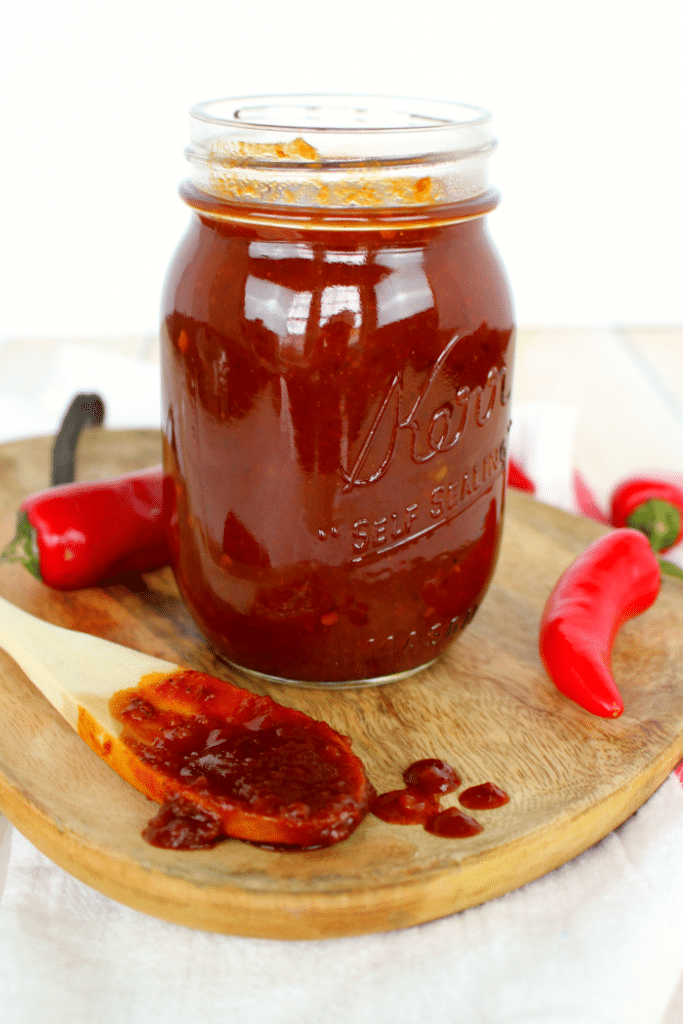 What is chipotle sauce made of?
A can of tomato sauce, molasses, vinegar, minced onion, a few spices and chipotle peppers in adobo sauce.
The special ingredient that really gives this sauce its smokey, spicy depth is the chipotle peppers in adobo sauce. These typically come in a 7 oz. can, found in the International foods section of your local grocery store.
What does chipotle BBQ sauce taste like?
It is slightly sweet, tangy and takes on the smoky flavor from the chipotle peppers. It's the perfect flavor balance for chicken, ribs, chops and even burgers!
Is chipotle sauce spicy?
It can be if you add several chipotle peppers to the sauce. The other ingredients will balance out the spice of the peppers, but don't go overboard with the peppers – no more than three.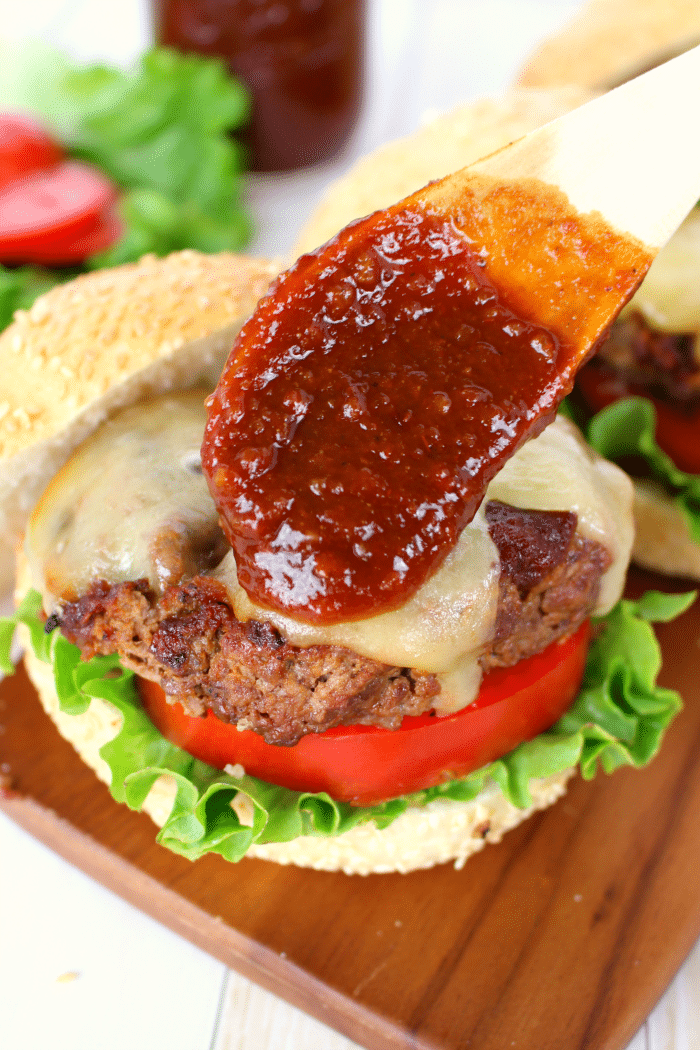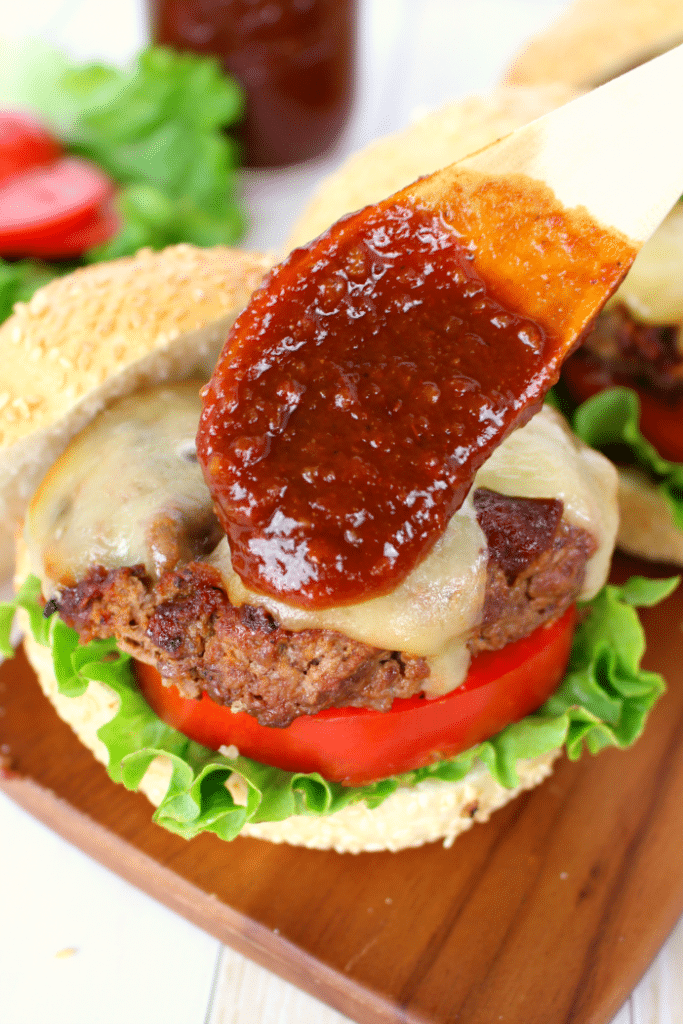 How do you make a spicy bbq sauce from scratch?
Before I simmer the sauce, I puree all of the ingredients in a blender (or food processor). I do this not only to puree the peppers and onions, but to also get all of the flavors to come together as they cook.
From the blender, I then immediately poor the sauce into a small saucepan and slowly simmer over low heat for about 25-30 minutes. You'll have the most amazing barbecue sauce, that's way better than anything that comes in a bottle!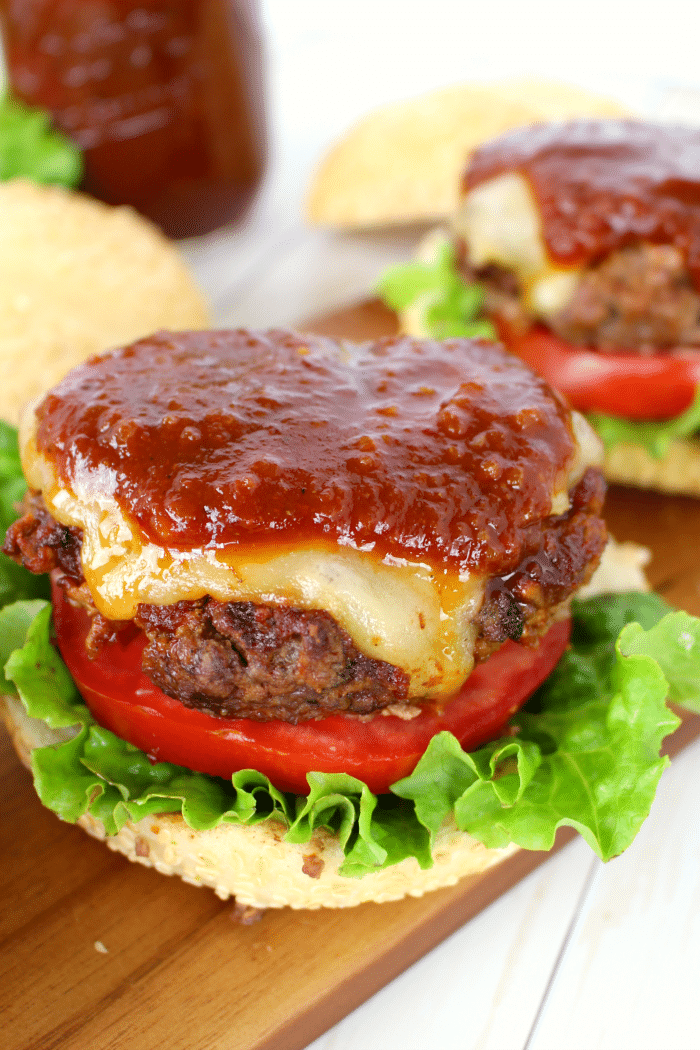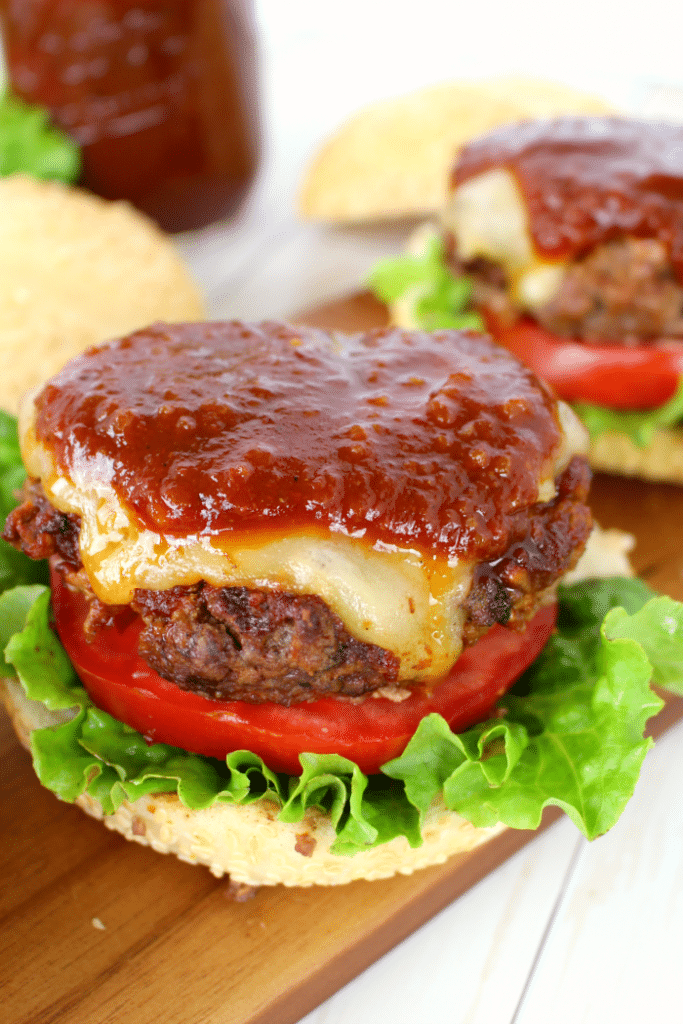 This Smokey Chipotle Barbecue Sauce is the perfect condiment for my BBQ Bacon Burgers. Give it a try on a full rack of ribs, barbecued chicken, pork loin or bone-in pork chops. I also have a delicious Honey Bourbon BBQ Sauce that's fantastic on my Honey Bourbon BBQ Pork Chops!
If bourbon isn't your thing then this Homemade Honey BBQ Sauce Recipe is amazing as well! My Carolina Gold BBQ Sauce is a great option for grilled chicken and pork.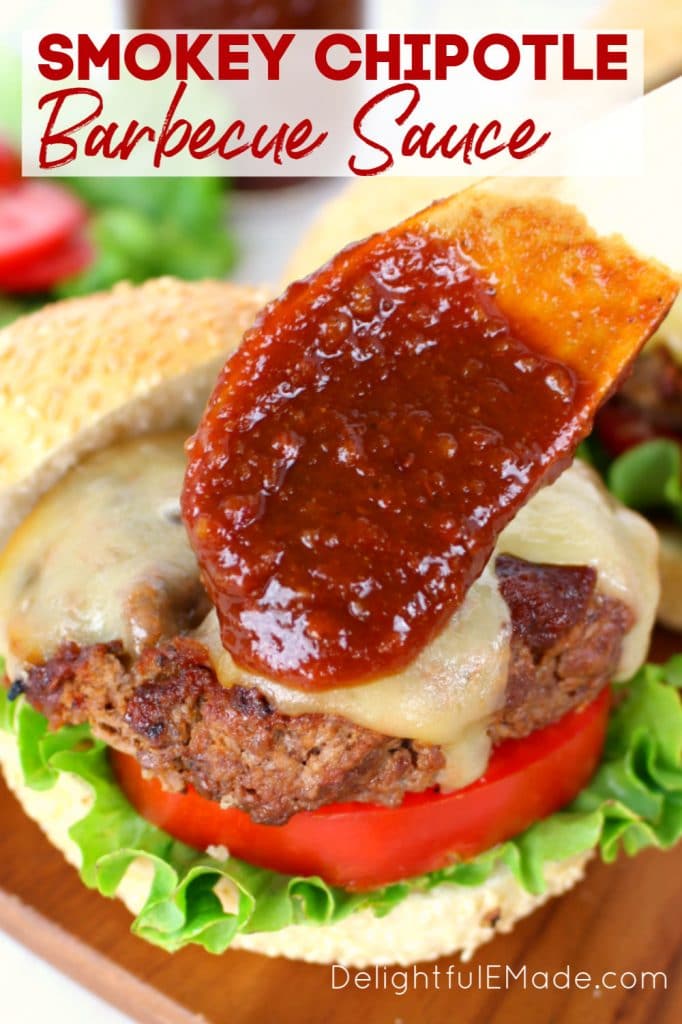 Is grilling your thing? Check out some of my favorite recipes from the grill:
Could you use some side dish ideas for your next cookout? These are some of my favorites:
Here's the delicious recipe for my Smoky Chipotle BBQ Sauce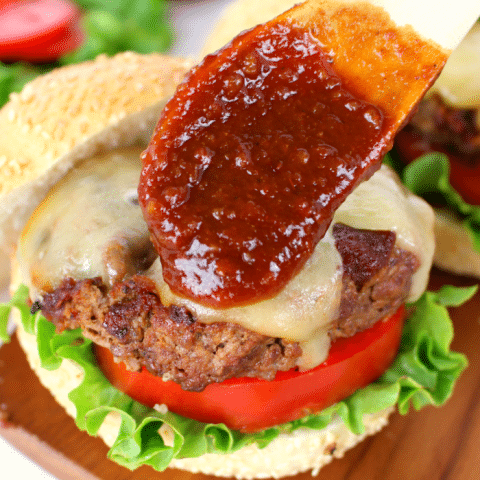 Smokey Chipotle Barbecue Sauce
The perfect recipe for smokey, spicy & sweet barbecue sauce! Fantastic for burgers, chicken, pork chops and ribs, this simple BBQ sauce will be your new go-to recipe for grilling season!
Ingredients
1 (15 oz.) can, tomato sauce
1/4 c. molasses
1/4 c. white vinegar
1/4 c. water
2 chipotle peppers in adobo sauce (from can)
2 Tbsp. dry, minced onion
1 Tbsp. Worcestershire sauce
1/2 tsp. salt
1/4 tsp. garlic powder
1/4 tsp. pepper
Instructions
In a blender or food processor, add all of the ingredients. Puree for 30-60 seconds. If there are still chunks of pepper, puree for 30 additional seconds. Pour puree into a small saucepan.
Over medium low heat, bring sauce to a low simmer. Reduce heat to low and simmer for 25-30 minutes.
Refrigerate sauce in an airtight container for up to two weeks.
Notes
For a less spicy sauce, reduce chipotle peppers to 1, and add and additional 2 Tbsp of molasses to the sauce.
More more spicy-smokey heat, increase the peppers to 3-4. Made sure to puree well.
Yield: about 2 cups of sauce
I hope you're able to enjoy a great season of grilled burgers, chops, ribs, and chicken with this fantastic go-to barbecue sauce. This sauce will make your burgers the hit of the neighborhood cookout! Enjoy! ~Erin