This Apple Cider Turkey Brine is the BEST Turkey Brine Recipe!
Want to know how to brine a turkey? This Apple Cider Turkey Brine recipe is the key to roasting the most amazing Thanksgiving bird! Made with apple cider, brown sugar, spices and herbs, this turkey brine recipe will be your new go-to for every holiday meal!
This post may contain affiliate links. Delightful E Made is a participant in the Amazon Services LLC Associates Program, an affiliate advertising program designed to provide a means for us to earn fees by linking to Amazon.com and affiliated sites.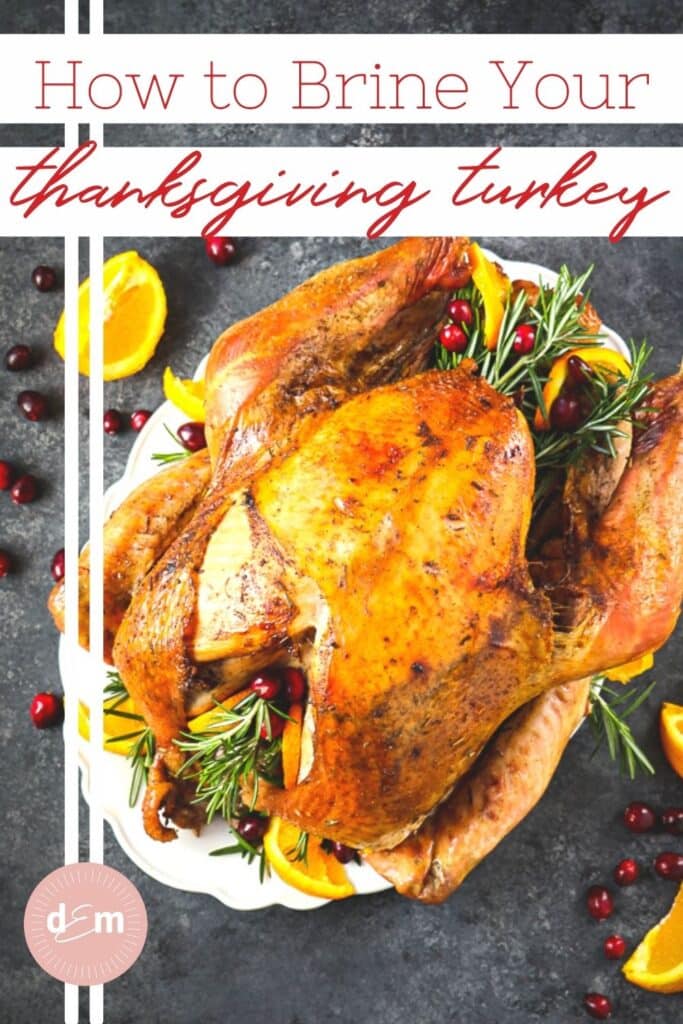 This Apple Cider Turkey Brine is the BEST Turkey Brine Recipe!
Over the past decade, I'm sure I've roasted a dozen turkeys, if not more. I've come to the conclusion that a good turkey brine recipe is the absolute best way to add flavor, juiciness and take your bird from good to amazing! This recipe for Apple Cider Turkey Brine is my go-to recipe for making the most amazing Thanksgiving and Christmas turkey!
Here's how this simple, easy-to-make turkey brine recipe comes together: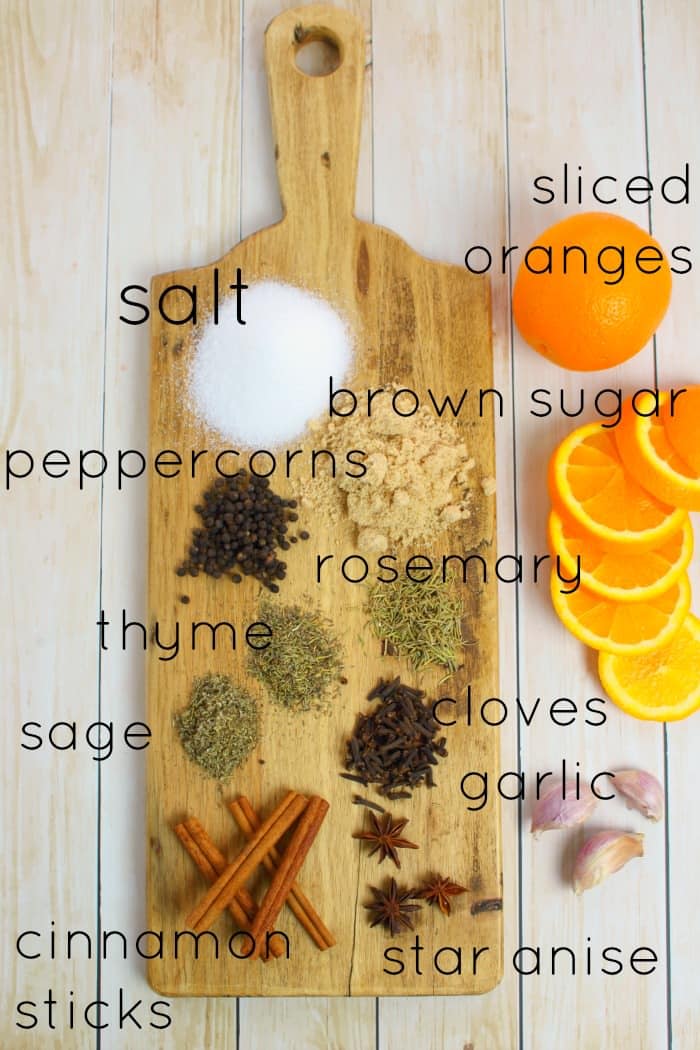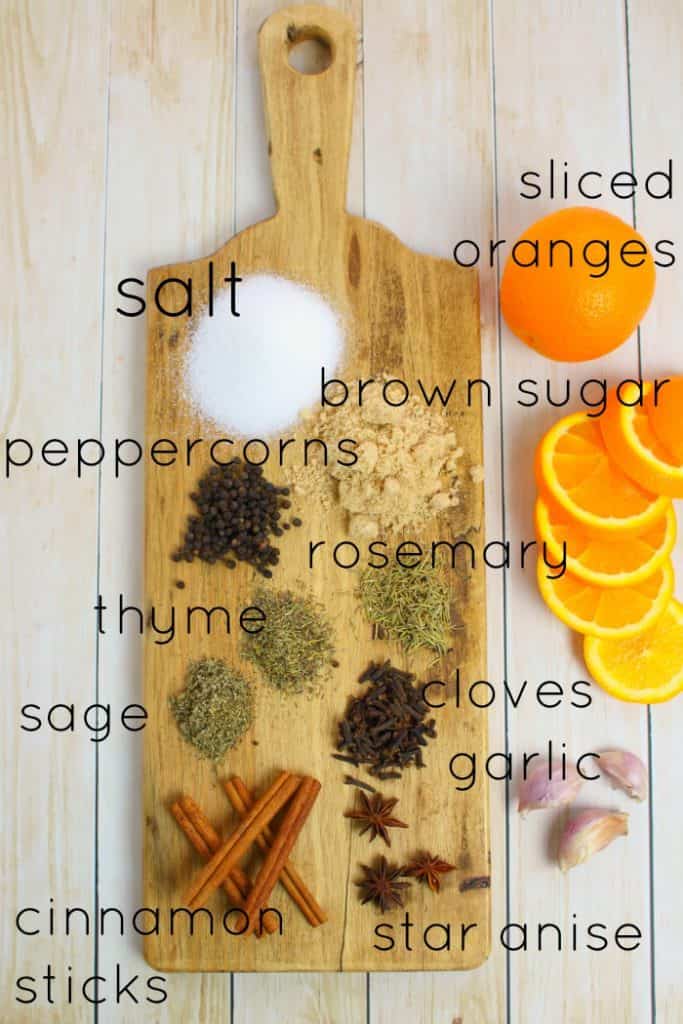 Step 1: Gather all of your ingredients for the Apple Cider Turkey Brine
Making a brine for your turkey is a relatively simple process. The main ingredients are salt and water, but beyond that, you can really customize the seasoning and spices to your tastes.
The salt acts as a tenderizer for the meat, and the spices and seasoning add some really great flavor, without being overpowering. A few years back, I began substituting part of the water with Apple Cider, and haven't gone back. The results were incredible!
After quite a bit of trial, error and substitution over the years, I've come up with this brine recipe that has been my go-to recipe for many holiday meals. The results with this Apple Cider Turkey Brine recipe are not only spot-on with flavor, it's now the only way I make a holiday turkey!
Here are the ingredients and a few other essentials for your Turkey Brine Recipe:
Salt
Brown Sugar
Peppercorns
Dried Rosemary
Thyme
Sage
Whole Cloves
Star Anise
Cinnamon Sticks
Garlic
Oranges (2)
Apple Cider (or apple juice)
Brining Bag (not oven bag)
(For exact recipe amounts of each ingredient, be sure to scroll down to the recipe card.)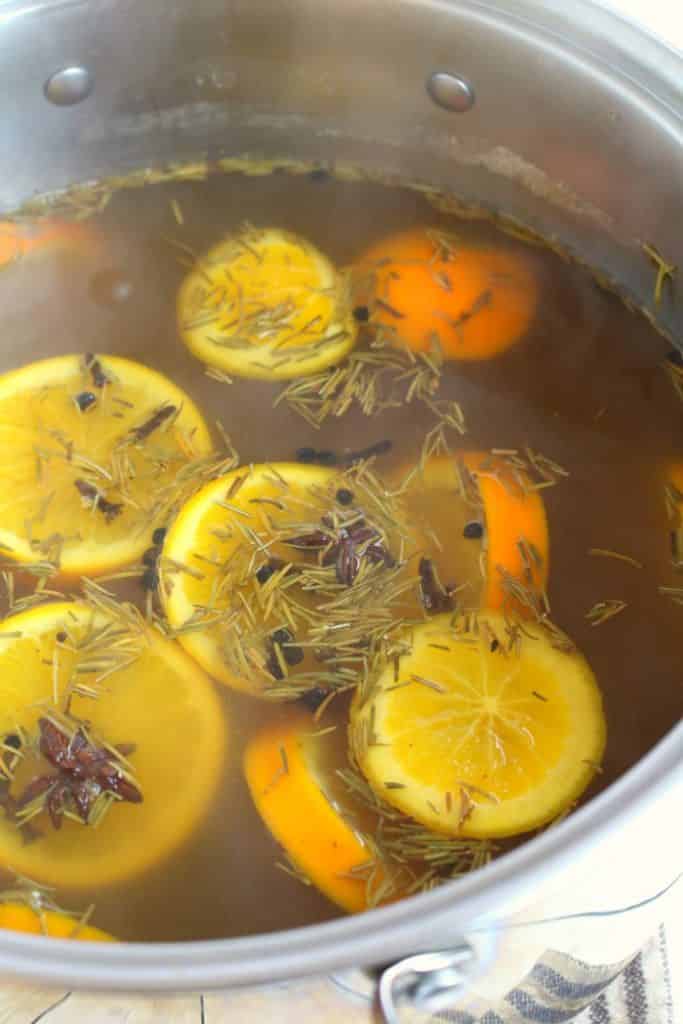 Step 2: Combine all ingredients in a stock pot and bring to a boil
When making this Apple Cider Turkey Brine, you'll need a large stock pot to bring the salt, spices and liquid to a boil. In addition to a gallon of water, I've also added a half gallon of apple cider.
With the oranges, cinnamon and cloves, this brine smells absolutely amazing when coming to a simmer. You'll want to stir the brine mixture often while it comes to a boil, as the salt and sugar need to dissolve in the liquid.
Once the liquid comes to a rolling boil, remove the brine from the heat, and cover with a lid. Let the brine cool and come to room temperature. (I let mine sit and cool for at least an hour.) Never pour a hot brine over a thawed, uncooked turkey.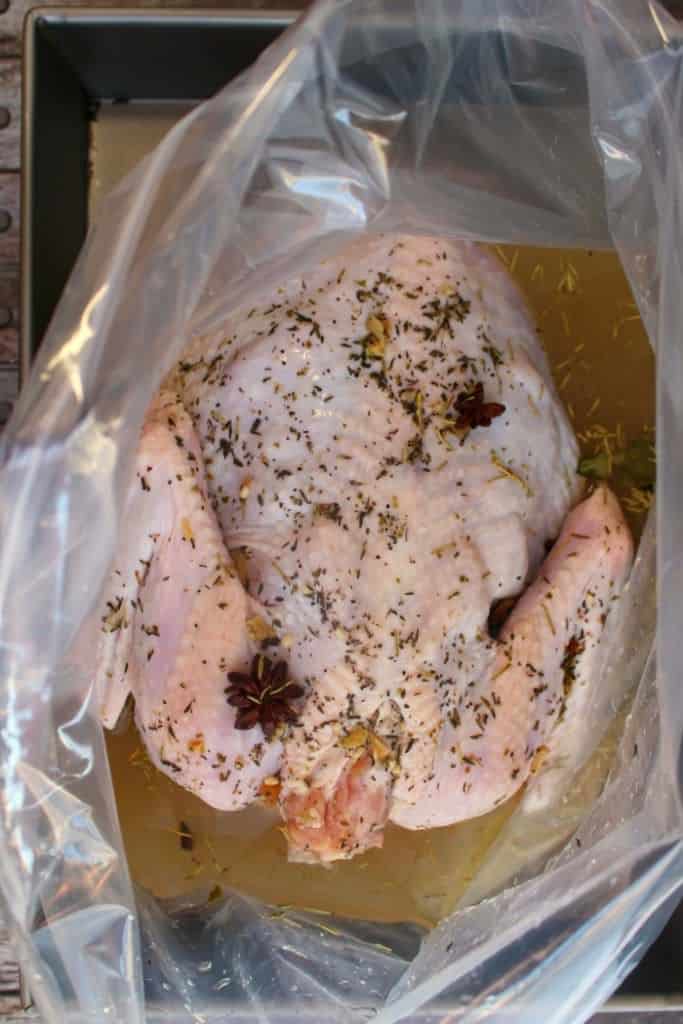 Step 3: Pour the Cooled Brine Over the Turkey into a Brining Bag
Once the liquid has come to room temperature, you can then the Apple Cider Turkey Brine onto the turkey. Your turkey should be mostly thawed by this point, but it's okay if there are still ice crystals on the inside of the bird.
Speaking of the inside of the bird, be sure to remove the bag of giblets that have been placed inside the turkey. These are not necessary to the brining process. The giblets typically include the neck, liver, heart, and gizzard of the turkey. Some like to include the giblet meat with their stuffing, or roast alongside the turkey – I personally discard these parts, as no one in my house eats them. 🙂
Okay, so back to the brining bag….I don't recommend using a bucket or cooler to brine your turkey, although you can use it if you're in a pinch. Brining bags are specifically designed for this exact technique. Unlike an oven bag (DONT use an oven bag – it's not thick enough and you'll surely spring a leak!) the plastic is much thicker, and can withstand the weight of the liquid and the turkey.
Buy your Brining Bag here (Amazon Link)
Place your turkey breast-side down, and pour the brine over the top of the bird. If you have a very large turkey, like 18-22 lbs, add an extra 1/2 to 1 gallon of additional water.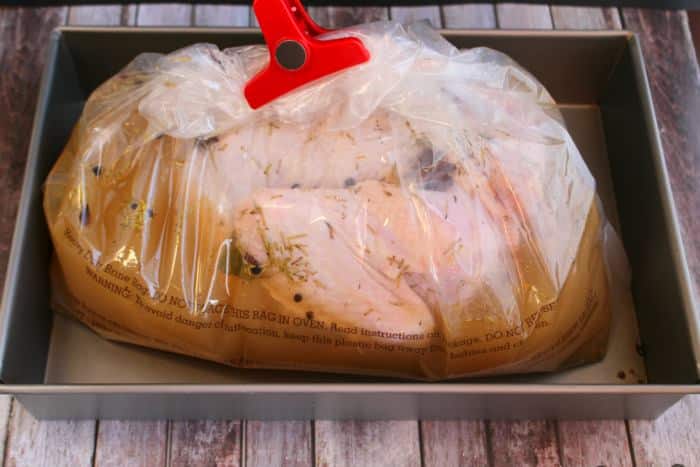 Step 4: Seal and Refrigerate the Turkey Brine Recipe
Once everything is in the bag, close up the bag tightly, and refrigerate the brined turkey for 18-24 hours. The brining bag will typically have a zip-lock type of closure, but in addition to that, I'll roll up the bag and secure with a clip. (A good chip-clip or large binder clips are an awesome solution here!)
I will also place the bagged turkey inside a large roasting pan. This is just to make sure that if the bag happens to spring a leak (I've never had this happen, but its possible) that the liquid is contained and doesn't flood my refrigerator.
If you are really tight on refrigerator space, you can place the bagged turkey in a large cooler, and cover with ice. Just be sure to keep the turkey cold and well iced for the 18-24 hours. You may need to drain off some water and extra ice halfway through the process.
Frequently Asked Questions about Brining A Turkey:
Can I brine my turkey longer than 24 hours?
Yes, your turkey will be okay if it sits in the brine for longer than 24 hours. However, I would not recommend any more than 36 hours. The salt in the brine will begin to break down the protein fibers of the meat, and the texture of the turkey will not be as good.
Can I use Apple Cider VINEGAR instead of Apple Cider?
No. Apple cider vinegar is very different than apple cider. Your brine will be VERY acidic and will affect the flavor and texture of the meat. If you cannot find apple cider, I would recommend using apple juice instead.
What size of turkey is best for this amount of brine?
The brine amount is appropriate for almost all turkey sizes. The brine liquid will be a good amount for anything from a 10-20 lb turkey. Any larger and you may want to add some extra water.
Can I make gravy from the drippings of the cooked, brined turkey? Will it be too salty?
The drippings shouldn't be overly salty. Because you have thoroughly rinsed your turkey prior to cooking, any excess salt was removed. However, if you would like to exercise caution, use half drippings, half water or chicken stock for your gravy.
Can I use a roasting bag instead of a brining bag?
No. These are two very different products. A roasting bag is built to go into the oven and is a much thinner plastic. It is not meant to hold a large amount of liquid and will likely spring a leak, leaving you with liquid brine everywhere! Instead, be sure to purchase a brining bag. This is specifically built for large amounts of liquid and able to withstand the weight of a turkey. It is much thicker plastic and is much more durable.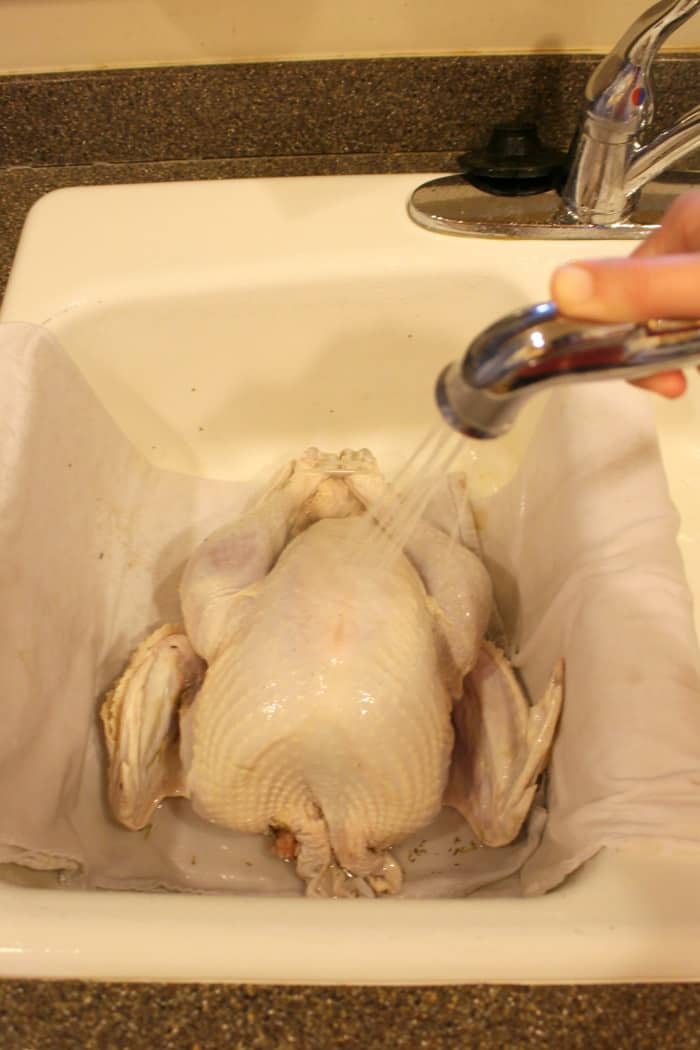 Step 5: Rinse the Turkey before Roasting
Okay, so it is now likely Thanksgiving or Christmas day. Your turkey has been in the refrigerator brining for nearly a day – he's now ready to come out and make his holiday debut! The last step of brining your turkey is to give him a good rinse before roasting.
After nearly dropping my turkey on more than one occasion, I've discovered through much trial and error this easy technique. First, start with a CLEAN kitchen sink. Lay down some clean kitchen towels so the turkey doesn't slip around.
Next, with the water sprayer or faucet, give the turkey a really good rinsing. Be sure to rinse inside the inner cavity, and all around the wings and legs. This will remove any excess salt and herbs, on the outer surface and prevent the turkey from being overly salty.
Don't worry, you're not undoing or diluting the brine that you just did – the salt, herbs, and all the other ingredients from the brine have already permeated the meat and have adequately done their job.
That's it. You're now done brining your turkey – he's all set and ready to be roasted to perfection! Wanna know how to roast your turkey? Check out my post for 3 EASY TIPS FOR A MOIST AND DELICIOUS TURKEY here. I cover how to prep your turkey for roasting, and how to get that really awesome golden, brown skin.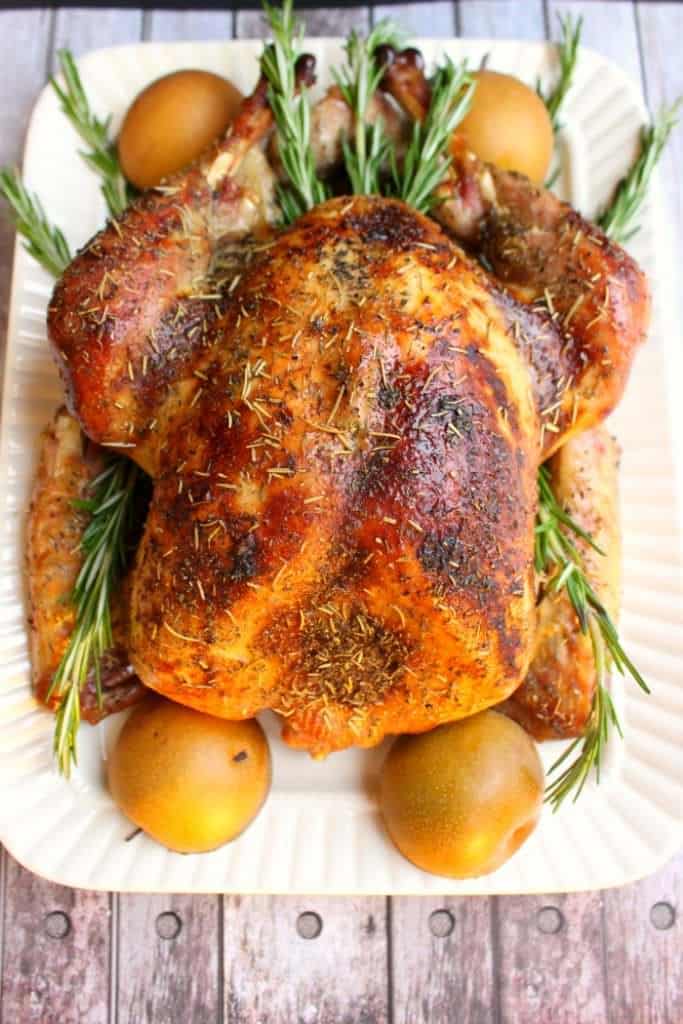 From my family to yours, I wish you a blessed, happy and healthy holiday season!
Here are a few other holiday recipes that are perfect for your Thanksgiving and Christmas dinner table:
If you're looking for How to Dry Brine a Turkey, I've got a great tutorial here: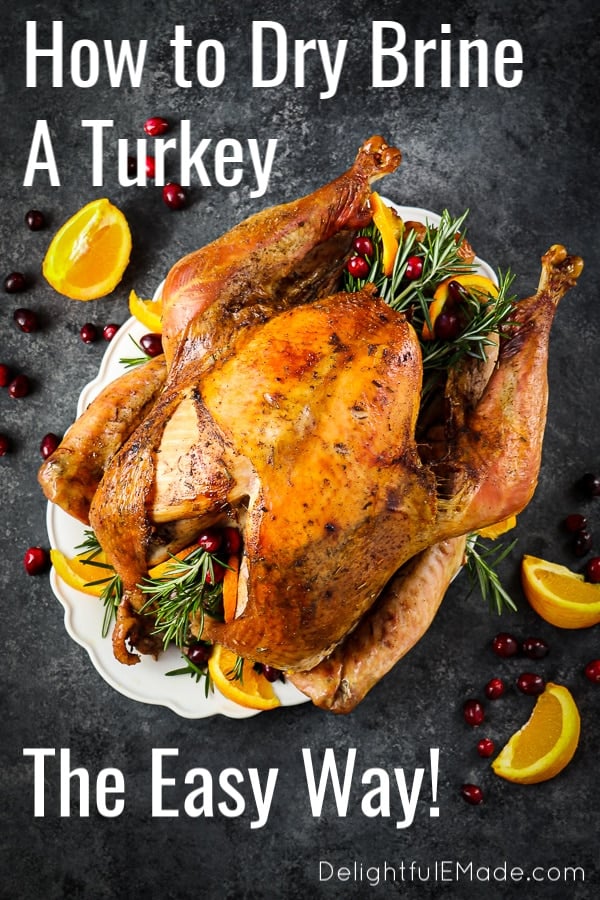 Get the Easy Apple Cider Turkey Brine recipe here:
Apple Cider Turkey Brine
Yield:
brine for 1 large turkey
Total Time:
2 hours
15 minutes
Looking for a way to add flavor and juciness to your Thanksgiving turkey? This apple cider turkey brine is an amazing way to do both. Once you use this turkey brine recipe, you'll never go back. Absolutely amazing!
Ingredients
1 c. kosher salt
1/2 c. brown sugar
2 Tbsp. peppercorns
2 Tbsp. dried rosemary
2 Tbsp. thyme
2 Tbsp. ground sage
2 Tbsp. whole cloves
2-3 star anise
3-4 cinnamon sticks
3 cloves of garlic, minced
2 medium oranges, sliced
2 quarts apple cider (or apple juice)
1 gallon, water
Instructions
To a large stock pot, add all of the ingredients; salt, brown sugar, peppercorns, rosemary, thyme, sage, cloves, anise, cinnamon, garlic, orange slices, apple cider and water. Heat over medium high heat, stirring to dissolve the salt and sugar. Bring to a rolling boil, and then immediately remove from heat. Let brine come to room temperature. (Do NOT add a hot brine immediately to a turkey.)
Place thawed, uncooked turkey into large brining bag, removing any giblets that may have been in the inner cavity of the turkey. Pour cooled brine over the top of the turkey, including all ingredients that were cooked in the brine.
Seal the bag, and secure with clips if necessary. Refrigerate the turkey and brine for 18-24 hours.
Once brining is complete, discard brine and brining bag.
Place several dish towels in your sink and place the turkey on the towels. Thoroughly rinse the turkey on the inside and outside. Lightly pat with a dry towel and prep for roasting.
Notes
Feel free to customize brine ingredients to your tastes. Wine and beer are great to add to a brine. Fruit, such as apples and pears are a great addition also.
Recommended Products
As an Amazon Associate and member of other affiliate programs, I earn from qualifying purchases.
Nutrition Information:
Yield:

24
Serving Size:

1
Amount Per Serving:
Calories:

66
Total Fat:

0g
Saturated Fat:

0g
Trans Fat:

0g
Unsaturated Fat:

0g
Cholesterol:

0mg
Sodium:

2532mg
Carbohydrates:

16g
Fiber:

1g
Sugar:

13g
Protein:

0g
Be sure to check out my post on 3 Easy Steps to a Moist and Delicious Turkey – I have great brining, roasting and prep tips for roasting the ultimate holiday turkey!