Copycat Ruth Chris Sweet Potato Casserole Recipe!
If you love Ruth Chris Sweet Potato Casserole, you can now have it at home! Ruth's Chris restaurants are famous for this amazing Sweet Potato Casserole with pecans. It's creamy, delicious sweet potatoes are topped with a crisp, pecan streusel topping making for an amazing side or dessert to any holiday meal!
This post may contain affiliate links. Delightful E Made is a participant in the Amazon Services LLC Associates Program, an affiliate advertising program designed to provide a means for us to earn fees by linking to Amazon.com and affiliated sites.
The Ultimate Potato Casserole Recipe!
If you've ever dined at a Ruth's Chris Steak House, you've likely had, or at the very least, heard of their famous Sweet Potato Casserole with Pecan Topping. I must say, it's pretty awesome! Their patrons have been known to order this rich side for dessert and have it topped with vanilla ice cream! I decided as soon as I enjoyed this decadent side dish in the restaurant that I must figure out how to make it at home!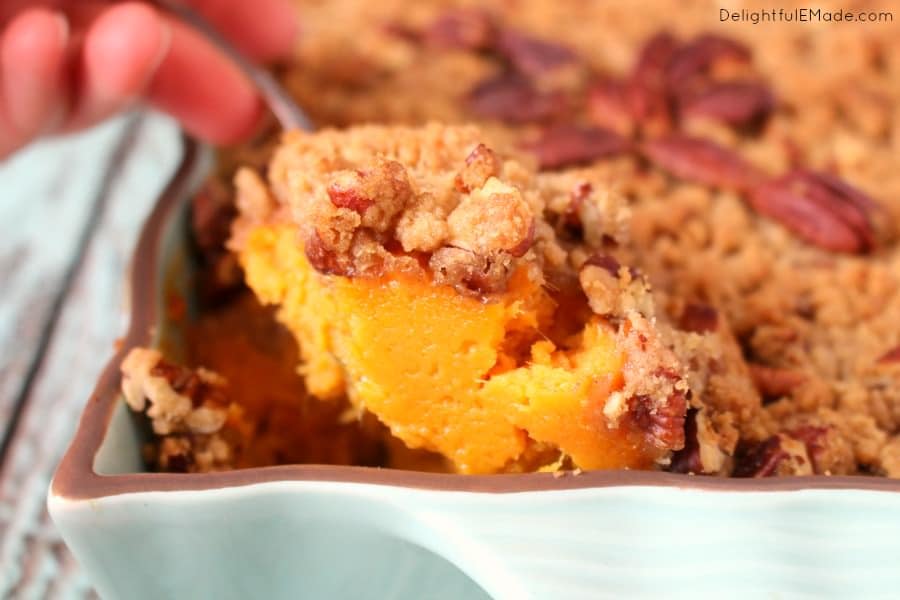 There are two aspects to this dish that make it extraordinary! The creamy, tender sweet potatoes and the crisp, pecan topping. It took a while for me to get both of these components the right texture, but I think I finally got it spot-on to restaurant quality!
Here's a grocery list of the ingredients you'll need to make this fantastic sweet potato casserole with pecans:
Sweet Potatoes
Brown Sugar
Half and Half
Butter
Eggs
Vanilla
Salt
Chopped Pecans
Flour
Cinnamon
Nutmeg
(For exact recipe amounts, be sure to reference the recipe below.)

How do I get sweet potatoes creamy and fluffy?
Start with a generous amount of sweet potatoes. I steamed about 3 lbs until fork-tender. From here I added butter, half and half, brown sugar, an egg, and vanilla. I know – the egg sounds a little unconventional, but it actually works as a binding agent for the potatoes.
Use a potato masher to get the sweet potatoes to just the right, creamy (but not over processed or gluey) texture. If you were to use a hand-mixer they would become a little over-processed. I would recommend sticking to the potato masher. It's much easier to gauge the right texture this way.
From here, spread the creamy sweet potato mixture into the bottom of a medium-sized baking dish. The baking dish I'm using here is 7×9, but any medium sized baking dish will work well, also.
That dreamy pecan crumble topping!
You'll then top the sweet potato mixture with the delicious, pecan crumble. In my opinion, this makes the dish!! It adds such a wonderful texture and crunch to the creamy potatoes that reside below it. I also added some additional pecan halves to the top for a pretty garnish. This gives it a special presentation that is great for a holiday meal.
Is sweet potato casserole a dessert or side dish?
Both. (That's the safe answer.) This is a hotly contested question. Ingredients for sweet potato pie and sweet potato casserole are identical. One is considered a side and the other a dessert. Both pie and casserole contain quite a bit of sugar and sweetness, therefore making it a reasonable contender for a dessert.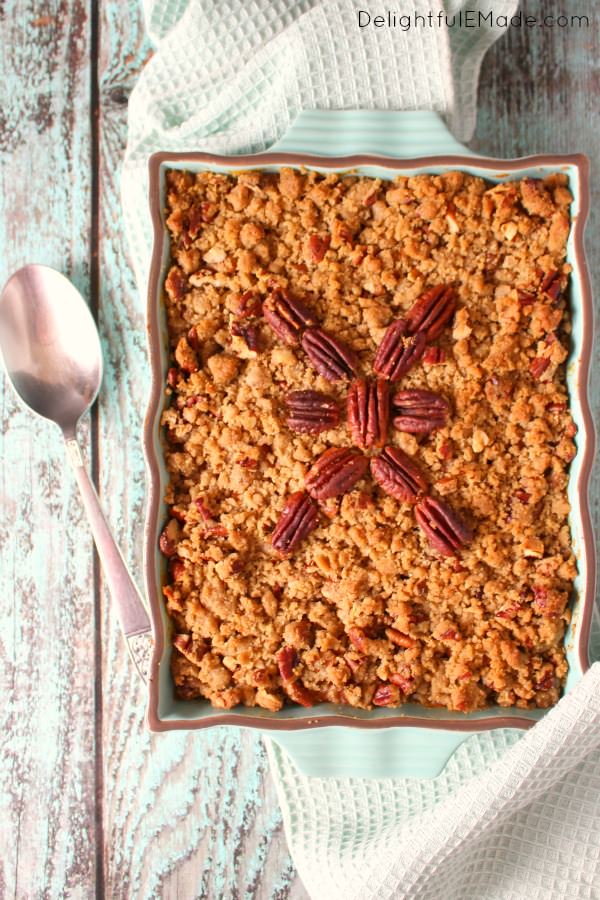 It's ready to serve!
Once the dish comes out of the oven, it will look and smell incredible! This Ruth's Chris Sweet Potato Casserole will be the most popular side on your holiday table. You'll want to forget the turkey or prime rib, and dig right in to this! The beautiful bright orange potatoes underneath the crisp, golden pecan topping will be a show-stopper for any holiday dinner!
Sweet Potato Casserole Questions:
How do you reheat sweet potato casserole?
If you're reheating an individual serving of sweet potato casserole, I recommend simply reheating in the microwave. Heat on 30 second increments until heated through completely.
If you're reheating the entire casserole from being refrigerated, do it in the oven. Preheat the oven to 325 degrees and cover loosely with foil. Reheat in the oven for 25-35 minutes or until heated through completely. Remove the foil for the last 10 minutes to crisp up the top crust.
Can Sweet Potato Casserole be frozen?
Yes! This is a great way to save some time when cooking your holiday meals. Create the sweet potato casserole and assemble in a baking dish or pan. Without baking, wrap tightly with well-sealing plastic wrap (I like press-and-seal wrap). Freeze for up to a month in advance.
When ready to bake before your dinner, allow time for thawing. Take out of the freezer the night before to ensure the casserole is thawed. Bake as directed before your dinner.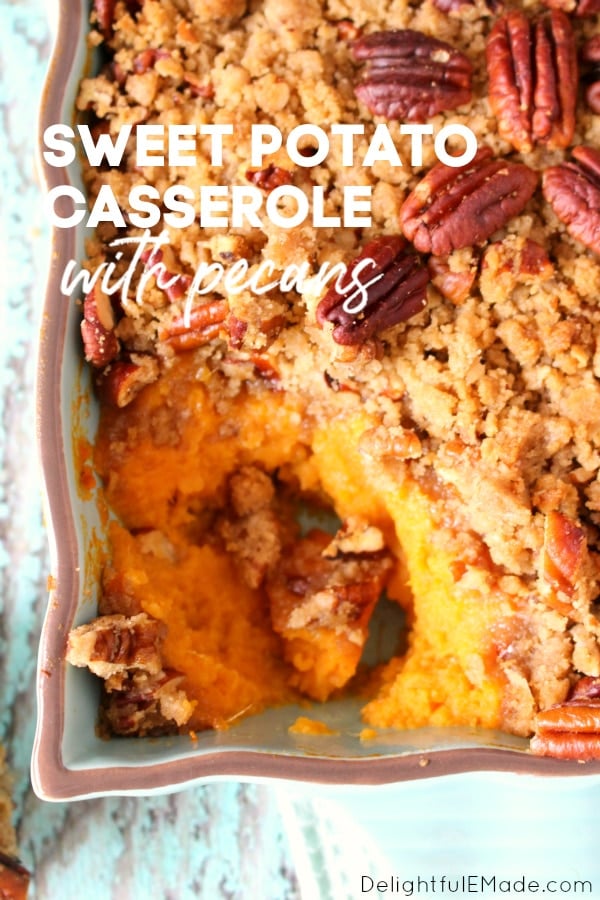 If you loved this fantastic sweet potato casserole with pecans, be sure to check out some of my other holiday favorites: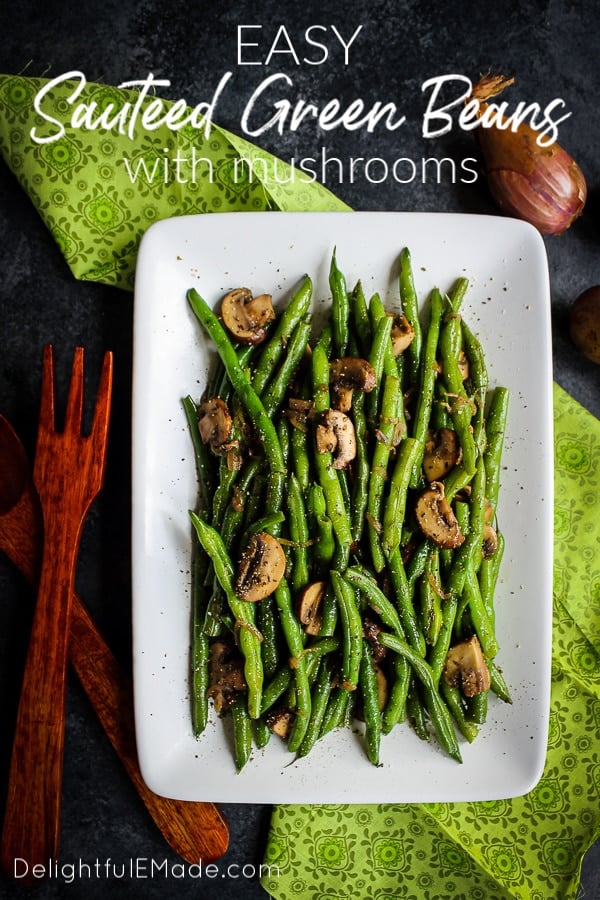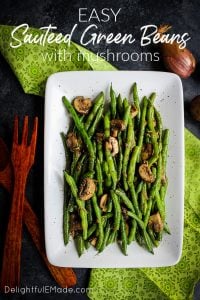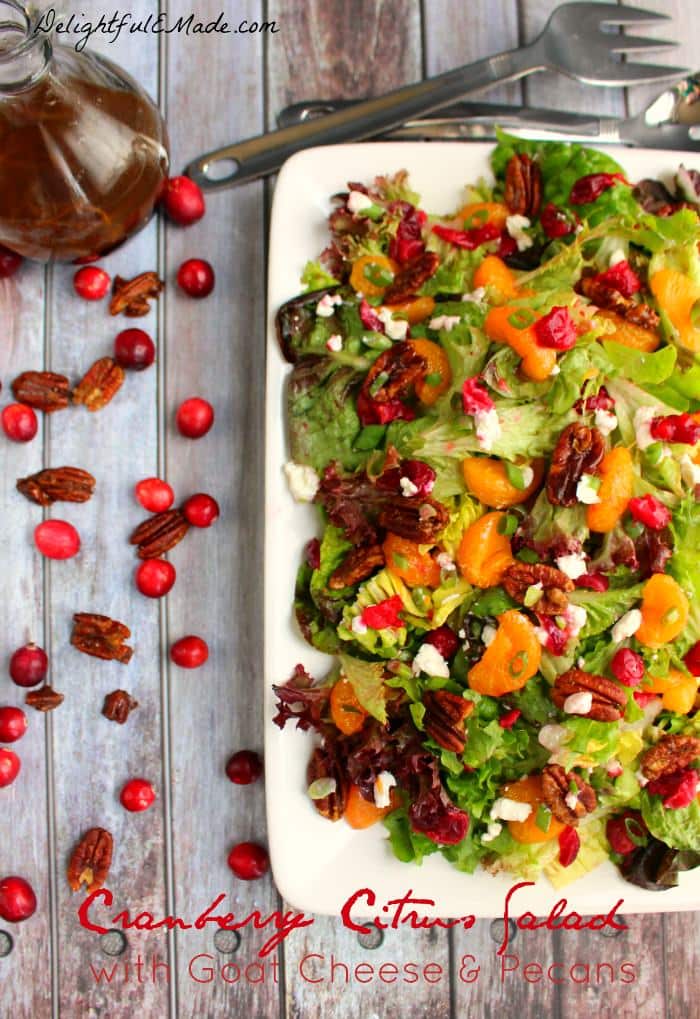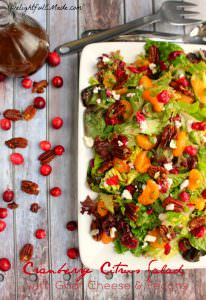 Cranberry Citrus Salad with Goat Cheese & Pecans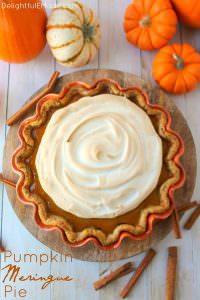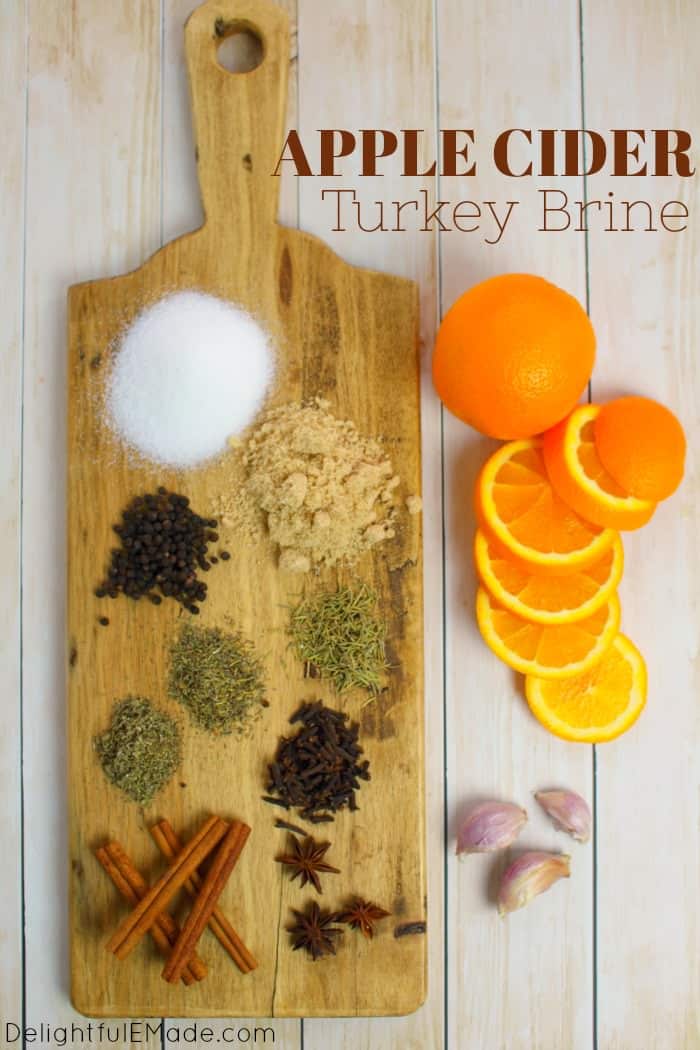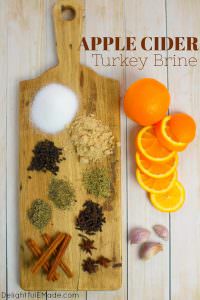 Apple Cider Turkey Brine + How to Brine a Turkey
Here's the simple recipe for this amazing Ruth Chris Sweet Potato Casserole:
Ruth's Chris Copycat Sweet Potato Casserole
Ruth's Chris restaurants are famous for this amazing Sweet Potato Casserole - now you can make it at home! Creamy, delicious sweet potatoes are topped with a crisp, pecan streusel topping making for an amazing side dish to any holiday meal!
Ingredients
3 lbs. sweet potatoes, peeled and steamed (you can also boil), until fork tender
3/4 c. brown sugar
1/3 c. half and half
1/4 c. butter, melted
1 egg
1/2 tsp. vanilla
1/4 tsp. salt
Pecan Crumble Topping:
3/4 c. brown sugar
3/4 c. chopped pecans
1/2 c. flour
1/4 c. butter, melted
1/2 tsp. cinnamon
1/4 tsp. nutmeg
Pecan halves (for garnish, if desired)
Instructions
Preheat oven to 350 degrees. In a medium baking dish, spray with non-stick cooking spray. Set aside.
Wash, peel, and steam the sweet potatoes, until fork-tender. (Depending on how large or small they are cut, this takes about 20 minutes.) Transfer potatoes to a mixing bowl, and add the brown sugar, half and half, butter, egg, vanilla and salt. Using a potato masher, combine the ingredients and mash until mostly smooth. Small lumps are okay. Transfer the potato mixture to the prepared baking dish.
In a separate bowl, combine the brown sugar, pecans, flour, cinnamon and nutmeg. Stir together to combine. Pour the melted butter over the top, and stir until crumbly. Sprinkle over the top of the potatoes, covering completely. Garnish with some pecan halves, if desired.
Bake at 350 degrees for 30 minutes. Let cool slighly before serving. Enjoy!
Nutrition Information:
Serving Size:

1
Amount Per Serving:
Calories:

3057
Total Fat:

115g
Saturated Fat:

40g
Cholesterol:

150mg
Sodium:

1809mg
Carbohydrates:

484g
Sugar:

208g
Protein:

44g
This makes for the perfect side dish to any holiday meal. This holiday, I hope you get to enjoy all that the season brings! ~Erin