Here's how to cook a moist turkey for Thanksgiving!
Are you hosting Thanksgiving, Friendsgiving or Christmas this year? I'll show you how to cook a moist turkey in just three easy steps. I'll show you how to brine a turkey, which is the secret to getting a juicy and flavorful bird every time!
After hosting several Thanksgiving and Christmas dinners, I've discovered how to cook a moist turkey by brining. Once you learn how to brine a turkey, your holiday bird moist, juicy and flavorful when you do the right things ahead of time.
Brining your turkey is probably one the easiest ways to add some great flavor and moisture to your bird. Once you brine a turkey, you'll never go back! I'm going to show you three easy steps on how to cook a moist turkey for your table this holiday season.
Here are your three easy steps on how to cook a moist turkey: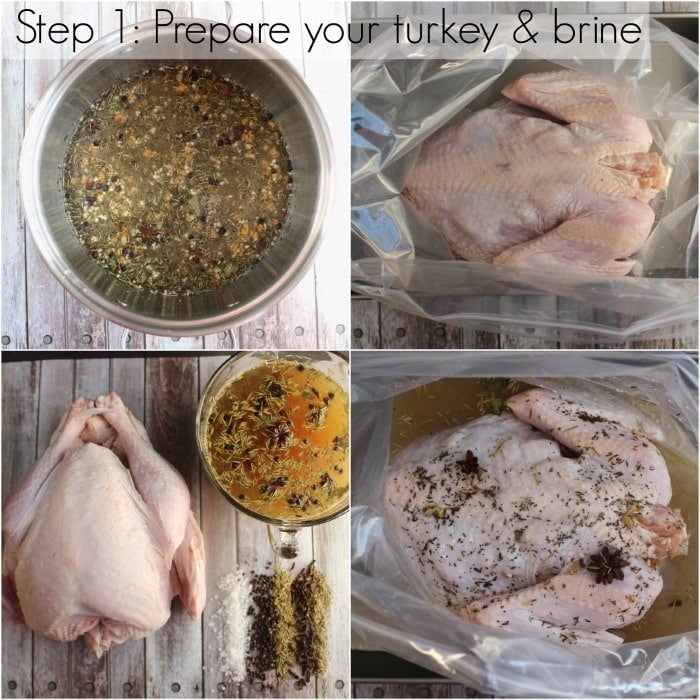 Step 1: Thaw Your Turkey
Start by defrosting your turkey.  If you're making Thanksgiving dinner on Thursday, you'll likely need to take your turkey out of the freezer by Thursday before to allow for time to thaw and brine.  
Depending on the weight of your bird, it will need at least 48 hours to defrost, if not more. Check the label of your turkey, along with the weight to see how long it will take to defrost.  
How long does it take to thaw a turkey?
Allow 24 hours for every 4-5 pounds. If you're math impaired, no worries – Here are some quick conversions:
4-12 lbs: 1-3 days of thawing
12-16 lbs: 3-4 days of thawing
17-20 lbs: 4-5 days of thawing
Step 2: Make Your Turkey Brine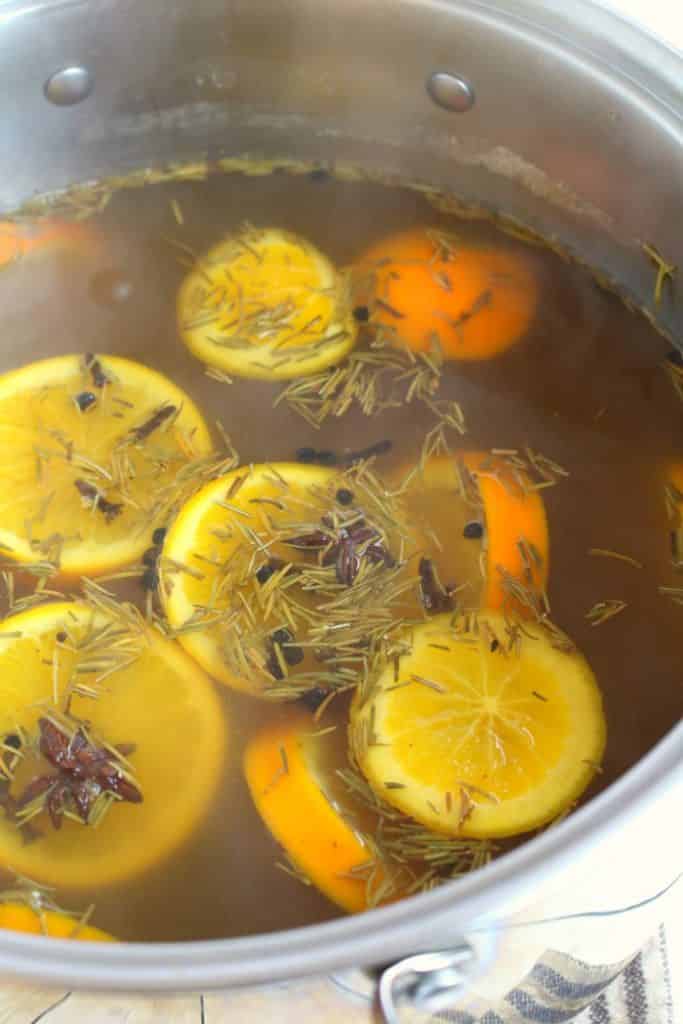 Prepare the brine.  Here is my recipe for Apple Cider Turkey Brine that I've been using for years! The brine not only acts as a tenderizing agent, but also flavors the meat nicely.  I firmly believe this is the key on how to cook a moist turkey!
Once you have your brine, you'll need to boil it to dissolve all the salt. Then, let it cool completely, and add more water.
I can't find Apple Cider. What else can I use for the turkey brine?
You can also add apple juice, beer or even wine for a nice flavor.
Step 3: Brine The Turkey in a Large Brining Bag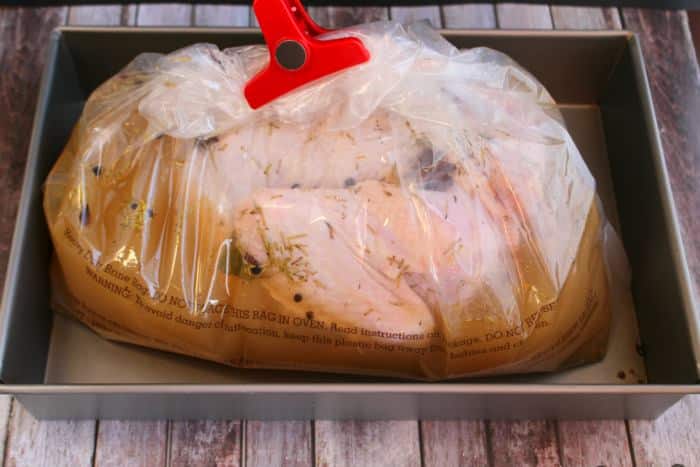 When your brine is completely cool, you'll pour it over your turkey into a large brining bag. (A brining bag is like a huge zip-lock plastic bag, big and thick enough to hold a turkey. I've got a link to buy your brining bags right from Amazon below.) From here, seal up the bag with the turkey and brine and refrigerate for 12-24 hours.
Get your Brining Bag here (Amazon Affiliate Link)

Can I use an oven bag to brine a turkey?
No. Do NOT use an oven bag. These are not made for brining, and the plastic is not thick enough to hold the weight of the turkey and liquid. You'll likely spring a leak and have brine all over your refrigerator.
Step 2: Prepare your turkey to roast
Once you're ready to roast your turkey, you'll need to do just a few things to get it prepped for the oven.
First, you'll need to thoroughly rinse your bird after taking it out of the brine. (Discard the brine and the bag.) As you can see in the picture above, I laid some old towels in the sink so the turkey wouldn't slip as much. Rinse it well, making sure to rinse the turkey inside and out.
From there, transfer the turkey into a roasting pan, and pat dry with paper towels. Having a dry skin surface will help attain a beautiful golden brown skin.
Next, drizzle the turkey with olive oil and rub all over the skin – this will help it attain a nice golden brown color.
Lastly, lightly season the skin with the seasoning of your choice – you can go with a poultry seasoning, or add whatever fits your tastes. I added a light sprinkling of rosemary, sage and pepper. This step is optional, at the brine will add some nice flavor to your turkey meat.
What do I need to roast a turkey?
Along with your oven (obviously!), here are the tools you'll need to roast a turkey:
A roasting pan. I am now a loyal user of disposable aluminum roasting pans! I actually got rid of my big, clunky roasting pan. I only used it for Thanksgiving and Christmas and it was VERY hard to clean. You can brine your turkey right in the aluminum pan, and best of all, you don't have to clean it. You also don't have to store a huge roasting pan, either!
A meat thermometer. Don't rely on the little pop-up plastic one that comes already in your frozen turkey. It's not reliable. I absolutely LOVE my Thermapen Mk4 Instant Read Digital Meat Thermometer. (I use it mainly for grilling, but it's perfect for testing your turkey as well.)  It's the most accurate way to tell when your turkey is done.
Aluminum Foil. You need foil on hand to cover the turkey in the last several minutes of roasting (see below). Once it comes out of the oven, be sure to keep the turkey covered with the foil before carving. I like Reynolds Wrap Heavy Duty Aluminum Foil.
Oven Bag (optional) – I personally find oven bags a big of a mess to work with. Many people swear by them, but I've found that using an oven bag is just an extra step, and doesn't make a huge difference in flavor or moisture of the meat.
Step 3 for How to Cook A Moist Turkey: Roast Your Bird
This is the easy part.  Simply put the bird in the oven and let the warm aromas fill your house.  When deciding how long to cook your bird, check the label and weight of your turkey for the cook time duration.  This will depend primarily on the weight of the turkey.  
I cooked mine at 325 degrees, and with it being about 12 lbs, it roasted for about three hours.  It will need to reach an internal temperature of 165 degrees. To test for doneness, use an instant-read digital meat thermometer like this Thermapen Mk4 Instant Read Digital Thermometer.
Once its done cooking, let it rest for about 20-30 minutes, and cover with foil before cutting. This will help the juices settle and ensure a moist cut of meat. Garnish with some pretty herbs like rosemary sprigs, thyme or sage. Add in a few apples, pears or grapes for some color.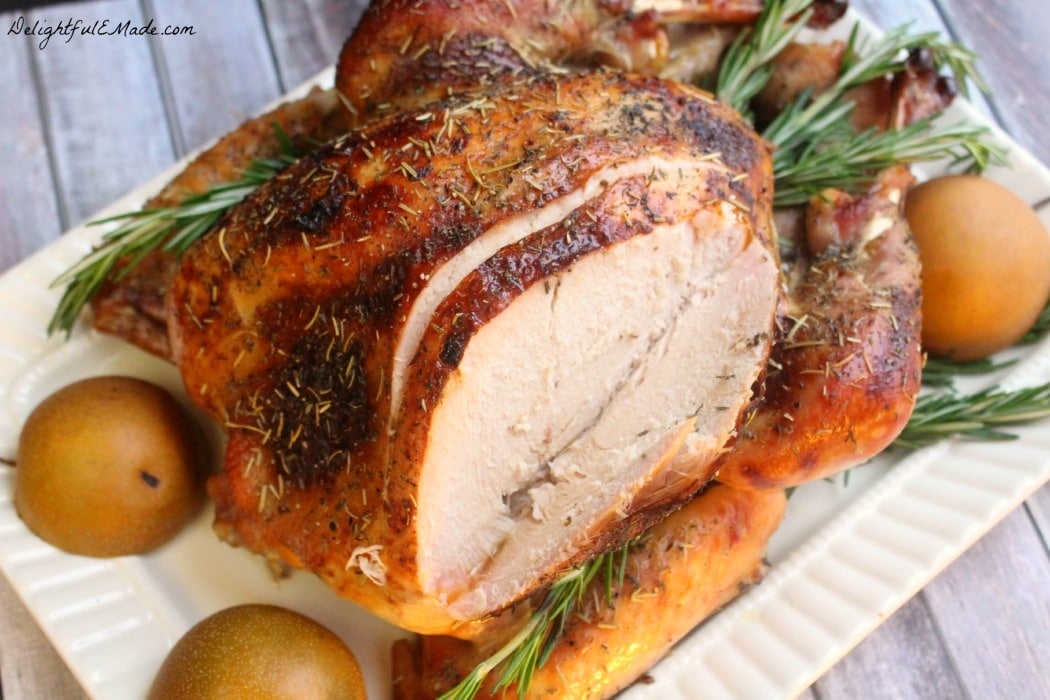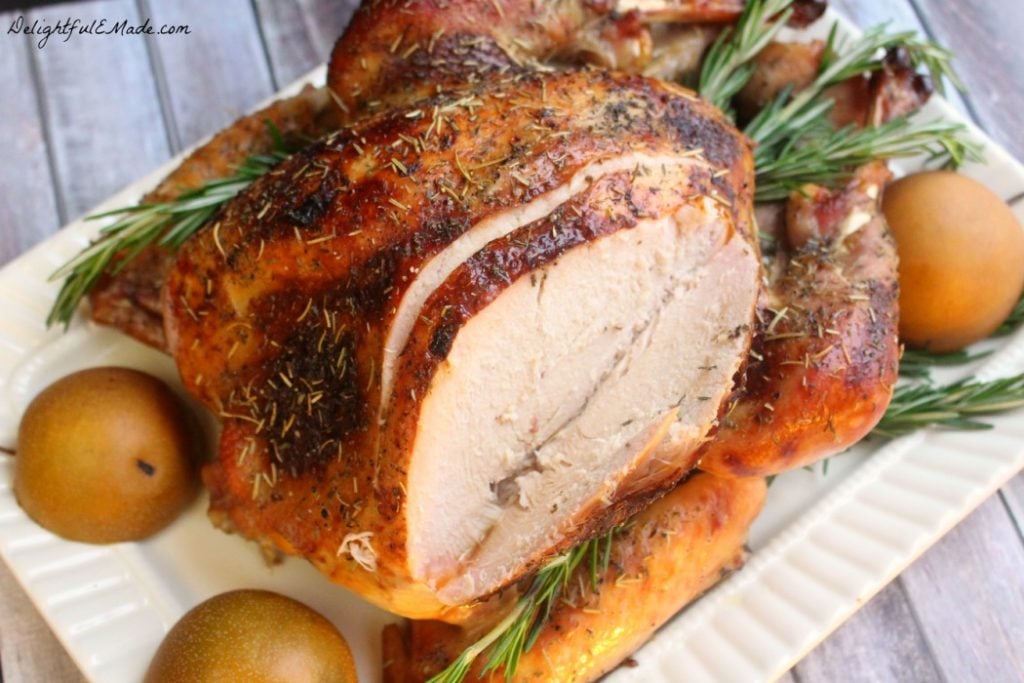 And there you have it! The holidays wouldn't be complete without a flavorful, delicious turkey. With some preparation and planning, you can have one of the most flavorful turkey's that your family has ever tasted.
Fair warning: cook an awesome, juicy, flavorful turkey, and you'll likely be asked to host the holiday dinner again!
Check out some of my other holiday dinner ideas:
If you love how to cook a moist turkey, be sure to check out my post for How to Dry Brine a Turkey here!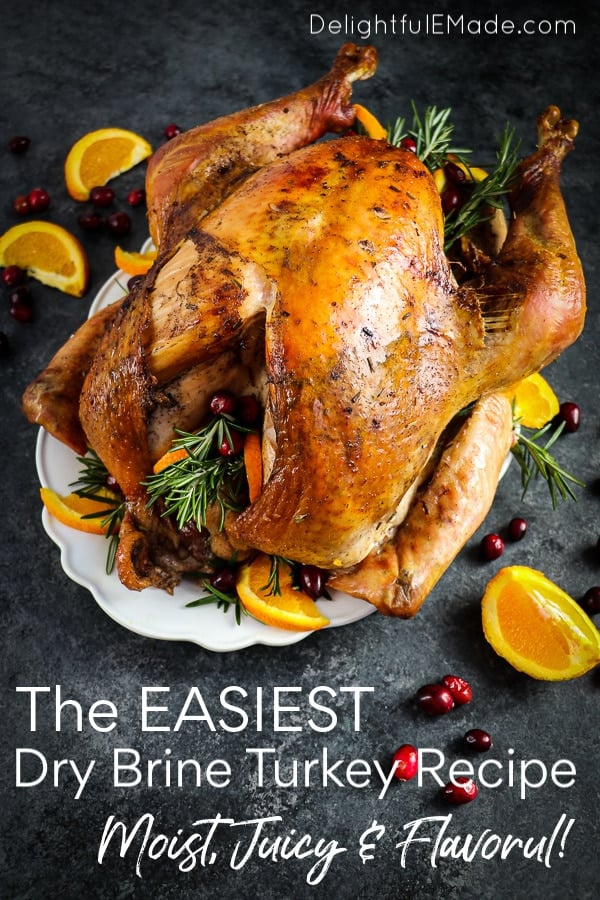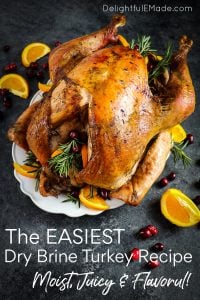 Need some awesome Thanksgiving or Christmas dinner side dishes? Check out some of my recipes here: