Looking for a new sweet potato recipe for your holiday meal? This Hasselback Sweet Potatoes recipe is great for your Thanksgiving, Christmas or Sunday dinner. These Hasselback Sweet Potatoes with brown sugar and pecans are easy to make, and can also be prepped in advance.
This post may contain affiliate links. Delightful E Made is a participant in the Amazon Services LLC Associates Program, an affiliate advertising program designed to provide a means for us to earn fees by linking to Amazon.com and affiliated sites.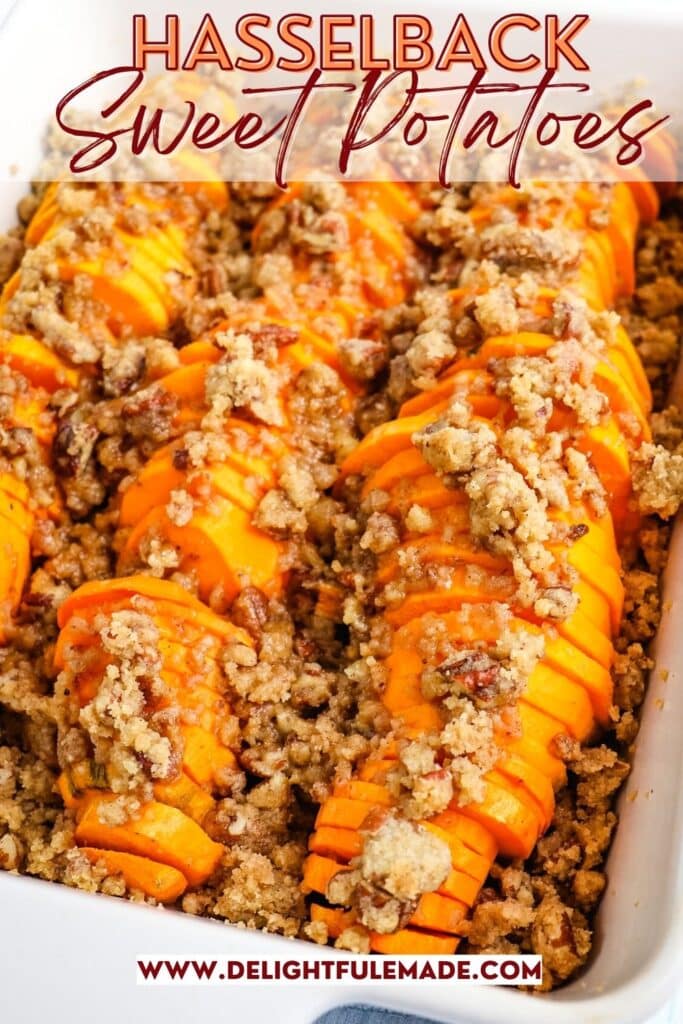 Looking for a new way to enjoy sweet potatoes at your holiday dinner? This Hasselback sweet potatoes recipe is topped with a delicious brown sugar pecan crumble that's amazing as a side dish or dessert.
Made by simply peeling and slicing sweet potatoes and topping with the pecan crumble, this baked sweet potato recipe can be served right in the baking dish, going from oven to table.
What do I need to make Hasselback sweet potatoes?
Sweet potatoes – about 3 lbs or 6 medium potatoes
Brown sugar – to reduce the calories, you can use Swerve Brown Sugar alternative.
Chopped pecans
All-purpose flour
Butter
Cinnamon
Nutmeg
Salt
Non-stick baking spray
For exact ingredient amounts and full recipe instructions be sure to scroll down to the bottom of the post for the recipe. Thanks!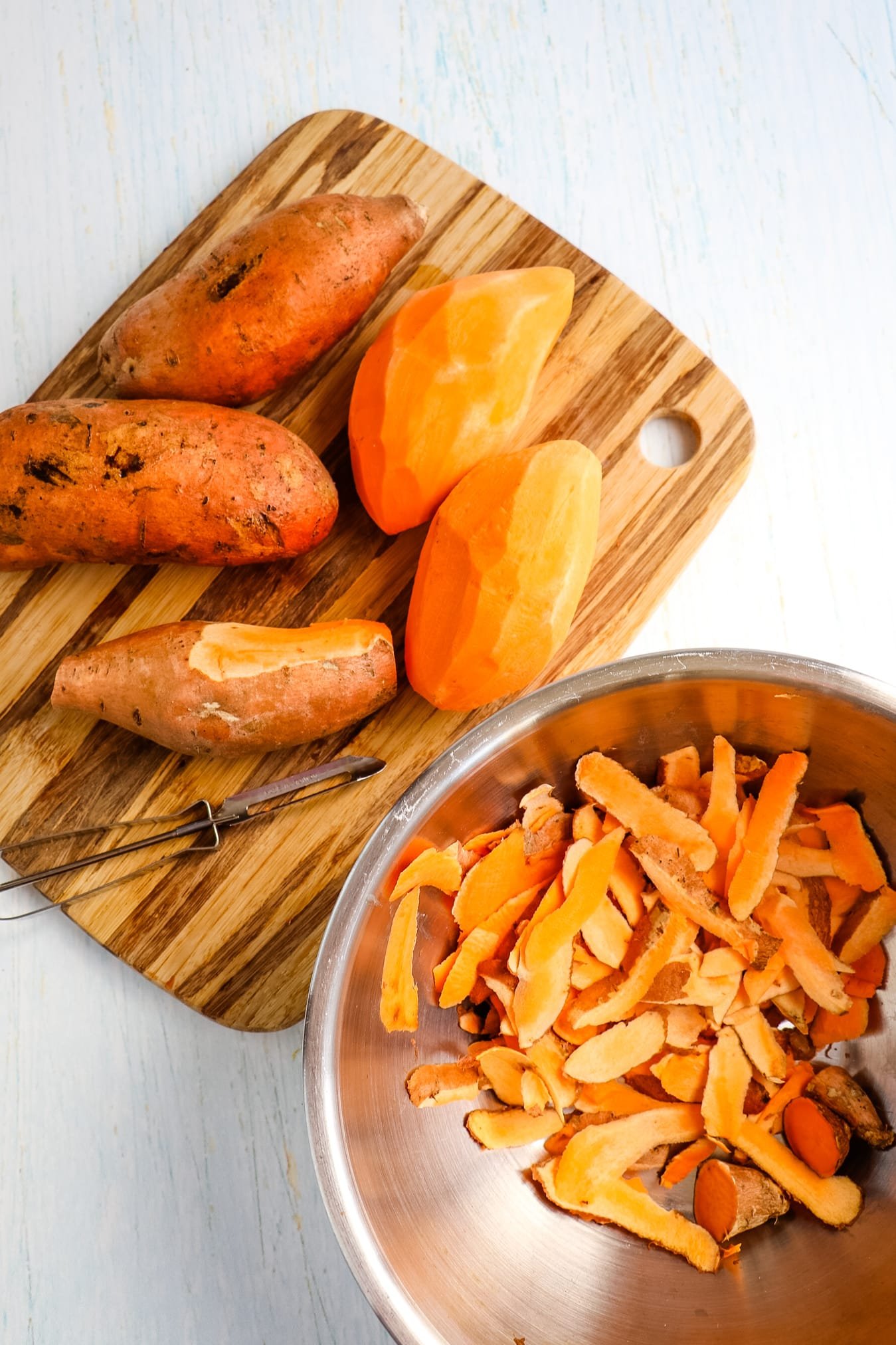 How do I make Hasselback sweet potatoes?
The first step to making Hasselback sweet potatoes is to wash, peel and slice sweet potatoes. You can use a regular vegetable peeler to remove the outer skin.
To slice the sweet potatoes, I recommend using a large Chef's knife or a Santoku knife, which I use and prefer. Slicing the potatoes approximately 1/8″ thick is ideal.
Do I leave the skin on sweet potatoes when making a Hasselback sweet potato recipe?
Leaving the skin on Hasselback potatoes is optional. For many Hasselback sweet potato recipes, the skin is left on and the potatoes are sliced three-quarters of the way through, leaving the potato in tact at the bottom.
However, many find the skin of sweet potatoes tough, chewy and dry, especially after baking. I find it best to peel the potatoes fully before slicing, having a more appetizing potato.
Love cooking with sweet potatoes? Check out my Sheet Pan Chicken and Sweet Potatoes, which is an amazing one-pan dinner recipe!
Place the sliced sweet potatoes into a baking dish. A 12″ baking dish is what I use, however, you can also use an oval baking dish or a 9×9″ pan. Placing the potatoes on their side will help the potatoes retain their shape while baking and give you that "Hasselback" appearance.
Next, mix together the brown sugar pecan crumble. In a bowl, add the flour, brown sugar, pecans, cinnamon and nutmeg. Add in the melted butter, and stir together with a fork. Texture will be crumbly.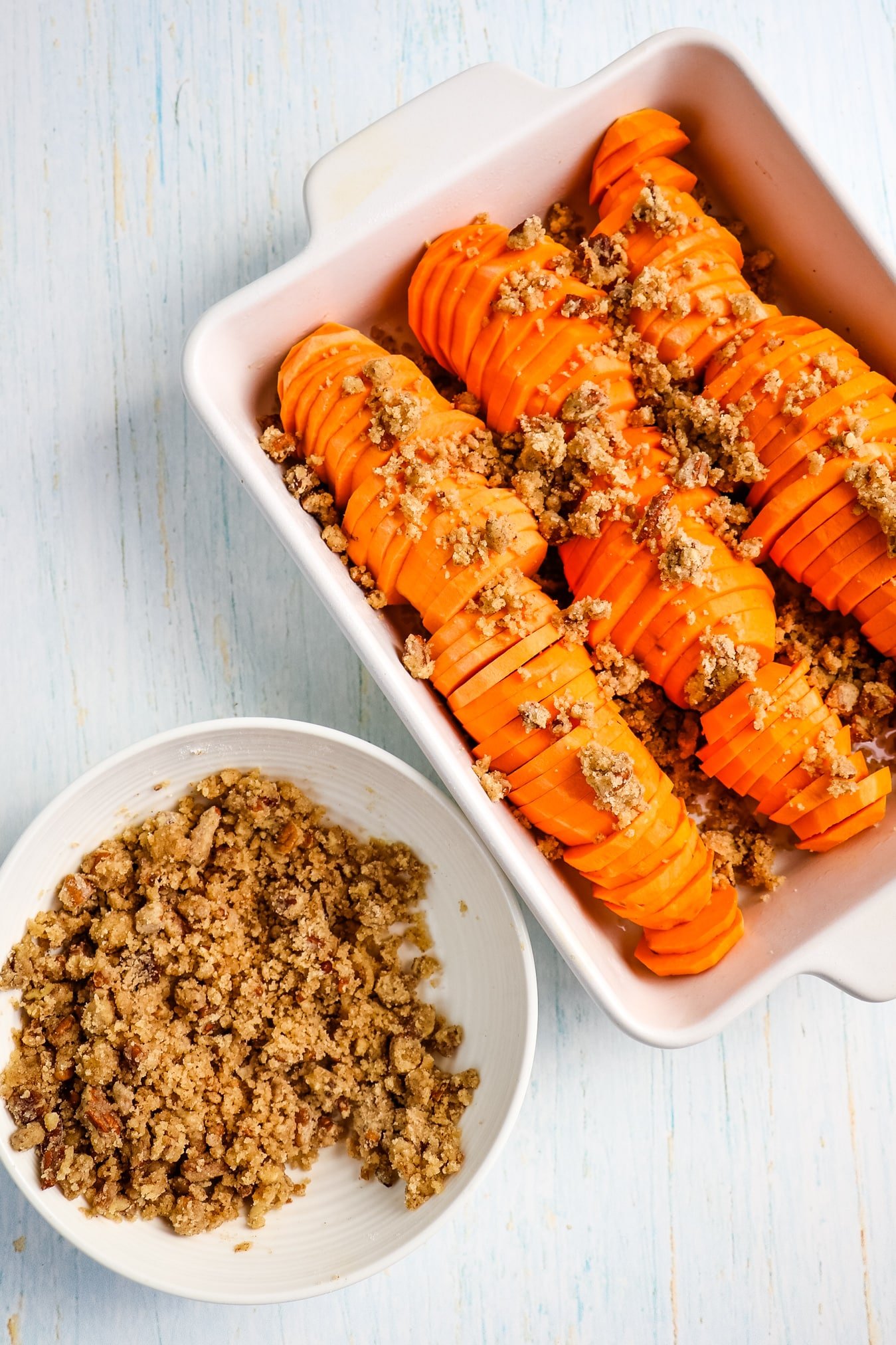 Adding the brown sugar pecan crumble to the Hasselback sweet potatoes:
Once you've made the brown sugar pecan crumble, simply crumble over the top of the sliced sweet potatoes. This does not have to be perfect. Simply place the crumble over the top and sides of the sweet potatoes.
Important Step: Cover the baking dish with foil before baking. Because the pecans will toast and brown well before the sweet potatoes are done baking, covering the dish will foil is important. The foil will keep the pecans from over-browning/burning.
The last 10 minutes of baking you can remove the foil and allow the pecans to toast before removing from the oven.
Frequently asked questions about Hasselback potatoes:
Why is it called a Hasselback potato?
Hasselback potatoes were first introduced in the 1940's at a restaurant in Stockholm, Sweden. The restaurant's name was the "Hasselbacken" which gained notoriety for using this simple slicing technique to potatoes, vegetables and meats.
What's the difference between sweet potatoes and yams?
Sweet potatoes will have a reddish skin and bright orange flesh. Yams have a dark brown skin and have a lighter beige colored flesh. Yams will also grow much larger in size than a sweet potato.
What is the easiest way to cut Hasselback potatoes?
The best and easiest way to cut Hasselback potatoes is to place chopsticks on either side (long side) of the potato. Slice with a Chef's knife or Santoku knife, using the chopsticks to stop the cut near the bottom of the potato.
Can you make Hasselback sweet potatoes in advance.
Yes, Hasselback sweet potatoes can be made in advance. This is a good options for a holiday meal, when you have limited oven space and time on the day of the dinner. Prep and cook the potatoes fully, cover the baking dish tightly with foil and refrigerate. Reheat the potatoes at 350 degrees for 20-30 minutes (covered with foil) or until fully warmed through.
Is sweet potato casserole a side dish or dessert?
Oh, this is a very controversial question, and one that many people have very different opinions on! Many consider sweet potatoes as a side dish, like mashed potatoes. However, when topped and baked with marshmallows or a brown sugar pecan crumble, it becomes very sweet, like a pumpkin pie, crumble or crisp. Many enjoy sweet potato casserole served with whipped cream or ice cream, thus making it a dessert. Either way it is served, it's absolutely delicious!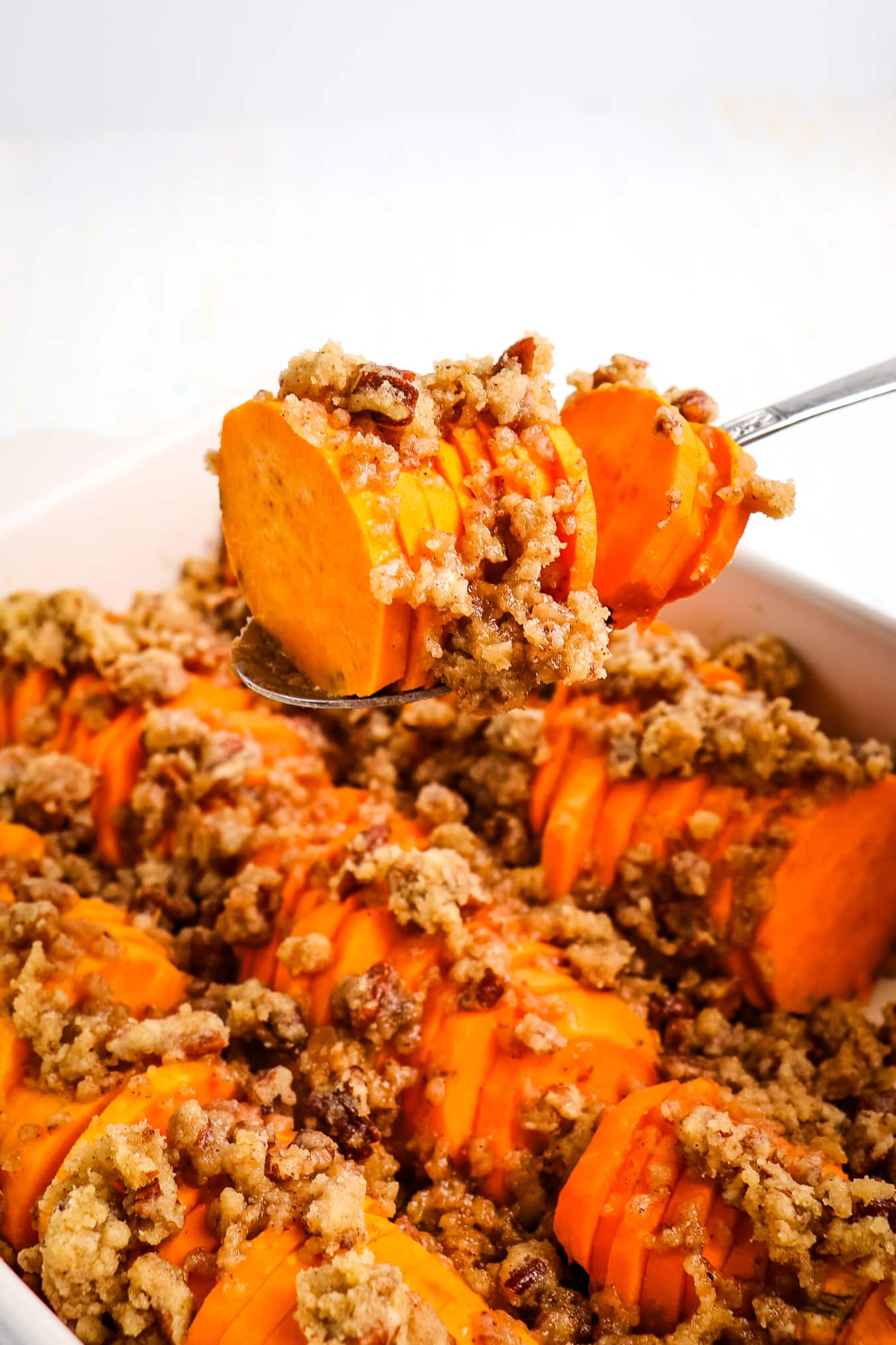 What are Hasselback sweet potatoes served with?
Sweet potatoes are a great side dish served with just about any meal. Here are a few holiday dinner ideas where this sweet potato casserole would be the perfect pairing:
If you loved this sweet potato recipe, check out some of our other holiday side dishes: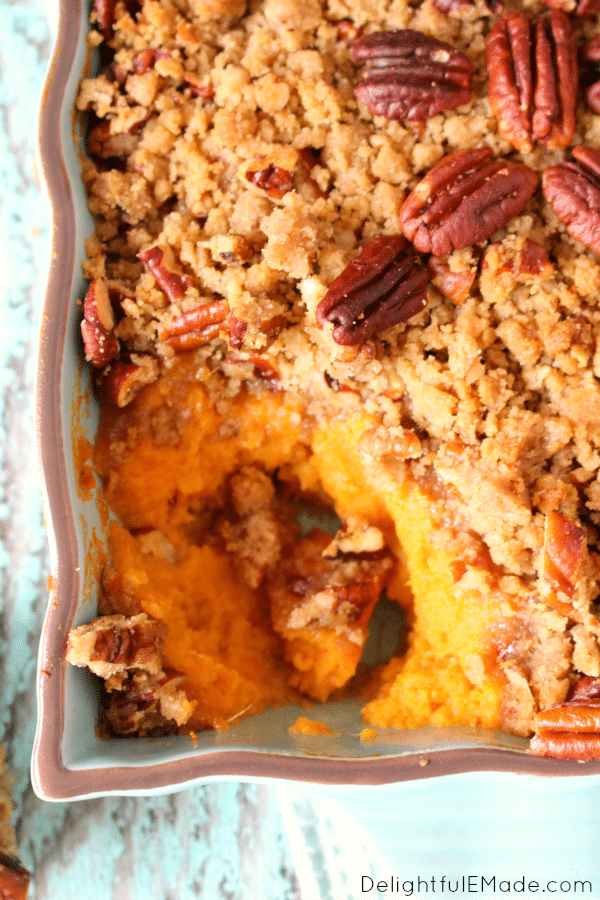 ---
---
Hasselback Sweet Potatoes
Looking for a simple, delicious Hasselback Sweet potatoes recipe? This delicious sweet potatoes casserole is topped with a brown sugar pecan crumble, making it an amazing side dish or dessert!
Ingredients
3 lb. sweet potatoes, rinsed, peeled and sliced
Brown Sugar Pecan Crumble Topping:
1/2 cup brown sugar (you can also use Swerve Brown Sugar alternative)
1/2 cup all purpose flour
1/2 cup chopped pecans
3 Tbsp. butter, melted
1/2 tsp. cinnamon
1/4 tsp. nutmeg
1/4 tsp. salt
Instructions
Preheat oven to 350 degrees. Lightly spray a 12" baking dish (rectangular or oval), with non stick baking spray. (You can also use a 9x9" pan or baking dish.) Set dish aside.
Rinse and peel the sweet potatoes. Using a Chef's or Santoku knife, slice the peeled potatoes into 1/8" slices. Place the sliced potatoes on their side, keeping the potato shape, in the baking dish.
Make the brown sugar pecan crumble: to a bowl, add the brown sugar, flour, pecans, cinnamon, nutmeg and salt. Stir together with a fork to combine. Pour the melted butter over the top of the crumble and mix. Mixture will be crumbly and gravel-like.
Top the sweet potatoes with the pecan crumble mixture, placing the crumble on the tops and sides of the potatoes. Cover the baking dish with foil. (Covering the dish with foil is important, as it will prevent the pecans from over-browning and burning.)
Bake at 350 degrees for 35 minutes. Remove the foil and bake for another 10 minutes to toast the pecans. (Total bake time will be 45 minutes.)
Remove from oven and let cool for 10 minutes before serving.
Notes
Making in advance for a holiday meal? If you're serving this sweet potato recipe for a holiday meal, I am often asked it if can be made in advance. Yes, this sweet potato dish can be made in advance. You can either assemble it completely and wrap tightly in foil, and refrigerate overnight. Then bake before serving.
You can also assemble and bake the day before, let cool, wrap and refrigerate overnight. Reheat the day of the dinner by heating the oven at 350 and reheating for 20-30 minutes until fully heated through. Make sure the baking dish is covered with foil when reheating.
Storage & refrigeration: leftovers need to be refrigerated. Store in an airtight container or wrap the baking dish tightly with plastic wrap. Leftovers will keep 3-4 days, refrigerated.
Nutrition Information:
Yield:

8
Serving Size:

1
Amount Per Serving:
Calories:

311
Total Fat:

10g
Saturated Fat:

3g
Trans Fat:

0g
Unsaturated Fat:

6g
Cholesterol:

11mg
Sodium:

172mg
Carbohydrates:

53g
Fiber:

7g
Sugar:

22g
Protein:

5g