Looking for a simple, delicious way to serve carrots? This incredibly delicious sauteed carrots recipe will be your new favorite way to prepare carrots. Made with just five ingredients, these butter honey carrots make an amazing side dish for just about any meal!
This post may contain affiliate links. Delightful E Made is a participant in the Amazon Services LLC Associates Program, an affiliate advertising program designed to provide a means for us to earn fees by linking to Amazon.com and affiliated sites.
Do you love carrots, but need a new way to serve them as a side dish? This sauteed carrots recipe is not only delicious, but simple to prepare.
Great for everything from a holiday dinner to a simple weeknight side dish, this versatile carrot recipe goes with just about everything.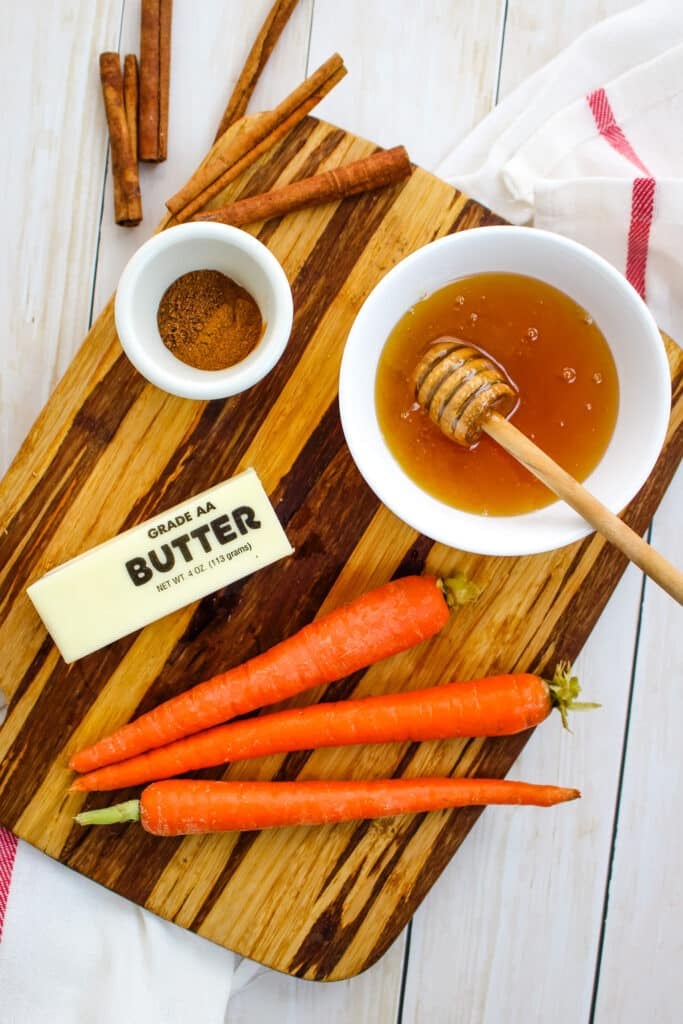 What do I need to make sauteed carrots?
Making sauteed carrots is very simple, and you need just five ingredients to pull it all together. Here's what you'll need:
Fresh carrots – I recommend going with full-sized carrots, however you could also use baby carrots. You could also use rainbow carrots for this recipe.
Butter – if you want to go in a healthier direction, you could also use ghee.
Honey – this adds a fantastic sweetness to the carrots. You could also substitute maple syrup.
Cinnamon – great for depth of flavor and richness.
Nutmeg – adds a fantastic addition of spice and flavor.
For exact ingredient amounts and full recipe instructions be sure to scroll down to the bottom of the post for the recipe. Thanks!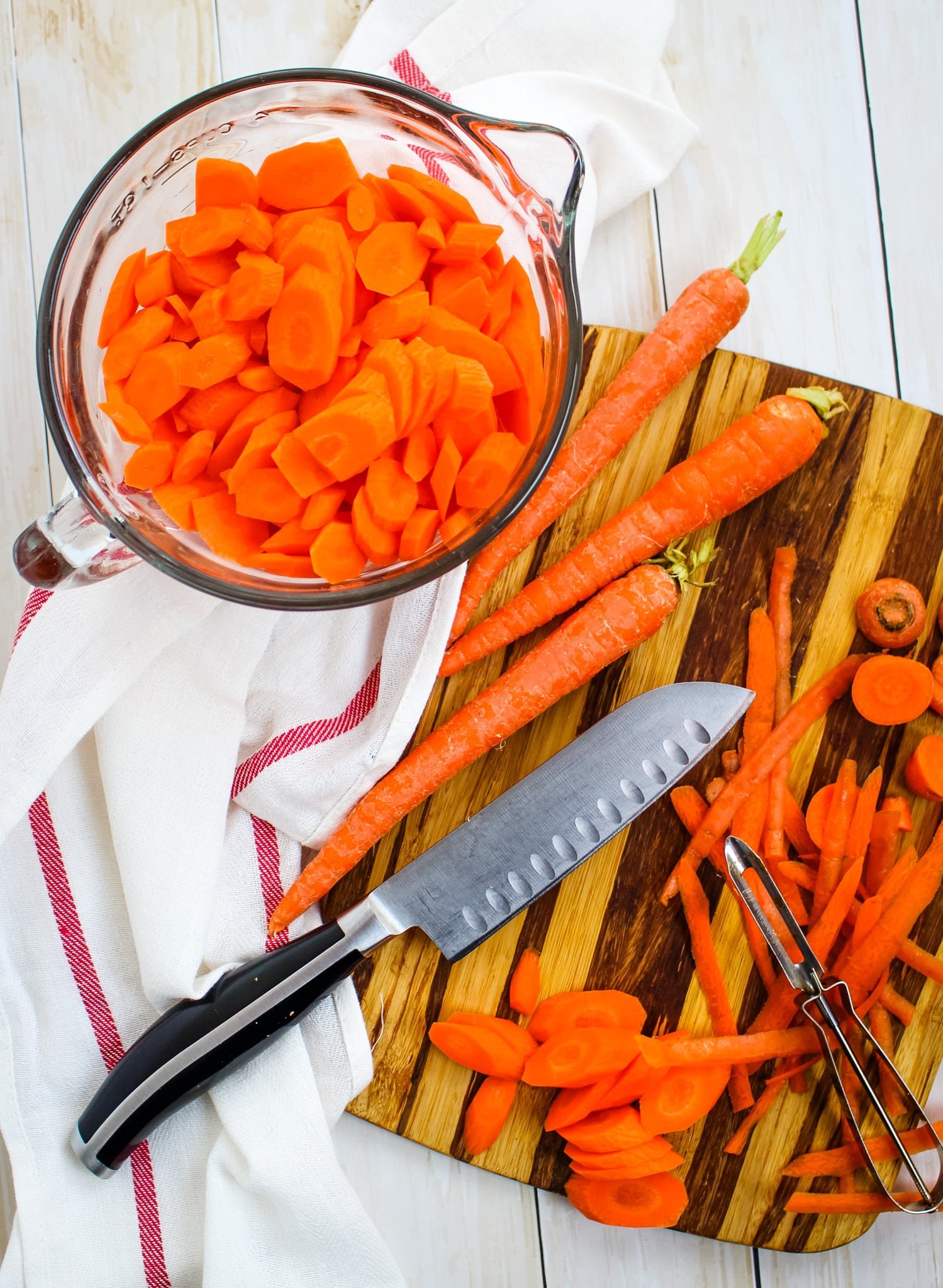 How do I make sauteed carrots?
Start by rinsing, peeling and slicing full sized carrots. If you're looking to use baby carrots, you could also slice these or cut them down the center into two horizontal pieces.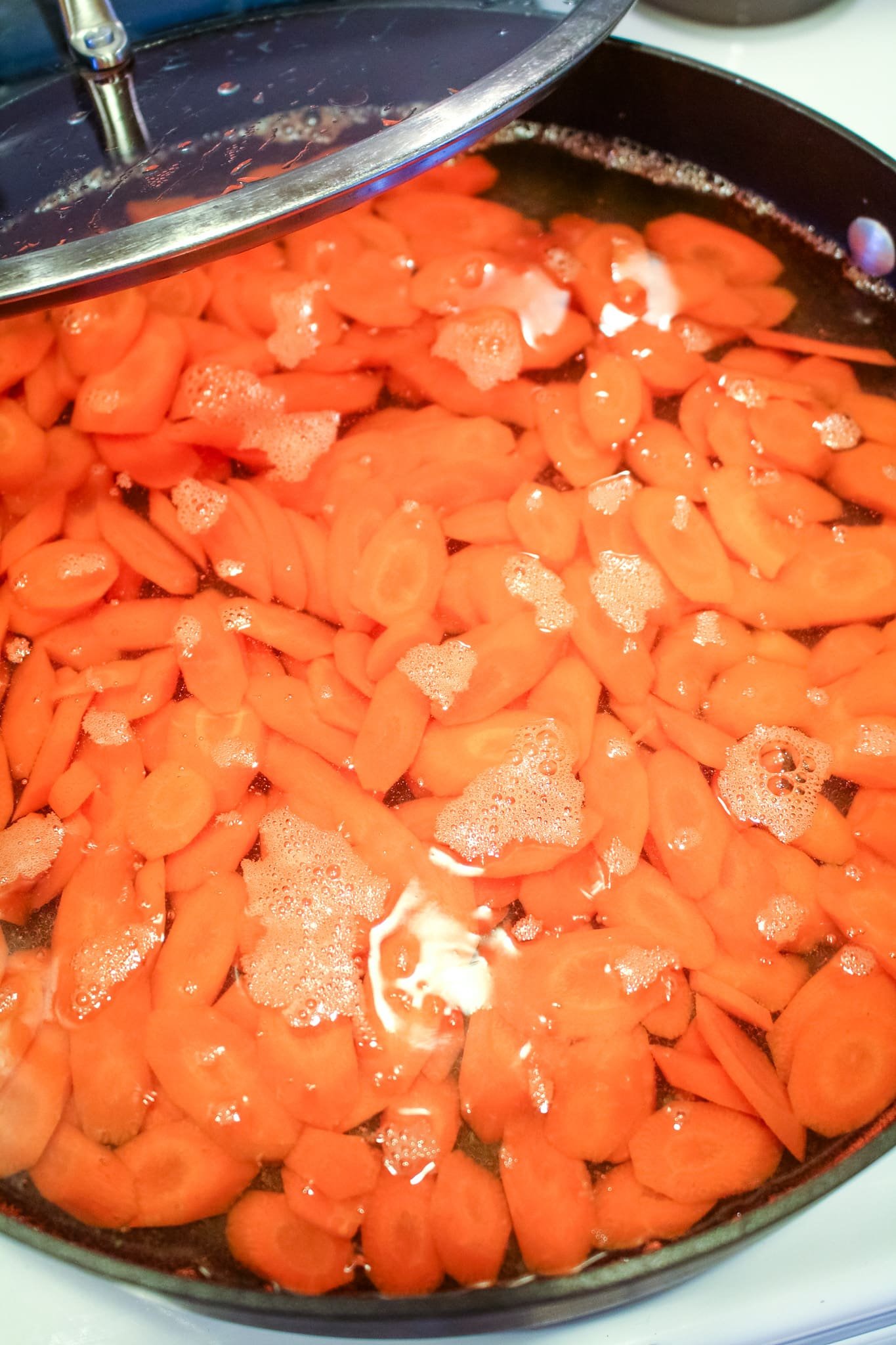 Next, place the sliced carrots into a large skillet and cover with water. Bring the water to a low boil and simmer for 4-5 minutes. This will help soften the carrots so they are not hard and crunchy.
Once done simmering, drain off the water and add the cooked carrots back to the skillet. Add in the butter, honey, cinnamon and nutmeg. Cook over medium heat tossing together with the butter, honey and spices.
Sautee the carrots for 1-2 minutes. Serve right away while hot.
If you love sauteed vegetables, check out my Sauteed Broccoli and Garlic, which makes for a versatile side dish recipe.
Why you should par cook (pre boil/steam) your carrots before sauteing:
Par cooking the carrots will help them evenly cook when they are sauteed. If you were to sauté raw carrots, they will overcook/burn on the outside before the inside is done cooking.
Par cooking your carrots will help tenderize and soften the carrots. This will also help the carrots take on the flavor of the butter, honey and spices.
There are a few ways you can par cook carrots; simmer in water (shown here), steam in a steamer basket, or microwave with water.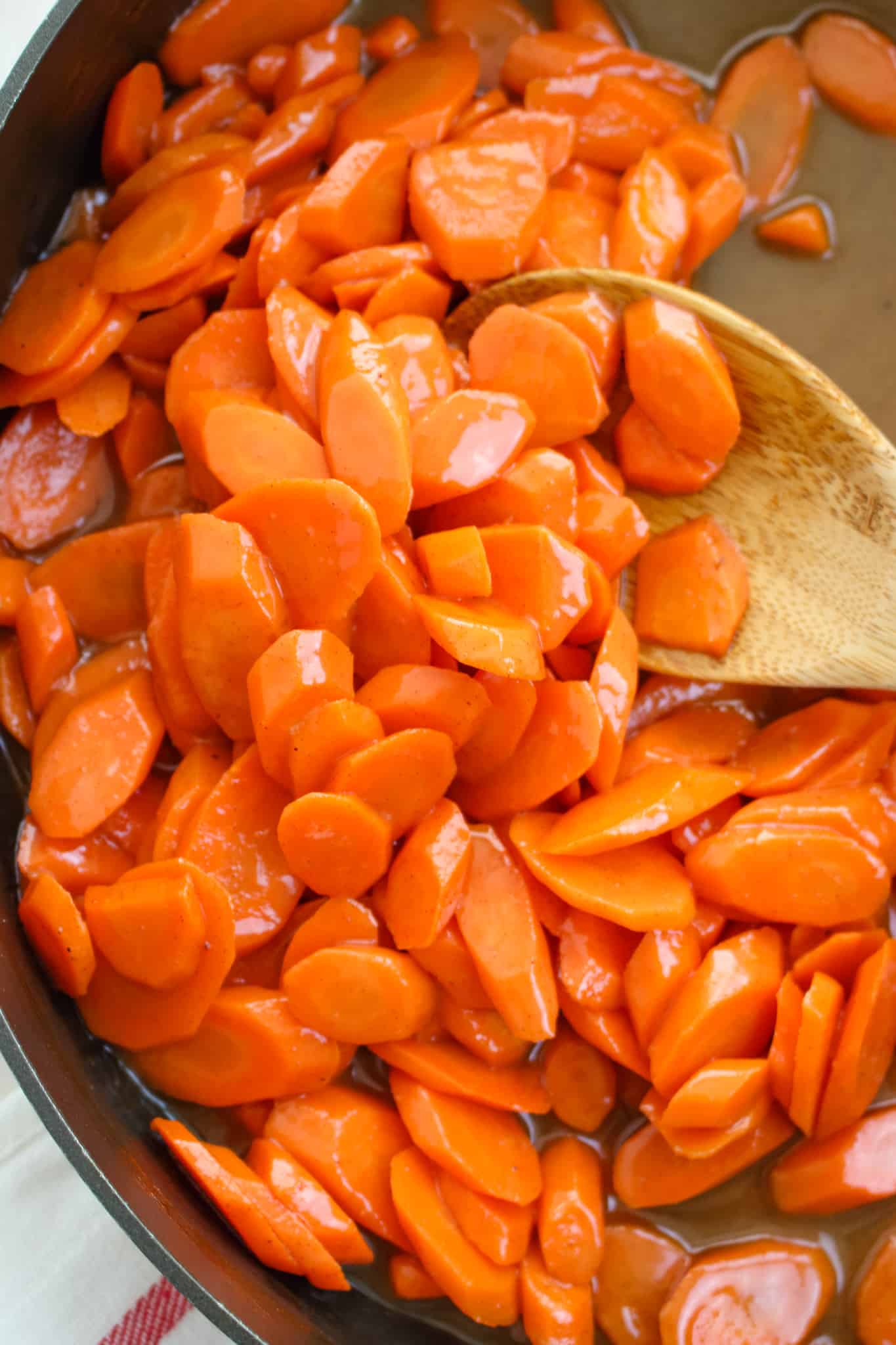 Frequently asked questions about making a sauteed carrots recipe:
What enhances the flavor of carrots?
Carrots are naturally sweet, so adding an additional sweet glaze like honey will make them even more sweet and delicious. Also, adding spices like cinnamon, nutmeg or allspice will enhance the flavor of carrots.
What is the appropriate cooking method for carrots?
Carrots can be prepared in a variety of ways. The most popular methods of preparation for carrots are to steam, sauté, roast or stir fry.
Can you soften carrots by frying them?
The best way to soften carrots is to steam or simmer in water for 4-5 minutes. This will soften the carrots, but still leave them firm to the bite.
Do you have to boil carrots before frying them?
Yes, boiling carrots (the technique is called par cooking) for a short amount of time will help the carrots cook evenly when being fried or sauteed. If raw carrots are fried or sauteed without par cooking (boiling for a short time), they will overcook on the outside and the inside will still be hard and undercooked.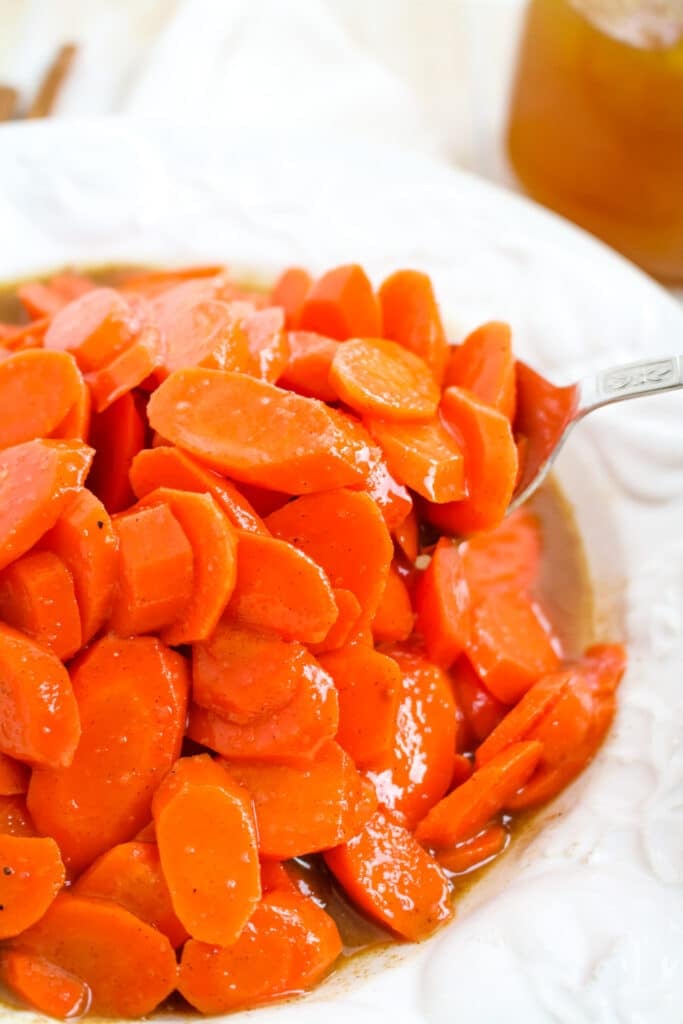 What can I serve with sauteed carrots?
Carrots are a fantastic side dish that goes with just about any dish. Here are a few recipe ideas where these butter honey carrots would be a great pairing:
If you loved this side dish recipe, check out these other similar recipe ideas: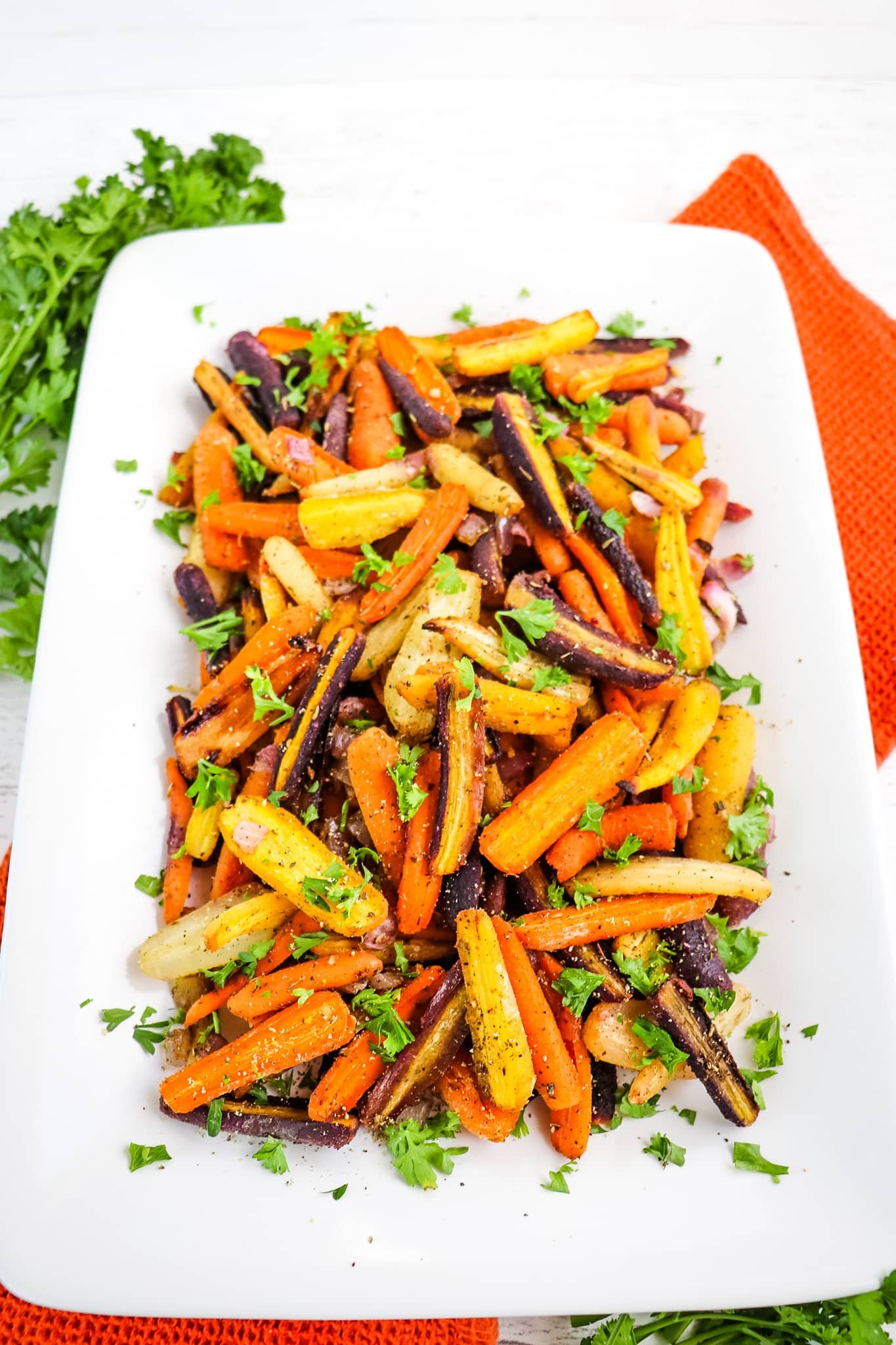 ---
---
Sauteed Carrots
Looking for a simple, delicious way to prepare carrots? This delicious butter honey carrots recipe is just 5 ingredients. The perfect way to make a sauteed carrots recipe!
Ingredients
2 lbs. carrots, peeled and sliced
4 Tbsp. butter
1/3 c. honey
1/2 tsp. cinnamon
1/4 tsp. nutmeg
Instructions
To a large skillet, add the sliced carrots. Submerge in water, and bring to a low boil over medium-high heat. Simmer for 4-5 minutes.
Drain the water and return the carrots to the skillet. Add the butter, honey, cinnamon and nutmeg. Heat over medium-high heat.
Toss the carrots together with the other ingredients until evenly glazed and coated, about 3-4 minutes.
Serve right away while hot. Enjoy!
Notes
Instead of boiling the carrots, you could also steam them in a steamer basket on the stovetop, or microwave-steam them. Check out the Par-Cooking section of this blog post where I elaborate on why and how par cooking is an important step in this recipe.
Storage: store any leftovers in an airtight container. Carrots will keep for up to 5 days refrigerated.
Nutrition Information:
Yield:

8
Serving Size:

1
Amount Per Serving:
Calories:

134
Total Fat:

6g
Saturated Fat:

4g
Trans Fat:

0g
Unsaturated Fat:

2g
Cholesterol:

15mg
Sodium:

112mg
Carbohydrates:

21g
Fiber:

4g
Sugar:

15g
Protein:

1g